Discussion Starter
·
#1
·
Day
three
on the island, day
two
of diving, and it definitely doesn't feel like a Monday. I think I need a DOXA with a "Day" feature, since the relaxed days...just seem to melt together. On second thought, maybe not....the rhythm of the island is all you really need. No worries man...no worries.
Today's diving took us to
Lighthouse Wall
and
Maggie's Maze
. Lighthouse Wall is exactly what it says it is...a wall dive, right off the shore from the East End lighthouse. The dive started out on top of the reef, at around 60ft. We then dropped into a swim-through, and began navigating toward open waters.
"TMahaun" and "MTJO", negotiating a narrow passage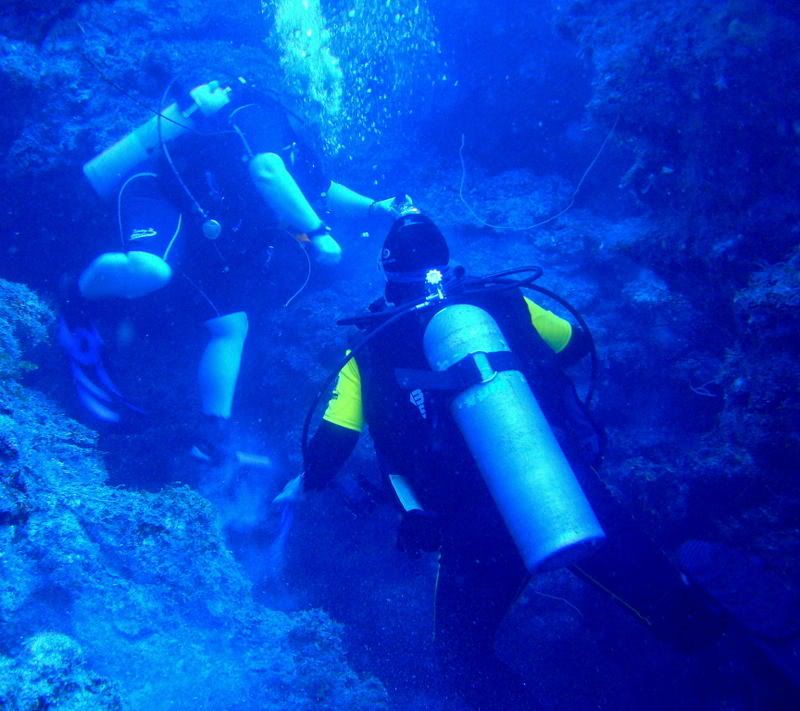 Along the way, you never know what you'll see. This guy was hanging out, probably as intrigued with us, as we were with him.
After winding our way through the coral, we found ourselves suspended in deep, blue space....100ft down on the wall.
For me, it's the swim-throughs that l always find breath-taking, and the main reason I love Cayman so much. It gives you the feel of cave diving, but with all the life and beauty of the sea. They're truly amazing.|>
As with all dives, they're over before you're ready, so it was time to climb aboard the Easter Skies, and motor over to
Maggie's Maze
.
Maggie's maze is another site that's exactly reflected in it's name. A beautiful labyrinth of coral, that's home to a myriad of interesting residents. Here's one of them now.
In addition to it's interesting inhabitants, this site is much shallower, so you really get to slow down, enjoy the bottom time, and explore the many passages.
Here "JCLevoy" makes his way through "the maze".....but where's "TheMrs"?
OMG!! She's stuck in a big blue box.:-d:-d:-d
Anyways........the TUSA said it was time to go, but there was still plenty of excitement left in store. See, tonight is "Landmark Night", the night we venture West in search of treasure....DOXA treasure.
For those just joining the party,
Landmark Jewelers
was the first and only DOXA authorized dealer in the Caribbean. We had a great time with their team last year, so when they received word that the Searaiders were back in town, they really rolled out the red carpet. In addition to keeping the store open for us "after hours", they lavishly provided beer, champagne, and a nice assortment of door prizes(Thanks Bonita!!:-!).
The real star of the evening was meeting Hugh Treadwell, the man responsible for bringing DOXA to the Caribbean. He took time out of his busy evening, to meet the Searaider team and share a DOXA story or two.
Here, Doc and Hugh discuss something out of Pete's rare, preview copy of the DOXA book. It's always proudly on display.|>
Now about those door prizes.....the Levoys are definitely feeling the "luck of the islands"...or is it the luck of Pete's "Irishstar"? I'm not really sure.:-d:-d
With the night in full-swing, I was wondering if anyone was going to score a new DOXA.:think: Now I had just pulled the trigger on my TUSA, days before the trip, so that put me out of the money...uh, I mean
running;-).
Still, that left 11 more Searaiders to pick up my slack. After grabbing one more glass of champagne, I checked back at the DOXA case, only to find "MTJO" sizing the prize.:-!
Man this guy works fast, but I can't say that I blame him. If I had just snagged the last, brand new COSC Milshark in the world, I'd be strapping that baby on too. Nice score man.:-!
As the minutes ticked by, we were having an absolute blast with the Landmark crew, and what a night it was. Total damage done...1 COSC Milshark, 1 COSC Sharkhunter(right on John:-!), a beautiful ring for Mrs. SubK(we know we have to keep her happy;-)) and I believe Mrs. Levoy picked up a few nice pieces of jewelry herself(ain't pay-back grand:-d)
After a nice dinner upstairs at Breezes, it was time to trek back East. Back to Compass Point, to make ready for tomorrow. So what would tomorrow bring? Well, if anything like today, more awesome adventures, more awesome food with some really awesome people. I truly can't wait.