Monday morning and the sun is out. Tropical Storm Ida is definitely outta here, so let the warm sun shine, the cool breezes blow and the diving begin. Now this feels more like the Caribbean........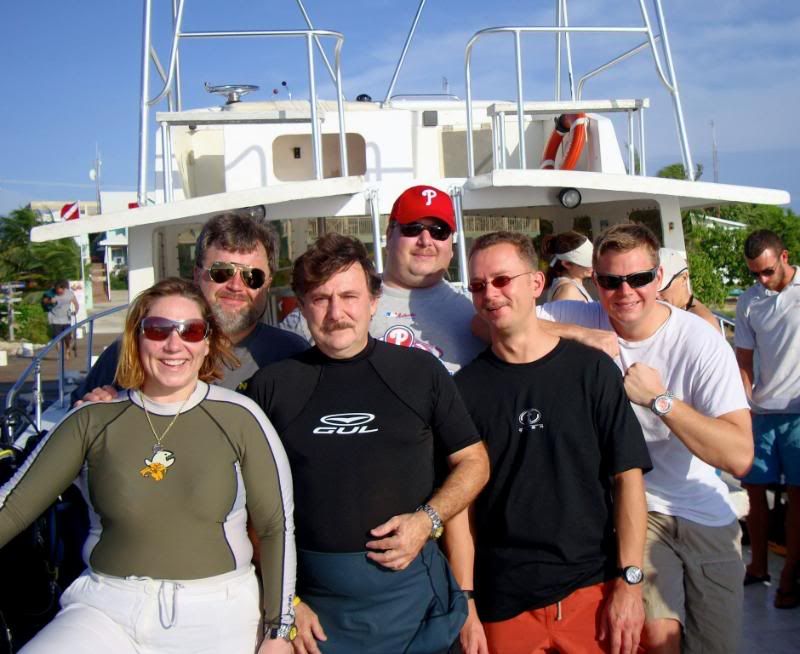 Although yesterday was rough, and the seas still choppy, the one good thing that's come of this, is it's forced us to seek dive sites further to the East. Sites that, when the conditions are calm, aren't visited as often. It's exciting for me because it's new territory to be explored and discovered. Change is good...very good.
The dives for today are a wall called Turtle Pass, and a reef called what else, but "Roger's Reef". Maybe one day we can have "Searaider's Reef" but I'm not holding my breath (you can blow a lung that way ;-)).
Let's jump in. Mike...show us how it's done.:-!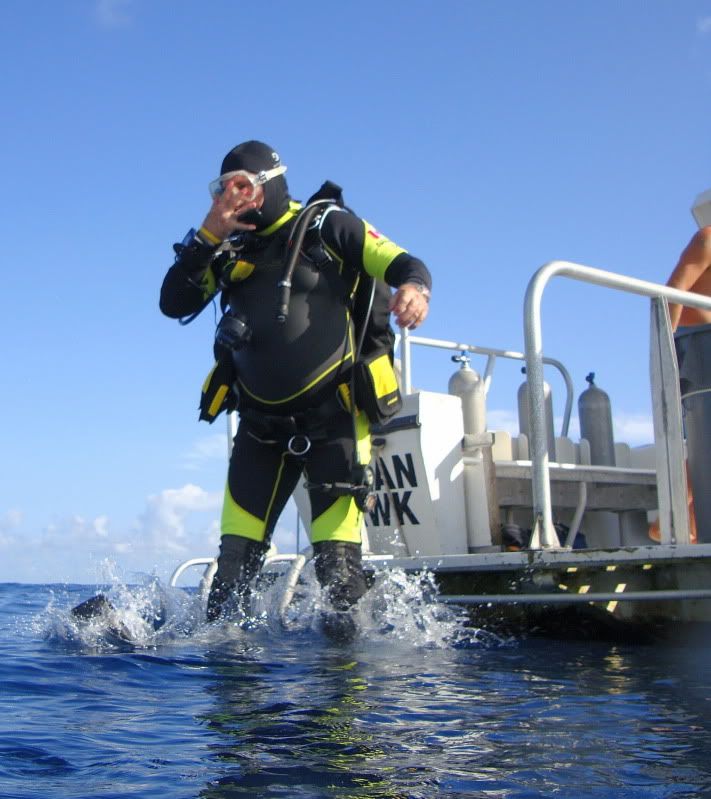 Randy taking a few pics before going over the edge.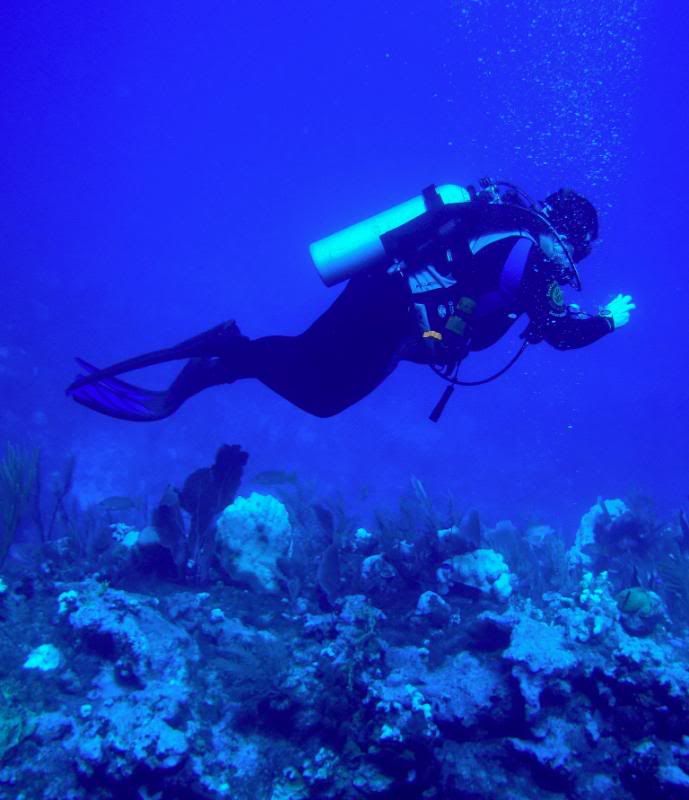 The Searaider team on the move.
A spiny lobster hiding in a barrel sponge.
Time checking the 5000T Pro....38 minutes and counting.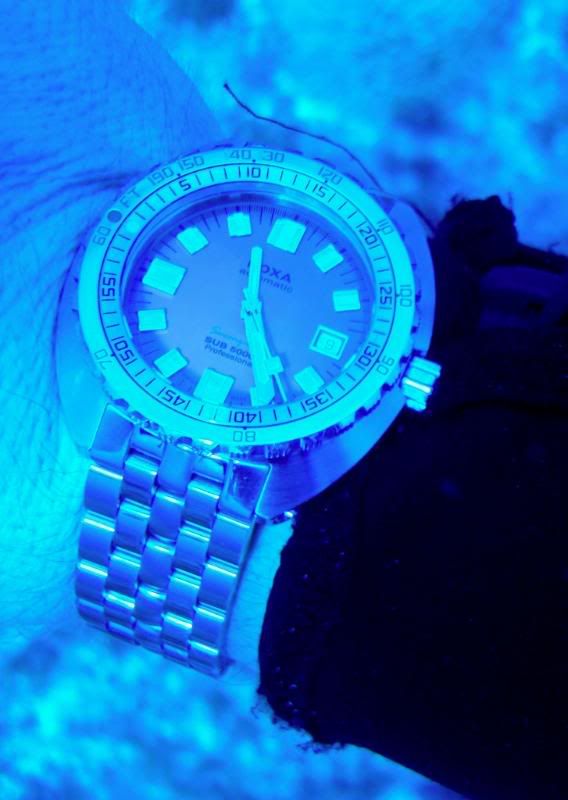 'Raiders over the reef.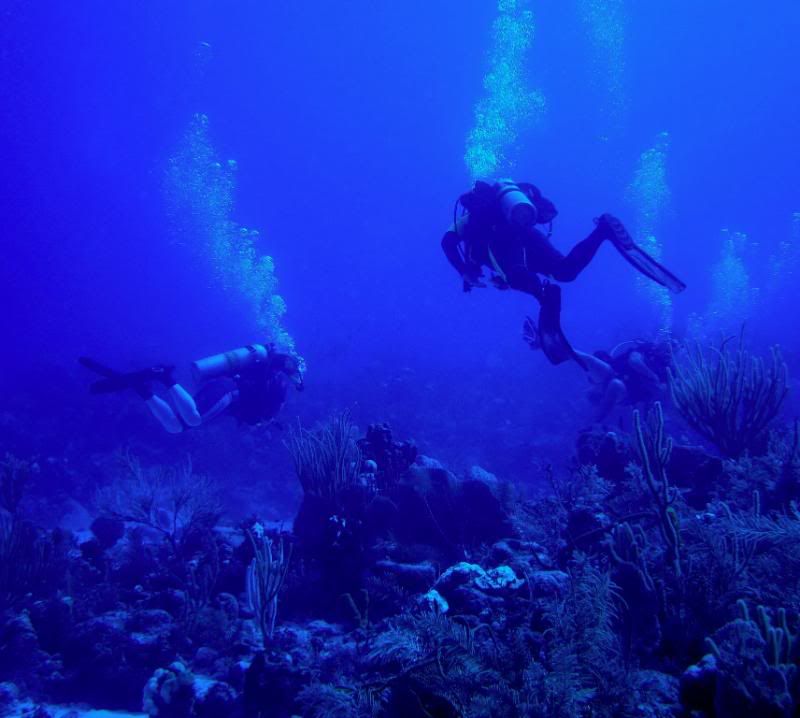 Michael and his 300T reissue.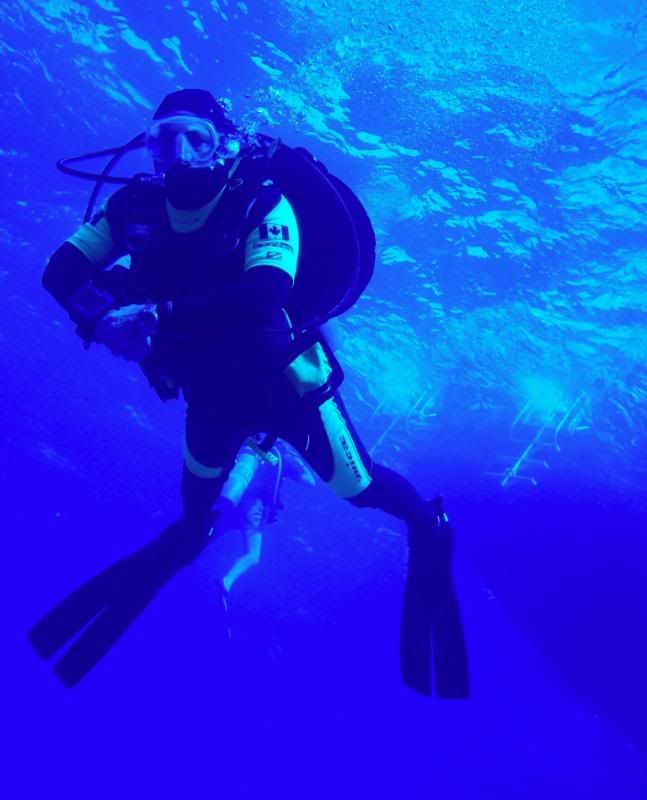 The 3-dial T-graph.
Heading home with the 5000T.
Back at the dock, but the day was far from over. We grabbed a quick lunch and headed into town to visit some dive shops. Some wanted to check out new gear, Brittie wanted a new mask, but I needed a new pressure gauge. Seems that my 25 yr old gauge, the one I started with when I was 12, finally decided to take on water. 25 years of solid dependable service...that's Scubapro for you.:-!
While our excursion into town was prosperous, we needed to head back for our final event of the day. Being that Ocean Frontiers is a PADI 5 star facility, and also a Project Aware center...I decided to enroll the Searaiders in an official Project Aware beach clean-up. This way our efforts will be submitted to Project Aware, to help in their effort to combat ocean pollution.
So with bags in hand, latex gloves on hand, we hit the beach. Now the beaches at Compass Point, while rocky, are always kept clean. It's the beach to the West and to the East of Compass Point that desperately needed our help.
Looking East as Todd, Michael, Randy, Gavin and myself comb the beach.
Michael finds a shoe and there were lots of them.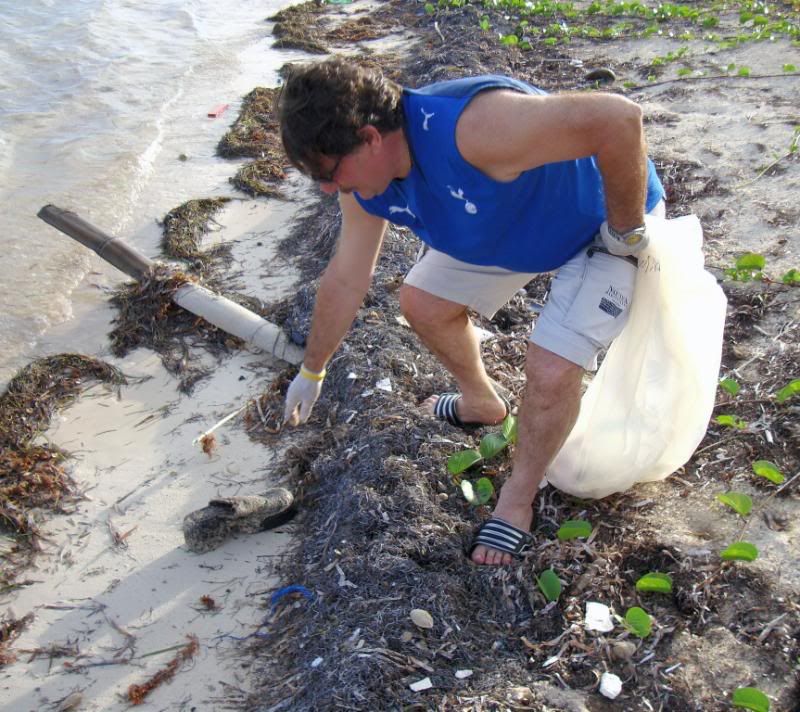 After more than an hour and with the sun beginning to set, we gathered our bags and tallied the results. We collected 9 bags of plastic bottles, bottle caps, rope, Styrofoam, plastic bags, a tire, a glass baking dish, shoes, a fishing float, and a Muslim prayer cap.:-s Interesting to say the least, and with our efforts complete, we were awarded certificates and decals by Project Aware...a great memento for our work.
However, unknown to the other Searaiders, the Project Aware fun was far from over. See...in my pocket I had another surprise, and to win this prize we had ourselves a drawing. Everyone wrote their name on the back of their decal and Britta, our DM, drew the lucky name.
And the winner is....Gavin....and what did he win? His very own, new in the tube, Project Aware 1000T Professional!!! Way to go Gav, and he was shocked and thrilled (as was everyone else), to say the least.:-d
As we close this day with some Rum Punch around the Tiki Hut, I want to thank Project Aware for their efforts in generating awareness and creating the platform so people can organize and make a difference in ocean conservancy. Also a HUGE thanks to DOXA for partnering with Project Aware and recognizing our willingness to help, by providing the 1000T super prize. Thanks again to all!!:-!