It's Wednesday morning, and a good thing we all got plenty of rest yesterday, because today is our biggest day of diving yet. Today is the "Three Tank Safari" where we start our day diving an East End wall, then head for the North side by boat and dive Stingray City. After Stingray, we stop off at the Kaibo Yacht Club for lunch, and finally on our way back...dive one of the North Eastern dive sites where Ocean Frontiers rarely goes. It's going to be a full day of diving, cruising and enjoying the Caribbean Sea to it's fullest. Thankfully someone brought the sunscreen (and a few DOXAs).
Our first wall today is a site called Babylon where large, purple Gorgonian Sea Fans thrive, as well as large barrel sponges and plate coral. Interesting thing about the plate coral, it bleached during the warm summer but was returning to it's natural brown color as the waters cooled off for winter. Nature...while not invulnerable, does have some resiliency.
Into the reef with bleached coral on the right. You can see how the edges are starting to darken again.
Randy, Gavin, Babylon's wall and dual 750T COSC Divingstars.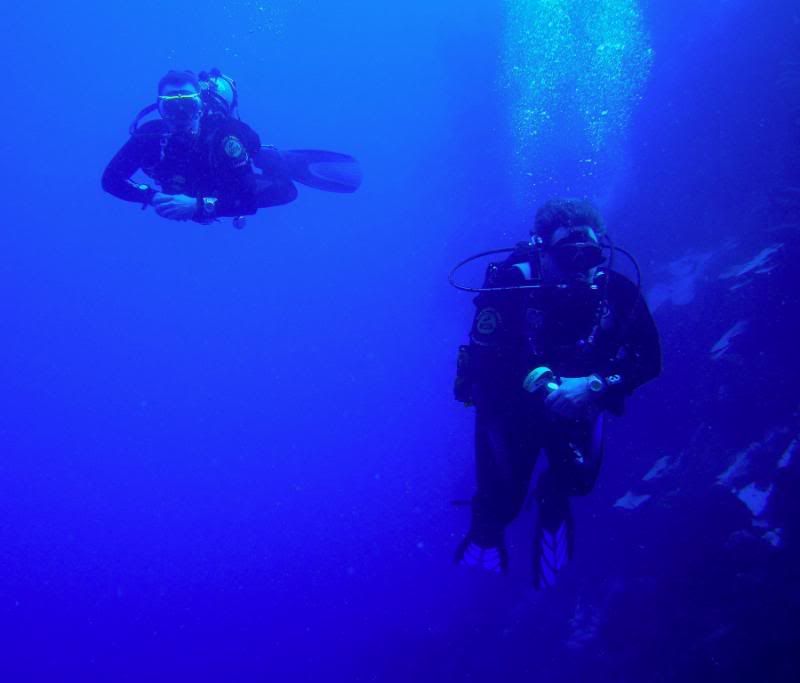 Time for a depth check. 103 feet...not bad.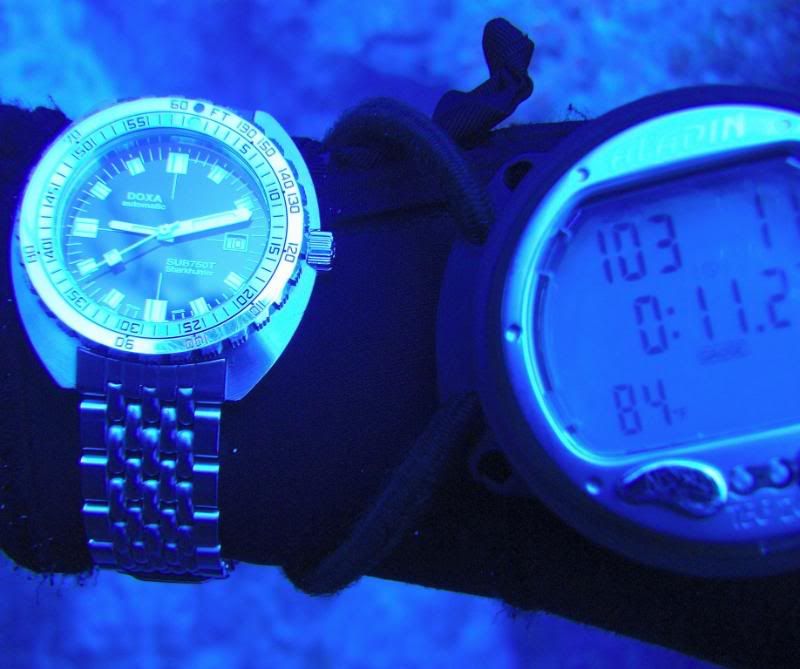 After Babylon, we began the journey to the North side. With a little more than an hours cruise away, it provided the perfect opportunity to sit back, off gas some nitrogen, clear your head, and appreciate the watches we had aboard. In today's line up, I once again dove my 750T Whiteshark, and Randy and Gavin both had their COSC 750T Divingstars. Todd wore his 5000T Caribbean, Brittie...her 600T Divingstar, and Michael wore his 2 dial T-Graph Pro.
On the way to Stingray, with a look at two rarities...the Whiteshark of which only 50 were made, and Randy's Divingstar of which only 20 were made. Definitely no safe queens.;-)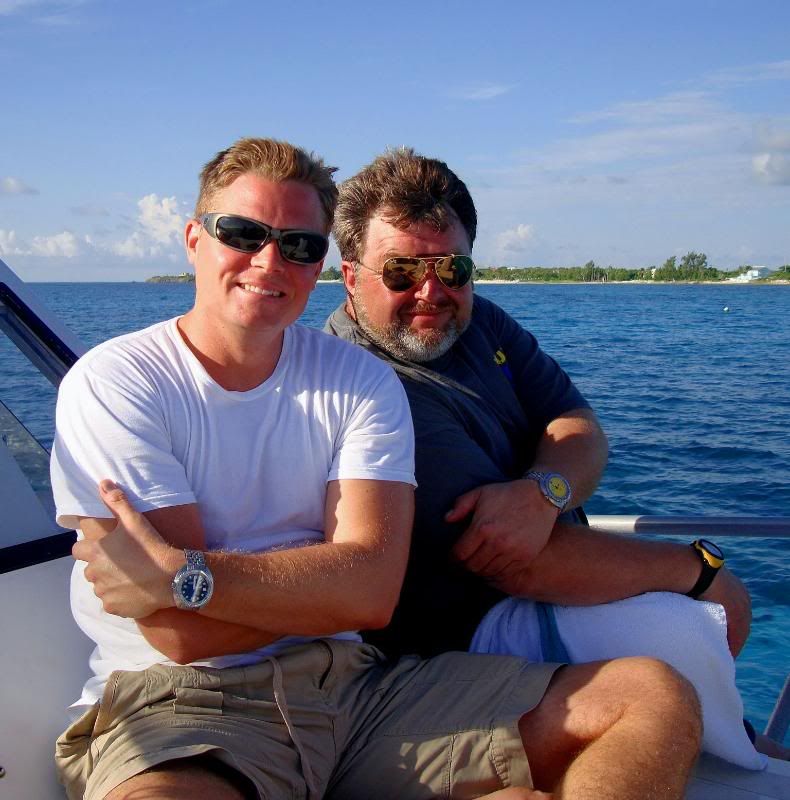 In calm seas with perfect weather, an hour sure passes quickly. Now it was time to meet the Rays and dive what's probably the most famous attraction on Grand Cayman...Stingray City.
Randy...taking us down with the Divingstar.
Waiting on the Stingrays.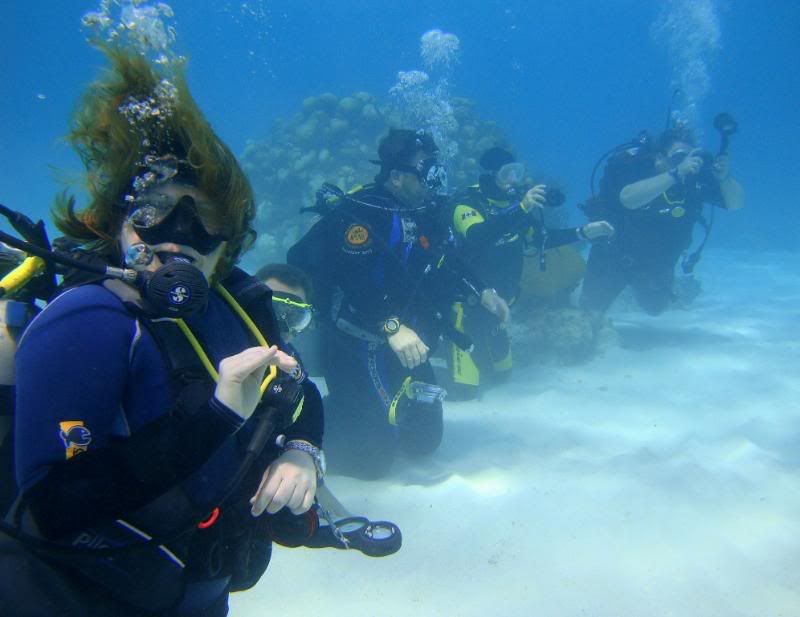 Here they come.
DOXA also set us up with new patches for the trip. This year's was inspired by the hang tags that Jenny used to include with the Jenny Caribbean. Cool...very cool.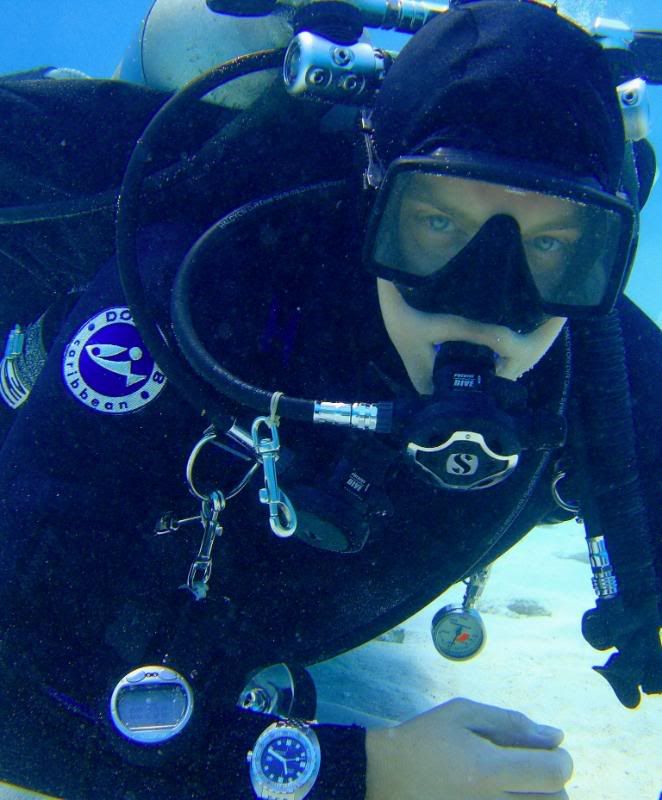 After the Stingrays had their fill, it was time for us to motor over to Kaibo and get ourselves something to eat. Since our orders were phoned in on the way to Stingray, our lunches were hot and ready for us as we pulled up to the table. No time wasted here, and before we knew it we had refueled and were ready to take on our third dive of the day....Penny's Arch.
Like I said before, the North Eastern dive sites are rarely visited by Ocean Frontiers. For one, there's plenty of incredible spots within minutes of Compass Point, plus these sites take a little time to get to...time that most vacationers aren't willing to spend. We though were ready, and Penny's Arch was a site that neither our captain or our crew had ever dived. Exciting to say the least.
This site was made up of long coral fingers(as they call them) divided by valleys of white coral sand. Just a few yards off from the mooring line was Penny's Arch, a small coral arch formed by thousands of years of currents and tides.
Todd, and the 5000T Caribbean going through the arch.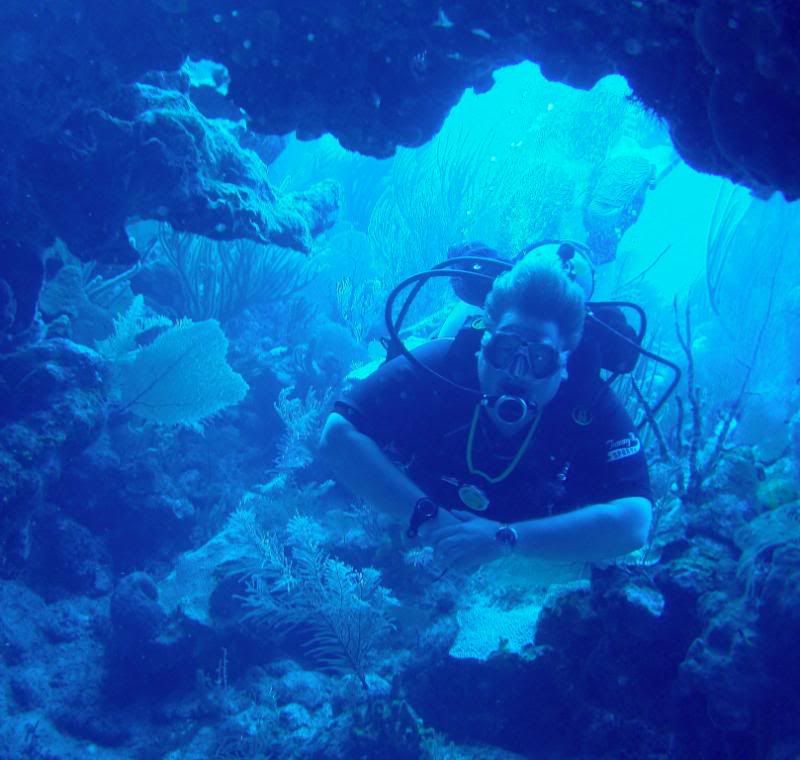 A coral sand valley provided the perfect spot for an underwater group shot.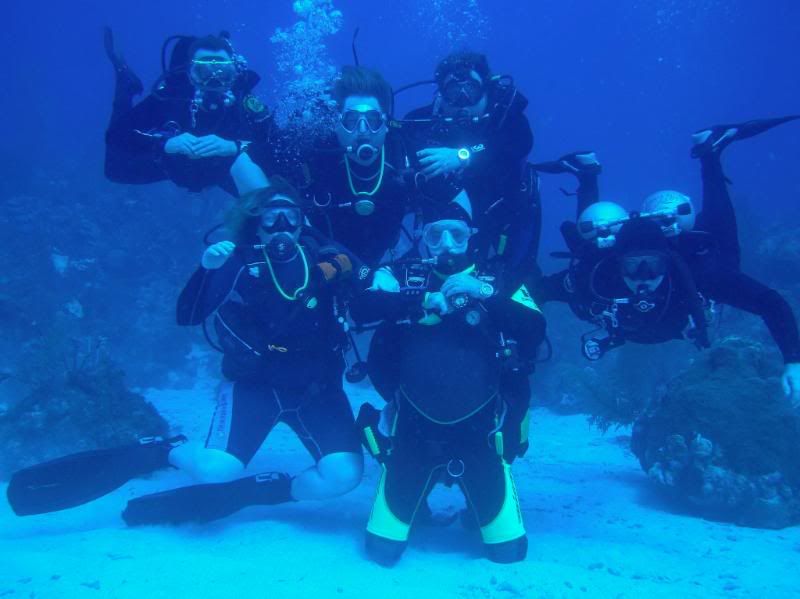 On the way back to the boat, I see Brad our Captain, and Lev our guide racing back toward the reef with nets in hand. Immediately I knew where they were going, as they had spotted a Lion fish. The Loin Fish, which we're all familiar with from salt water aquariums, is non-indigenous to Grand Cayman, causes extensive damage as it consumes 5 times it's own weight in food each day, and has no predators....well except for us.;-)
So quickly, after seeing I had enough gas, followed suit and caught up with them as they relocated the fish. Brad held one net, while Lev coaxed the fish with the handle of the other net, and I held light on it...essentially blinding it so they could make the capture. Once captured, we transferred it back to the boat, where it will be frozen in water back at Compass Point and turned over to the Cayman Dept. of the Environ. Maybe if more divers keep a sharp eye out for these predators, the problem can be contained before it gets completely out of hand.
Our quarry...the Lion Fish.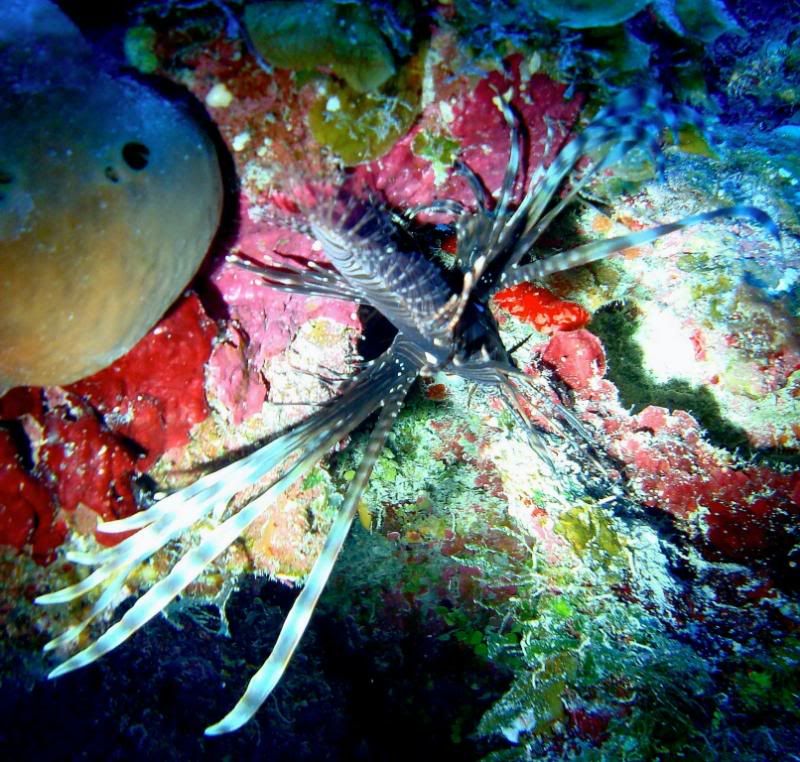 The diving excitement was over for the day, so we climbed back aboard and continued home to Compass Point.
However we weren't ready to call it a night, as tonight is Wednesday night...Diver's Night. Diver's Night is something unique to Compass Point...an event help pool-side, where local dishes like Cayman BBQ chicken, curried goat, peas and rice, fried plantains and spiced cornbread are served, as well as a nice jug of rum punch. It's an event where you can visit with other divers at the resort, watch a few videos filmed by Elly their resident photographer/videographer, find out about local culture and attractions, and just unwind from the days activities. In other words, a really nice way to bring the day to an end.