Today is Thursday and looking out, the skies are a bit gray with some heavy clouds over the Caribbean. Rain? Not an issue for the Searaiders, as we've dove in a hurricane before. If it does rain, we're still good...after all, there's no rain underwater.;-)
So far the rain is holding off, and the first site we come to is "Pat's Wall". Not sure who Pat is, so I guess I should have paid better attention during the pre-dive briefing. Oh well.....:-d
Randy easing into the swim-through.
Michael and the 300T reissue "Poseidon".
A quick look at my 1000T TUSA.
Second site today is "Snapper Hole" and let me tell you, if there was ever a candidate for a "Searaider's Reef" this would be it. The place is filled with what makes Grand Cayman special to me. There's loads of small tunnels and caves to explore, an old anchor lost to the reef hundreds of years ago, and a coral head that looks like a giant Smurf house.
This place is amazing....like something Disney would put together if ol' Walt were designing a dive site...almost too good to be true.
Capt. Brad gives the briefing. The red lines on the map show the tunnels and caves. |>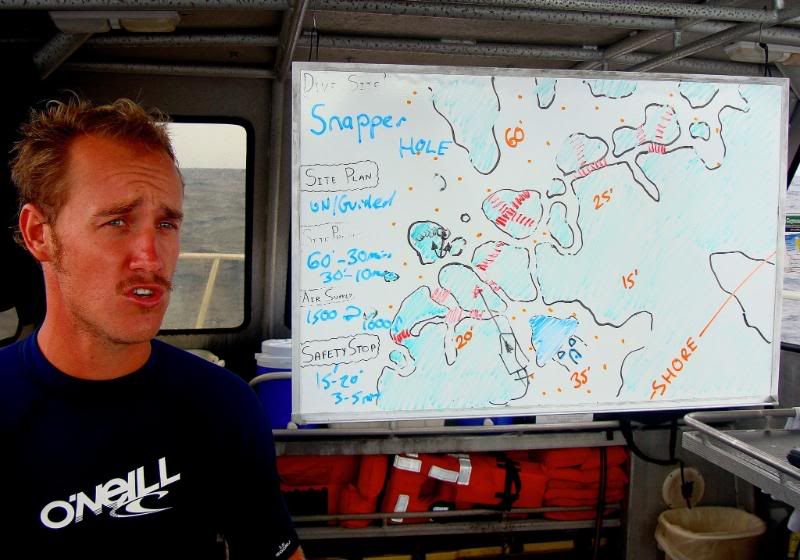 Searching the reef.
Emerging from a cave, and what's that in the distance?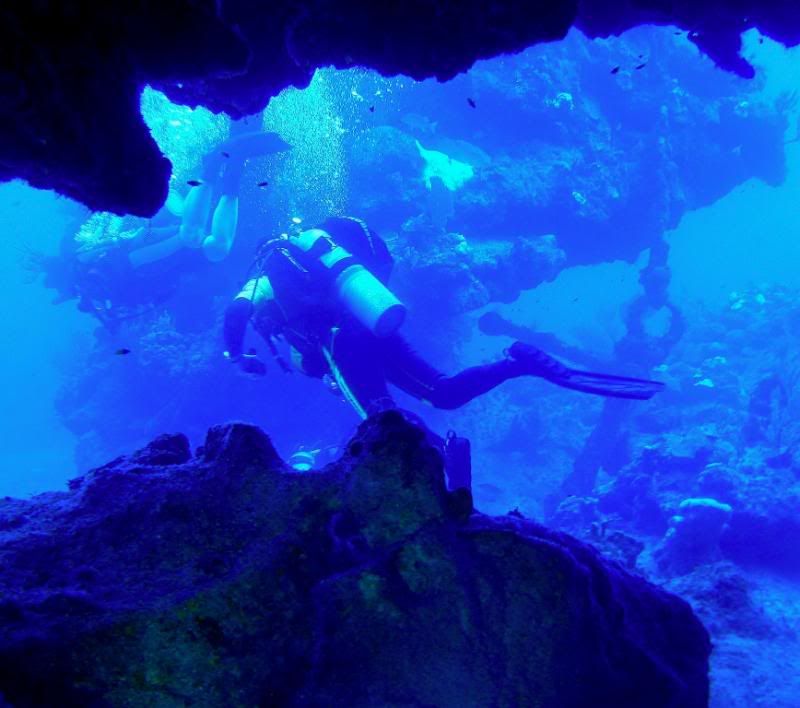 YES...the anchor.
Lobster in hiding.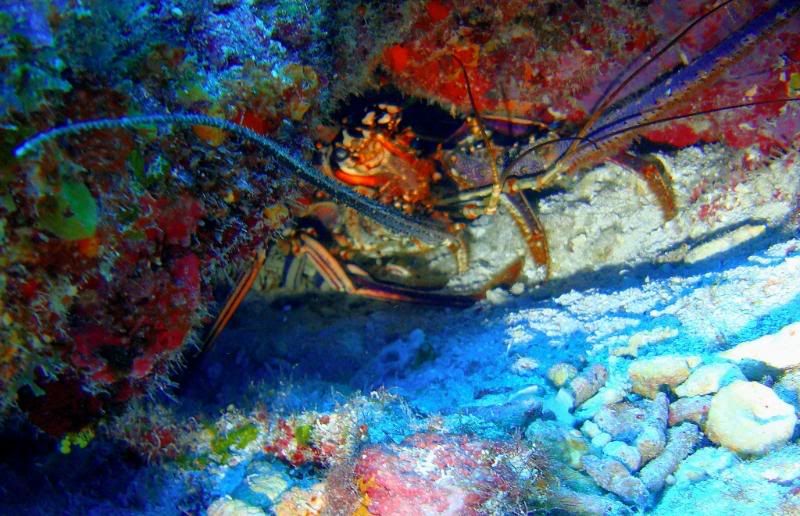 Brittie close behind.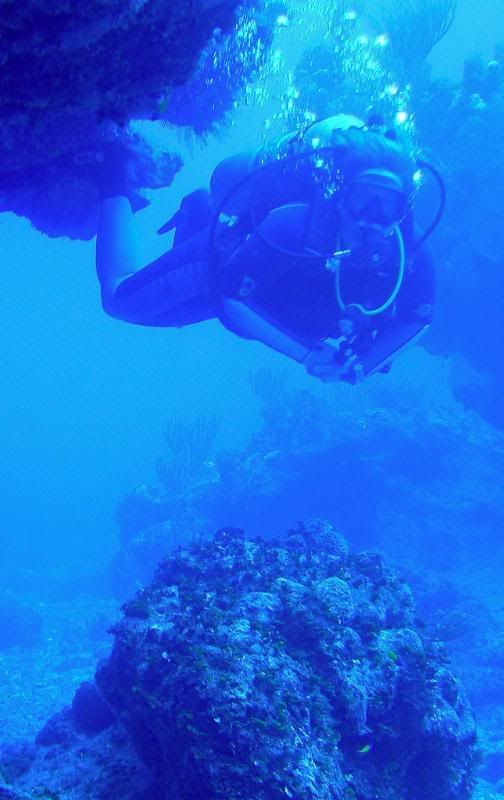 Time to return.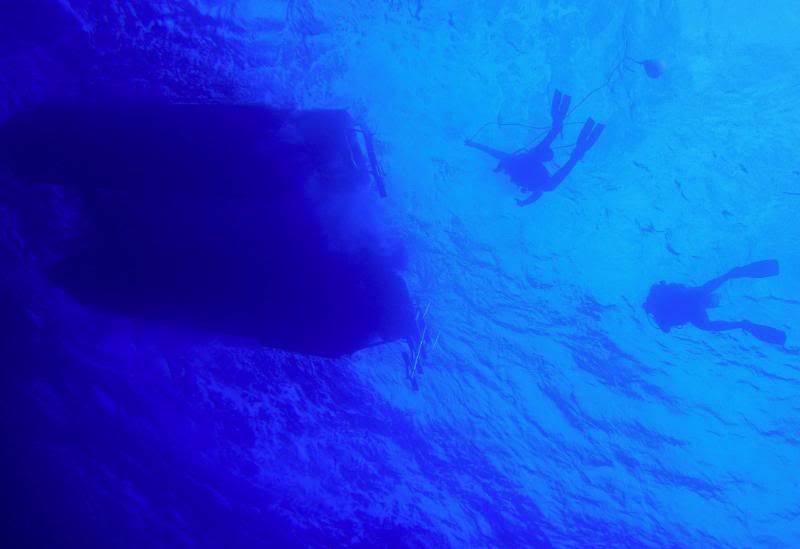 Not sure if I've mentioned it yet, but we're coming into the beginning of "Pirate's Week" here on the island. The best way to describe it, is it's sort of like Mardi Gras, but with a Pirate theme. The festivities go on for over a week with parades, the pirates landing, music, food, art, fireworks and everything else you'd find at a festival....and with that, what's a pirate week without a bit of treasure? So treasure it is, and I decided to share the bounty by having another drawing. There were Pelican boxes, rescue whistles, a scuba tool, dry-bags, and other bits that you might find handy to have in the dive bag. There was one prize though, that rose above all else, and for that...Brittie was the lucky winner. What did she win? A new TUSA Zen, wrist-watch dive computer.:-! A big thanks to TUSA for providing the prize along with t-shirts, key chains, and brand new snorkels for everyone.
The lucky prize winner.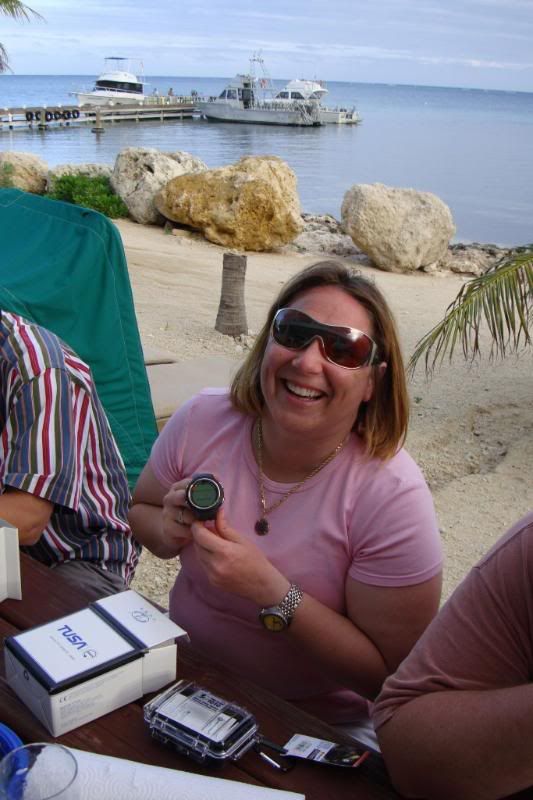 After finishing the drawing, as well as the excellent dinner that Todd and Britt prepared for us beach-side, it was time to get ready for the night dive. Every year we make a night dive so we can get a first hand look at the creatures that we miss during the day.
Normally we dive shallow (15 ft) inside the barrier reef, because it's usually too rough to safely navigate the narrow passage through the reef. Tonight, however was different. Due to the extremely calm seas that we've been having the past few days, it was smooth and we could venture out to one of the usual(and deeper) reef sites that lies outside the pass.
Tonight's dive is a site called "Old Isaac's". Old Isaac was apparently a very rich man, who lived on the East End, so they decided to name a dive site after him. Must be nice.;-)
The group getting ready before it's too dark.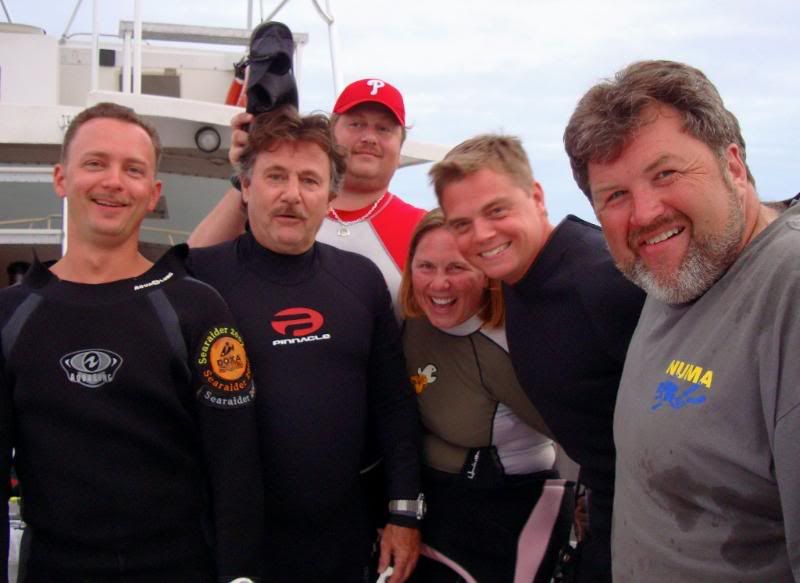 Todd and Randy ready to go.
Myself, geared up and ready.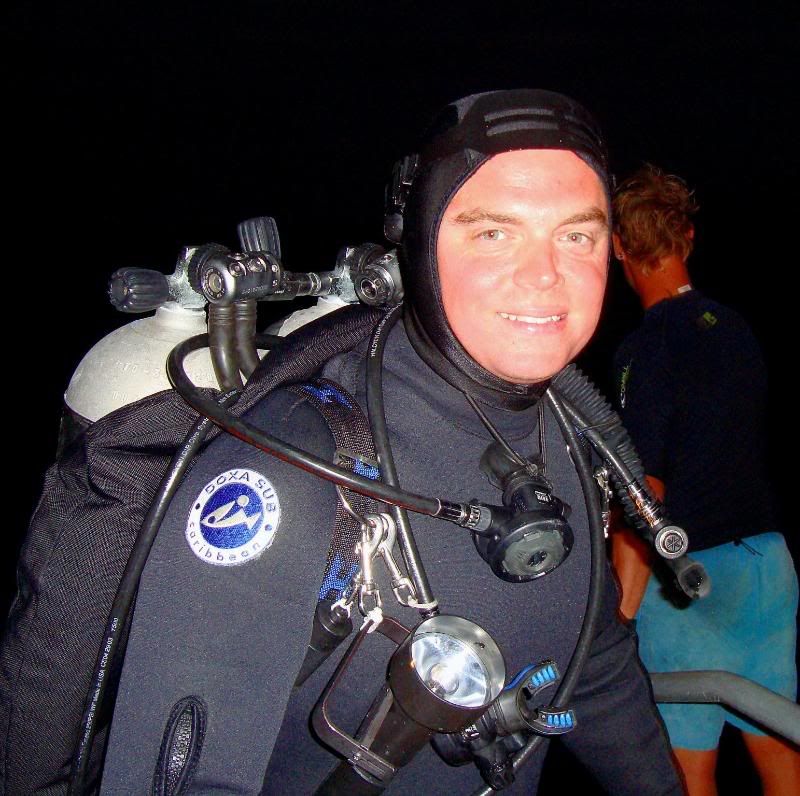 Once in, the reef looks completely different at night. You'll see many fish asleep, and the Parrot Fish encapsulate themselves in a bubble of mucous for protection while they sleep. The biggest highlight for me was the turtles. There were two, one on the move and one asleep on the bottom. How nice it must be to hold your breath for hours, and sleep beneath the sea.
Turtle on the move.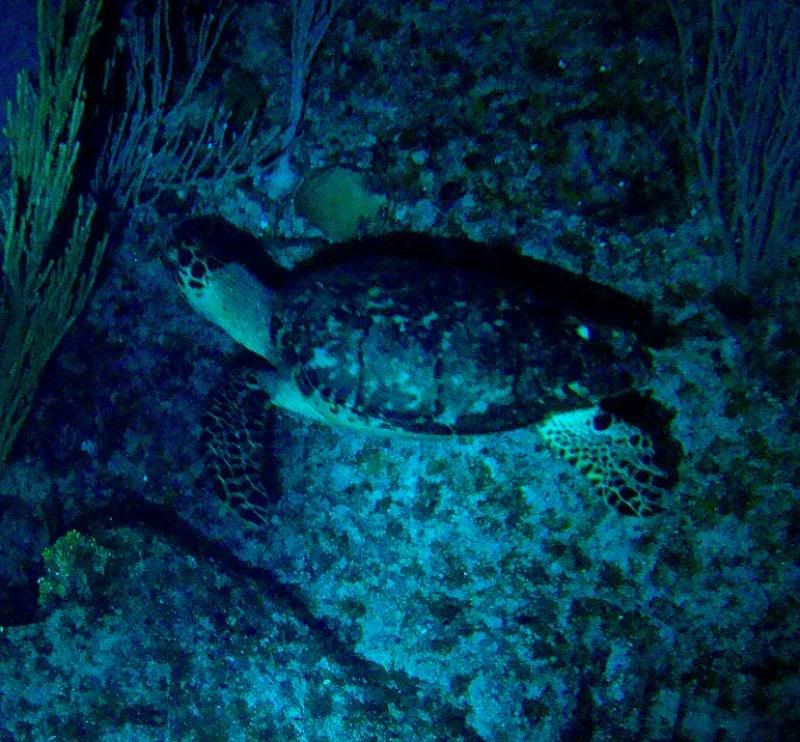 After the dive, waiting back on deck were the signature night-dive cinnamon muffins, and a large carafe of hot chocolate. Just what we needed to finish the day and prepare us for tomorrow. But what will tomorrow bring? Well, first it will bring our last day of diving, but it might bring something else. I guess we'll just have to get there to find out.;-)