Ever since I bought my Searambler back in December, I wanted to see how it performed underwater. Well, I got my first opportunity today and gave it a test run in the Gulf this morning.
Conditions were fair. Surface conditions were 2-4 feet, with a water temp of 64 degrees. Not bad for a thicker wet-suit, but since all I had with me was my 3mm, it was brisk but not uncomfortable.
With a hard bottom at 65ft, visibility ranged anywhere from 15 to 20 feet. Above 50 feet, you only had about 3 foot of viz.
Nothing is more eerie than low visibility in the open ocean. In front of you lies the anchor line...a dim white-line that disappears into nothing. All around you is a thick green haze, that becomes darker as you descend. What lurks in the haze? You know, but then you don't know. It's what you don't know....that sends a chill down your spine.b-)
On bottom, things open up. The wreck comes into view, and you start to see the marine life that call the place home. Today, for some reason was
Spadefish
day. I've never seen so many Spades on one site before. They're absolutely beautiful in their choreography.
Speaking of beauty, the real star on this dive was my Searambler. Based on my prior knowledge of colors and light behavior at depth, I had a pretty good idea of how the 'Rambler would perform. Once at depth, it exceeded every expectation.:-!
Throughout the entire dive, with poor visibility, and poor light penetration, the sunburst dial actually seemed to glow. It was almost as if it were back-lit. What happens, is that the tiny sunburst grooves in the dial collect all of the available ambient light, and reflect it back. The dial glowed with a soft, greenish-white light the entire time. This also gave amazing contrast to the orange minute hand, which never seemed to wash out or lose color at depth.
Here's a photo to illustrate what I'm talking about........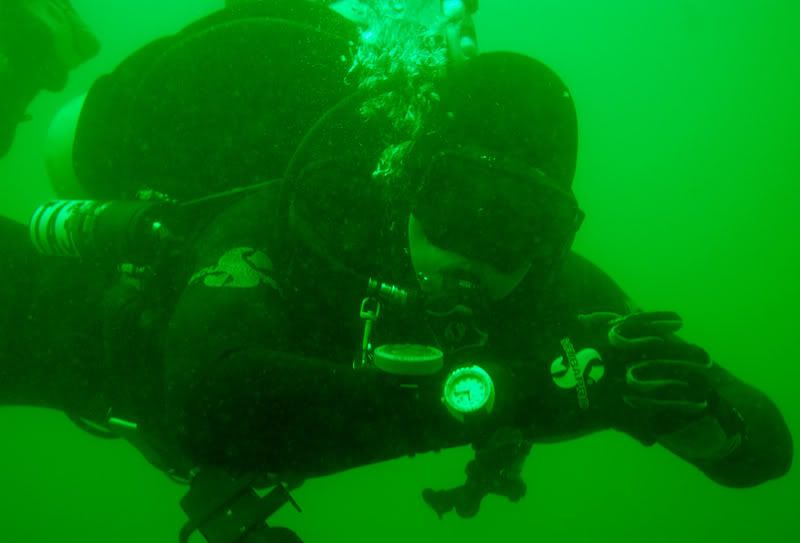 Even in this poor quality photo, taken through tons of micro-particulate, bad lighting, no strobes, and a distance of 6+ feet away from the camera, you can clearly read the time...12:17.
So.....is the Searambler just a pretty face? While definitely the "dressiest" offering in the Sub line, when called upon for dive duty, it performs with all of the functionality of it's more "toolish" brothers.
A hard-core performer underwater, but refined and understated for the most formal of affairs. For me.....the ideal dive watch.:-!