I know that on paper the sarb is clearly the winner. that said, this is my first watch having never really worn a watch in my life and i'm thinking that the sarb might be overkill for what i'm after. 2 weeks ago i didn't even know what hand winding or hacking was.
what i'm after is a good all round watch that i will wear casually on brown leather strap 90% of the time and more formally on a black leather strap the rest of the time. i'm in post-grad studies so i'm still a year or two away from wearing business attire every day, hence me being in jeans and a shirt 90% of the time. given this, i don't think i'll be buying another watch for a year or two, although down the line i can definitely see myself owning a nice little collection.
personally i think the black dials on these specific watches appeal to me a little more and seem a bit more casual, so it's essentially a contest between something like a SNKL45:
or a SNK795
and then the SARB033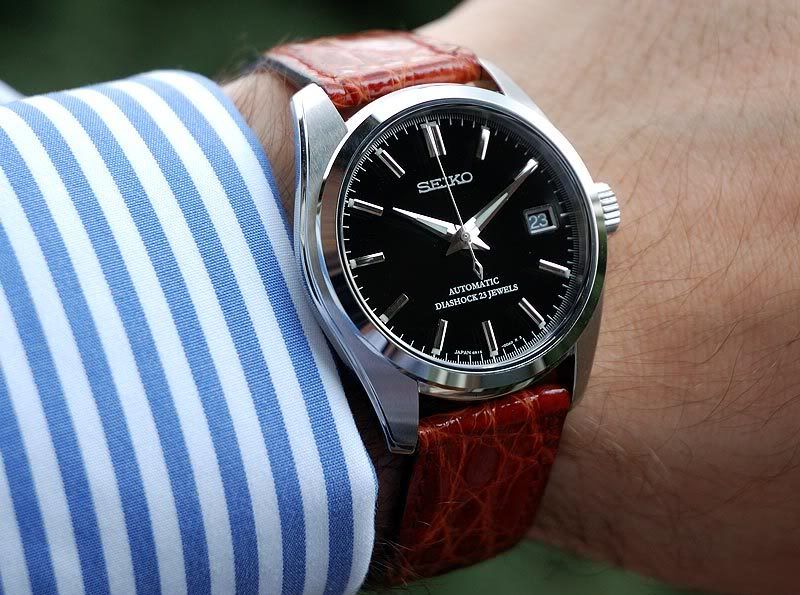 i've read about the sarb, and i understand it's reputation as one of the best value for money buys in this price point. it certainly looks amazing in photos, and they say it's better in person.
having said that, i am still a student, and so as great as the sarb033 sounds it's also $200 more. (the seiko 5s are on amazon for ~$70, the sarb033 for $275 on rakuten global) so it's more like sarb033 vs seiko 5 AND a new wallet AND nicer straps and clasp AND strap changing tool AND at least $50 more in my pocket.
the sarb033 display sounds like it will be a little better, the movement is obviously nicer, it looks superior, but coming from not wearing anything i feel like i'll still be reasonable happy with the seiko 5 and extras.
you guys are more experienced on the matter than i am however, so just curious if anyone has strong opinions one way or the other.