Here is a growing reference list of the general features and attributes that make up Seiko's different watch related companies, brands, sub-brands and watch product lines/families, both vintage and current. This list does not pretend to be 100% accurate or complete, but hopefully it is close enough to serve as a solid reference guide.

It is important to note that this list is a work in progress and not everything listed here is necessarily specifically a sub brand. For example there are watches that have the tsunami logo on their casebacks yet belong to the Prospex sub-brand, while others do not. As a result, please understand that this list mixes two different but intertwined marketing methods used by Seiko: "model lines" and "specialty badging". In addition, also remember that Seiko freely used more than one sub-brand name on a watch so as to denote a specific attribute not found on the regular sub-brand. For example, some of the 613x & 701x lines of mechanical chronographs were indeed marked "Speedtimer", but there were also those marked "SPORTS Speedtimer". The difference, as we've been told (& confirmed by some research) is that Seiko phased out the "SPORTS" badging by 1975. So, these "specially badged", possibly home market (
Japan
) varieties of the chronos started being called just "Speedtimer" in 1975. So, it could be wise to refer to the "SPORTS" & "Speedtimer" as special badging (like certain car manufacturers specially badge a limited edition of a standard model).

If any watch brands, sub brands, product lines or special badges are missing from the list, please point it out so they can be added. Please contribute any information you have and feel free to expand and/or correct anything already posted. Thank you.

-------------------------------------------------------------------------------------------

- Actus: (Sub-brand) - Lower end
Japan
market Seikos produced in '70s (maybe also late '60s), that were comprised of both Seiko 5 Actus and regular Actus and with an emphasis on styling. They seem to come in both rather conventional and "mod" case/dial designs, but the "mod" ACTUS not as radical as the typical Advan & VANAC styles. This series used 6106 and 7019 movements (maybe others BUT these two are the most common ones) Date languages were English/Japanese only. The word Actus is a Latin word meaning
unit of length,
progress/
moving through,
series/sequence,
act, performance (of play), delivery, action,
or
deed.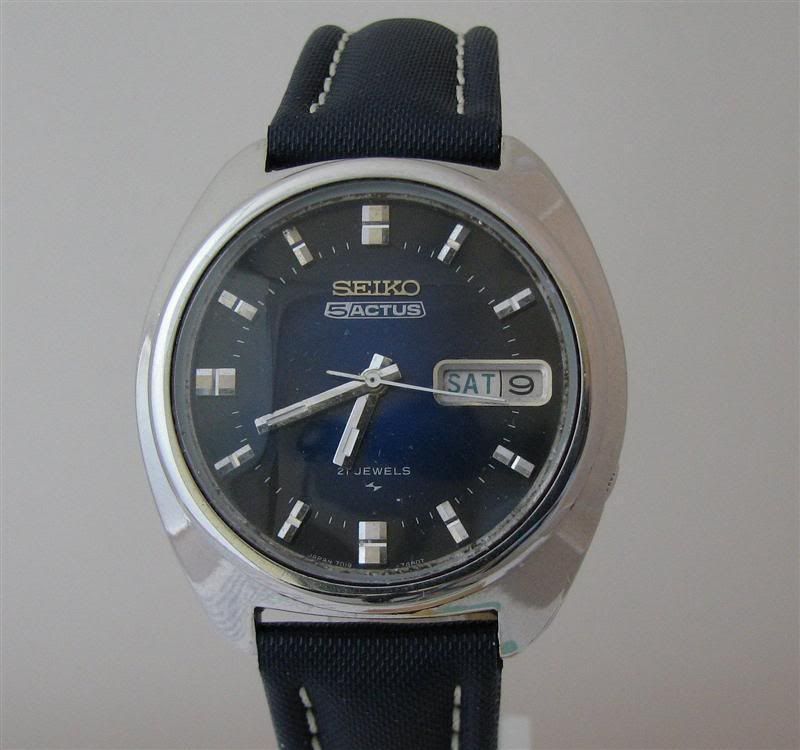 - Advan:
(Sub-brand) -
A specially styled (60's "mod") versions of 6106, 7019, & 7039 caliber powered watches. This was a mid-range line (while the VANAC line mentioned below was the upper quality line of "mod" styled watches.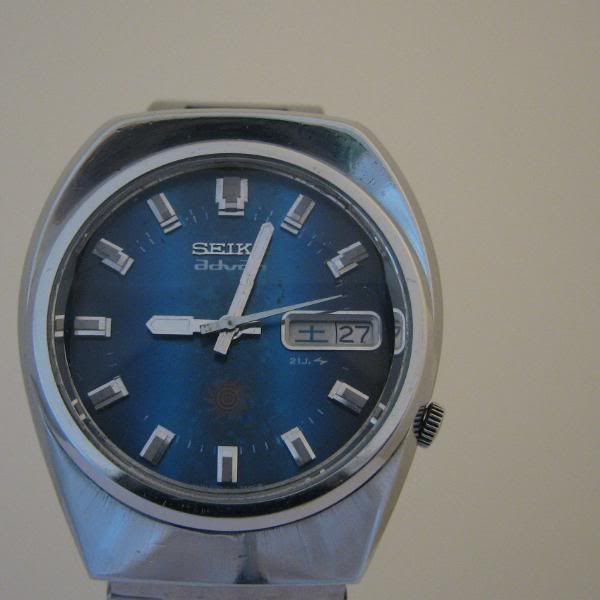 - AGS: (Product Line) - An acronym for "Advanced Generating System" or
"Automatic Generating System"
, which was used on some of the earlier Kinetic powered quartz watches. At their introduction in 1988, Kinetic watches were branded as "Auto Quartz". In 1989 this was changed to AGS (or the full, Advanced Generating System or
Automatic Generating System
); and finally, in 1997, the name was replaced by Kinetic.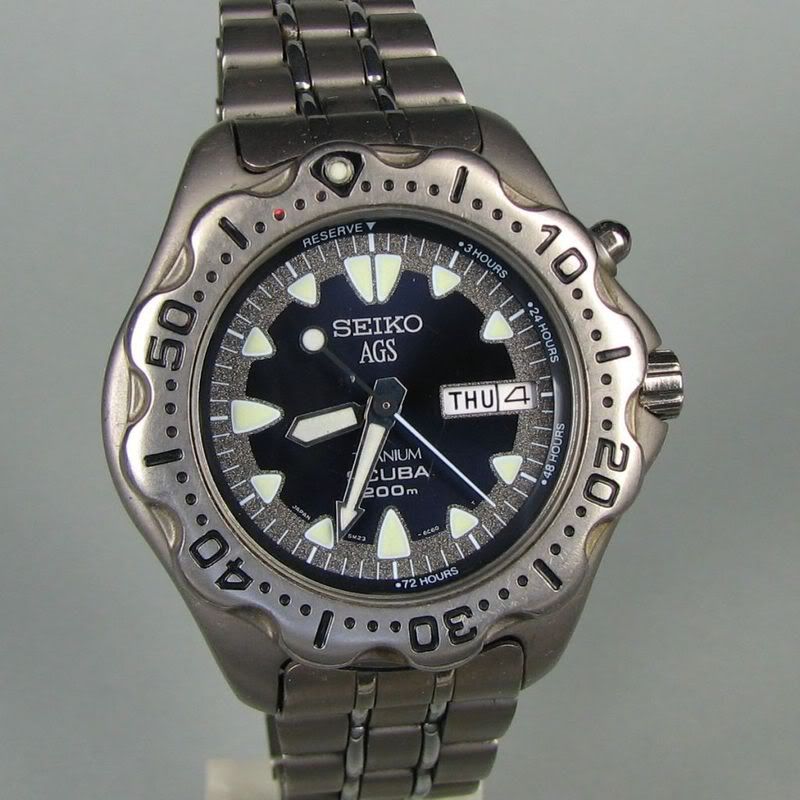 - Alba:
(Brand) -
- Alpinist:
(Sub-brand) -
a
Japan
market line of watches first introduced in 1961, which was inspired by the Japanese concept of Yamaotoko. According to Seiya Kobayashi, this term translates into English as "mountain man", and generally describes the Japanese tradition of amateur mountaineering in which people pass time by to climbing
Japan
's mountains during weekends and holidays. To these folks, having dependable climbing gear is important. The Alpinist line consists of five generations, with the first one being first released in 1961 (the hand-winding Laurel Alpinist). This model was followed in 1963 by the Dauphine-hand Champion 850 Alpinist. SEIKO then retired the line for 30 years, only to revive it again in 1995 with the popular automatic/hand-winding 4S15 caliber models, which was only in production for two years. Due to the popularity of that model, in 2003 seiko released a titanium-cased, Perpetual Calendar Quartz Alpinist with red GMT hand, and in new 2006 a stainless steel automatic/mechanical Alpinist powered by the 6r15 caliber which closely resembles the 1995 model. You can read more about these on seiya's article here: http://yeomanseiko.spaces.live.com/blog/cns!3318BA07329CD633!488.entry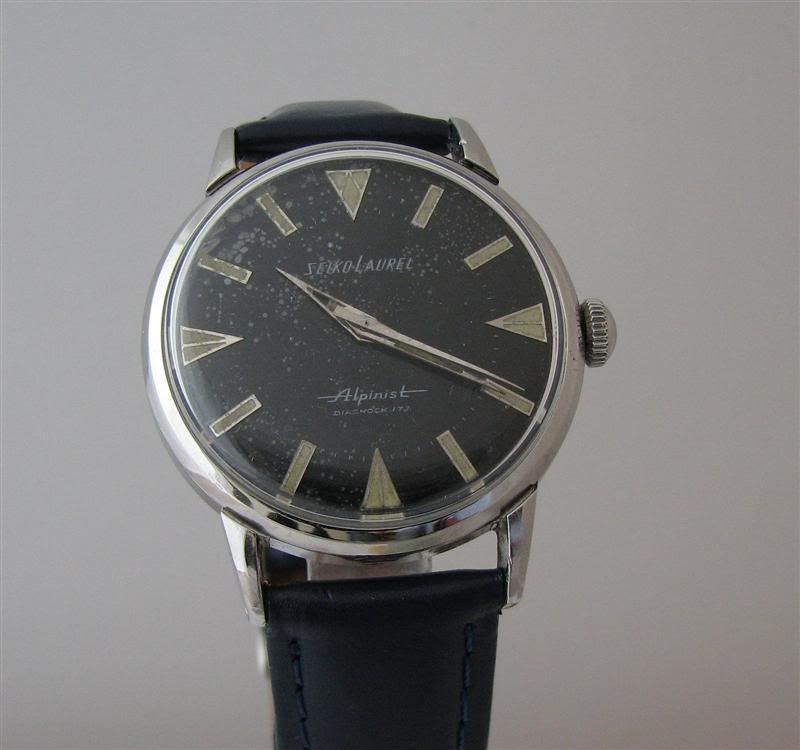 - Aka:
(Brand) -


- Angelfish: (Special Badge) According to Mr. Tokunaga, the Angelfish case-back mark is an emblem that represents water-resistant ladies watches of the time (mainly the 1960's).

- Arctura:
(Sub-brand) -
Midrange new designs for the international market. Debuted in 2003 (I think) with the SNL001P Kinetic chrono with the 7L22 movement. Largely a dressy affair with a hint of sportiness. The Kinetic Auto Relay models (5J32) appeared shortly with the latest 7D46 Perpetual Calendar appearing in 2006 or so.

- Bell-Matic:
(Sub-brand) -
A family of automatic watches characterized by having a mechanical alarm that can be set by an internal rotating bezel and activated/deactivated by a pusher located near the
2:00
position of the case. They were available in a wide range of styles and models during the late 60's and 70's and featured some of the largest non-diver cases produced by Seiko at that time. They are predominantly powered by a variant of the 4xxx caliber of movements (please expand on this).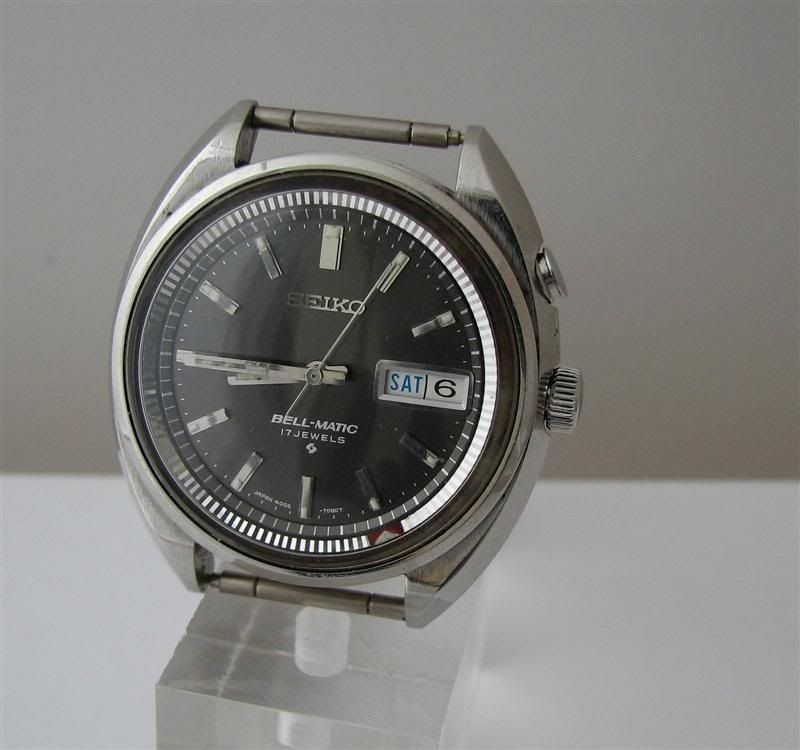 - Brightz:
(Sub-brand) -

- Business: (Sub-brand) - ( aka Bell-matic and Business A) The Business brand was used on a few Japanese market Bellmatics during the late 1960s, which were powered by the 4006 Bellmatic caliber (Business Bell) and the 27j 8306/46 Seikomatic caliber. This sub-brand seems to have been part of a short marketing campaign intended to emphasize the attractiveness of Seiko watches to the Japanese "salary-man".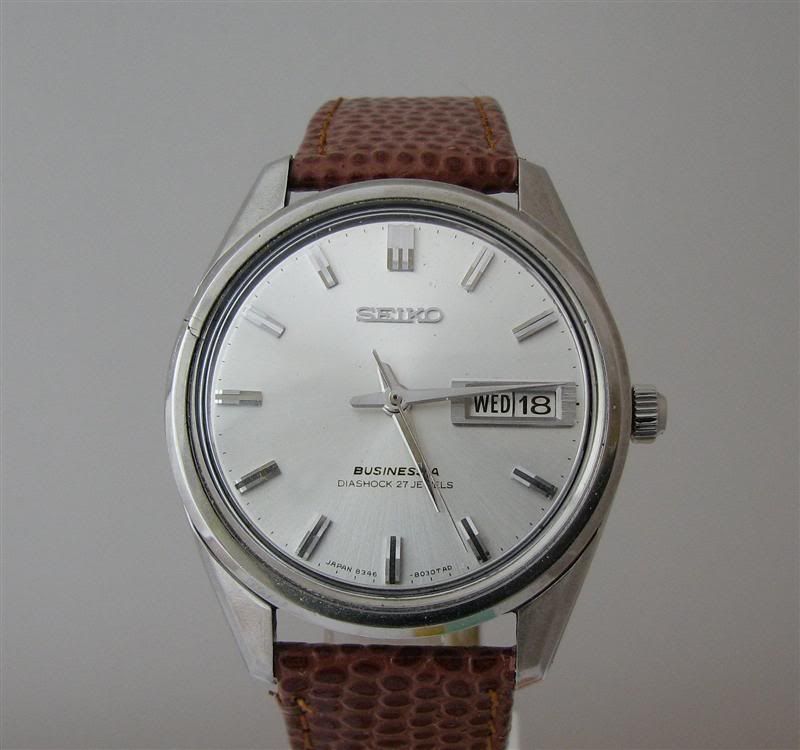 - Champion:
(Sub-brand) -
The Champion was Seiko's low end handwind watch introduced in 1960 in 17 and 19j versions. The Champion evolved with the Champion Calendar (1962), the Champion 850 (1963) and the date version Champion 860 (1964). The Champion also existed in a few specialised versions, of which the Champion Alpinist is the most famous.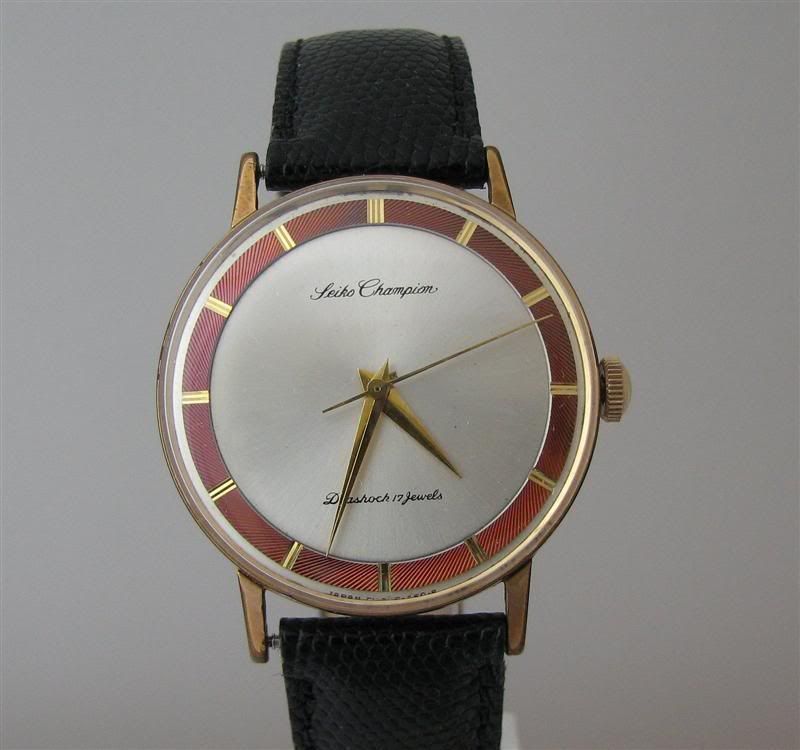 - Chronometer:
(Sub-brand) -
Chronometer grade pre-1960s models. Probably mainly hand-windable,

- Coutura:
(Sub-brand) -
North American market dress/sports dress watches. Not available in
SE Asia
.

- Credor:
(Brand) -
See "Seiko Credor" entry below.

- Criteria:
(Sub-brand) -
Recent introduction to the South East Asian Seiko lineup (
Hong Kong
,
Malaysia
and
Singapore
); they are mostly blingy and slated for the younger buyer market. First introduced with the 5T52 World Timer and 7T62 chrono quartz movements sometime in 2002 and the 7s36 Criterias appeared in 2004. I don't know if Criteria is circulated in
Thailand
.

- Cronos:
(Sub-brand) -
Daini designed and manufactured high-end Manual watches
produced from 1958 to 1964 in 17, 21 and 23j versions. Also available as Cronos Selfdater (with date) from 1961 and Cronos Special (with extra adjustment) from 1963. The Cronos was Seikos mainstream offering in the late 50s, similar to the Marvel and was priced from JPY 5700.
The Cronos line were generally precursors to King Seiko and Grand Seiko and not quite as high-end.
A refinement of the Cronos movement was later used in the King Seiko.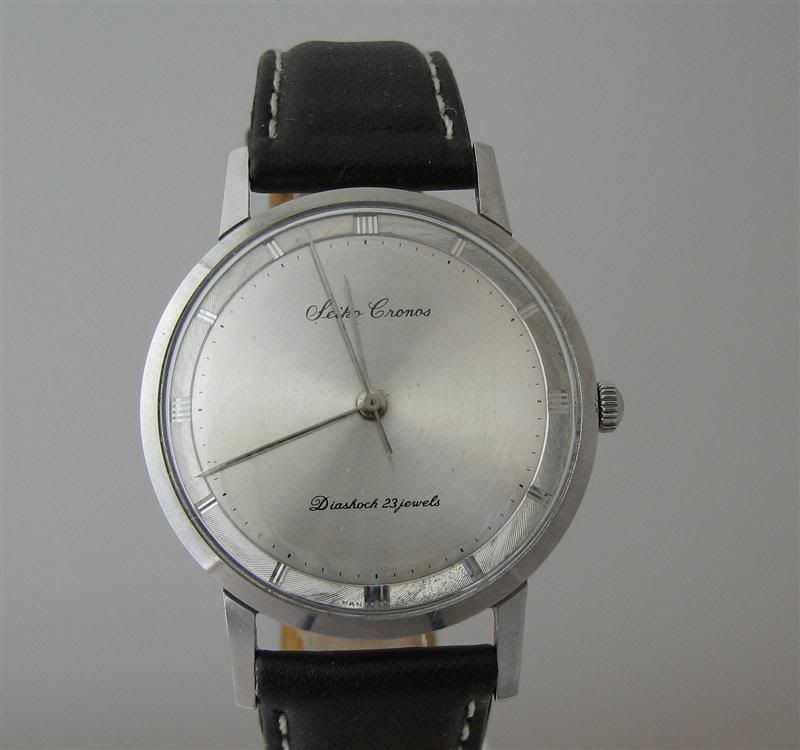 - Crown:
(Sub-brand) -
Suwa designed and manufactured high-end manual watches of the late 50's and early 60s. They were precursors to the Grand Seiko and not quite as high-end. The logo looks something like the Rolex logo and in some instances, was used in conjunction with other sub-brand names, such as in a 6218 Seikomatic Weekdater & a 6216. These are both highly jeweled (35j & 39j) movements with a quality level only slightly below that of their contemporary Grand Seikos & associated Chronometers.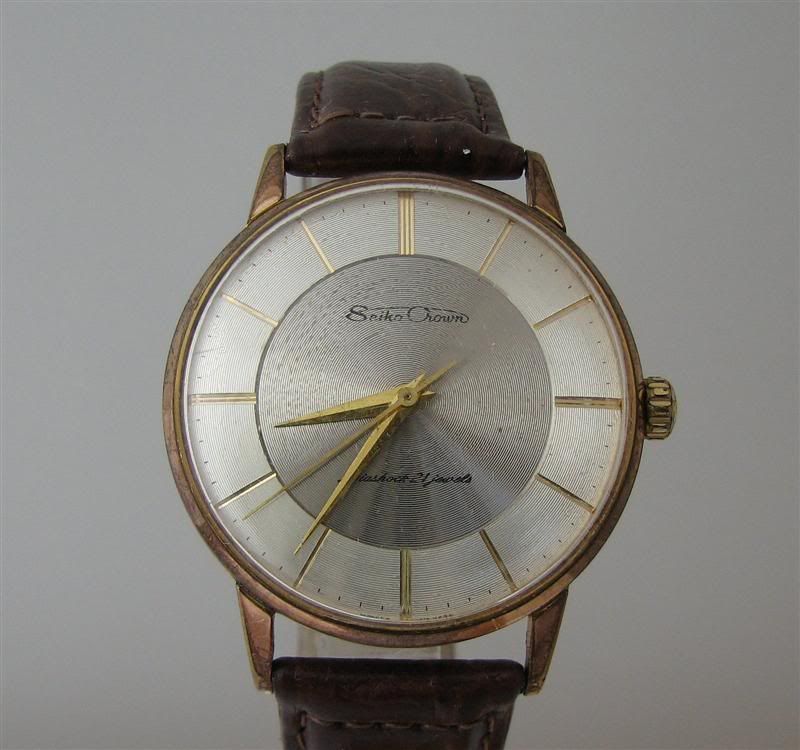 - Dolce & Exceline:
(Sub-brand) -
A
Japan
market line of thin and dressy high-end quartz watches. Many of these are powered by thermocompensated or atomic sync movements.

- Dolphin: (Special Badge) - According to Mr. Tokunaga, the Dolphin case-back mark is an emblem that represents self-winding types of water-resistant gentlemen's watches of the time (mainly the 1960's). In addition, George K. reports HERE,
that a modern version of the Dolphin caseback badge is/was also used on the Kinetic Fin Divers casebacks from around 1998 through 1999 (please correct this timeline if it is incorrect). If you follow the link provided you can see a picture of the caseback of one of Geroge's three Fin Divers showing the more cartoon like,
stylized and raised
Dolphin logo, which is rendered, not unlike seiko's well known full Tsunami Wave logo.
- DX:
(Sub-brand) -
A line of inexpensive Seiko Automatics consisting predominantly (but not exclusively) of caliber 6106 (a, b & c) & 70xx caliber powered automatics, produced during the 1960's, 70's & early 80's. These watches were produced during a time in which Seiko experimented widely with design. DX is an acronym for the word Deluxe and it was originally supposed to reflect the supposed general luxury character of the watches. In reality, they were generally affordable and tended to offer design touches typically found in more expensive watches of the time, such as iridescent or textured dials, applied markers, and/or painted hands and markers. Styling ranged the gamut from conservative to pretty far out. Some DX models were also offered in a regular line (such as Seiko 5) and aside from the DX markings are indistinguishable from the regular model. In at least on case that I know of, the watch evolved over time keeping the same case but changing the movement (and jewel count). By the time the DX designation was used in its later days, it doesn't seem to have really meant much any more.

- Galante:
(Brand) -
A recent up-market model Seiko for the
Japan
market. Galante watches are mostly high and fashionable elements are incorporated in the designs. Looks like a Credor Node (see below).

-
Galaxy:
(Sub-brand) -
- GLX:
(Sub-brand) -
I think it stands for "Galaxy". A little known sub-range from Seiko. Not sure if it's still in production but it's most probably was for the
Japan
market.

- Goldfeather:
(Sub-brand) -
A short-lived line contemporary with the first KS (1950's) that was slimmer and not quite as high end as latter Grand Seiko's. However, there is one anomalous model in that line - the 609000. Instead of being the "classic" ultra-slim (for it's day) uncomplicated (in the styling sense, not mechanical sense) dress watch, this one is rather "chunky"/solid and has "mod"/fashion influences, but not to the extent that most VANAC/AdVan models do.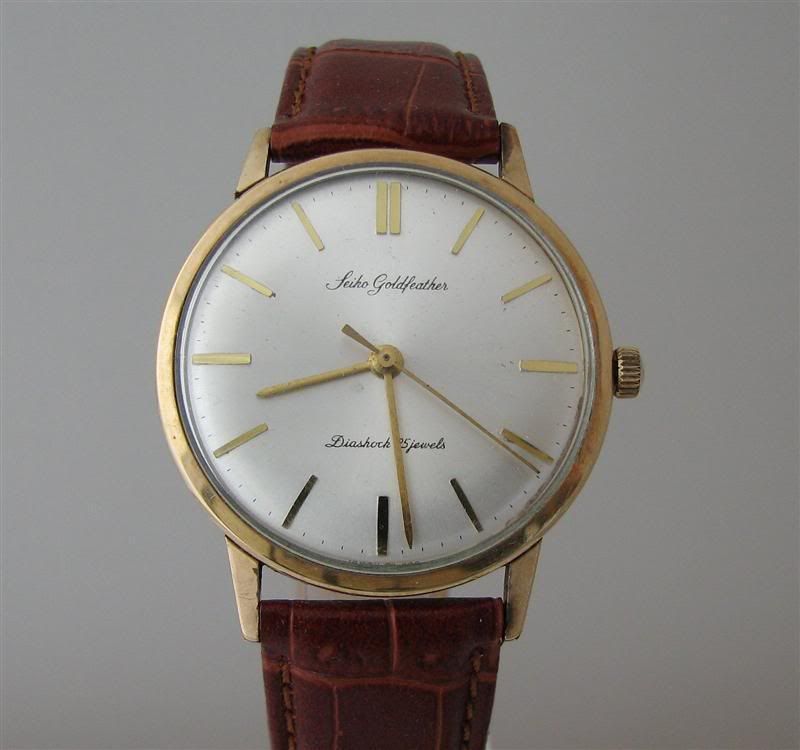 - Grand Seiko (GS):
(Brand) -
Since 1960, it has been Seiko's highest end line of chronometer grade mechanical watches. In many ways comparable or superior to the best mechanical watches produced in
Europe
. All are manufactured in
Japan
and are predominantly available only to the Japanese market (though some have said that some models have been made available in
Hong Kong
) be prepared to spend serious money for one.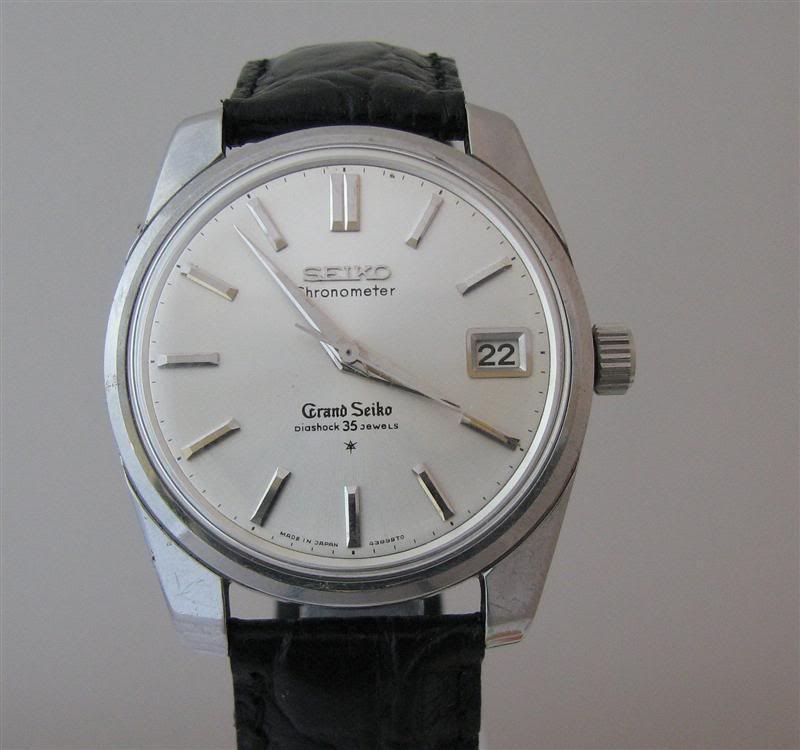 - GS Astronomical Observatory Chronometer: (Sepcial Badge) A very limited line of watches used in the Swiss observatory competitions in the '60s.

- Gyro Marvel: (Sub-brand) - The Gyro Marvel was Seiko's first independently developed automatic watch. It was introduced in 1959, as a subset of the Marvel Line. The Gyro Marvel's caliber is based on the Marvel caliber and exist only in a 17j version. Like the Marvel, they formed Seiko's top watch line of watches during the late 1950's. Sadly, the Gyro Marvel was relatively short lived and was replaced in Seiko's lineup by the Seikomatic in 1960. The price of a Gyro Marvel in 1959 was ¥5,900.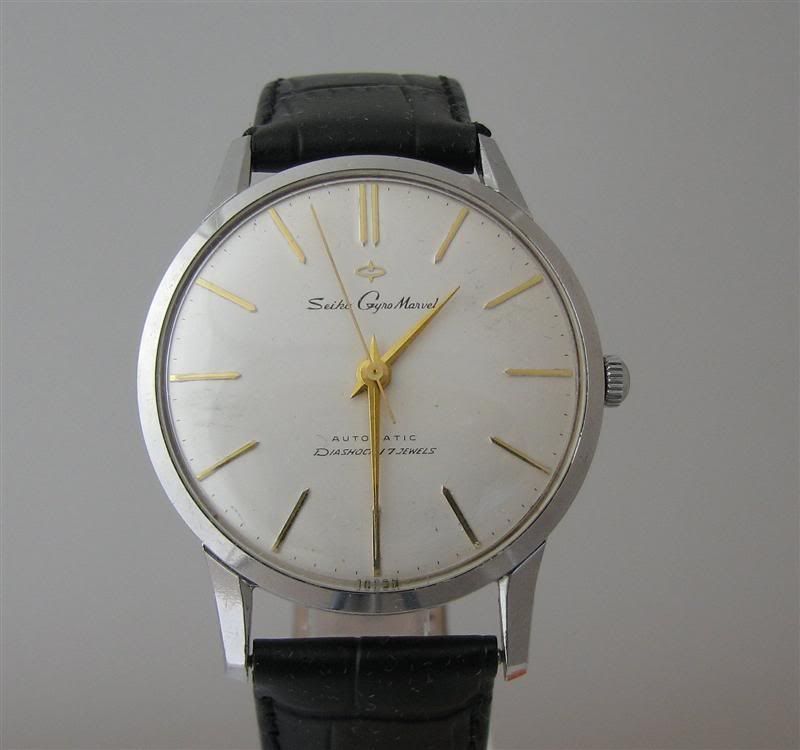 - Ignition:
(Sub-brand) -
- iu:

- Kinetic: (Product Line) A line of mid priced quartz watches produced from the mid 1990's until the present, that covered many different watch types and style. They were characterized by getting power from a rotor used to generate an electric charge which is stored in a rechargeable medium. Originally these were capacitors, but do to problems, capacitors were later replaced by rechargeable lithium ion batteries .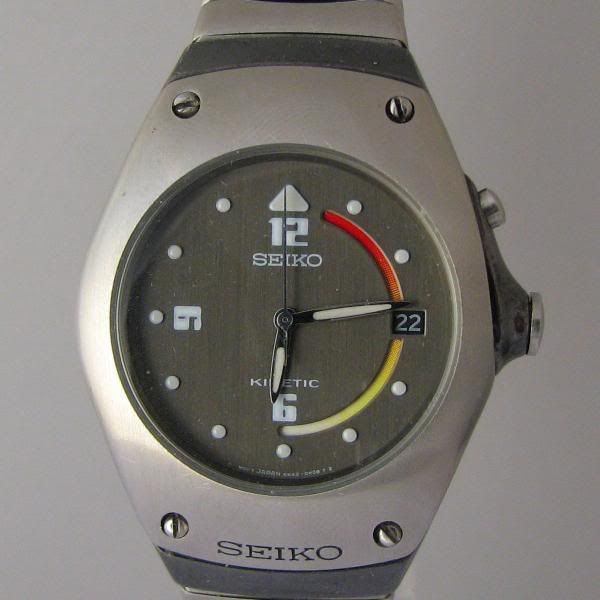 - KS (King Seiko):
(Sub-brand) -
A high grade watch that was second to the GS as the most top of the line Seiko during the 1960's and 70's. Some of the models featured an unique external adjusting screw so that if it was fast or slow the movement could be adjusted with out removing the movement from the case (was one piece case in the beginning). Later versions of the KS were in the Vanes line which was a funky mode line of the 1970's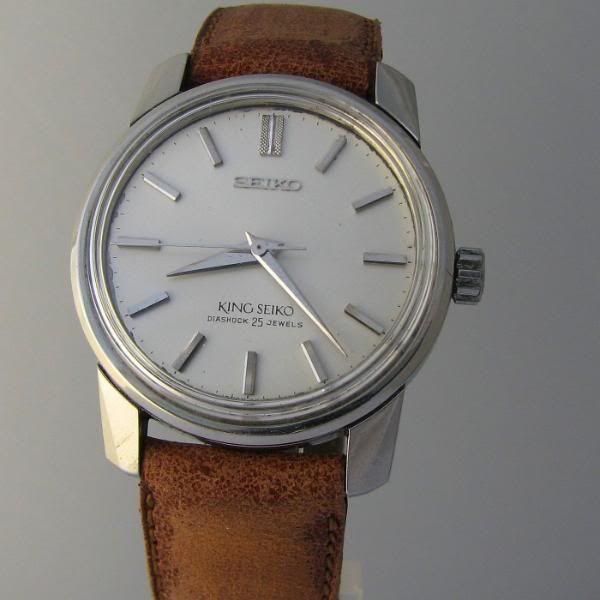 -
LASSALE:
(Brand) - Jean Lassale was a Swiss watchmaker who made his mark by creating a line of ultra thin dress watches in the 1970's. Seiko bought the brand and proceeded to make very similar ultra thin dress watches from 1981 and to the early 90's, mainly for sale in north America. Seiko's LASSALE branded watches were quartz powered though, but they were all relatively high end. AFAIK after Seiko folded the brand it has not reintroduced it, but I could be wrong. As I understand it (and please correct me if I'm wrong) the brand "Jean Lassale" (not LASSALE) has been reintroduced on ultra thin swiss made mechanical watches and are unrelated to Seiko. According to
Funding Universe's Seiko corporate history
, seiko
"acquired Jean Lassale, a Swiss subsidiary, and developed a product that combined Seiko's quartz movements with a very thin Swiss-style case. By seeking higher profit margins from luxury products, the company expected to make up for declining profit margins on its less expensive products. The Jean Lassale purchase was part of a pricing strategy to offer a more expensive line to complement lower- and medium-priced watches and appeal to a wider range of customers."

- Liner: (Sub-brand) - The Liner was introduced in 1960 as thin and fairly exclusive dress watch made by Suwa. Suwa managed to squeeze the caliber down to 3mm - as compared to the standard 4mm of other calibers at the time. The standard Liner, with 21j and 23j versions, remained in production until 1963. There is also the very rare 25j Liner Chronometer which was produced in a very short series in 1963.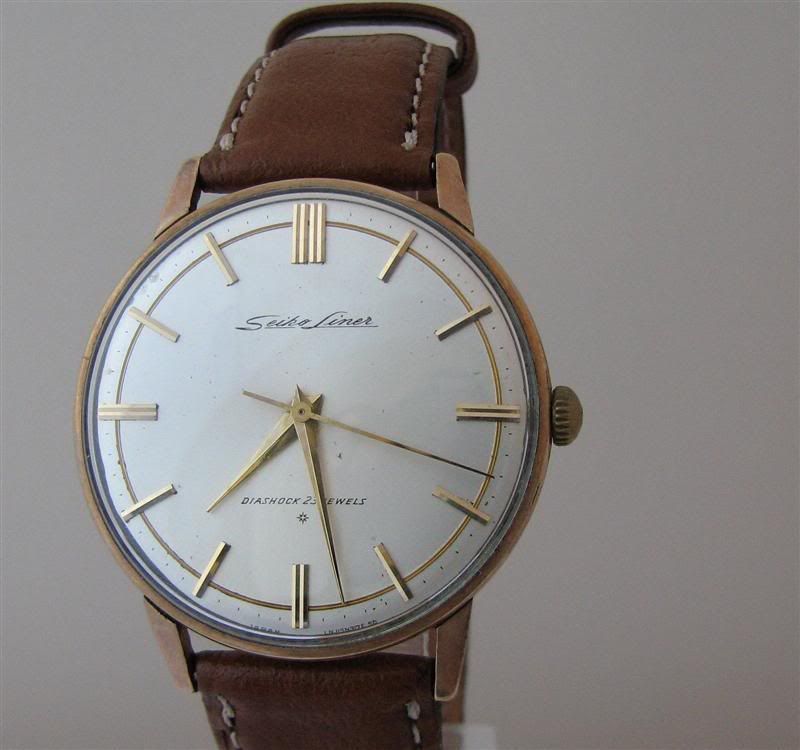 - Lion: (Special Badge) - According to Mr. Tokunaga, the lion emblem stands for high quality chronometer grade watches of the time (mainly the 1960's) & some early Grand Seikos that developed from chronometers.

- LM (LordMatic):
(Sub-brand) -
was a mid range Seiko that boasted the fact that the watch was an automatic that was thinner then all other auto's of the time. In the beginning the watches were one piece design that you could only remove the movement from the front. Had the 5606 movement that was the base for the KS's of the time. There is also Lord Marvel, LordMatic Special. The LordMatic was made by Suwa, while the LordMatic Special was made by Daini (using completely different movements with higher quality/accuracy specs).
- LM Special / LordMatic Special:
(Sub-brand) -
A subset/evolution of the LM line. They were powered either by 5206 or 5216 auto movements, in 23j or 25j variants running 28.8K bph (base LM's were powered by 21.6K bph automatic movements in 23 or 25 jewel variants.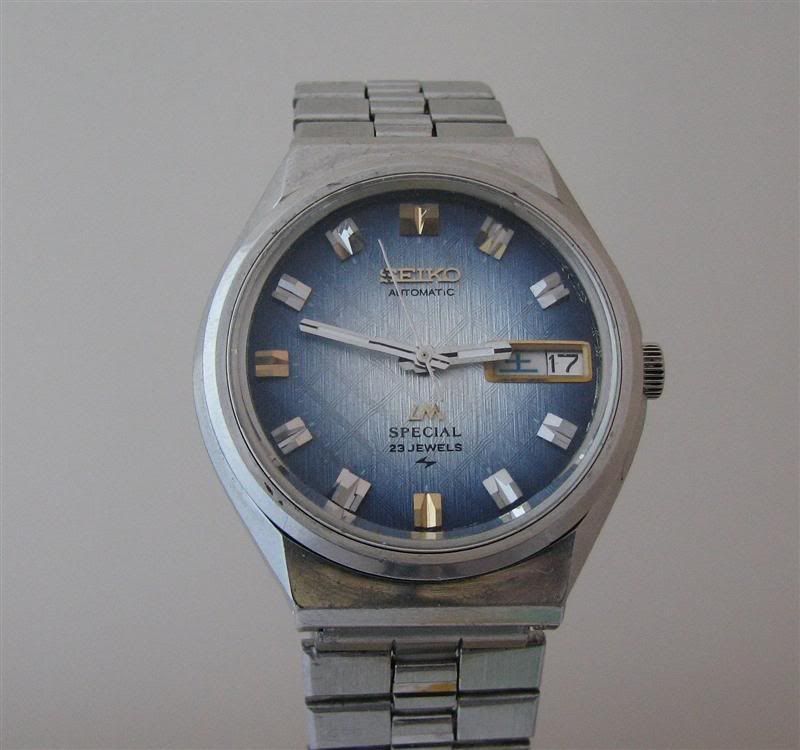 - Lord Marvel:
(Sub-brand) -
A subset/evolution of the LM line. These models were hand wound with and powered by one of the 5740 caliber variants. The 5740C is the hi-beat 36,000 BPS version and is said to have been the "trial" effort for later hi-beat Grand Seiko calibers (such as 61xx series). Once Seiko knew the 5740C was a technical success, they were able to market the hi-beat 36K GS line.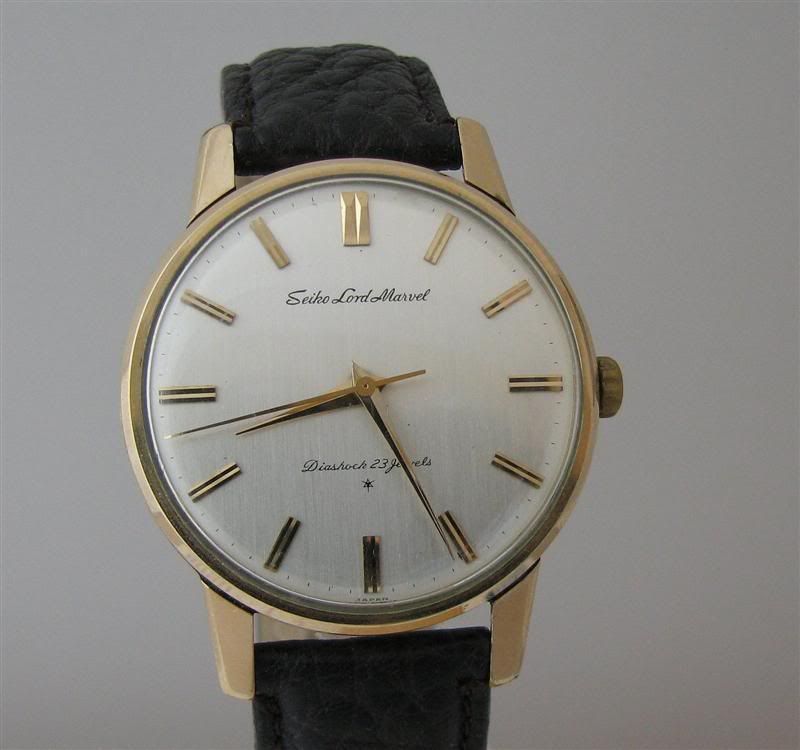 - Lorus:
(Brand) -
- Lukia:
(Brand) -
Japan domestic market ladies' range.

- Marvel:
(Sub-brand) - The Marvel was a Suwa watch introduced on June 10, 1956, a day that coincidentally was also "Time Memorial Day", a one day celebration of time all over Japan. The Marvel was the first modern caliber produced by Seiko and a large leap forward both for technical achievement and manufacturing efficiency. This sub-brand was Seiko's top watch line of manual-wind watches during the late 1950's. They were made in 17j, 19j and 21j hand-wind versions and remained in production until 1959. The Marvel was priced from ¥4,500 and upwards which made it affordable to most Japanese.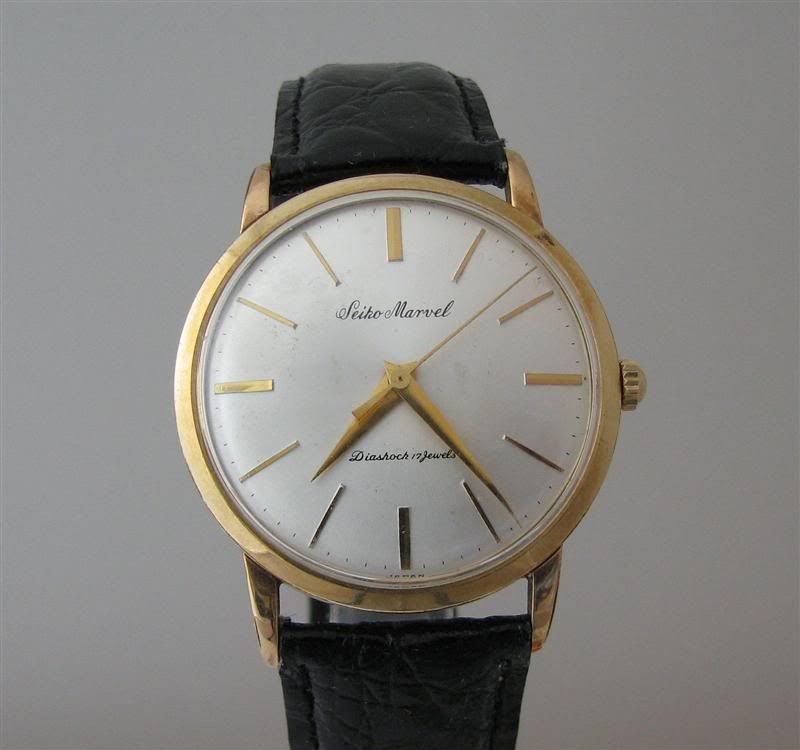 - Navigator Timer: (Product Line) A Family of watches that included an additional hand that could be set against a 24 hour GMT scale so that time could be read simultaneously in another time zone. I'm not sure if these came only in vintage automatics or if the brand has survived into quartz or other types of movements. Seiko has for sure continued to use the concept both in modern quartz, automatic and spring drive powered watches.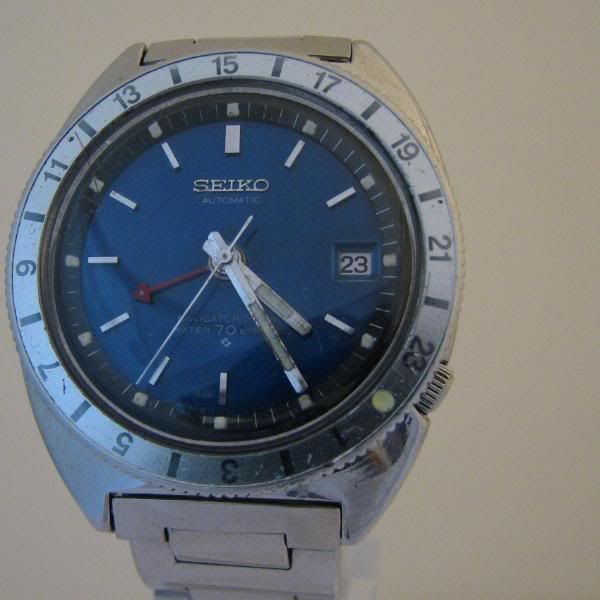 - Premier:
(Sub-brand) -
Seiko's mid range international line of automatic, quartz and Kinetic dress watches. According to Seiko: "The Seiko Premier collection combines classically refined inspiration with subtly modern expression. Inspired by the eternal beauty of neo-classical architecture, each Premier case has the solidity and grace of a Palladian villa and each dial has a depth of sculpted detailing that draws its inspiration from the architraves of a Greek temple. However, these classical features are also expressed with a modern flair. Premier is classical yet modern, reverential yet bold, restrained yet eye-catching".

- Presmatic:
(Sub-brand) -
cal. 5106 & 5146 high quality automatics. The Date quickset is activated by pressing a button in the center of the crown. The 5106 was also built into a model called the "Seikomatic P".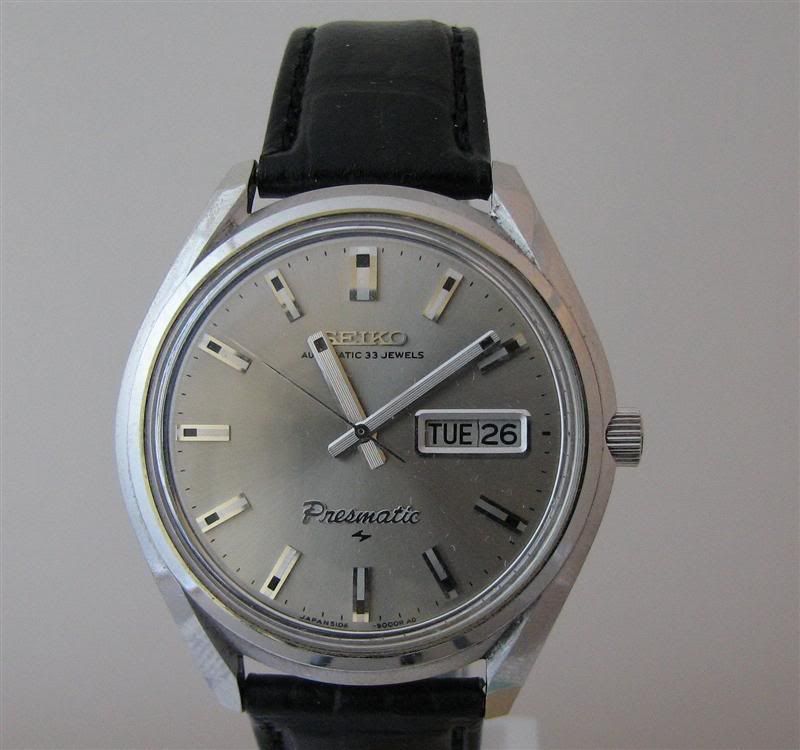 - Prospex:
(Sub-brand) -
A JDM line of watches composed of models intended for professional activities and sports (eg. dive watches, chronometers, running watches, flight watches, etc.). The name is a play on the words Professional Specifications, or Pro Specs. Several models which in the Japanese market are included in the prospex range are not included in the range when sold in international markets (many Prospex models are JDM models only). Propsex watches don't actually carry the propsx brand on the watches. Instead the brand is included in the packaging, literature and hang tags that come with the watches.
- Pulsar:
(Brand) -
Originated as a Hamilton Watch Company brand that was known for high-tech red LED watches in the 1970's. The brand changed hands several times until 1979 when Seiko acquired the Pulsar name. Pulsar watches are priced between Seiko and Lorus brands and are sold in many countries. Seiko appears to have used Pulsar to test market new concepts. An example would be the short lived PSR 10 which tested the viability of a moderately priced highly accurate timekeeper. Many Pulsar watches use Seiko quartz movements, including the H023 as well as analog chrono movements. Pulsar has also recently expanded to use orient automatic movements in some dress model lines and the seiko 7s26 on their rebranded versions of Alba's automatic dive watches.
- R-SUS:
(Sub-brand) -
An entry level line of Japan market quartz powered analog and ana-digi seikos, that emphasized youthful styling and larger cases. "R-SUS" is an accronym coined by Seiko meaning "Radical - Simple + U(and) + Strong". Some extra information and images can be found here.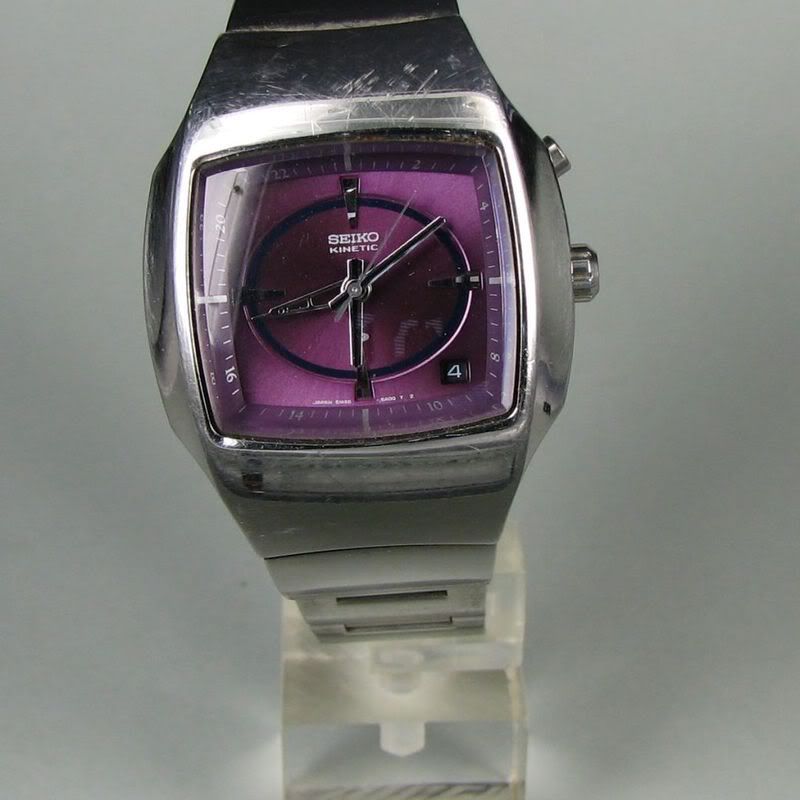 - Rainbow:
(Brand) -
(women's styles)

- Rivoli:
(Brand) -
- Ruse:
(Brand) -
- S-Wave:
(Sub-brand) -
An entry level lineup, comprising quartz and 7s26 automatics specifically for the Hong Kong Market. Note that there is also the early/mid '60s "Silverwave" Which many credit to be the originator of the S-Wave sub-brand. Silverwaves seem to be a "waterproof" watch that preceded the development of Seiko's first true diver's watch.

- Seahorse: (Special Badge) - According to Mr. Tokunaga, the Seahorse case-back mark is an emblem that represents manual-winding type of water-resistant gentlemen's watches of the time (mainly the 1960's). Although this information came directly from Mr. Tokunaga, some owners have reported owning automatic powered Seahorse models. It is possible that these might be an exception rather than the rule.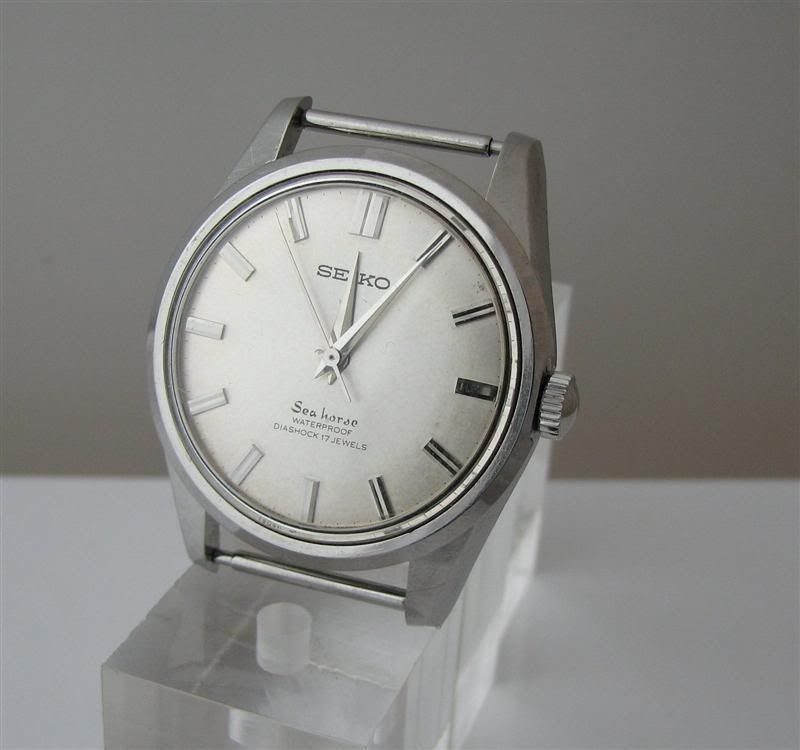 - Sealion: (Special Badge) -


- Seiko:
(Brand) -
The oldest and Principal brand of the Seiko Holdings Corporation. Primarily used in watch products, it is not, however, limited to such and can be found in products ranging from clocks to pocket dictionaries. Seiko branded products are manufactured by multiple different affiliates of the Seiko Holdings Corporation excluding Seiko Watch Co.

- Seiko 5:
(Sub-brand) -
Seiko 5 is Seiko's introductory line of automatic watches. The "5" stands for the watch's 5 principal attributes:
1. Diaflex (unbreakable mainspring), 2. Diashock (Seiko's shock resistant design, equivalent to the Swiss "Incabloc"), 3. Automatic winding, 4. day/date indication, and 5. Water
Resistance. The 5 logo has been applied to a wide variety of calibers and styles and is one of the few sub-brands still in use today.

- Seiko 5 Sports:
(Sub-brand) -
Basically the same thing as Seiko 5, but used in watches styled to appeal to people involved in sports, without being manufactured to handle professional use or abusive conditions. Seiko was not necessarily strict about this and there are numerous examples of identical watches which carried both the Seiko 5 and Seiko 5 Sports brand.
- Seiko Clock Inc.: Corporate affiliate of Seiko Holdings Corporation specializing in the production of clocks, kitchen timers branded as Seiko, Decor Seiko, Seiko Emblem, Seiko Premium, Seiko Melodies in Motion Musical Clocks and Pyxis.
- Seiko Credor:
(Sub-brand and Brand) -
This brand is two things at different times. During the 1980's it was a Sub-brand of high end analog quartz watches. The sub-brand was reinterpreted in the late 1990's and reintroduced as a separate stand alone Brand making very high end mechanical watches similar to Grand Seiko but with less traditional, more experimental (yet still conservative), more youthful styling. The success of the sub-brand, coupled with the introduction of Spring Drive movement caused Seiko to relaunch it once again in the early 2000's as a separate stand-alone brand called Credor. The new Credor brand stands together with Grand Seiko as the top brand for the company, but focuses on much more innovative styling, materials and the use of the Spring Drive movement (they do use mechanical movements, but not as high end as Grand Seiko and there are unconfirmed rumors that mechanical movements might be fazed out of Credor altogether).


- Seiko Epson Corporation: One of three core companies of the Seiko Group and the current corporate name of the former Suwa Seikosha. Founded in 1942 as a maker of watch parts for Seiko and begins producing watches for Daini Seikosha in 1943. The company was spun off from Daini Seikosha in 1959, renamed Suwa Seikosha, and tasked with watch and movement production in direct competition to it's parent Daini Seikosha. Over the years the company has produced many high end seiko calibers and watch related technology. Many of the most sought after models by collectors are Suwa designs. Today the company still produces watches and movements, including many of seiko's highest grade watch models. Today the company is one of the world's largest manufacturers of inkjet, dot matrix and laser printers, scanners, desktop computers, business, multimedia and home theatre projectors, large home theatre televisions, robots and industrial automation equipment, point of sale docket printers and cash registers, laptops, integrated circuits, LCD components and other associated electronic components.

- Seiko Holdings Corporation: The Japan based holding company that owns all the diverse seiko companies and their affiliates. It was founded by Kintaro Hattori in 1881 as a jewelery shop in tokyo's ginza district, called K. Hattori. In 1882 the company began producing clocks under the name Seikosha, and watches under the name Seiko in 1924.Also known as the Seiko Group.

- Seiko Instruments Inc.: One of three core companies of the Seiko Group, and the current corporate name of the former Daini Seikosha. Founded in 1937 as the second workshop for manufacturing Seiko watches. The company is renowned for developing and commercializing semiconductor, micromechatronics, and precision timepiece technology, and specializes in the manufacturing and sale of electronic components (semiconductors, crystal oscillators, micromechatronics devices, thermal printer, coin battery, liquid crystal displays), precision parts, watches, analysis and measurement instruments, machine tools, printers, network items, information systems and services, IC dictionaries, etc. It is also known as SII.
While most of the watches produced by SII are sold through Seiko Watch Co., the company has begun marketing it's own brands separately. Amongst these are brands such as Sizukuishi Watch, Appetime, J.Springs, Issey Miyake, Tsumori Chisato, Alessi, Cacharel, and Jill Stuart.. SII has an exclusive worldwide trademark license agreement with Nike for Nike Timing products and together with Seiko Epson is part owner of Time Module Inc, their china-based movement manufacturing affiliate.

- Seiko Time Systems Inc.: Corporate affiliate of Seiko Holdings Corporation specializing in the production of system clocks (outside, building wall, monument, floral clocks) and sports timing equipment.

- Seiko Watch Corporation: Corporate affiliate of Seiko Holdings Corporation specializing in the planning and marketing of Seiko Holdings' watch busines. Seiko Watch Co. Does not actually make any watches. Watches are actually made by Seiko Instruments Inc. and Seiko Epson Corporation and their respective affiliates.

- Seikomatic:
(Sub-brand) -
Seikos first broadly marketed
automatic watch line
(there had been a limited and very expensive Seiko automatic already in the mid 50s and the Gyro Marvel in the late 50s). They were introduced by Suwa in 1960 with the 603 caliber in 17, 20 and 30j versions. After the 603 caliber, Seikomatic then became the general brand for most Seiko mid range automatic watches below the King Seiko and Grand Seiko and was sold in many variants and with many different calibers until the mid/late 60s.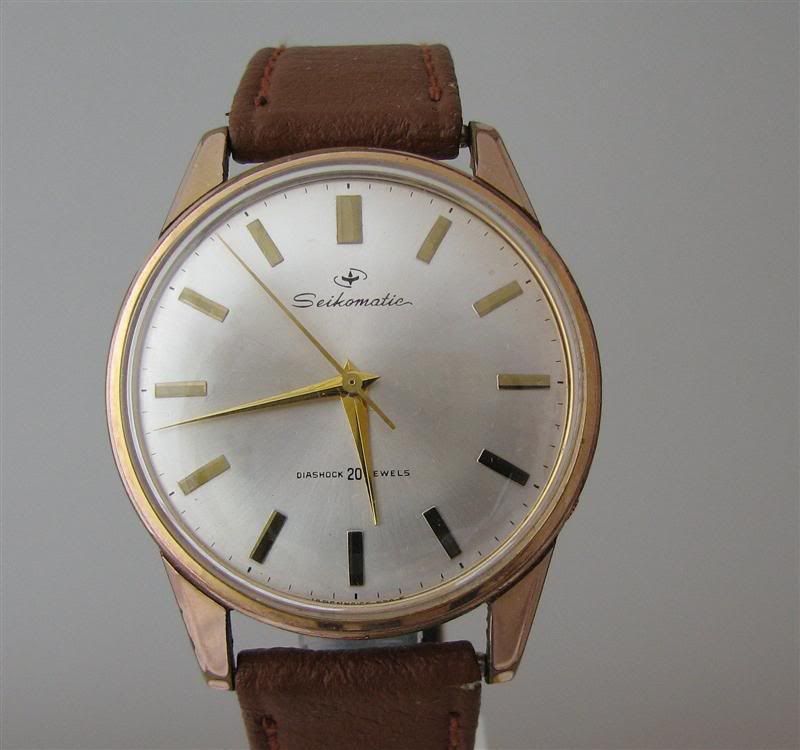 - Selfdater:
(Sub-brand) -
1960s date-only watches using a variety of movements And often used in combination with other sub-brand names. For example, a 6206 Seikomatic Weekdater or a couple 6218 Seikomatic Weekdaters.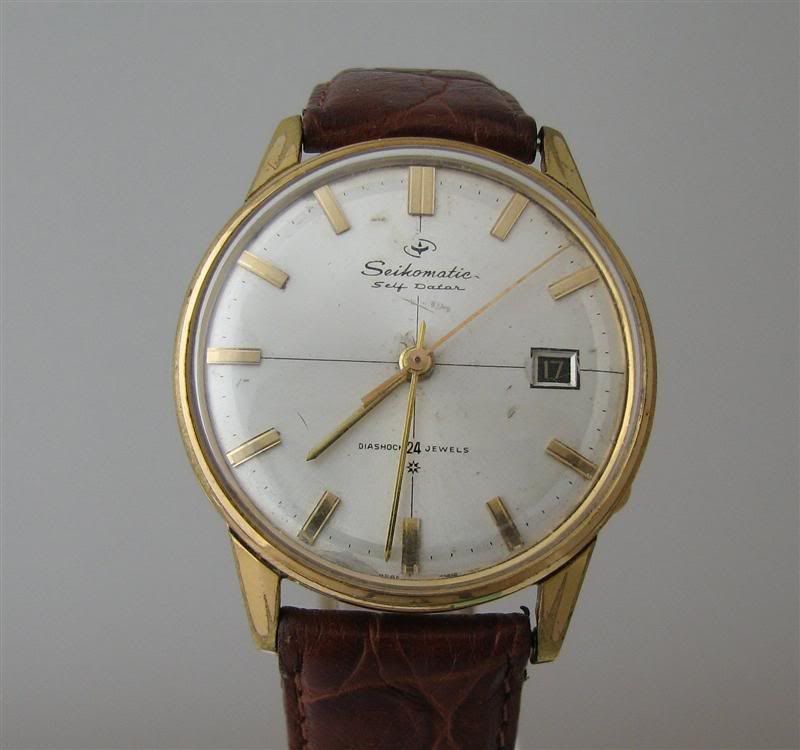 - SII: See Seiko Instruments Inc.
- Skyliner:
(Sub-brand) - A line of Manual watches made in various styles, from classic dress watches to more edgy designs later on, offered during the 1960's. The Skyliner sub-brand was introduced in 1961 using the 402 caliber. This particular Skyliner is a no-nonsense hand-windable dress watch without date. At the time, the Skyliner sub-brand was positioned as a cheaper alternative to the Liner sub-brand, with Skyliners priced at around ¥6,000 and Liners at around ¥7,500, which was in the medium range of Seiko at the time. The Liner sub-brand also had a broader range with both 21j and 23j calibers and 14K gold cases. The 402 caliber is also a simplification and continuation of the Liner 3140 caliber from 1960. The Skyliner brand was also used in the mid 60s on a few 62XX watches with a quite modern design and in the late 60s on dress watches with the 61XX caliber.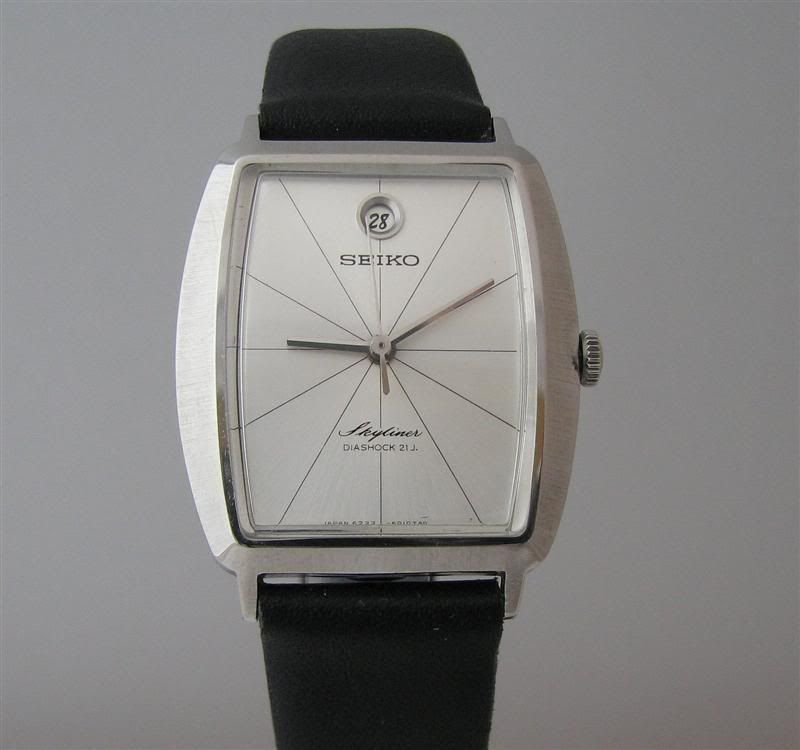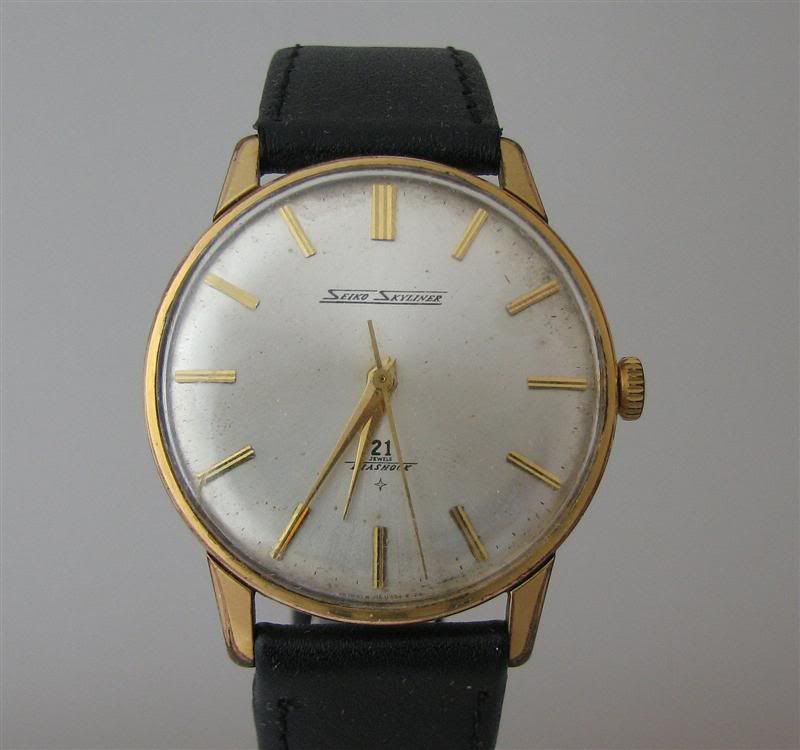 - Special:
(Sub-brand) -
A subset of several sub-brands, which was the pinnacle of Seiko craftsmanship for that specific sub brand for the public during the 1960's. There are Grand Seiko SPECIAL, LordMatic Special, King Seiko Special, King Seiko VANAC Special, Crown Special, & other "variants". In most cases, the movement in the "Special" badged watch is a higher quality one than in the "regular" version of the watch. See articles on movement. Quality levels & the caliber # code referenced in the FAQ for some info on how this applies in the Grand Seiko & King Seiko lines.

- Speedtimer:
(Sub-brand) -
Speed timer is a sub brand of Seiko's automatic chronographs from the 1970's. Speedtimer branded watches where mechanically the same as their regular counterparts, but had small stylistic differences that set them apart from the general production of the same watch. They were built in far lesser numbers and offered in fewer markets than their normally aspirated variants. As such Speedtimer are highly priced amongst collectors. It is important to note that not all Seiko chronographs had a Speetimer variant. A note on Speedtimers....at one time it was determined that one of the variants. I think it was the 6139's had the "b" movement with the extra jewels. Not true with the 6138's though. There is also the issue of whether or not Speedtimers were domestic [
Japan
] only models.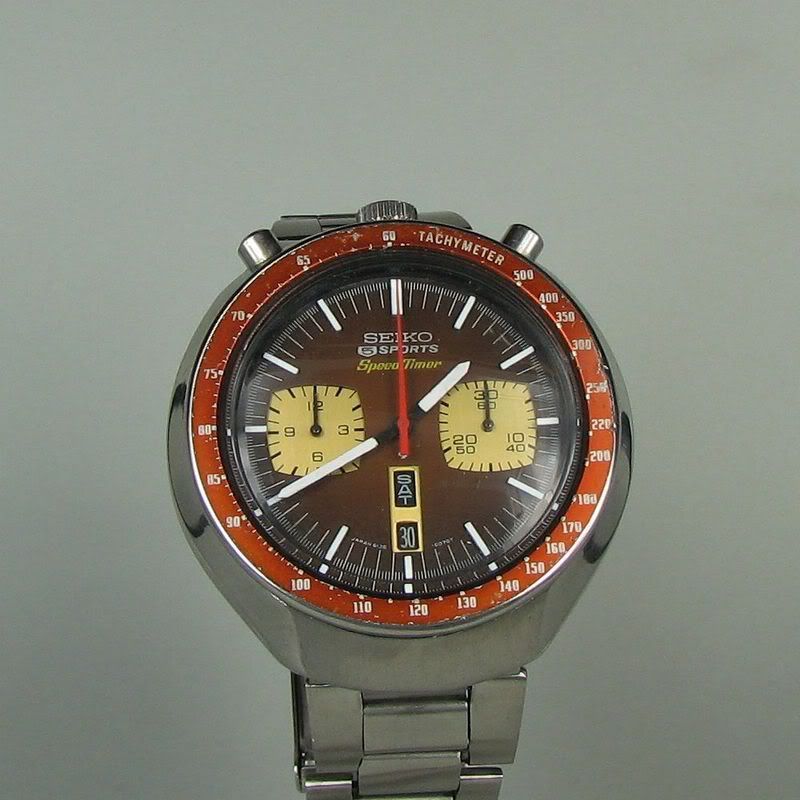 - Spirit: (Product Line) -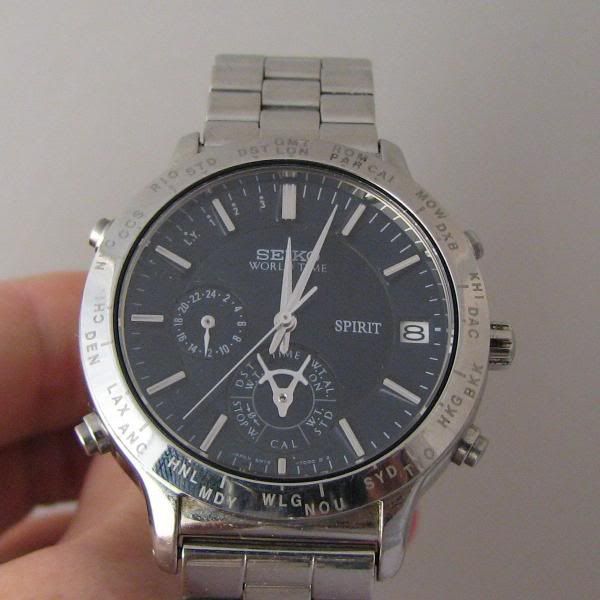 - Spoon:
(Brand) -
- Sportsman:
(Sub-brand) -
The Sportsman, introduced in 1960, was Seiko's budget handwindable line, with 7, 15 and 17j versions. It remained in Seikos lineup until the mid 60s with a number of variations and with waterproof and calendar functions. It was also marketed in conjunction with Seahorse and Dolphin branding. The Sportsman was priced at JPY 3,200 and upwards.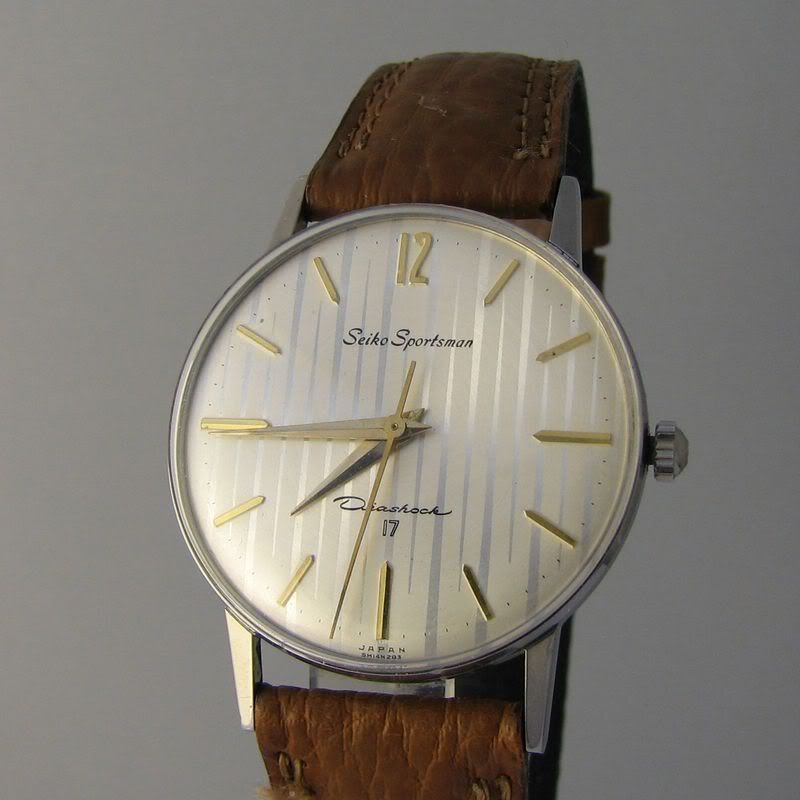 - Sportsmatic:
(Sub-brand) -
The Sportsmatic auto was introduced in 1961 by Suwa as a cheaper and more sporty alternative to the Seikomatic. As with the Seikomatic, the Sportsmatic was produced during most of the 60s in many variants and with different calibers including diver models, Sportsmatic 5, Sportsmatic Deluxe and Sportsmatic 820 calendar.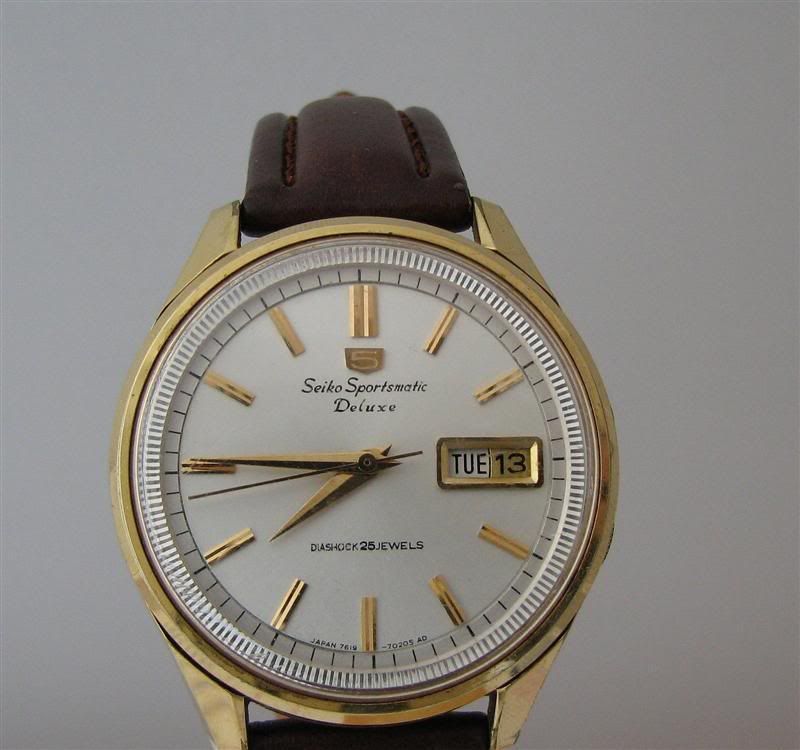 - Sportura:
(Sub-brand) -
Seiko's introduction of their midrange sports quartz watches also for the international market. Bold styling reflecting a new generation of Seiko watches for those in their thirties was probably the design philosophy. First appeared in 2003 in a variety of movements: H023 (analog digital world timer), 9T82 (Kinetic 1/10sec chrono), 5J32 (Kinetic Auto Relay), 8F56 (GMT Perpetual Calendar) and 7T62 (alarm-chrono). In 2004 the 7L22 Kinetic chrono was introduced with the Tonneau cased, SNL015P. Latest additions included the new retrograde chrono (7T82) and H024 analog digital (non-world timer). The most expensive of the Sportura models is the SLQ-series, 9T82 which is hand assembled in
Japan
. The SLQ is not a
Japan
domestic market model, however.

- Spring Drive: (Product Line) - A unique family of hybrid mechanical watch calibers that eliminates the traditional balance wheel/escapement regulating system in favor of a "Tri-synchro Regulator." The power from the main-spring spring is used to drive a microgenerator which generates electricity for powering an ultra-low consumption quartz crystal oscillator, which in turn is used to regulate (with quartz accuracy) the speed of the glide wheels via a magnetic break, to exactly 8 beats per second. Until recently, Spring Drive was sold regularly in Japan within the Grand Seiko and Credor lines.
In recent years, Seiko has expanded the use of Spring drive calibers to high end Seiko branded products specifically designed for international markets.

- Super:
(Sub-brand) - Seiko's top watch line of the early 1950's. The Super sub-brand was introduced in 1950 and was the highest selling watch in Japan until the introduction of the Marvel sub-brand in 1956. The Super was made in 8j, 9j, 10j, 11j, 15j and 17j hand-wind versions and also with day and date functions such as the "Auto Dater" and the "Week Dater". In 1954, a Super would have set you back ¥3,850.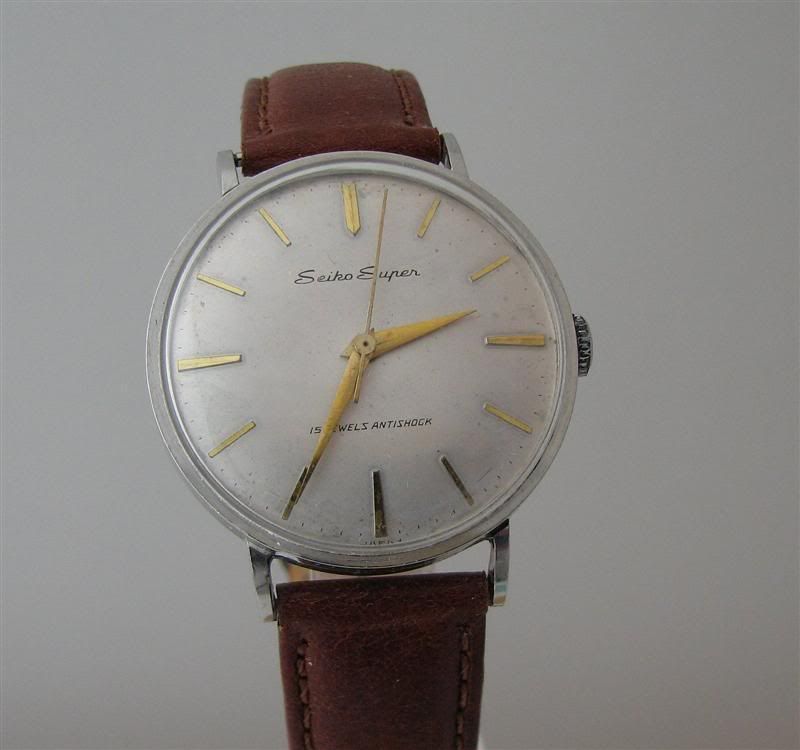 - SS: (Sub-brand):
based on input from other collectors, it is believed that the sub brand is an acronym for "Second Setting" (as in hacking or the ability to stop the second hand when pulling the crown - something that a lot of seiko calibers did not do at the time). It appears that the sub brand was used exclusively on watches powered by 6106 calibers, especially in conjunction with "Actus"
and "5 Actus" branded models (which exist in both SS 6106 and non-SS 6106 versions)
. The Seiko Crown Caliber 560 also used the Second Setting sub brand, though these models are rarer.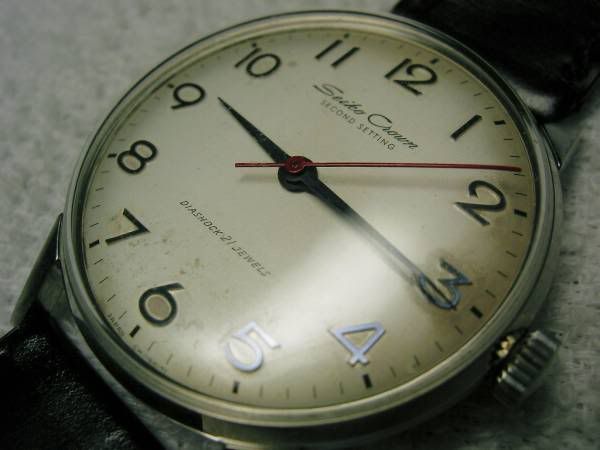 - SUS:
(Sub-brand) -
The term SUS is an acronym coined by Seiko meaning "Simple + U(and) + Strong"
(not to be confused with the R-SUS line metioned above). The SUS range is a Japan Market lineup targeted at the younger buyers. The lineup is defined by relatively simple analog dial designs, sparse lume and clean lines, and smallish dimensions - about 40mm diameter or so, at the most.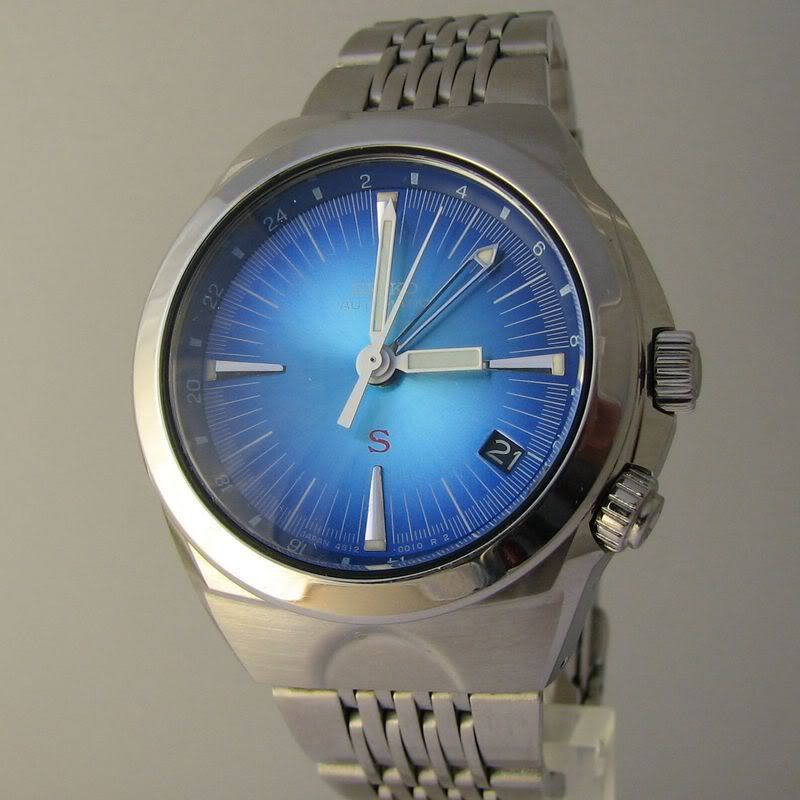 - Timesonar:
(Sub-brand) -
badging on certain mechanical chronographs (7015 & 7018) and other regular watches (eg. some caliber 2205 powered models) indicating a transparent crystal caseback and in SOME cases a translucent dial.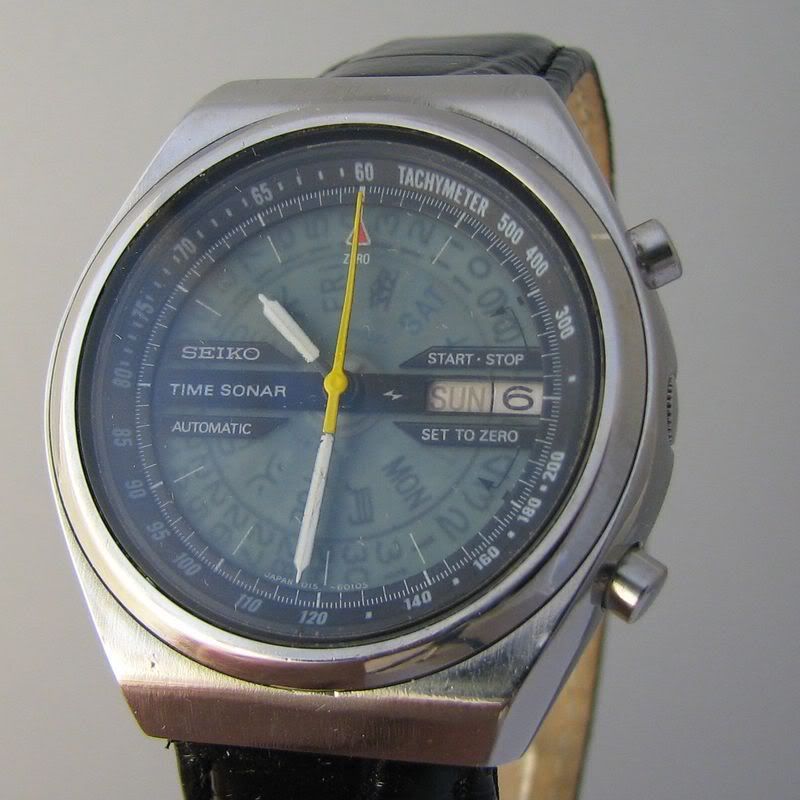 - Tsunami wave logo: (Special Badge) - Like the sealion, angel fish and others, this is not really a sub brand name, but rather a caseback logo used to denote specific attributes. It is used to denote a watch that is intended to get wet and has shown up on various waterproof/diver watches from the old Silverwave (seen on a model J12082) thru the Pro & other divers of today. The tsunami logo comes in several different forms, with small one and two wave cartoonish looking ones to the realistically rendered full wave. A good rule of thumb is that the bigger the type of wave rendered the greater the watches water resistance and performance attributes (Diver's watches all come with the full tsunami caseback logo).

- Vanac:
(Sub-brand) -
Funky styled KS watches of the 70s.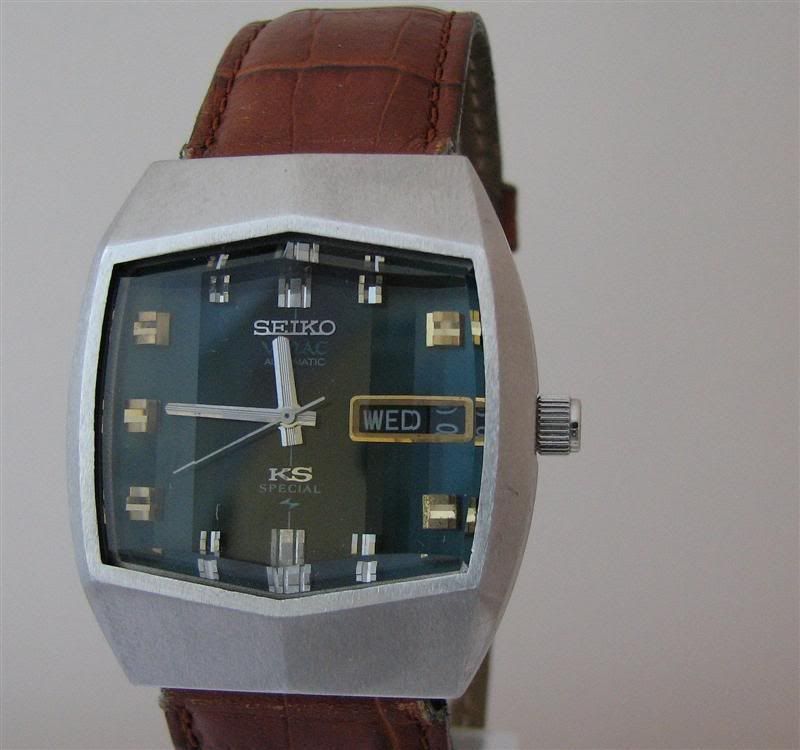 - VFA (Very Fine Adjusted): (Special Badge) - A subset of the Grand Seiko line just above the Special variants. For example:

6146 - GS 36k bph w/ day&date, automatic

6156 - SPECIAL version of above (better specs than 6146)

6186 - VFA version of 6146 with better specs than 6156 and accuracy

"guarantee" [see the famous KSeiya GS History article on the web]


Also, the 6159 Pro diver (300M & 600M) fits into this family. The 6159 is

essentially a GS Special 6155 movement adapted for the diver & not given

the special "hand finishing" of the GS Special

- Vivace: (Brand) - International market ladies' collection.

- Weekdater: (Sub-Brand) - 1960s day/date watches using a variety of movements and often used in combination with other sub-brand names.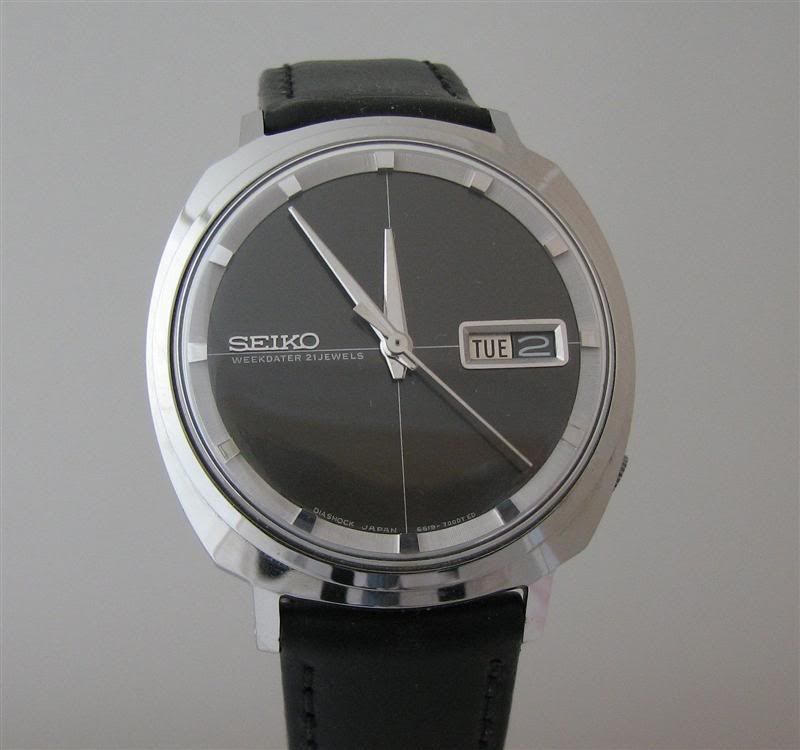 - Wired:
(Brand) -
- Wired XYZ:
(Sub-brand) -
Wired XYZ is a sub-brand that has been used for a number of issues of watches in the Wired series. The first Wired XYZ watches were made in 2004. They are usually limited edition watches produced in collaboration with Japanese designers or designer brands such as Head Porter and BoA.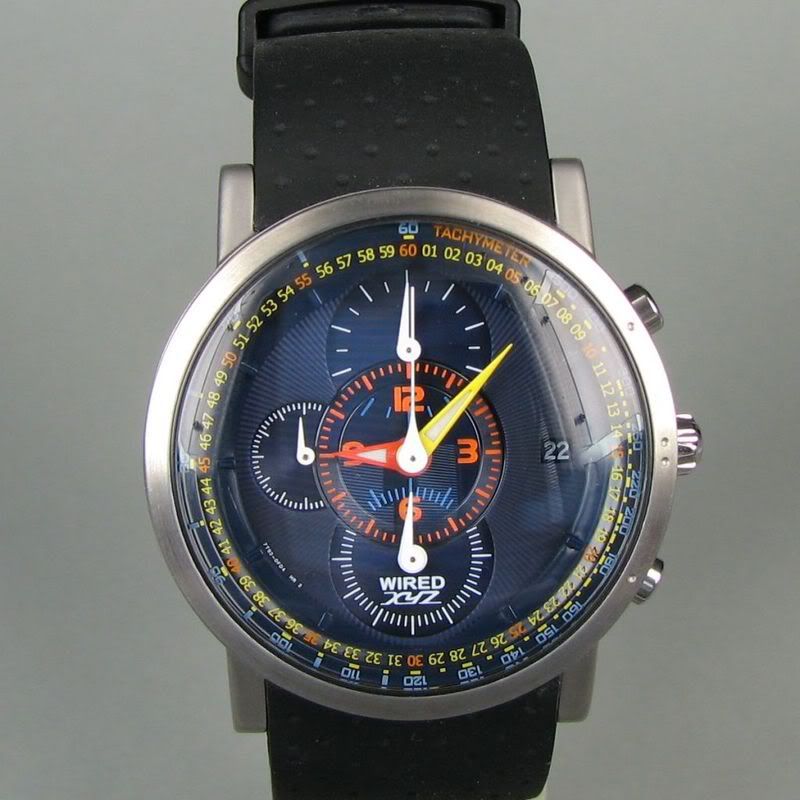 - World Time or World Timer:
(Special Badge) -
basically the same as a Navigator Timer with the main difference being that the hour markers on the GMT bezel where replced with the names of major cities located in the corresponding hour markers. They tended to be (though not exclusively so) a bit more luxury oriented than Navigator Timers. I'm not sure if these came only in vintage automatics or if the brand has survived into quartz or other types of movements. Seiko has for sure continued to use the concept both in modern quartz, automatic and spring drive (?) powered watches.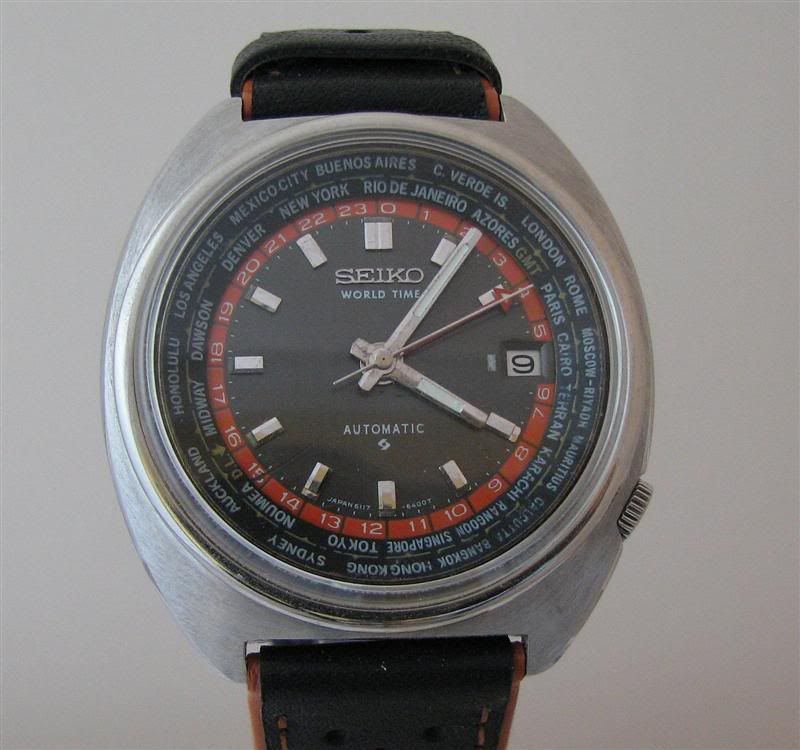 Keep in mind that the list is far from complete and what is there might not be 100% accurate. Please feel free to read through it and post any corrections, additional info, missing descriptions, and/or add any sub-brands that might have been missed.
Thanks to everyone who has helped and contributed over the years, and thanks to those who continuing to help.