As mentioned the other day, After a long time of wanting but not making up my mind about buying a blue sumo, I finally bought one last saturday. After spending a few days wearing it, I've come to realize that many of my expectations where well placed, while others, surprisingly, where not quite met.
First let's start with pictures of the watch in question: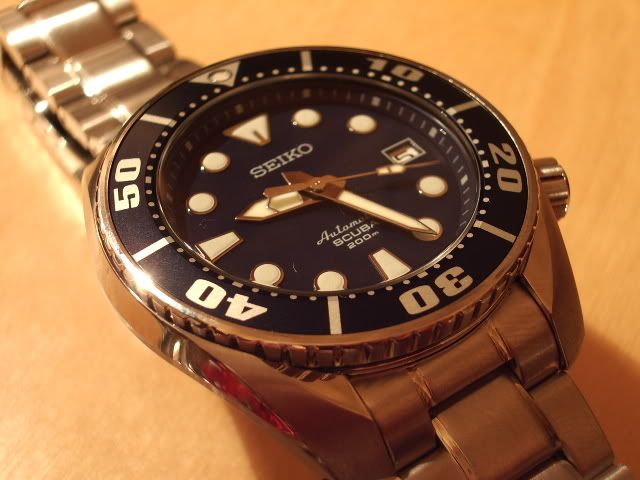 General impression:
The watch is big, but oddly, it wears much smaller than I thought it would. This is largely due to lugs that curve both inward and downward; a bezel whose insert slopes down away from the crystal; and a 20mm bracelet. It is my form belief that all of this was intentional on seiko's part, as a means to reduce the watch's otherwise prodigious bulk. Let's just say that if this thing had straight lugs and a 22mm or 24mm bracelet, with no other change, it would wear as a massive piece.
Bracelet:
this is one of those areas where I expected better. There are nice touches, such as solid endlinks and adjustment points running the entire length of the bracelet. however the bracelet is considerably thinner than I expected (the Monster's 20mm bracelet is noticeably more substantial). while this helps reduce the watch's bulk, I can't help but wish that it had had a bit more mass. the clasp, while nice, is a standard Seiko spring loaded fliplock with a flip type wetsuit extension. It's nice enough, but nothing we haven't seen before on any number of other 9less expensive) seikos.
Case:
This is the watch's strong point. the case is a feast of curves, finishes and elegant engineering solutions. The curving multifaceted lugs are reminiscent of similar examples from omega, though not exactly the same. I love that seiko included drilled-thru springbar holes, which they don't typically do in their divers. The ost impressive parts of the case are how the lugs meld into the scalloped sides and turn into a bezel shroud. This is a truly beautiful piece of industrial design. very elegantly done. the crown recesses into the side of the case in much the same manner as seiko's high end divers have done for decades - a nice clean and tried and true design.
Bezel:
the bezel is surprisingly large. the diameter is big enough, but well balanced with the size of the watch. What I'm talking about is the vertical width. This thing is thick, but thanks to the case's pseudo shroud, most of it's bulk is very elegantly hidden from view. the effect is quite striking. I'm a little disappointed by the insert design. I'm not talking about the print, which we have all seen, but rather about the physical design. Pictures make it look as if it far more angled than it actually is. the same is true of the domed crystal's curvature. In reality the outer slant of the insert is minor (visible but not that pronounced), and the crystal's curvature is minimal. the end result while obviously slanted and curved is actually almost flat.
Dial:
I loved the classic simplicity of the dial design, and I'm a huge fan of it's midnight blue color. however there applied indeces are almost flat, which makes them not as substantial as several classic and/or less expensive models (such as the SKX171). The result is one of slight empty space, which some might like or some, such as myself might find a little vacant. Don't get me wrong. the indeces look great, I just wish they were a little more 3-dimensional, as with other seiko divers. the dial surface is completely devoid of texture. with this much dial real estate, if ever there was a watch that could invite unique dial texture, this is definitely it. I have no complaints with the hands. unique design and classic seiko goodness. It's lume is classic seiko brightness. It is at least as bright as a Monster, maybe (dare I say) even a bit better.
Movement:
I've been very impressed with it thus far. Not only has it worked flawlessly, but I have been very impressed by it's very long power reserve. I've only used the hand wind feature once, but I experienced no problems of any sort with it.
Overall:
I REALLy like this watch. It is a solid classy and unique piece. the blue looks black to most people, so I'm guessing the the black is similar, which means that they are both very understated, despite their unique good looks. If you want an extroverted version go for the orange. It has been a great companion with suits all this week. however, the watch is not perfect, and those little quips have only served to rekindle my desire for a Marine Master (which will be a companion to the sumo, not a replacement).