Seiko
SKX013K
Diver's 200m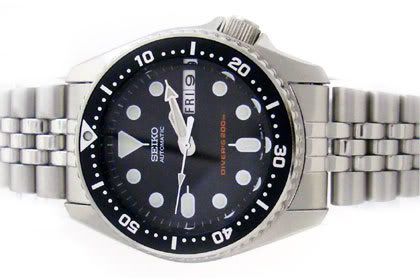 Overview
I realise I'm probably in a minority of one, but over the past year or so, I've come to prefer smaller watches, ideally 36-40mm excluding crown. What's more, I'm not ashamed to admit it. I adamantly refuse to be swayed by the currently popular view that big is good and 'manly', while small is bad and, well, a bit 'girly'. Bigger doesn't always mean better, and a case in point is the SKX013.
The first time I saw the 013 I was investigating the 007 and reminded of the times, long ago, when I'd go round to my (whichever) girlfriend's house, only to be introduced to her much cuter and sexier (and usually younger) sister. Sad to say, this happened so often I began to think that perhaps I was jinxed... Still, such is life, and such was my dilemma in originally choosing between the 013 and the 007. After much anguish, I finally decided on the 007, mainly because it's a classic, and what's more, not only an affordable classic, but I thought (and still do) that the design of the 007 is one of the most attractive dive watches at
any
price (or the 009 if Pepsi bezels are your thing). Sadly, there was zero opportunity for me to try either for size before parting with my hard earned cash, so I played safe. All the same, having worn and loved the 007 for the best part of six months, the 013 began to murmur, faintly at first, but then, as I argued with myself, louder and more insistently. In the interim as my tastes have broadened, and I know and understand more about watches in general and Seiko divers in particular, the lure finally became irresistible. Like Oscar Wilde, I can resist anything except tempation…
The SKX013 is a 200m ISO rated dive watch and shares exactly the same features as the larger SKX007 but in a smaller package, measuring 38mm excluding the crown. I've seen the 013 variously referred to as a 'boy's' watch, a 'women's' watch and a 'junior' version of the 007. All these descriptions are at best misleading and at worst, narrow-minded. It seems to me that Seiko (and Omega with the even more compact midsize 36mm Seamaster) have recognised that not everyone prefers a heavy, 42+mm lump of steel on the end of their arm. And much kudos them. Anyway, I'd like to put the record straight: the 013 is not small, it's not undersized and in no way is it inferior to its bigger sister. The only thing small about it is its popularity, mainly because the current vogue is towards watches that can be seen from the moon, in some cases worn even on the thinnest wrists (which always reminds me of the USS Enterprise following the same analogy). And this inclination isn't by any means limited to dive watches. I suppose there will always be an element of 'Here's my watch, the rest of me is following'. No. A watch always looks best if it's in proportion to the size of the wrist. I have a 7" wrist and the 013 looks just right (see below). Here's a comparison of smaller, and comparable, watch sizes (Note: I said sizes not prices) -
IWC Classic Pilots IW325601 - 34mm
Grand Seiko Automatic SBGR001 - 35mm
Grand Seiko Manual winding SBGW001 - 36mm
Midsize Omega Seamaster 300M - 2253.80 - 36mm
Rolex Explorer I - 36mm
Seiko Spirit 6R15 SCVS013/015 - 37mm
Seiko Alpinist SARB017 - 38mm
Rolex Sub/SD/YM/Explorer II - 40mm
Movement
The movement is the enduring 7S26B. Enough has been written about this elsewhere and is easily available, so I won't dwell on it here. My own take on this movement is that I simply don't care about hacking (if I want dead-on accuracy, I'll wear a quartz - perish the thought) or that it doesn't hand wind (if it's wound down I just set the time and strap it to my wrist, and then it winds itself - how cool and simple is that?), or is 21,000 bph (less wear than a high beat). I also like the fact that without these extra complications, I've got a simpler, rugged, reliable movement that to all intents and purposes requires minimal maintenance (if any). The example in my watch, unusually, runs slightly slow on the wrist at a consistent -6s/day, including being taken off at night and left dial up, which is better than I expected based on other's experiences (my 007 is currently +16s/day from +23s/day when new). Since I'm more than happy if I'm a minute either way, I only have to unscrew the crown to set the time a minute or so fast once a month. As an experiment I left the watch sitting dial up for 24 hours. The result was +1s.
Case
The thick stainless steel case is the same height as the 007/009 including the bezel, and is a real work of art. Beautifully contoured, it feels solid on the wrist and is nice and beefy for a watch of this size. The sides are mirror polished but the top of the lugs are finely and concentrically brushed which follows the circular contours of the bezel (another nice finishing touch when you consider that brushing straight front to back was also an option for Seiko and wouldn't look as good). A decent, chunky screw-in crown at 3:19 is very smooth in both directions, with a deeply cut thread and very positive and decisive stops for time and/or date setting. Lug width is 20mm.
Bezel
The 35mm diameter bezel is quite tightly fitted and needs a firm grip to turn, with 120 definite clicks, anti-clockwise only with a lume dot at 12. Interestingly, the bezel is slightly narrower at the top than at the bottom - perhaps 2-3mm across the diameter - making it easier to grip. Yet another example of Seiko's attention to detail. It lines up perfectly with the 12 marker and chapter ring.
Crystal
Aesthetically pleasing edge-bevelled Hardlex crystal and uniquely Seiko. (I assume that the bevelling has to do with deformation and/or expansion due to water pressure.) Absolutely no issues with Hardlex.
Dial
The dial is a further example of the quality of manufacturing. Under a 10x loupe the printing is flawless as is the application of a generous amount of Lumibrite to the indices which (to my eyes) gives them a pleasant pearlescent quality depending on the lighting. (I prefer indices without metal borders) The chapter ring is discreetly tucked away and has the same quality of printing as the dial. Lume is as good as the 007/009 and can still be read - though very close up - after seven hours of darkness even without previous exposure to a bright light source. Both day and date wheels line up precisely and are exactly centered in the date window, which also, thankfully, has been left without a metal border giving a far cleaner look.
Hands
The hands are the only feature of the 013 that differ significantly from the 007/009. Naturally, they're slightly smaller. The second hand has a lumed arrow head design similar to that of the Monster, but with a longer and slimmer tail, giving it a much more elegant shape. My impression (in an idle moment) based on the relative masses, is that the second hand is exactly balanced at the pinion. It should be noted that the second hand is white to aid visibility and not metallic as I originally thought based on photos. The straight edge to the minute hand compared to the 007, and the fact that Seiko have actually put some thought into the design of the minute hand arrow head, rather than a simple, plain 'V', is especially attractive. In my view the hands compliment the design of the dial perfectly and I much prefer them (especially the second hand) to the more angular versions of the minute and hour hands on the 007.
Fit and Finish
I have to say that the overall attention to detail on this watch is awesome, especially considering the price point. The whole sets a very, very high standard, both in the thoughtful design touches and in quality of manufacture, that is a real credit to Seiko and makes the SKX013 a worthy addition to the diver's range. I'll even stick my neck out and say that the finish is good enough to rival *any* watch. Everything Seiko turns out looks and feels wonderfully engineered.
Conclusion
My 013 was supplied on a good quality NATO (love NATOs) with heavy duty spring bars so I'm unable to comment on a supplied bracelet. However, this was still an expensive buy for a watch with a 7S26 movement (including express international shipping and import costs to the UK). Nevertheless, it's definitely money well spent. I'm totally impressed - which takes some doing - because it's just about impossible to find anything to criticize and very easy to find much to admire. An old saying that 'God is in the details' applies here.
I admit that the 013 will not be to everyone's taste. I've read many comments from people who think that Rolex at 40mm and even the 007/009 are way too small for them. That may be so, and if you prefer a limpet-mine size heavy dive watch who am I argue? Each to their own, of course. My purpose in writing this review wasn't just to respond to Isthmus' call for reviews but also to remedy the appalling deficiency of info for anyone thinking of buying one - and not least to give a big two thumbs up for the SKX013. In my opinion, Seiko have yet again demonstrated a legitimate and shrewd understanding of the marketplace to produce another superb diver's watch which justifiably enhances their already legendary heritage. With a similar classic design as the 007, it's a shame that the 013 is an often overlooked alternative (mostly due to peer pressure I have to say) for those who may be somewhat challenged in the wrist-size department, or who, like me, have a preference for dive watches and simply favour a more understated (and dare I say more elegant?) design. I hope this review helps in some measure to redress the balance. In the four weeks I've had it, none of the other half-dozen or so watches in my modest collection have had any wrist time at all - not even my 007. 'Nuff said.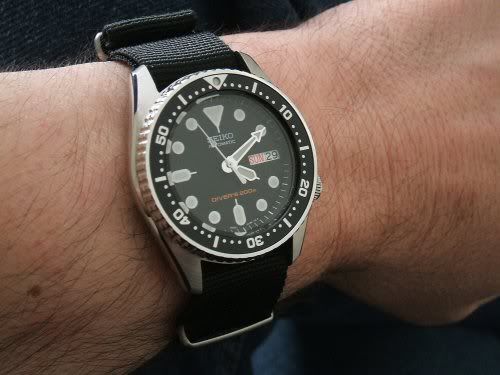 Photo by FedroH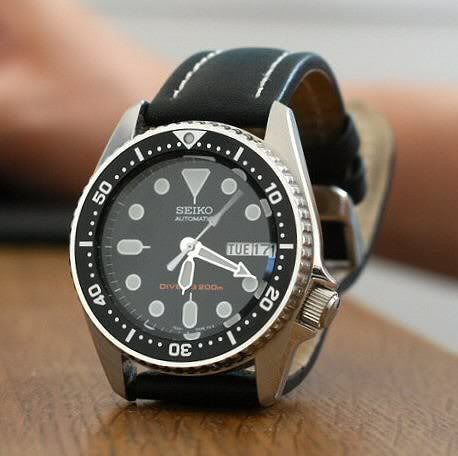 Comparison between the 013 and 009 (borrowed pic)