I've truly loved owning & wearing this fantastic Royal Oak 5402. But with the way these have skyrocketed in value I don't love having so much money tied up in one watch. So on to the next very lucky owner it shall go!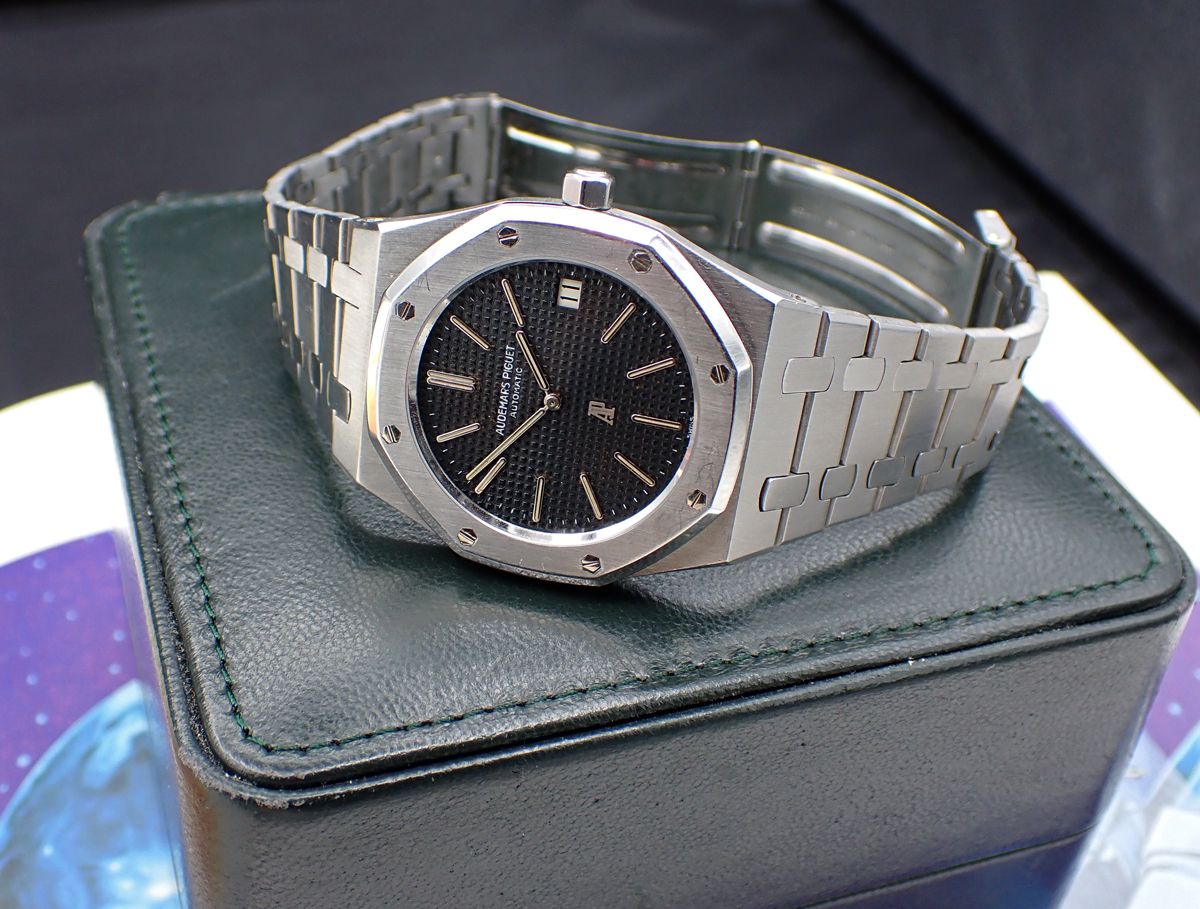 Up for sale, a watch that needs no introduction — Gerald Genta's all time design classic, the original, legendary all-steel Audemars Piguet Royal Oak Jumbo reference 5402ST. This coveted and rare Royal Oak is from the second B-series produced in the mid-1970s and is in Excellent vintage condition overall with a stunning original deep gray Petite Tapisserie dial in Near Mint condition. Featuring all its original case parts as far as I can tell, this Royal Oak 5402 still has its correct second generation signed bracelet clasp, correct unsigned octagonal crown, correct original date wheel and original matching Tritium slim paddle hands. The amazing integrated bracelet has minimal stretch for its age and will fit up to a 7 1/4" wrist comfortably.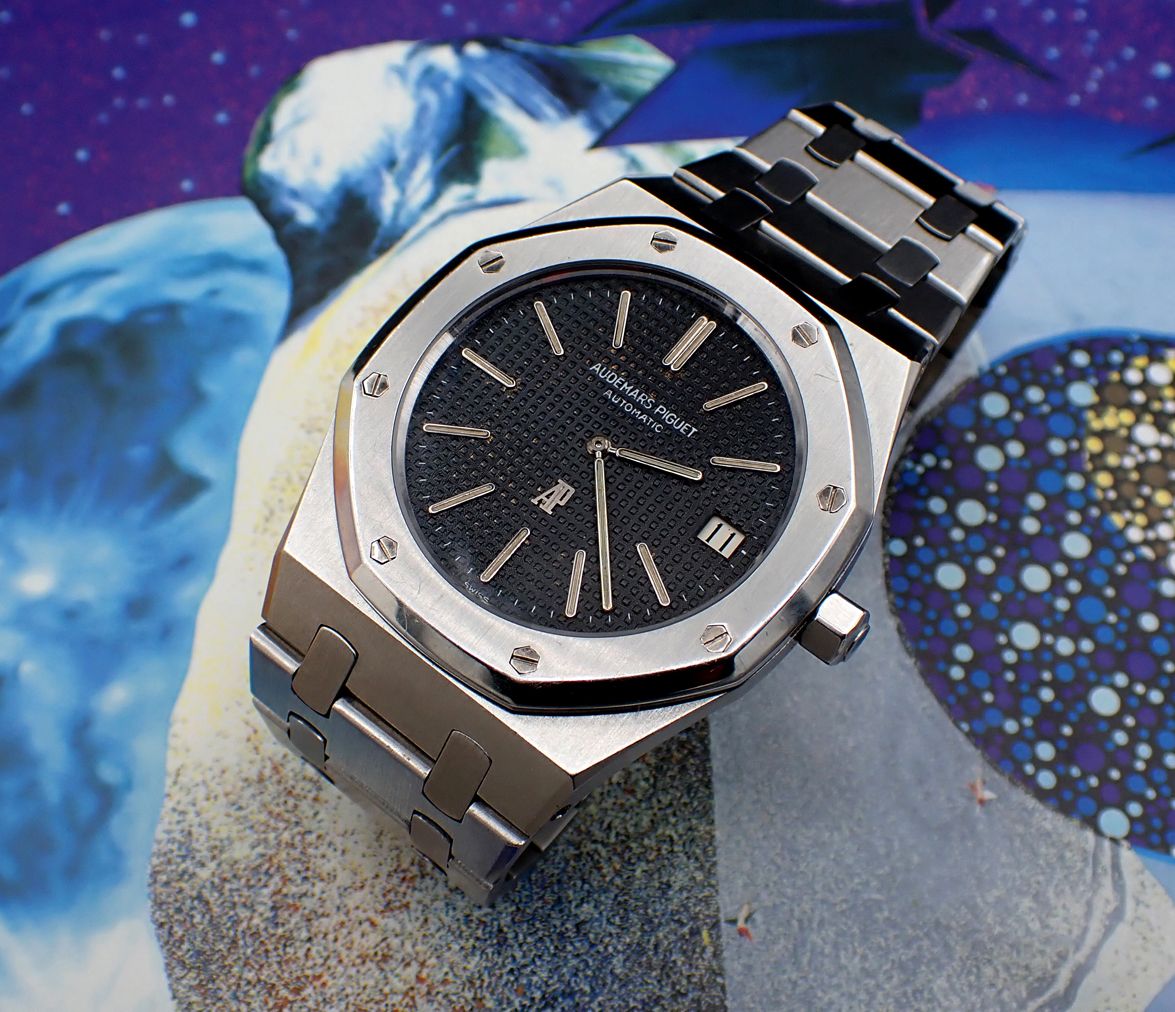 This ultimate cult Royal Oak features AP's revolutionary JLC-derived caliber 2121 ultra-thin automatic-winding calendar movement, a technical marvel with recessed rotor that enables the brilliantly engineered case to remain so thin. This magical caliber was also used in the original Patek Phillipe Nautilus 3700 and the Vacheron Constantin 222, among others. I had wanted to send this watch to AP for a service but their new policy is to make any 5402 "like new" cosmetically, replacing crown, hands, etc and thereby destroying the vintage originality for us true collectors. So you know going forward unmolested examples like this one are going to become harder and harder to come by. In any event, I instead just had this Royal Oak fully overhauled by my watchmaker, including the installation of a new mainspring, while allowing no other cosmetic work.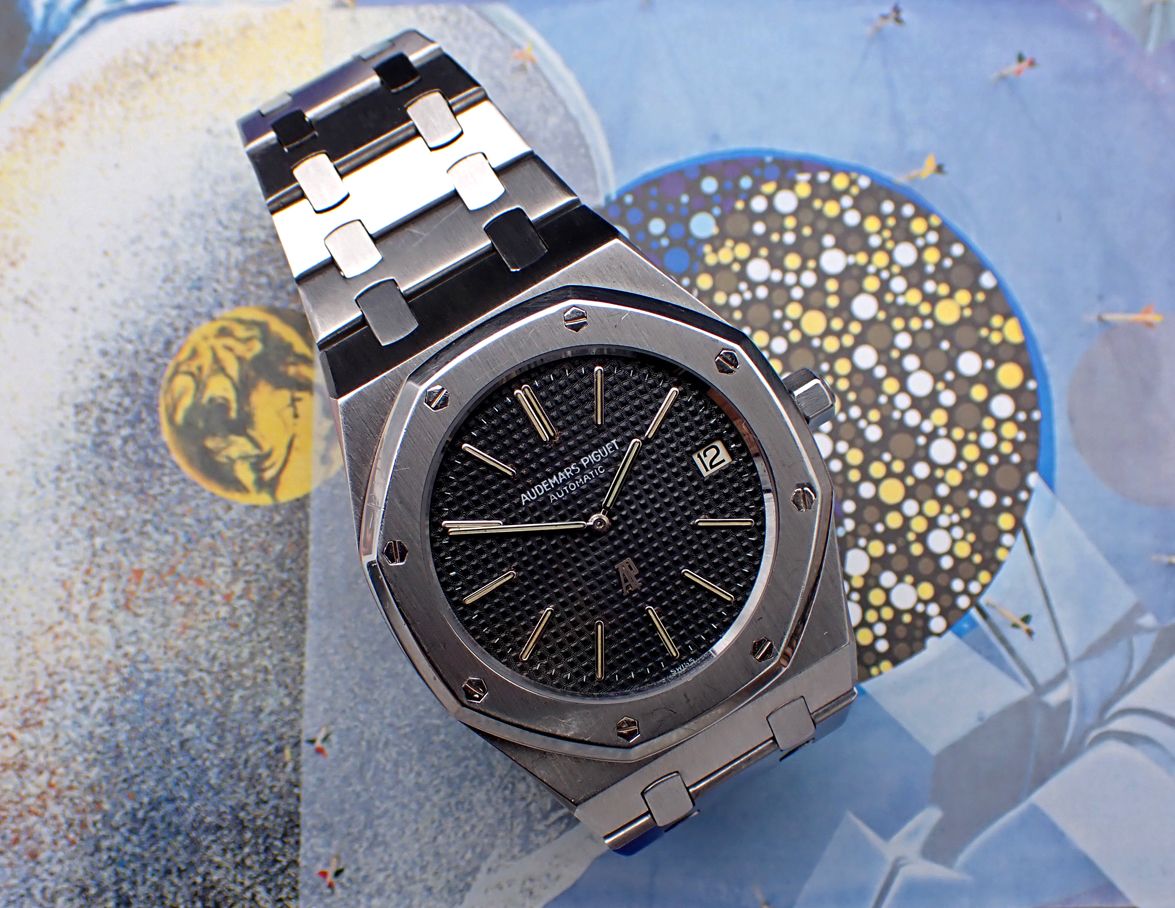 While not a safe queen, the case of this Royal Oak still has sharp chamfers & bevels that appear to me to be unpolished, while the bezel has either softened from years of cuff wear or has been lightly polished at some point in the past (never by me). The watch shows minor wear commensurate with semi-regular use over its nearly 50 years of life, though it's still in Excellent vintage condition. To my mind, that means you don't have to worry about babying it and can just strap it on and go when the mood strikes, which is what I've done for the eight or so years that I've owned this beauty.
The star of the show is the magnificent original Petite Tapesserie dial, which has not gone tropical as so many have and retains its original deep metallic charcoal gray color, with notes of blue in the sun. There are a few very subtle speckles showing in places from the brass beneath under magnification, an effect more noticeable by far in these macro photos than to the naked eye. The original slim hands match the dial perfectly and the appearance is absolutely stunning on the wrist, looking just about like it came out of the factory yesterday save the pleasingly warm lume patina and the slight "sparkle" effect.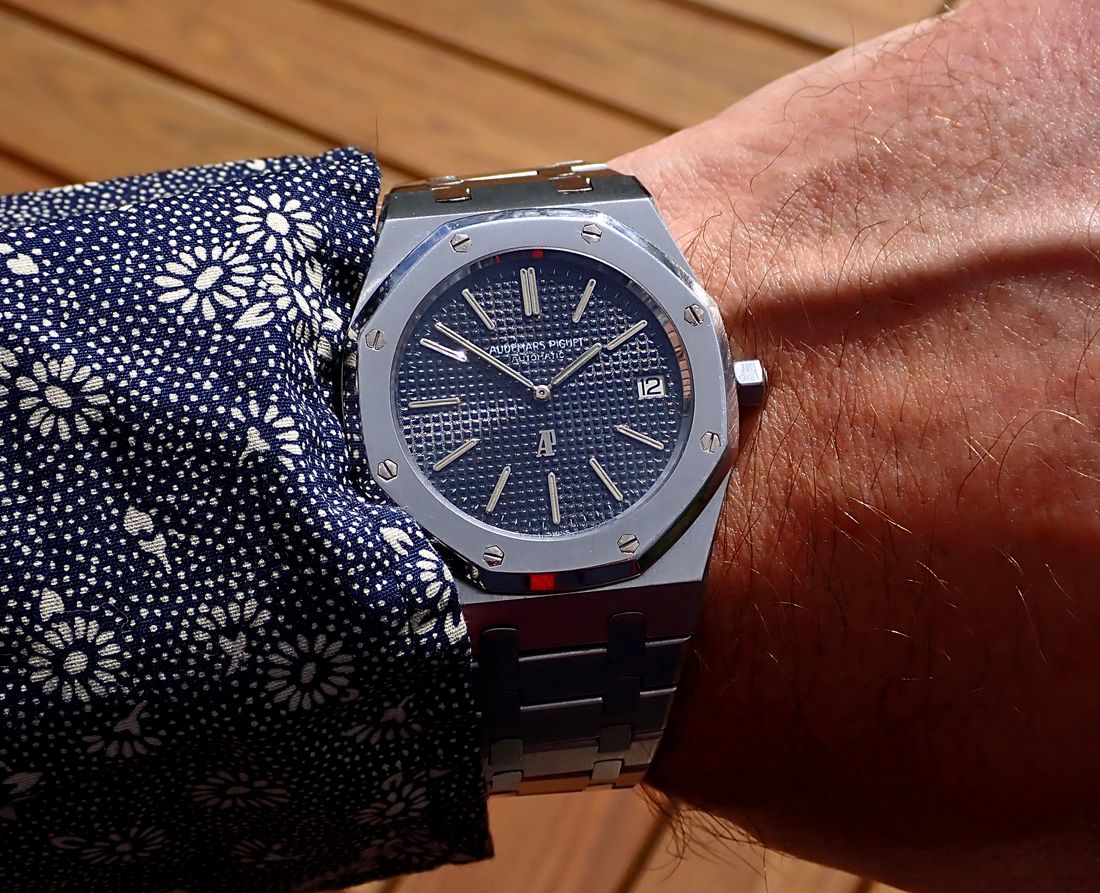 The asking price for this all-time classic second series AP Royal Oak Jumbo 5402ST is now REDUCED to
$132,000 USD OBRO
[ON HOLD] including fully insured FedEx shipping or any other delivery methods. Domestic US deals strongly preferred for obvious reasons but I don't rule out an international deal completely. However, shipping the watch overseas would not be my first choice. With a transaction this large, I am also open to an escrow service, especially if we don't know each other (I would pay the escrow fees if the deal is consummated, buyer pays the fees if the watch is returned, as is standard). Otherwise, payment is by Bank Wire only on this transaction. Payment must be made in US DOLLARS. The only trade collateral I would consider would be a few modern Rolex Sports watches, particularly the modern ceramic bezel GMT line and the newer 41mm Submariner. Please contact me at
[email protected]
or
[email protected]
for all inquiries.
CASE, BACK & BEZEL: Classic Gerald Genta-designed, all steel Jumbo 3-piece screwed case measures 39mm across and possesses an astonishingly slender thickness of a shade over 7mm. The super slim case with trademark visible bezel gasket shows a factory-looking satin finish with factory-style chamfers and undistorted lug holes, so I'd say unpolished for the mid-case. There are some scratches and small nicks from use but overall the case is Excellent for a nearly 50-year-old watch. The prominent octagonal faceted bezel, held in place by eight white gold screws, has a few scuffs and seems a little soft at the edges. This could be from decades of cuff wear or perhaps only the bezel could have been lightly polished at some point, hard for me to say for certain. Very Good+ to Excellent condition either way. The original white gold bezel screws show some wear — every time one of these is serviced these soft screws have to be removed to open the case and then screwed back in to re-seal it and I've had this watch serviced twice now since owning it. So, they do show some minor marks, with the screw at "2" sitting ever so slightly above flush to the bezel when you run your finger over it. The caseback is very clean and definitely unpolished with only some minor scratches — easily Excellent with the correct Royal Oak logo of the period sharp and well defined, as is the coveted four-digit B-prefix serial number. The larger caseback screws have held up well and show only minor cosmetic wear.
DIAL & HANDS: Characteristically stunning early series Royal Oak dark gray-blue "Petite Tapisserie" guilloché dial with white gold applied AP logo above "6" and slim tritium luminous filled oblong markers in stunning condition. Simply a beautiful and Near Mint original dial with a nice subtle hint of patina to the Tritium lume and crisp AUDEMARS PIGUET/AUTOMATIC printed in white below "12" double-marker. The dial color varies from charcoal gray to steel blue depending on the light and I would say the dial tends to photograph a bit darker than it looks in real life. I have included a lot of shots with variable lighting to give you an idea of its many attractive tones within the gray-blue spectrum. Unlike many of these surviving dials, there are only some minor spots of very light brassing, mainly a few near the areas of the applied markers (due to galvanic reaction perhaps?), but these are quite a bit more noticeable in macro photos than with the naked eye, where they don't particularly register. Slender white gold hour and minute"paddle" hands are likewise Near Mint and also show a pleasingly subtle & matching patina to their luminous fill. When exposed to UV light, the lume on the dial & hands reacts identically, charging briefly and then fading fairly rapidly at an equal rate. A stunner on the wrist, this dial is a nice alternative to all the well-aged tropical versions of these one sees, handsome as those may be, for those who prefer a 5402 Royal Oak dial that looks a lot more like it did when it left the factory. Additionally, as AP insists on replacing hands at service these days, more and more 5402s are going to have non-matching luminova hands going forward (and god knows what else), so having one with the correct original set in Tritium is sure to become harder and harder to come by.
MOVEMENT: Under the hood is the famed Jaeger-LeCoultre derived AP 2121 ultra-slim automatic caliber with 36 jewels, calendar complication and 21k gold rotor. As mentioned above, I just had my watchmaker fully service this movement, which represents some serious added value on such a complex caliber, and he installed a new mainspring, as well. So, the watch is running strong with good accuracy, proper instantaneous date change and solid power reserve. The date is the semi-quickset variety where you can rapidly advance it by moving the hands back and forth between around 9pm and midnight.
CROWN: Correct unsigned hexagonal push-in steel crown sits perfectly flush to the case, winds smoothly and pulls out to the time-setting position as it should. A lot of these have been replaced with either later logo versions or, more recently, recreations from AP that are a bit taller — this one is the real deal.
CRYSTAL: Mint flat sapphire crystal with no scratches or marks that I can see.
BRACELET: This Royal Oak 5402 comes on its terrific original integrated steel bracelet, almost as impressive a design as the watch itself, with Audemars Piguet stamped in full on the fliplock clasp and the blades also signed Audemars Piguet in small font but no longer with the Gay Freres stag's head signature of the early A-series version. It shows only minor stretch, has 19 total links and fits up to a 7 1/4" wrist comfortably with 3 removable screwed links for sizing down. The signed fliplock clasp snaps closed nice & tightly. The original bracelet case screws in white gold show some wear to the heads, particularly the one in the top right lug, and so are merely Good. Overall, the bracelet has some minor scuffs and scratches to its beautiful satin finish from wear but this tight, watch-defining Royal Oak bracelet is in overall Excellent condition.
EXTRAS: Accompanying the watch will be an older, though not period correct, I don't believe, square green genuine AP box.
This watch has not been pressure tested and as a matter of policy I make NO guarantees for the water resistance of this watch in any way shape or form.
This great AP Royal Oak Jumbo is offered with a 3-day inspection period from the date of receipt and may be returned for a full refund (less any shipping costs incurred by the buyer). This refund is unconditional and once I get the watch back in exactly the same condition as it was sent to you, your money will be refunded. Once the 3 days are over, the sale will be considered FINAL.
Thanks for looking,
T.
[email protected]
[email protected]