Watch Review by: Mike Stuffler

Watch Brand: STOWA

Watch Model: TO2

Serial No.: 006

Owned Since: 10.06.2015

Retail Price: 1290 Euro (incl. VAT)

Written: Stabenthein/Carinthia/ Austria, June 2015 (on vacation)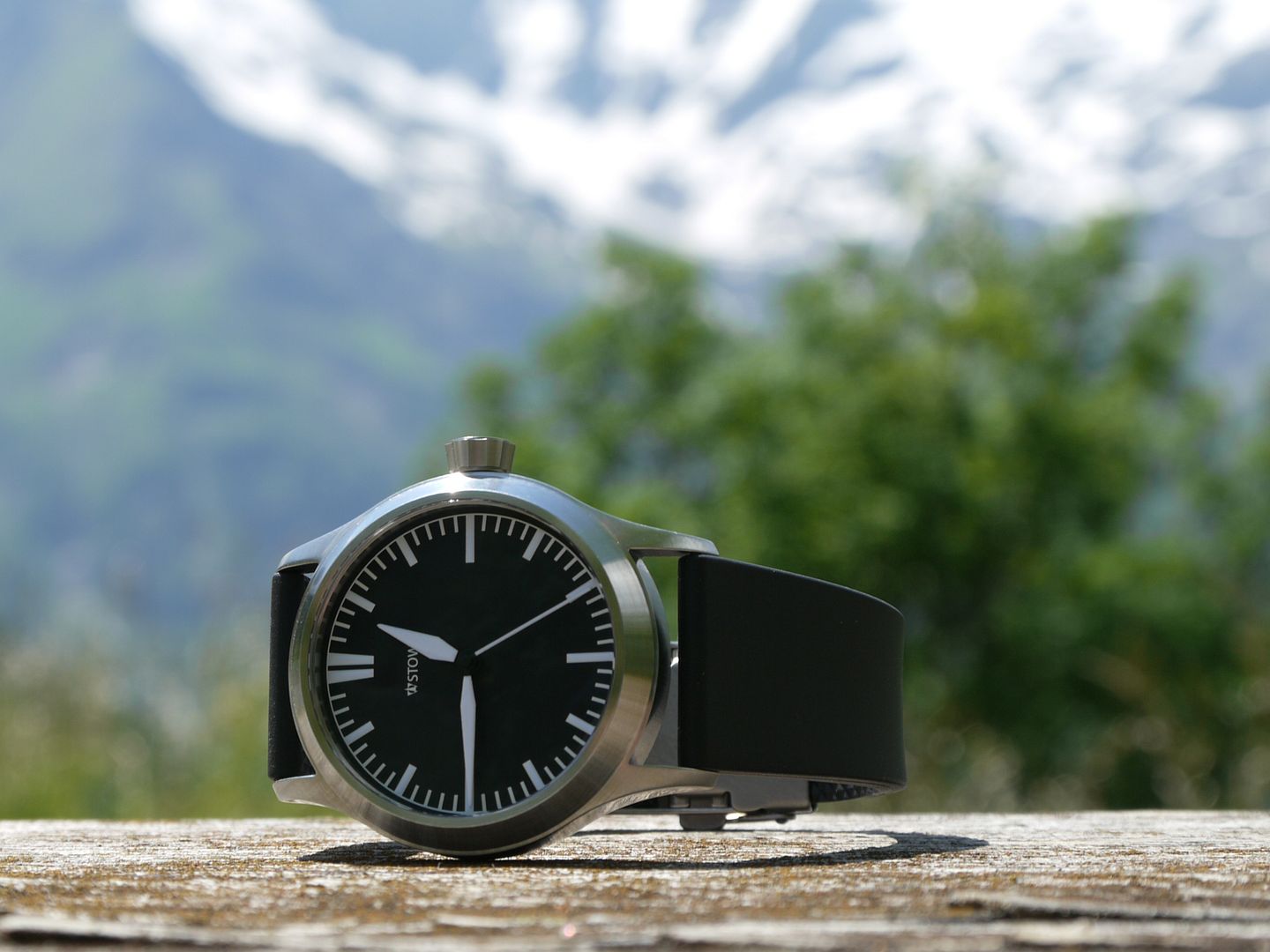 Introduction
As most of you know I used to own many mechanical watches, including a lot of Flieger and Flieger inspired watches, both vintage and contemporary. After the burglary in London (2011) I had to re-start collecting watches. One of the first watches I started with was the 40mm Stowa Flieger No Logo No Date in the handwound version (ETA 2801).
When Stowa launched the TO1 TESTAF (TO stands for technically optimized) as the first watch in their new contemporary line-up I was a bit hesitant (and still am) because of the large diameter.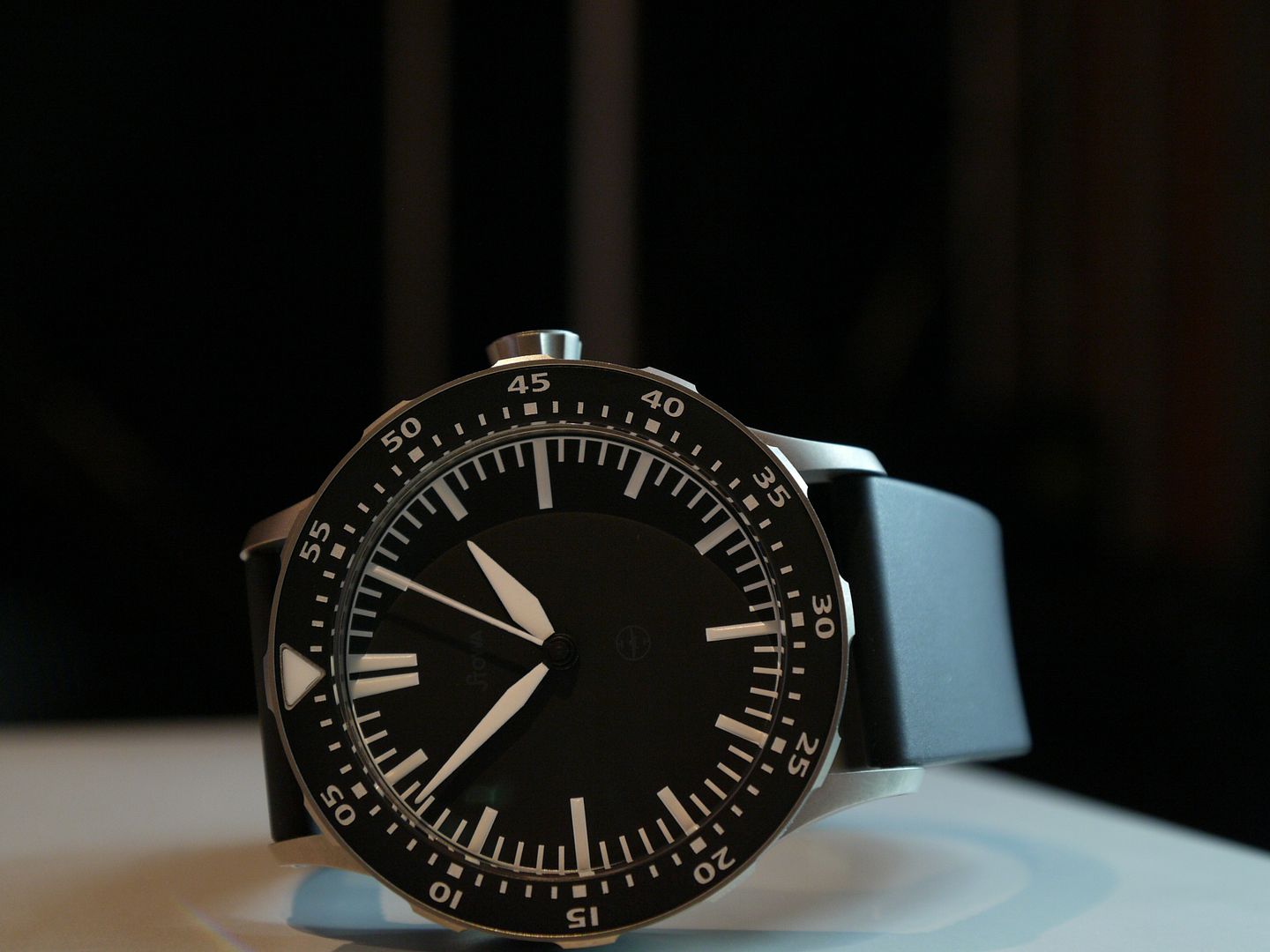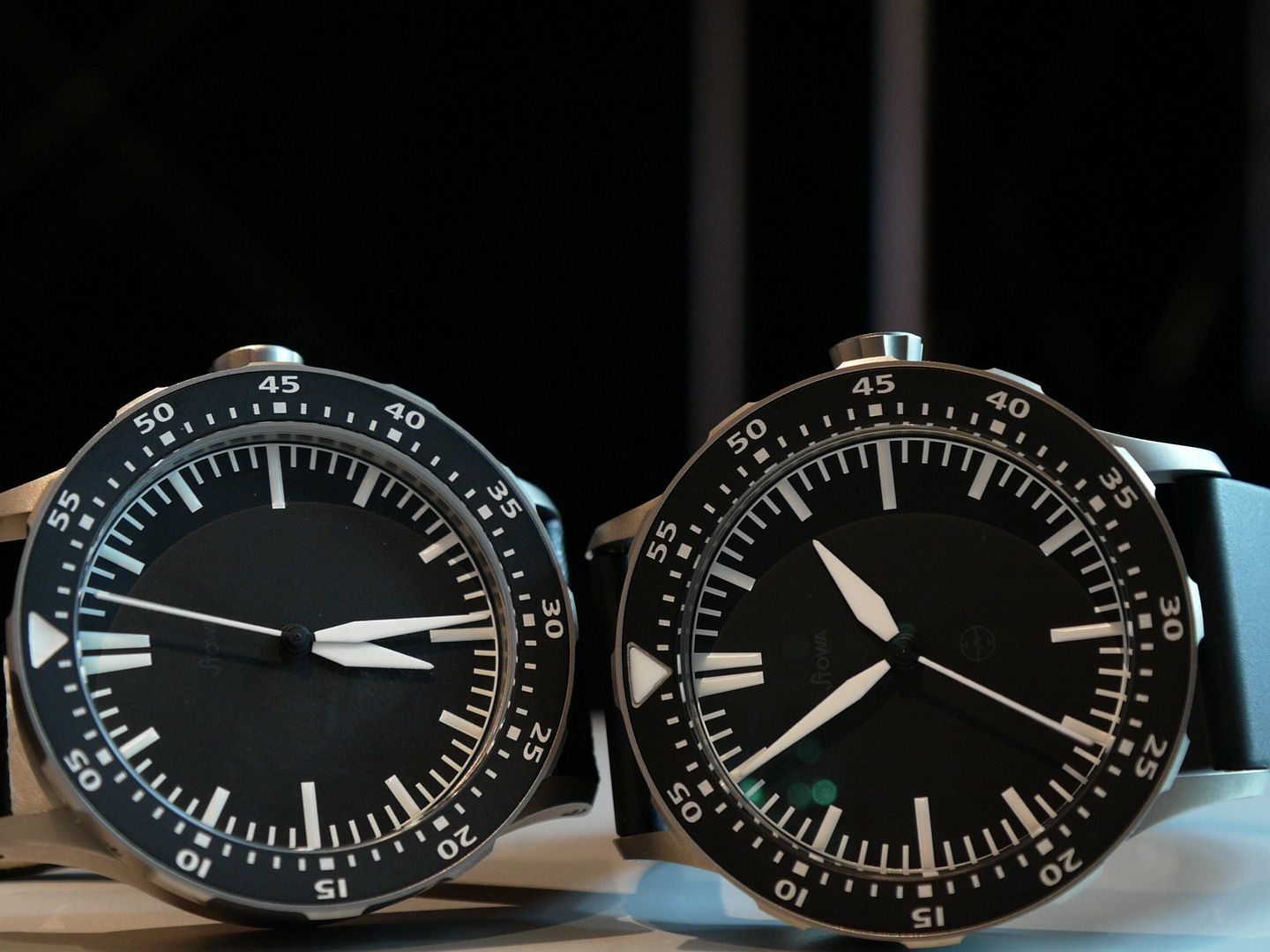 When fingering the TO1 at the Munichtime in 2013 my thoughts proved well-founded. The TO1 simply was too large for my wrists and was ruled out therefore.
In March 2014 Jörg announced that a TO2 is in the pipeline. First I was sceptical on the TO2 as well, not regarding the look which I always found to be somehow "fresh", simple and clean but with regards to fit and wearing qualities.
At this year's Baselworld I had the chance to examine the TO2 an decided to get one.
Baselworld pics: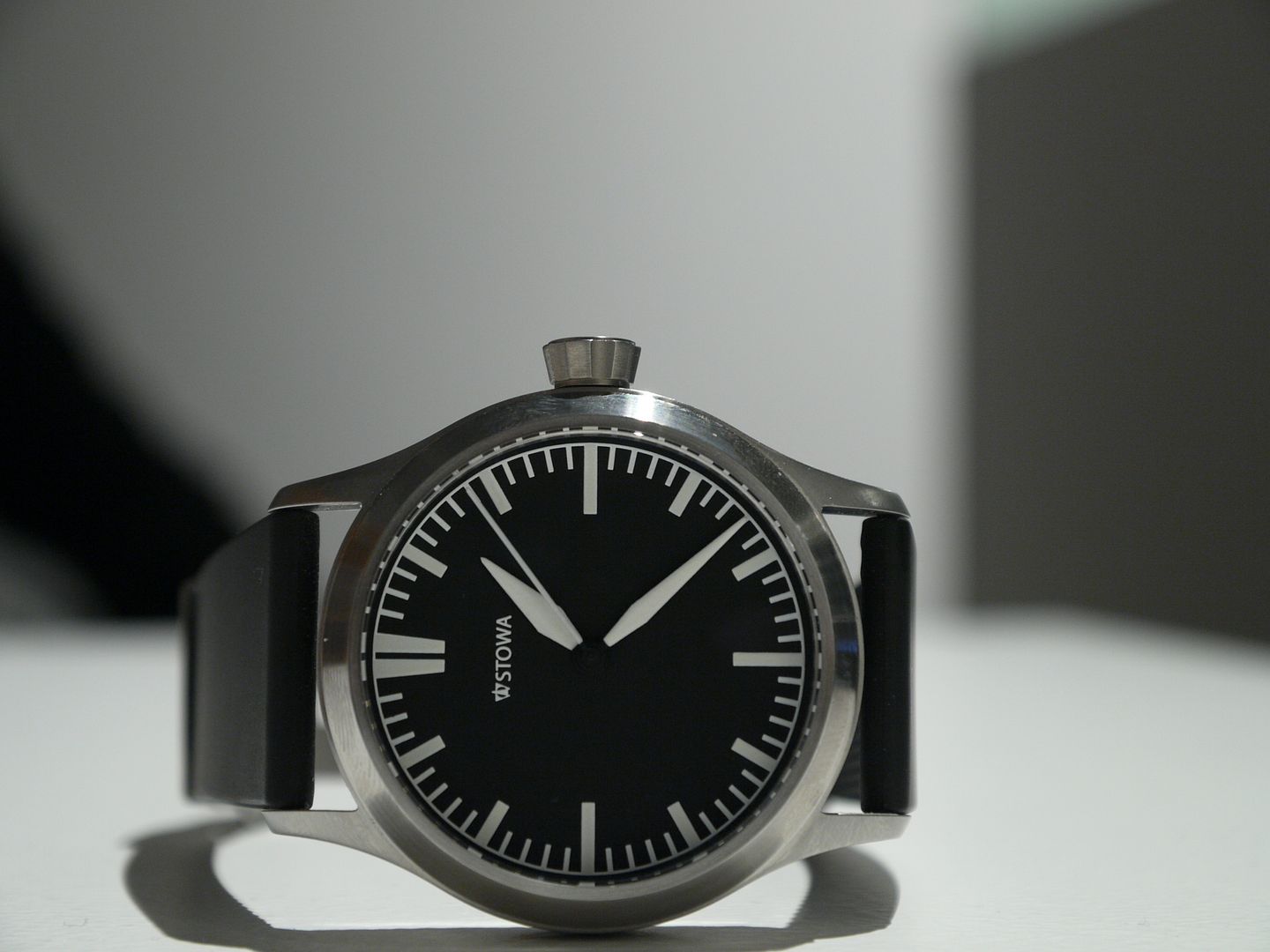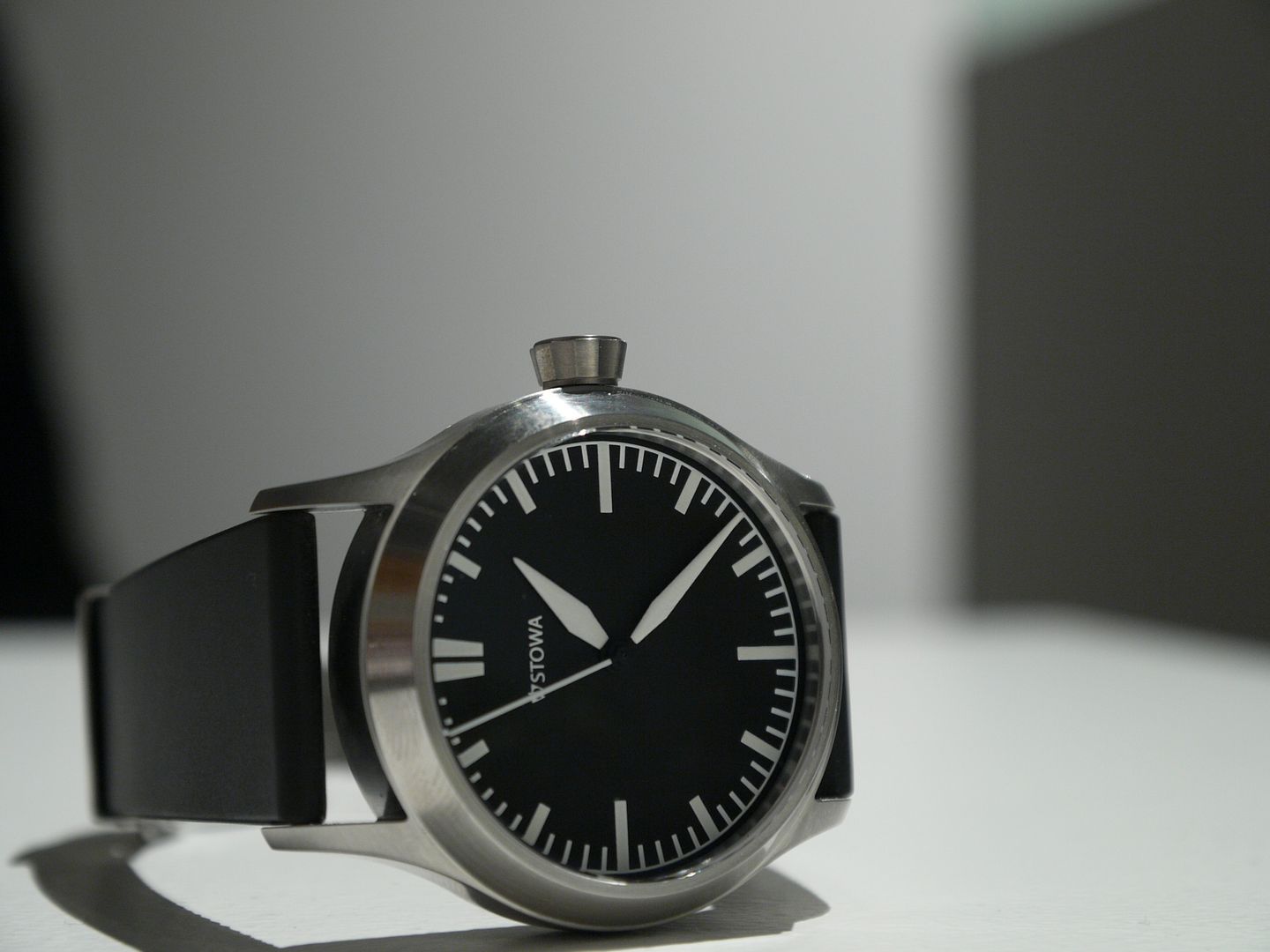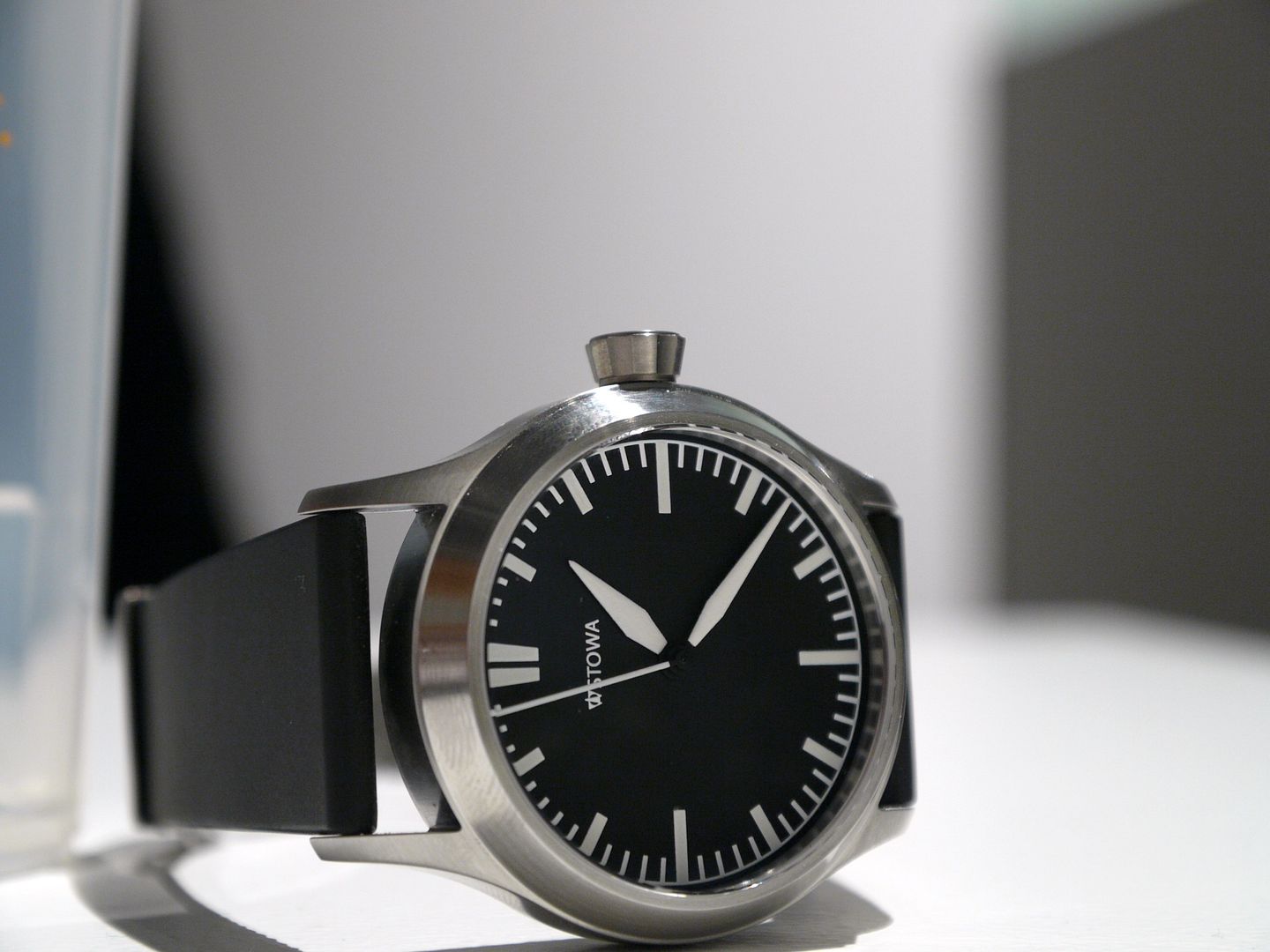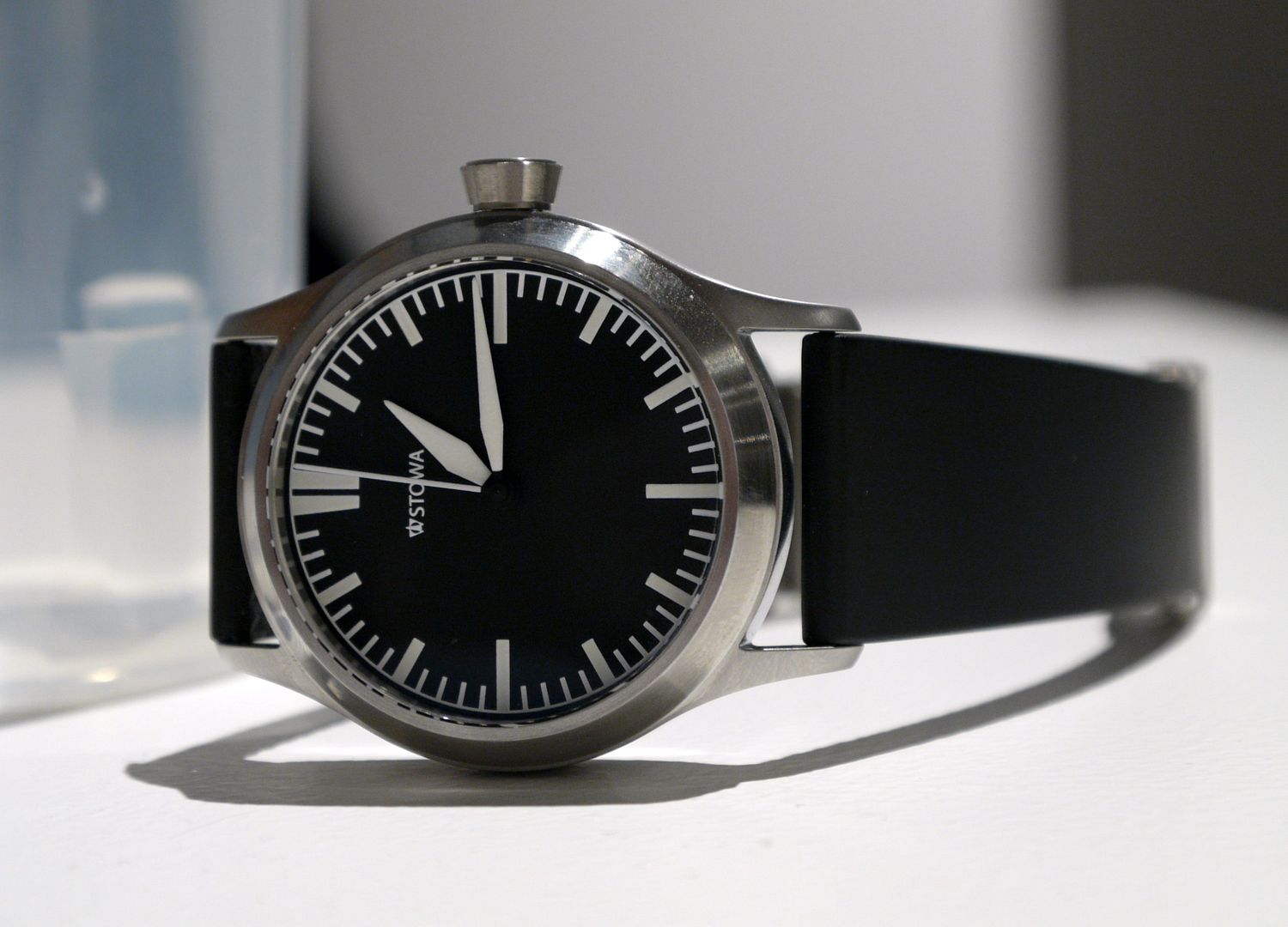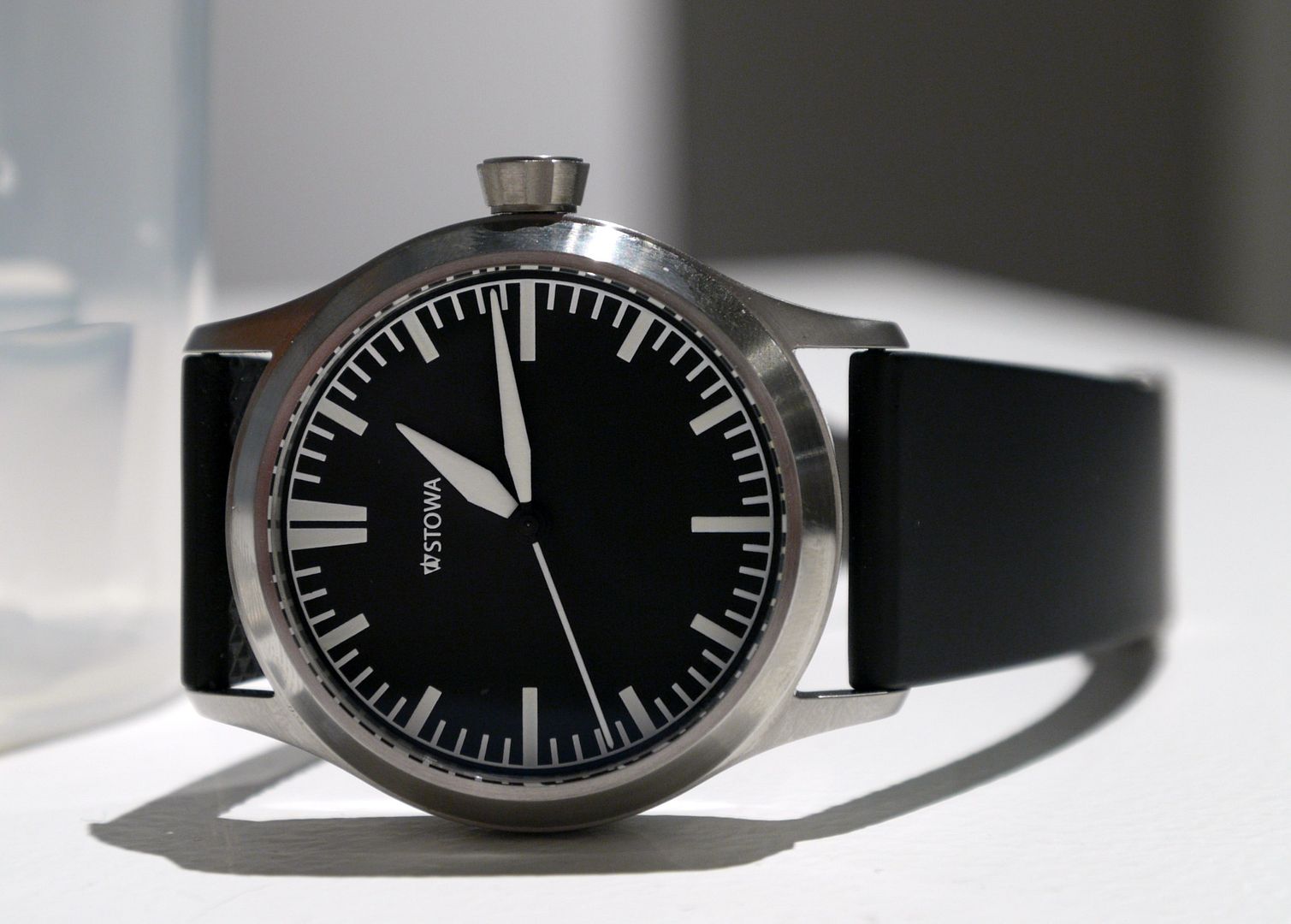 Watch Review
History
Walter Storz, who founded a firmthat's still present on the market today, coined the name for his new company by putting the first syllable of his family name in front of the first syllable of his given name. When he set up his business In Hornberg in the Black Forest in 1927, he had already enjoyed success as a watch merchant.
Walter Storz relocated his business to Pforzheim in 1935, where he was very successful, primarily through sales of wristwatches marketed under his brand name.
A few pocket-watches in Art Déco style rounded out the collection until the beginning of the 1930s. Another important phase in the company's history began in 1938 with the construction of the firm's own building.
Production of marine observation watches and the "Große Fliegeruhr" commenced the following year. In 1940, the "Wehrwirtschaftsamt" [Defense Office of Economic Affairs] decided to commission various manufacturers to produce "Beobachtungsuhren" [Observation watches], which were commonly known by their German abbreviation "B-Uhren." In addition to Stowa, the military authority also ordered such timepieces from IWC, A. Lange & Söhne, Laco (Lacher & Co.) and Wempe.
The Stowa building was destroyed during the Allies' aerial bombardment of Pforzheim on February 23, 1945.
The construction of a factory building in Rheinfelden, Baden in 1951 was probably motivated by familial reasons. Rapid growth thanks to Germany's economic miracle made it necessary to expand the premises in 1954 and again in 1966. "Rufag" (Rheinfelder Uhrenteilefabrik = Rheinfeld Watch Component Factory) was founded in 1954 to produce shock absorbers for PUW (Pforzheimer Uhrenrohwerke = Pforzheim Watch Ebauches) and Durowe (Deutsche Uhrenrohwerke = German Watch Ebauches). The manufacturing facilities in Pforzheim were rebuilt as well.
Stowa's collection from those years was diverse and versatile. The brand concentrated on making affordable watches in contemporary designs and without elaborate horological complications, although Stowa's catalogues also offered a classically elegant gold wristwatch to wear with one's Sunday best and diamond-studded timepieces for gala occasions. Stowa's watches were exported to more than eighty countries.
The brand even developed its own mechanical alarm timepiece with an electronic alarm: it was the world's smallest alarm timepiece when it debuted in the 1970s. After Walter Storz passed away in 1974, his son Werner Storz became director of the business. Jörg Schauer took over the firm from Werner Storz in 1996.
Since November 2009, the Vorwerk Holding Company has contributed not only capi-tal, but also its expertise in direct marketing.
The staff 's efforts will result in the production and delivery of approximately 4,000 watches in 2011.
For additional info and a time table click
here
TO 2 Technical Specifications
In order not to forget a detail I just copied in the tech specs from the Stowa web site.
Diameter: 43 mm
Height: 13 mm
Strap width: 24/20 mm
Lug-to-Lug size: about 51 mm
Waterproof: 20 ATM
Weight: about 115 grams with rubber strap
Case: stainless steel
Dial: black matt coated with Superluminova BWG9 (white), Stowa Logo
Crystals: Front Sapphire crystal domed and sapphire display case back, both sides A/R coating
Hands: Superluminova BWG9 (white)
Strap: Leather strap or rubber strap
Crown: stainless steel with STOWA Logo
Movement: ETA 2824-2 chronometer quality
Beat rate: 28.000 A/H
Power Reserve: about 40 hours
Number of jewels: 25 synthetic rubies
Finish: Geneve Stripes, blued screws, rhodium plated golden STOWA engraving on rotor
Case & crown
The case as specified by Stowa is 43mm without crown and - without any doubt - got a notable presence on the wrist.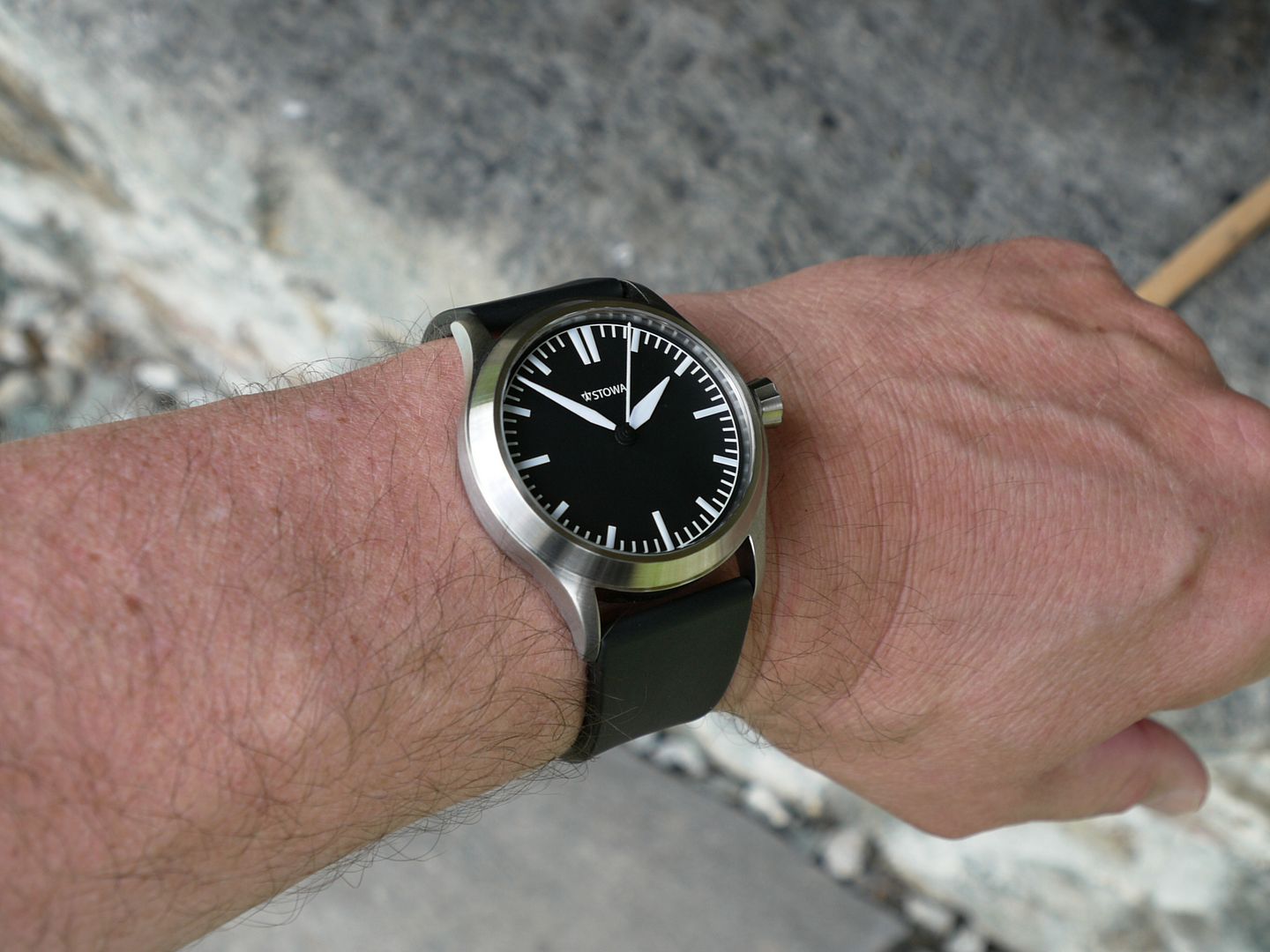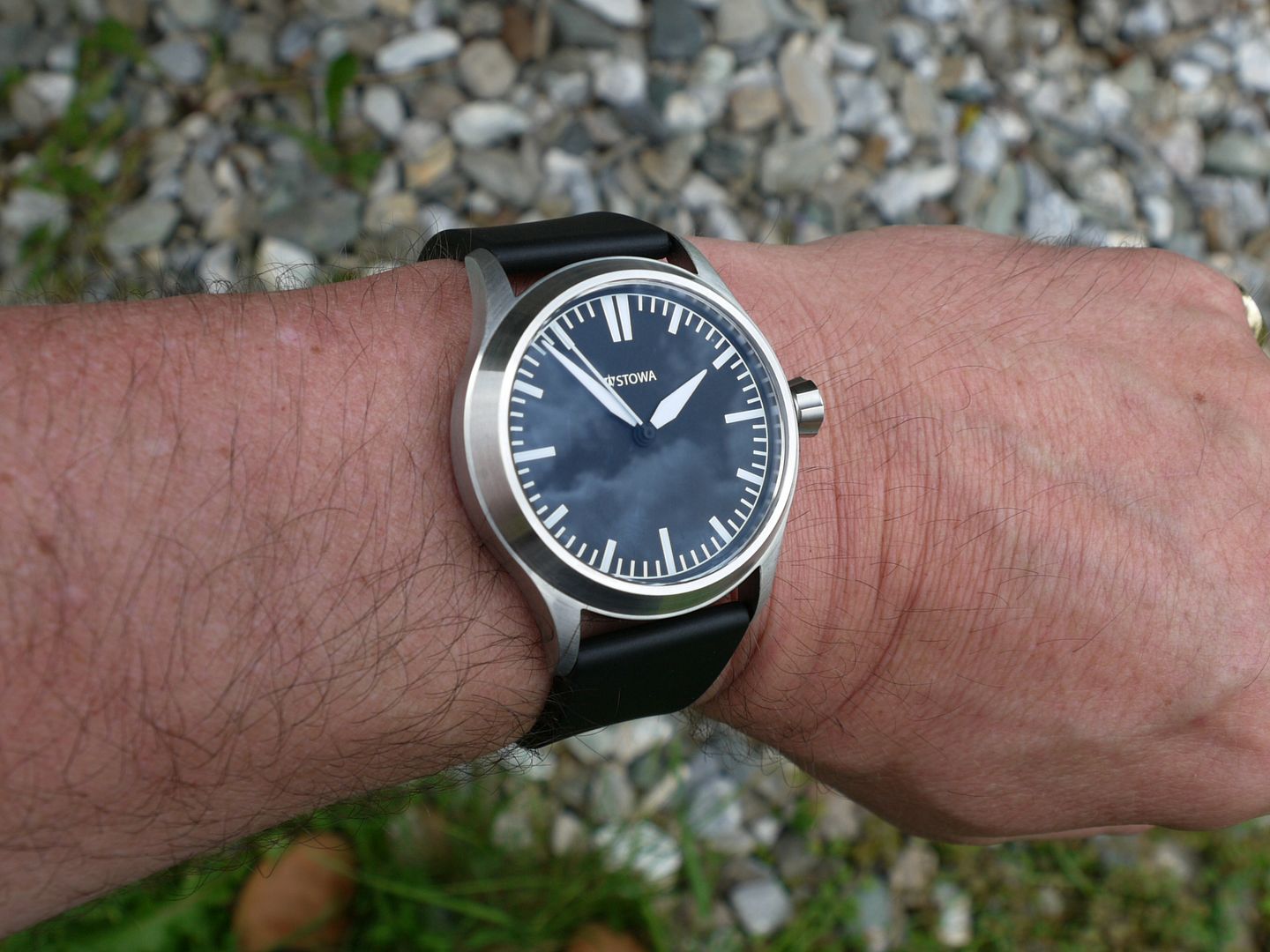 The finishing and fit of the case is state of the art. When the watch is viewed from the side you will notice the beveled bezel which is the trick to make the watch look smaller than 43mm. With a height of 13 mm the TO2 will fit with shirt cuffs, if not too tight on the wrist.
The large crown of the T02 – taken from the TO1 - makes adjusting the time and winding very easy. You can easily grab and pull the crown out to the appropriate position. Position I: date setting (not existing at this watch), position II: setting the time (movement hacks).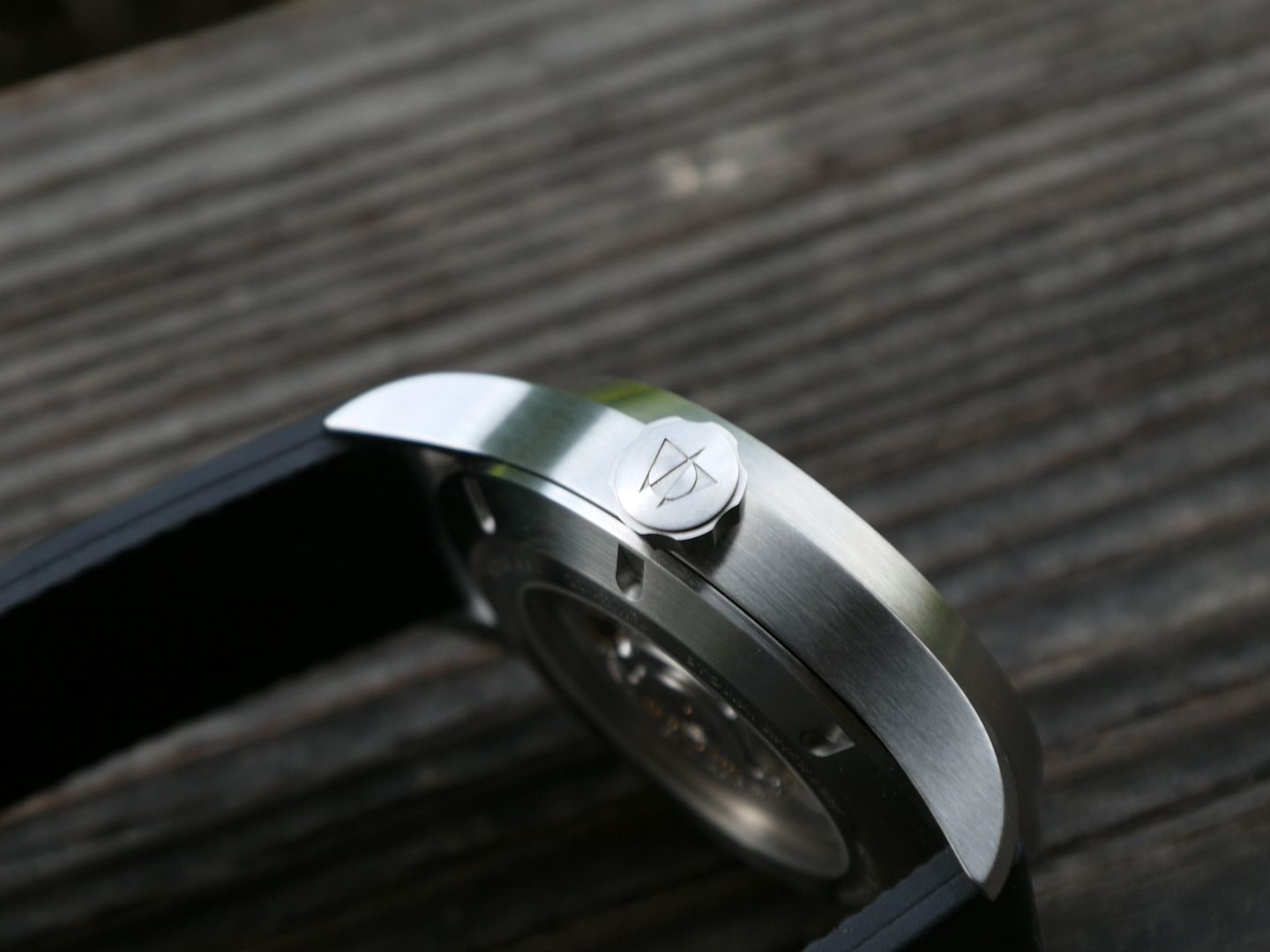 The crown is not a screw-down one which in my humble opinion is no flaw. The crown is very easy to operate at all times and warrants a WR rating of 200m (20 atm). The crown feels solid enough to overcome thousands and thousands of pull out / push in operations. The crown is engraved with the Stowa logo.
Dial and hands
First of all and most important: The TO2 is ultra legible. So the TO2 is in no way inferior to its big brother TO1.
The dial is typical for military style watches and appears matt black with white indexes which are comparable in thickness and lenght to those we know from Damasko watches (343 for example).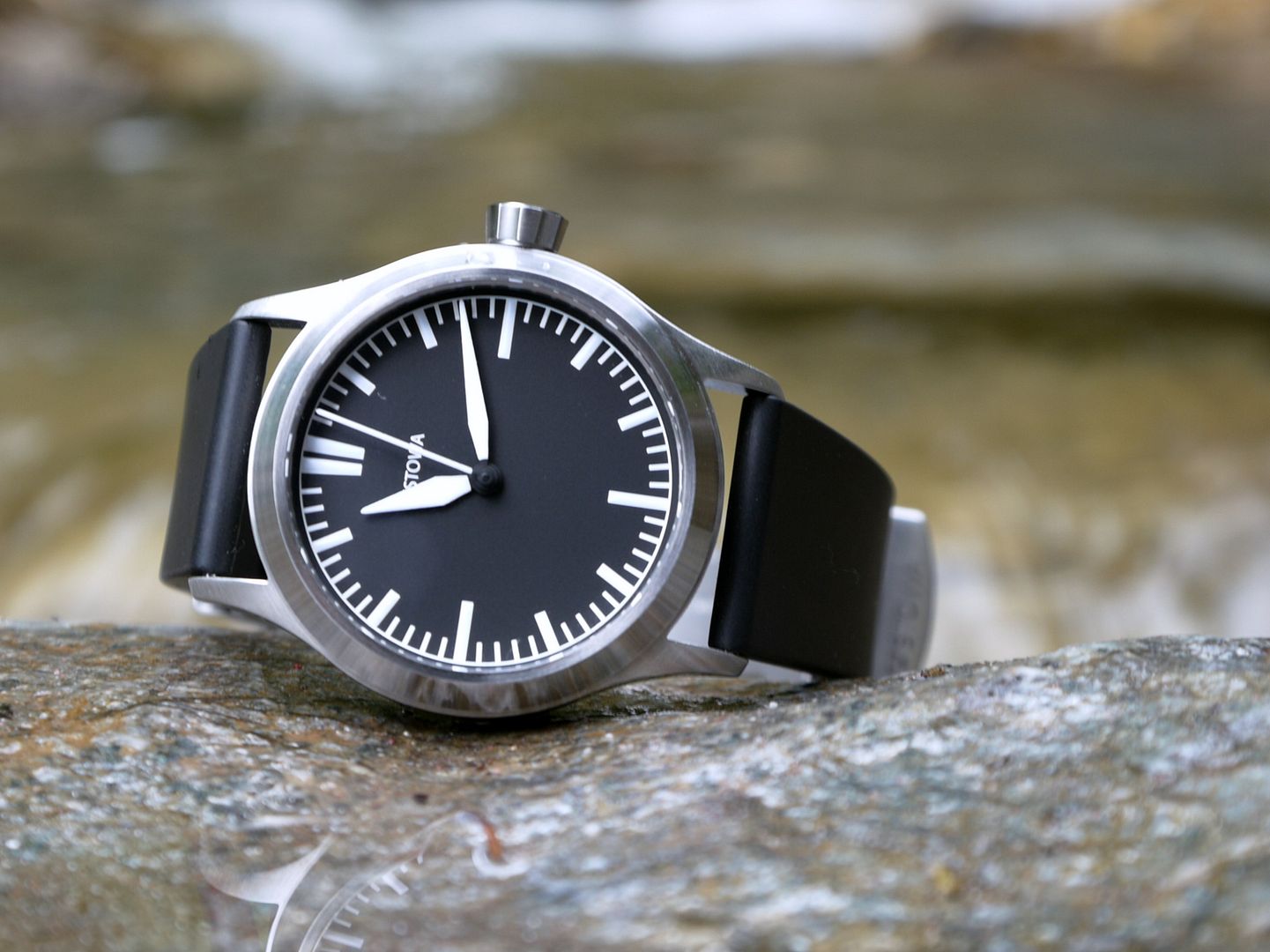 Indexes and hands (including the seconds hand) are coated with Superluminova BWG 9 (whiteat daytime, green at night – not the blue tone the TO1 is featuring).
Due to the "nature" of a seconds hand it is very tiny and hard to read at night since indexes and hour- and minute hand are superior in glowing, they just superimpose the tiny seconds hand. So you need some time ti "identify" the running seconds hand at night. Without glasses I had difficulties to see the seconds hand.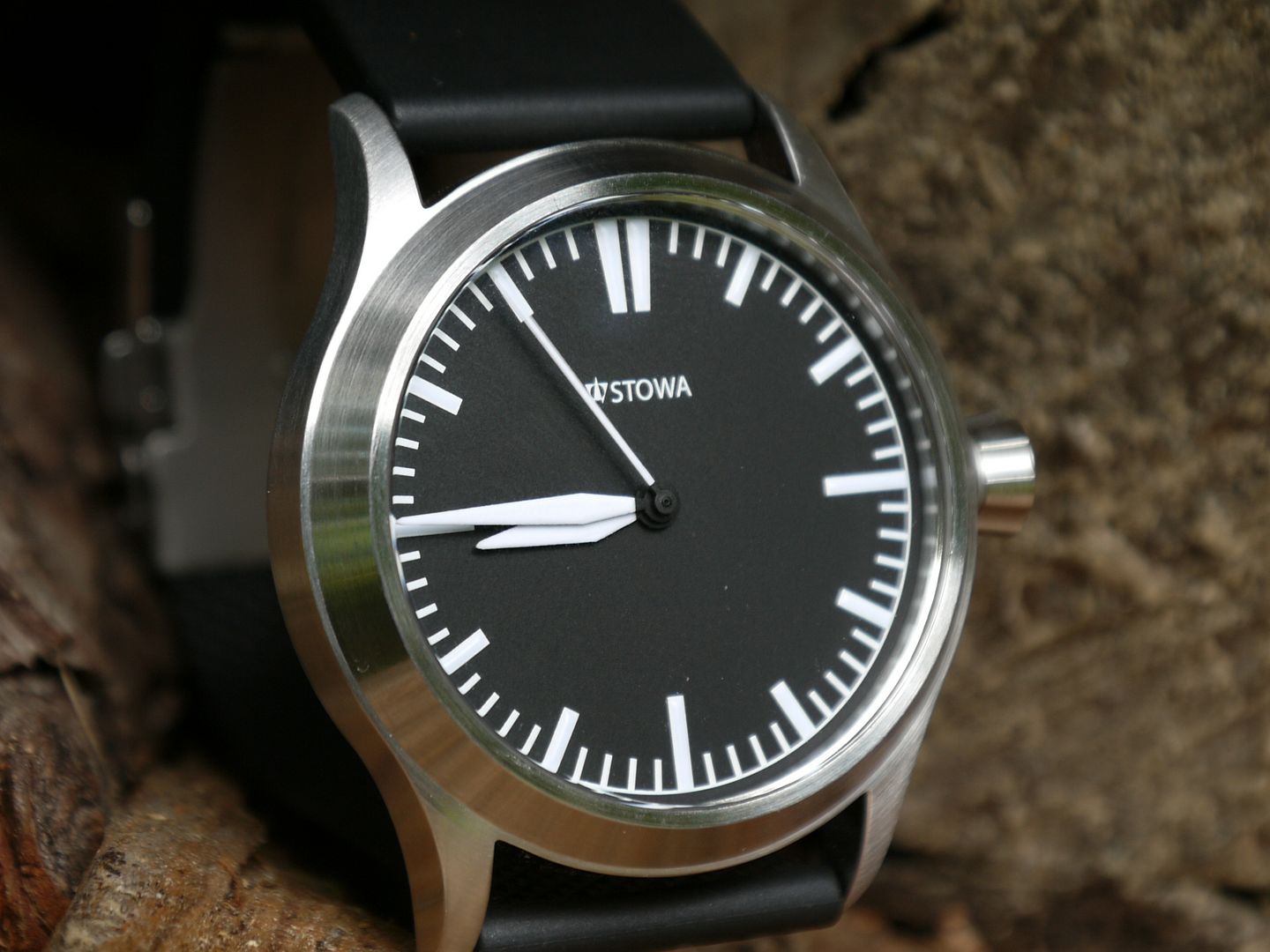 The shape of the three hands are a homage to classic Flieger hands but fully coated down to the pivot. The luminous compound fills up the entire surface of all hands. The hour and minute hands are identical to those on a DAMASKO DA 36 for example. They do fit perfectly, perfectly in length and width and give this timepiece an overall military tool flavour.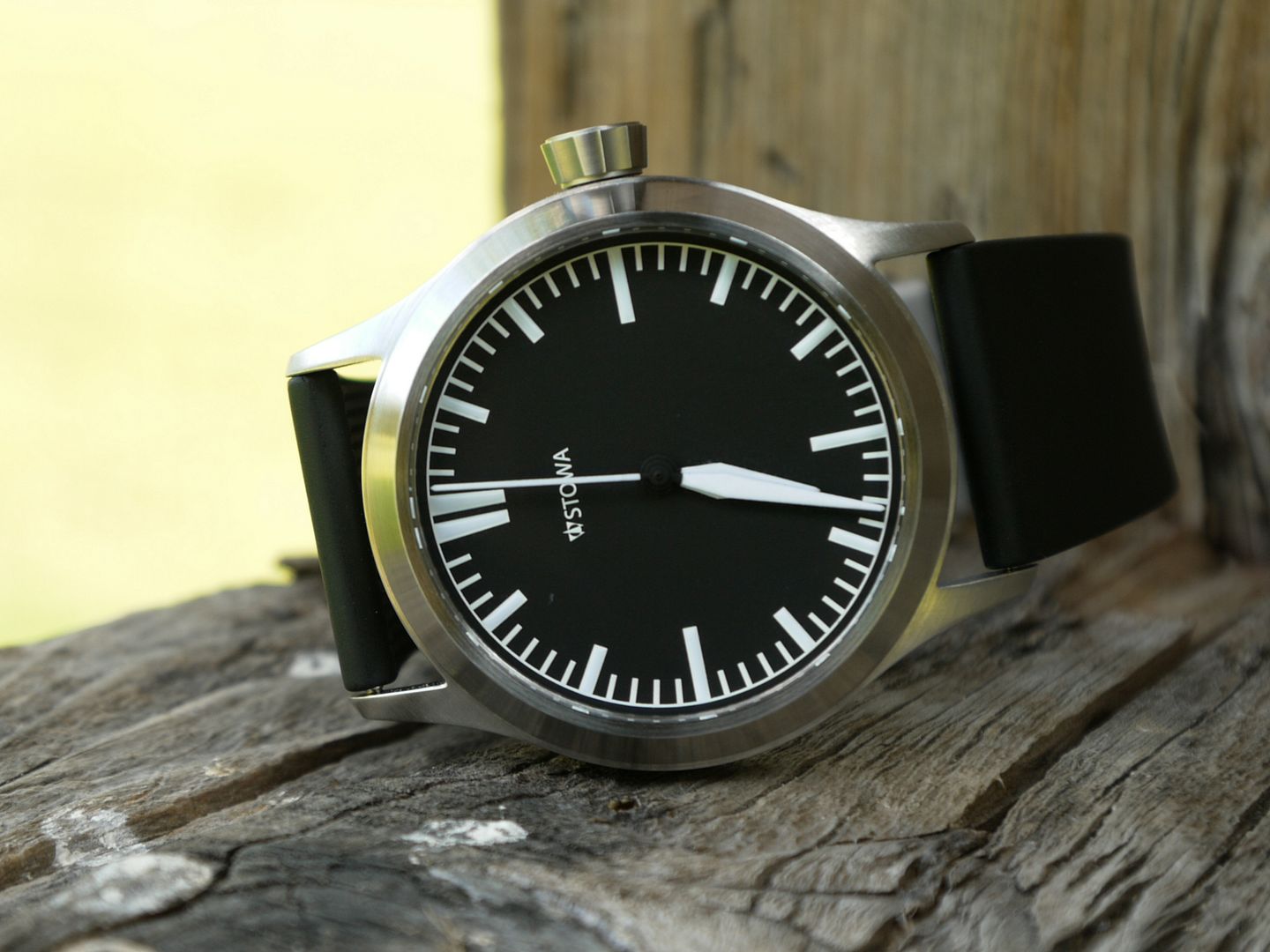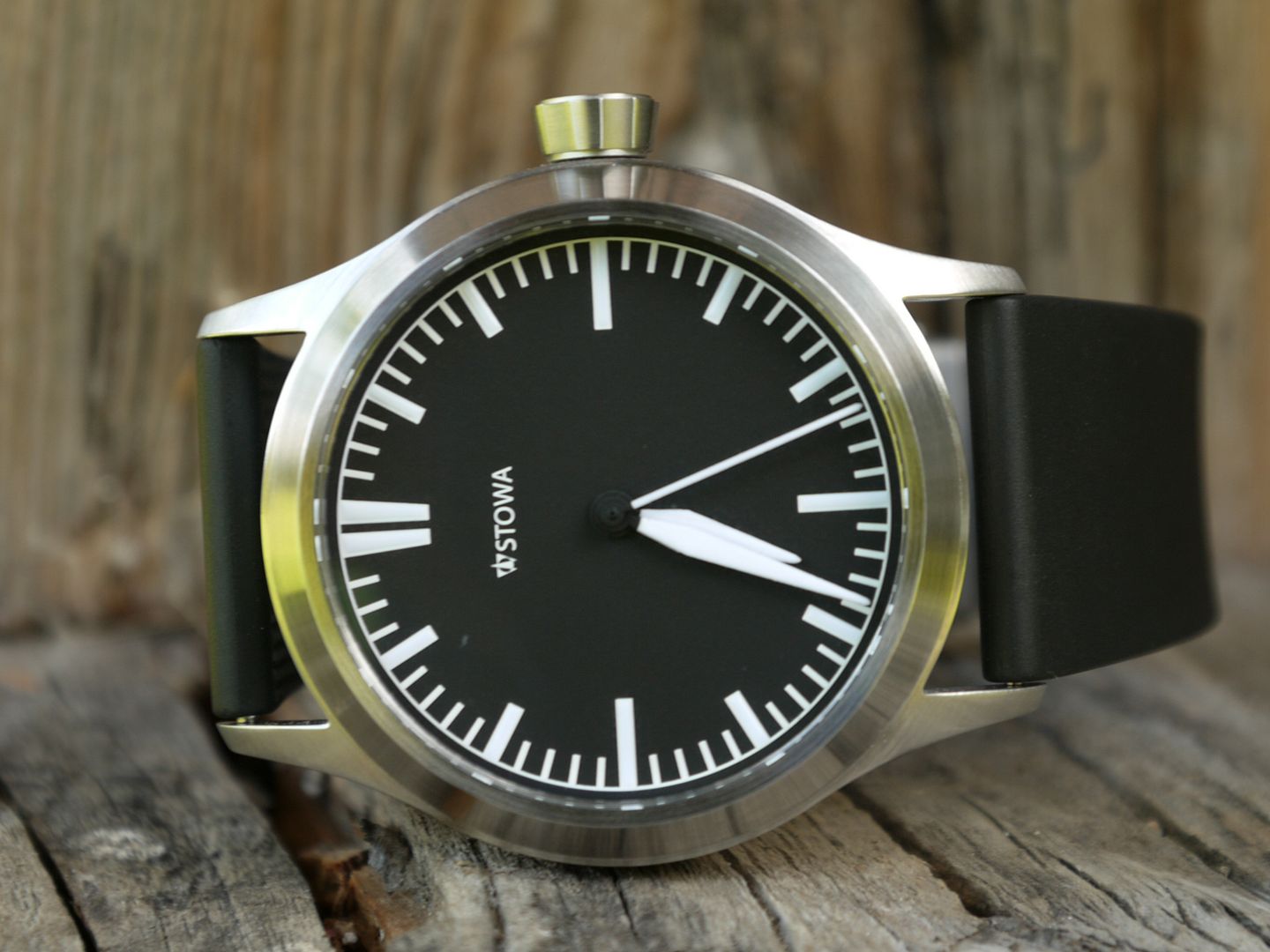 Crystal
The crystal – of course and as a standard for Stowa watches - is a (slightly domed) sapphire crystal. It is AR-coated on both sides.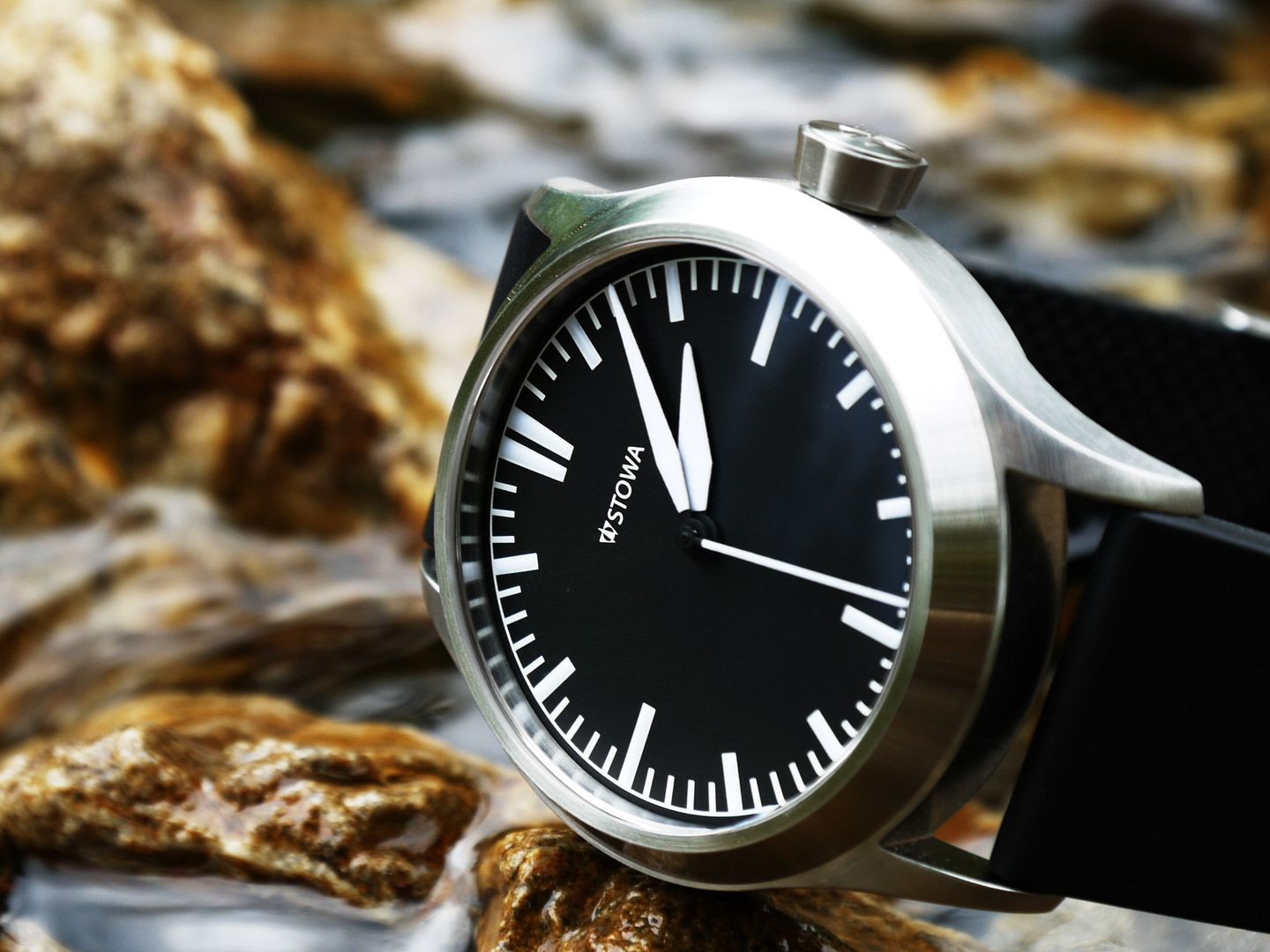 Readability is perfect but it should be noted that the crystal is prone to smudges, finger prints. I catched myself cleaning the watch more than necessary.
Strap
The TO2 is available with a rubber strap or a leather strap.
I went for the rubber strap with the two fold deployant bucklein stainless steel because I wanted to underline the toolish appearance of the TO2.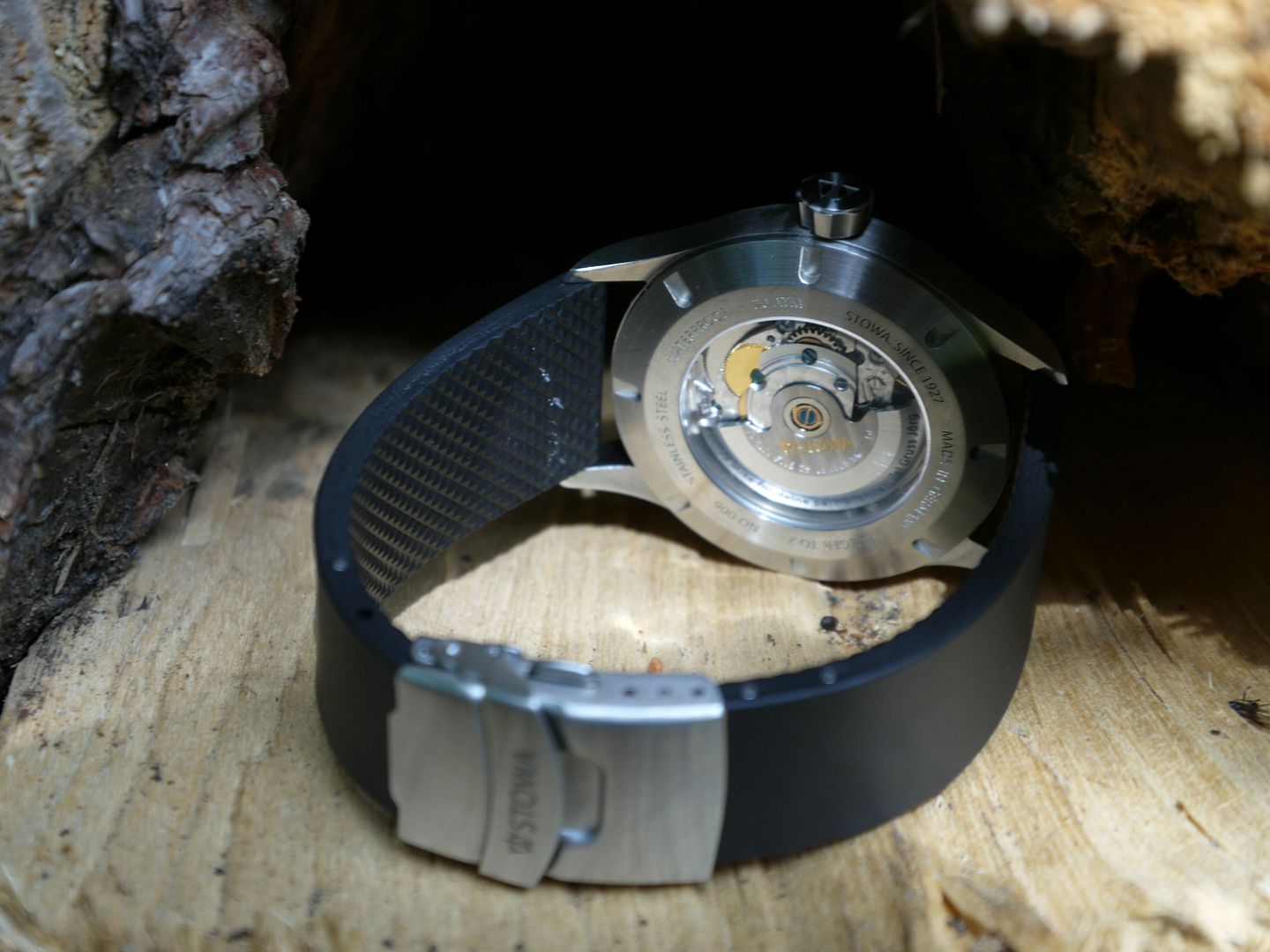 The vanilla smell of the rubber confirms it is a quality strap.
------A watchmaker here in Austria (I am on vacation right now) helped me sizing it (got it just 10 hrs before leaving) and told me that you can identify a good natural caoutchouc strap by its smell. I never heard that but was happy to hear that mine smells good. We both took another sniff. -----
The rubber strap (24mm/20mm) is comfortable wear, not that stiff as one might expect when looking at it for the first time. The double secured deployment buckle is also very user-friendly in use.
Movement
The T02 is fitted with a top grade chronometer quality ETA 2824-2.
The ETA 2824-2 is known as a reliable and rough workhorse and the one ticking in the TO2 does not make any difference. It is beating at 28. 000 A/H.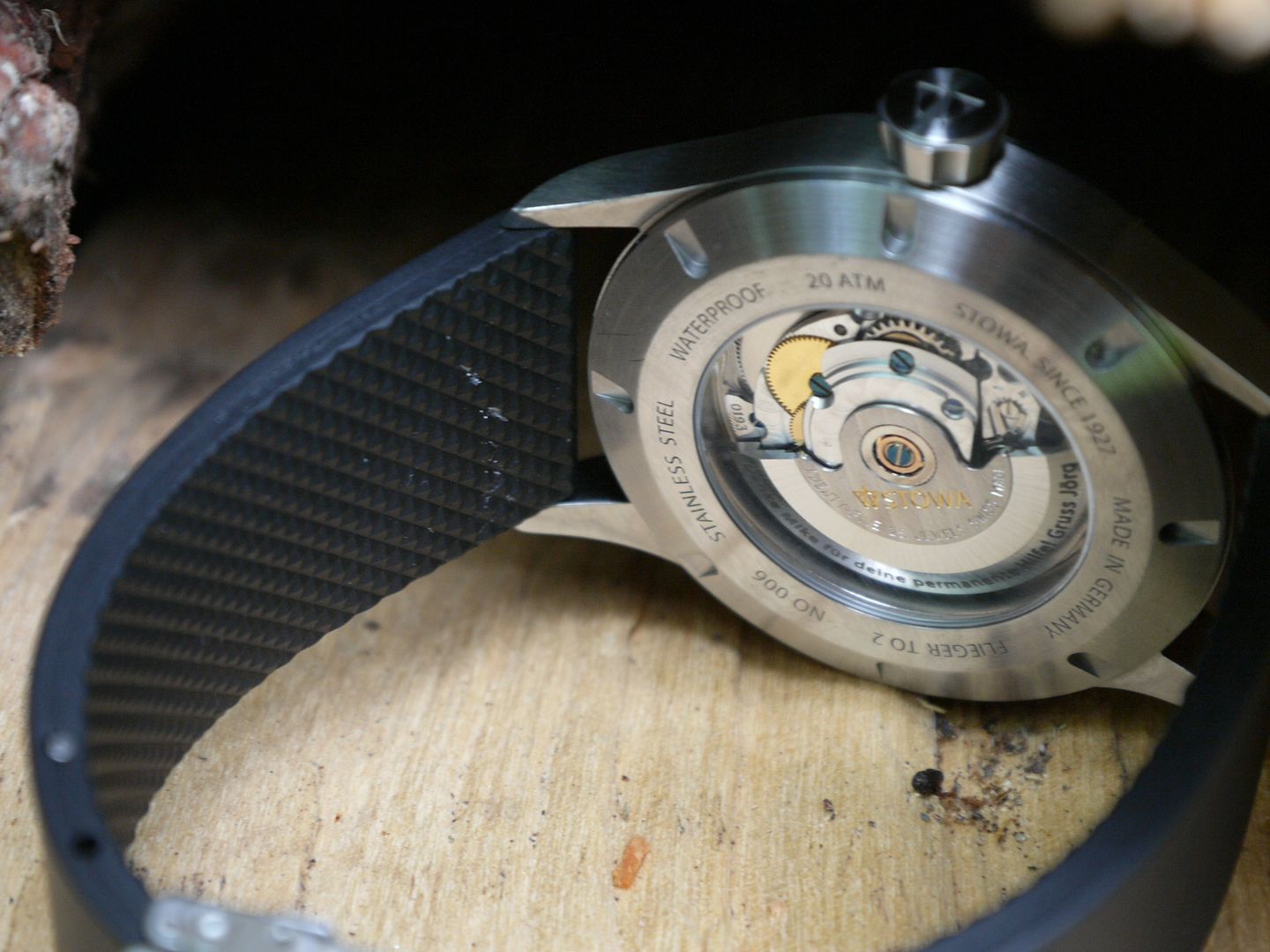 The top version is adjusted in five positions with an average rate of +/- 4 seconds per day, or a maximum daily variation of +/- 10 seconds per day.
It would be too early to give a full report on the accuracy because I am wearing the TO2 since 5 days. However I am quite satisfied with its performance, it looks like the watch performs without fail, it performed constantly about +2/+4 per day with resting on the back at night (app. 8 hrs).
Box and Manual
As I already mentioned earlier on the forum: Nothing exciting. All Stowa watches come with the "standard" knurled aluminium box added by a leather look travelling bag. The small square booklet that contains the owner's instruction and the watch's identification. (mine: # 006) and since Jörg knows me very well he added in handwriting "enjoy your watch, Jörg".
Both, box and manual, are adequate to an instrumental watch and more or less spartan which did not bother me at all. I am wearing the watch, not the box.
Price
With 1290 Euro the watch is adequately priced with the outstanding value for money you get.
Warranty
The watch comes with a 2 years warranty.
Summary / Conclusions
By any standards, the TO2 is a pretty well made toolish looking eye catcher and a good interpretation of a contemporary Flieger watch.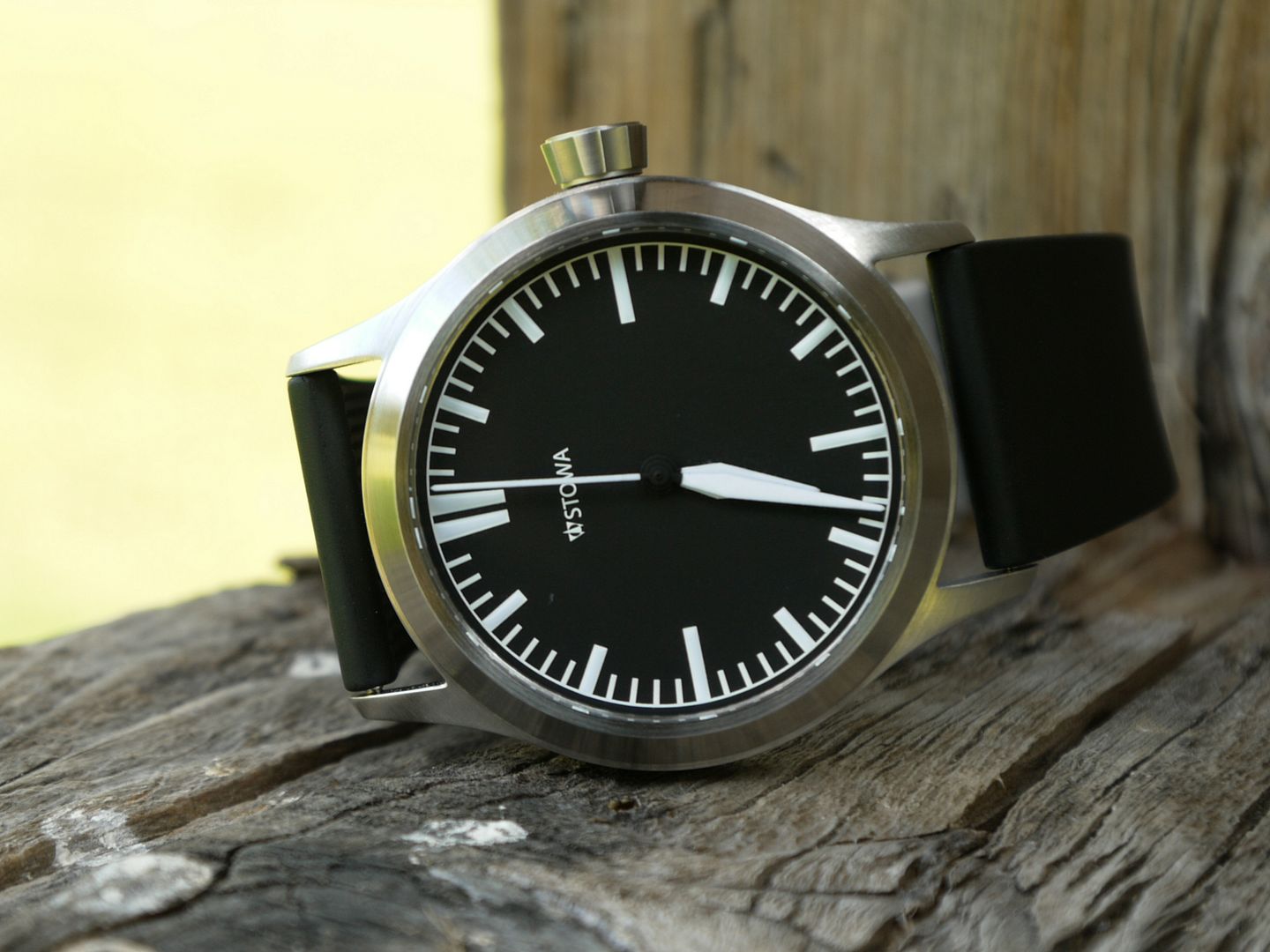 The Stowa Flieger T02 combines a "tool" and "beauty" in an excellent way. The build quality of the case and other components is excellent.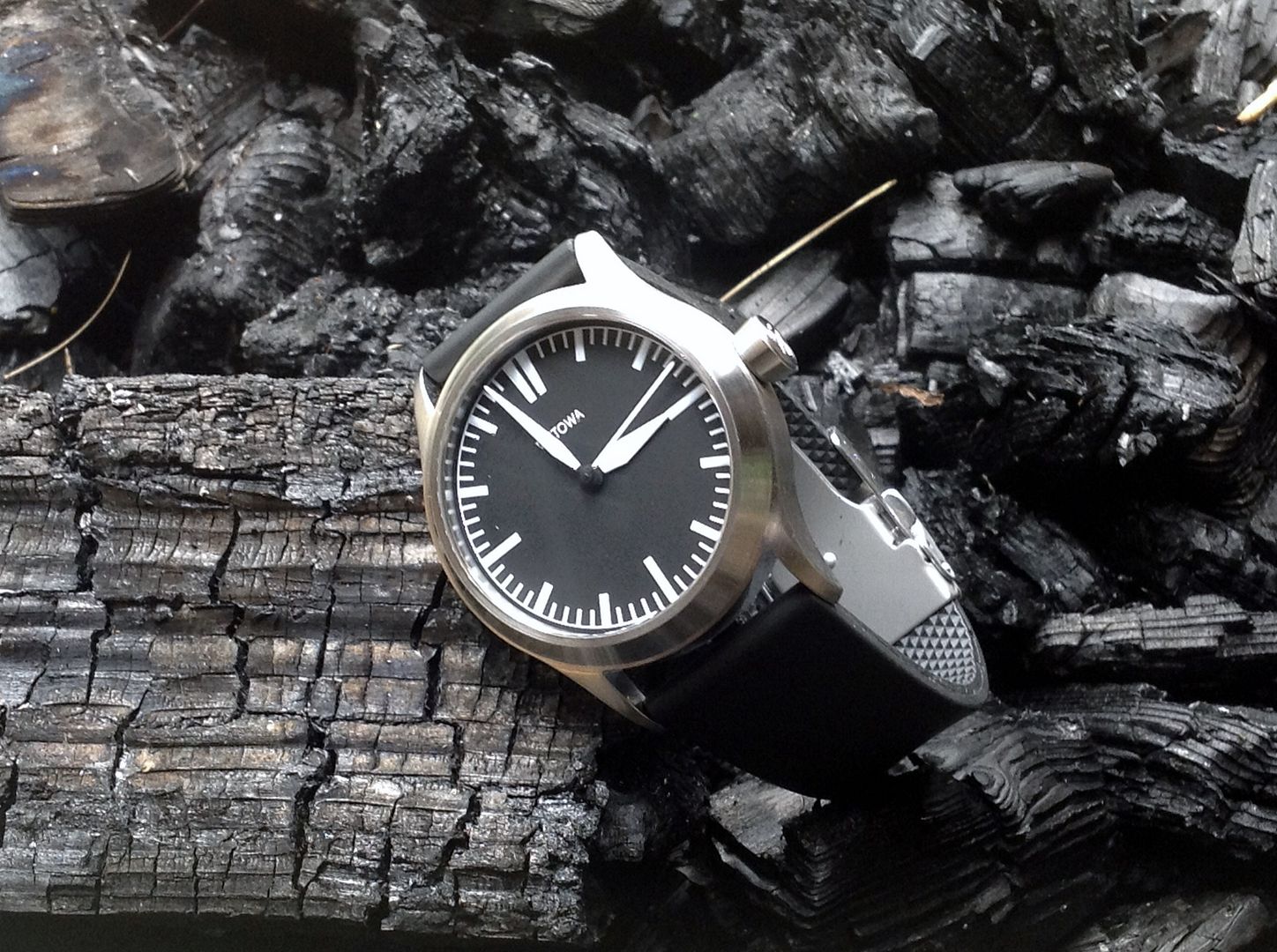 The price of 1290 Euro may appear to be a bit steep compared to other ETA 2824-2 powered watches but with this watch you will get a lot of value for your money which should be read as:
• Tool watch look - but not a chunky one
• Simple and clean dial and as a consequence an excellent legibility
• Good lume (not a lume fan boy), fully coated hands
• Solid case, excellent finish and a new design (beveled bezel)
• Top grade ETA-2824-2
• Comfortable rubber strap with two fold deployant
• WR 200m
• Large crown with a distinct design, reserved for the TO series
Not much flaws to find with that watch. But as I mentioned before, the double AR coating might disturb one or two. A date version will come !
Mike Stuffler
Watchuseek
Moderator German Watches Forum
© All pics by Mike Stuffler