Discussion Starter
·
#1
·
Alligator grain
Semi matte alligator grain with bombee padding and contrast stitch. Black and brown in 18, 20 and 22mm. MSRP $39.95. Forum price $35.95
Lengths: 74x114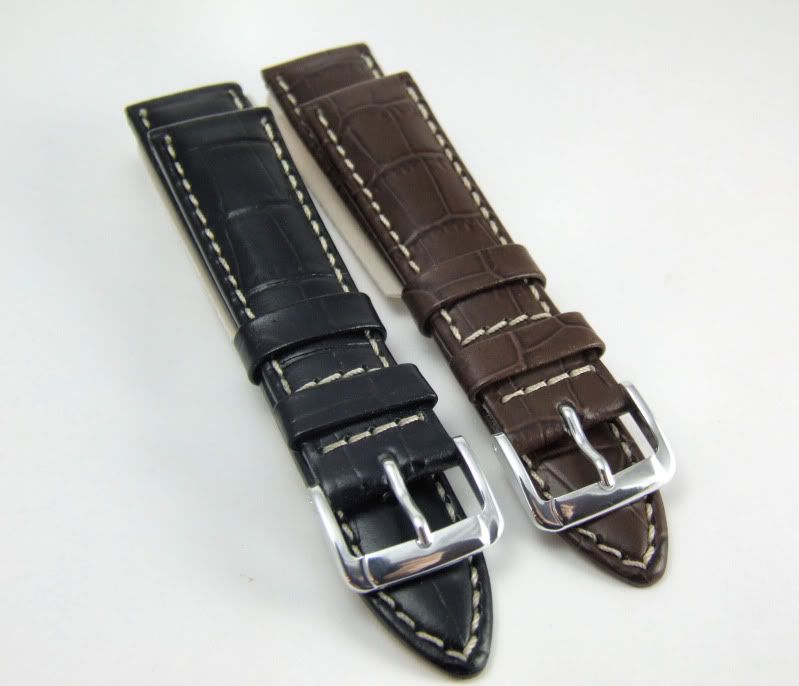 Calfskin Stitched
Natural calf leather with contrast stitch. Vintage Black and Vintage brown in 18, 20 and 22mm. MSRP $39.95. Forum price $35.95
Lengths: 80x120
Grand Duke
100mm waterproof alligator grain in black/red, brown/orange and gold brown/gold brown in 20 & 22mm MSRP $59.95. Forum price 53.95
Lengths: 80x120
Hirsch Liberty
.From the Hirsch Nature Collection, a fine but very thick calfskin similar to the Panerai style straps on the market. Also characterized with a heavy white cord stitch. Four earth tone colors: dark brown, golden brown, and black in 18mm, 20mm, 22mm, 24mm. 2mm taper, thickness about 4.5mm and constant for the lug end to the tips. MSRP $40.95.
Forum price: $36.95
.
Please note the <b>honey</b> (far right) has been discontinued.
Hirsch Modena, Contrasting stitch
.The Duke is one of Hirsch's all time best sellers and the Modena is it's re-incarnation with a white, contrasting stitch.
Modena is available in 18, 19, 20, 22 & 24mm in Black, Brown, Gold Brown, Honey, Blue (plus Royal Blue, Red, & Yellow – but inquire first). (19mm only in black, brown and blue). MSRP $47.95
Forum price: $42.95
.
Widths: 18x16, 19x18, 20x18, 22x20, 24x22
Return Policy – Returns allowed as long as the following conditions are met (non warranty returns):
straps can not be worn or tried on (it puts a bend in the strap and can't be sold as new)
tags still attached and packaging intact
must be exactly as sold.
Please take all measurements before attempting to mount the strap.
Shipping Charges (updated January 23, 2012):
Inside the U.S. -
Order over $39 are free 1[SUP]st[/SUP] class with delivery confirmation.
1[SUP]st[/SUP] Class with delivery confirmation……..……$1.95
Need insurance?.........................................Add $1.00 per $100 coverage.
Need Signature Confirmation ………………+ $2.00
Priority Small Package (smaller mailboxes)…..$6.25
Express Mail Flat Rate………………………..$18.50 (includes $100 in insurance)
Outside the U.S
Canada Only, 1[SUP]st[/SUP] Class…………………………$3.30
Airmail, no insurance or tracking……………...$4.60 See Comments Below***
Airmail + Registered with $43.73 insurance…...$15.95 (add'l insurance $1.00 per $100)
Priority 4-6 days, no insurance or tracking…….$16.95 See Comments Below***
Global Express w $100 ins. & tracking………..$39.00
Important notes/terms of sale
The postal system around the world generally does an outstanding job; my experience has been a worldwide delivery rate over 99%. I provide (reasonable) evidence of shipment.
***If you are concerned about in transit loss, please select a secured or insured method as the terms are FOB shipping point, seller is not responsible.
Items insured must have a visible declared value equal to the amount of insurance coverage.
Please contact or paypal me at
[email protected]
. Thanks for looking.
Thanks, Kenny
Note: this post supersedes any prior posts or offers.