Discussion Starter
·
#1
·
Straps by Hadley Roma USA​
Hadley-Roma
has been making watch straps and attachments since 1904. They are the only top tier strap manufacturer with headquarters and production facilities located here in the USA. They are the industry leader in new designs and innovations and are committed to provide the best possible product and service. Having a manufacturing facility here is the US enables them to respond to special
made to order
requests. If you have such a need, kindly inquire and I will make the necessary arrangements.
I include free shipping (in the US), paypal, spring bars and a mini (full service) spring bar tools with all strap orders $25 & over (if you would like one, add only a $1.00 (under my cost. sorry, vendor just increased the price.)). Worldwide shipping is available, but please inquire in advance.
For the many of you that have already purchased from me, thank you very much!
Kenny
Hadley Roma Deployants* These deployants are the best deal out there in terms of quality. The workmanship & finish is just outstanding and the price certainly reasonable. Purchase any deployant along with any of my straps and get a $3 discount.
Double Fold Push Button Stainless 16,18,20mm $25.00
Yellow Gold Plated 16,18,20mm $28.00
Rose Gold Plated 16,18,20mm $32.00
Single Fold Friction Lock Stainless 16,18mm $17.00
Yellow Gold Plated 16,18mm $21.00
14mm available in all styles except rose gold.
Hadley Roma Genuine Alligator

HR's model number 2005, matte Genuine Louisiana Alligator. Colors: black, chestnut, cognac, Bordeaux and blue. Sizes 16, 18, 19 & 20mm. $89 delivered.
and (attention Eberhard owners) the same strap in a custom made 21mm cognac with double stitching, contrast or matching, $124.99. SOLD OUT
Hadley Roma 945 Silicone with Blue, Red, Orange, Yellow, or White stitch Here's one of Hadley Roma's newest straps, the 945. Black silicone with colored stitching. 18 & 20mm now in stock, Unbelieveable price of $14.95 delivered!
Hadley Roma 893 Tag style genuine leather Blue, Red, Orange, Yellow stitching and painted edges. Water resistant leather. 20 & 22mm now in stock. $22!
Hirsch Liberty[/b] Panny style thick leather with a 2mm taper. Pictures tell it all....unbelievable strap for this price. $31.49*….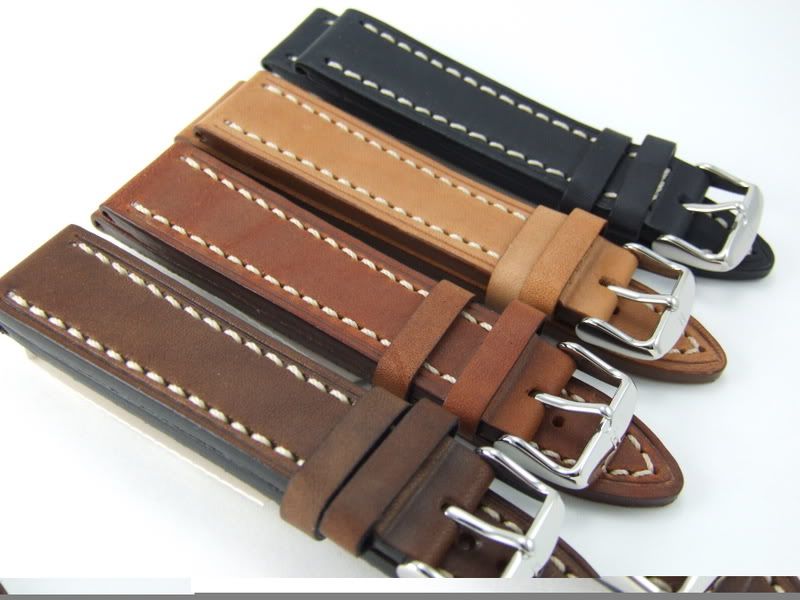 Hirsch Carbon Sport[/b] A Forum favorite, Carbon style 100% waterproof strap in 18 & 20 mm in black, blue & gray with contrast stitch. $35.95*




Hirsch Modena & Duke

The Duke is one of Hirsch's all time best sellers and the Modena is it's re-incarnation with a white, contrasting stitch.


Modena is available in 18, 19, 20, 22 & 24mm in Black, Brown, Gold Brown, Honey, Blue (plus Royal Blue, Red, & Yellow - but inquire first). (19mm only in black, brown and blue). The Duke is available in the above colors in 14, 16, 18 & 20mm plus burgundy, red, ice blue, pink beige, white and orange. $35.95*




Hirsch Principe Leonardo Collection

Here's one you don't see very often. Thick alligator grain about 6mm at the lugs, contrasting stitch, curved ends, squared ends (on what is referred to as "the point", the longer strap). The brown and gold brown have an ecru stitch, the black and blue, matching stitch. $53.95*
NEW!Hirsch Traveller (Nature Collection)
This is a very soft, supple calfskin strap with a lighter contrastingstitch for a sporty look. One of the softest straps I have held in my hands, but it'll support your sport watches no problem. Price is $41.49 delivered with spingbar tool. Sizes 14, 16, 18, 20, 22 & 24 in black, golden brown, brown and honey.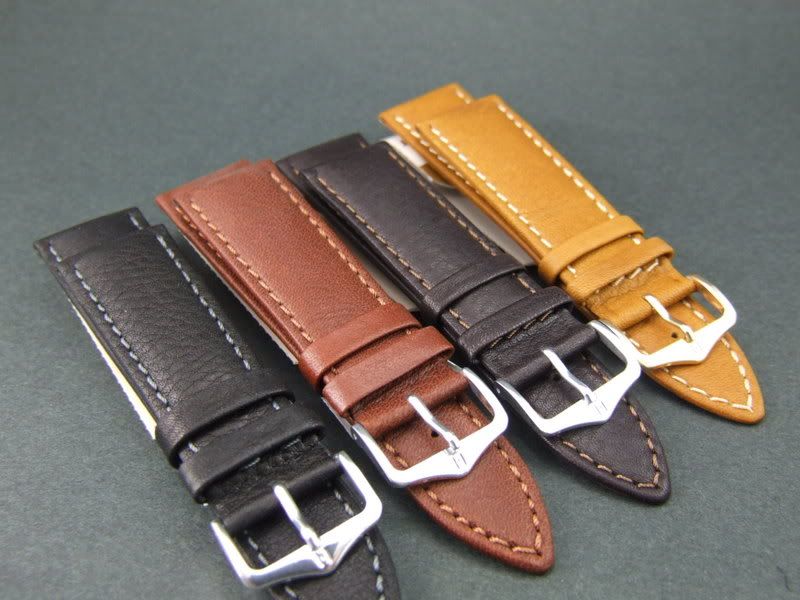 * prices compliant with Hirsch policy
NEW! Hadley Roma Genuine Stingray- men's and ladies sizes in ladies 14, 16 & 18mm in black, blue, pink, red and green and men's 20mm black. Sorry no scans yet, but beautiful Pearled Stingray with quick change spring bars for easily changing straps in and out. $42.95 delivered.




Tag Style (waterproof)

, black & tan. 18 & 20mm, $21.99 with free shipping & spring bars.

Tag Style (waterproof) Custom $24.99 in 20mm Shorts & Longs and Custom 22mm Regular in black with contrasting white stitch. (Note: custom straps have add'l mfg charges which is why the price on this model is higher)




Alligator Grain 898 & Antique Bison Leather 899 (right) in 24mm, 898 now available in 18, 20, 22 & 24 in blue, tan & black. 899 now available in 24 brown and black. These straps are some new additions by HR and are just outstanding. The blue and tan colors came out perfect, exactly the shades I was hoping for. I hope this pic does them justice, email me for a digital image you can zoom in and see for yourself. $22 delivered




Alligator Tail Grain in black and brown in 18, 19, 20; blue and tan in 18 & 20mm, $19.99 delivered. New - 20mm Black and Brown in Long




Breitling Style Alligator Grain 20mm & 22mm in Black, Brown & Tan, 5+mm thick + plastic tubes sewn into the straps to support large sport watches. Extremely well made strap. Price $21.99.

my B-1




Breitling Style Genuine Alligator $99..Black & Chestnut 18mm, 20mm & 22mm (22mm not avail in dr brn) free spring bar tool, spring bars.


(1) Genuine Seiko ProDiver (1st pic) $29.50; (2) Silicone Diver with Satin Diver Deployant $19.50 & (3) Rubber Diver - tire tread design with satin or polished dive deployant $19.50. Prices include delivery & 20 heavy duty Seiko springbars for 2 & 3




Genuine "anti-allergy/porous" Leather

in 17mm black, great for vintage or tank style watches. price drop to $12.99.


Shipping Charges:[/u


Inside the U.S. - FREE, airmail with delivery confirmation


Need insurance? $1.30 up to $50, $2.20 over $50.




Priority $4.05




Overnight $14.40 (incl $100 in insurance)




waive the insurance - no signature required.





Outside the U.S $2.50 Airmail, uninsured, no tracking**




$5.25 Global Priority (2 items) 4-6 days




$21.00 Global Express w $100 insurance 3-5 days $9.60 Registered with $44 insurance.





The postal system around the world generally does an outstanding job, my experience has been a worldwide delivery rate over 99%. I provide (reasonable) evidence of shipment. **If you are concerned about in transit loss, please select a secured or insured method.



Contact me or Paypal at [email protected] to place an order.

Shipments sent out daily. Website: fredawatchstraps.com