I decided to complete my Suunto "Black Collection" with the Observer SR "Black Collection". I wanted a smaller more stealth size watch for under my hunting/fishing gear and it had to be tough and have bullet proof reliability. It is a much simpler animal than my
X6M
and is thinner and smaller. It feels solid on the wrist but could be worn without notice for days. Its stainless steel construction is solid and has just the right amount of weight without feeling heavy. Just like the X6M, the Observer is made and built in FINLAND and it feels like it. Button push is silky smooth and the construction is professional quality.

"The Black Collection" This is a special all black collection of ABC watches Suunto came out with in late 2007. It was designed to be a upscale tactical look. The Collection includes The Observer Sr, Observer ST, and X6M. The Observer has a matt black finish on the case. The X6M has a polished black finish on the case. Very tactical bling looking. I absolutely love the look and the wrist presence is awesome!! The pics don't do this watch justice. It marries fine jewelry and tactical tech perfectly.
b-)


The Observer "Black Collection" has a flat matt finish as oppose to a satin black finish on my X6M "Black Collection". The Observer reminds me of a stealth bomber with its flat angles and matt black finish. Very cool looking.

I would say this would be the perfect
ABC
watch I would recommend to any military personnel.

It looks more "military special ops" because of its smaller more concealable size than other
Suunto
models. Its made out of Stainless Steel and has a mineral glass face. The cr2032 battery is user replaceable and can be done quickly in the field. Battery life, I am told by members is excellent (over 2 years!)


Even though the Observer is smaller than other
Suunto
models, it still is a
45mm
diameter watch case. That is about what most large dive watches measure. It sits lower than most
ABC
models so it wears smaller than it appears. It still is a large watch and has a lot of wrist presents. The functions of the watch are pretty strait-up and easy to work with if you are a Suunto veteran like myself. A good user manual read through would be necessary if you are not familiar with the Suunto set-up system.

The negative display is very easy to read and appears to sit higher up, just under the mineral glass than other models. This makes it easier to see from viewing off angle. The constant second display that travels around the outer face is excellent. I love this feature and it does not disappear after 10 minutes like the Core does. The barometer trend, day, month,year,time,and seconds,AM/PM are all displayed at one time in the main time display. In addition, Alarm notification, Altimeter alarm, Low battery symbol, log activation, and chrono notification can also be displayed in the main time mode in addition to my first list of information.:-! A tremendous amount of information is displayed at a glance. This is what makes the Observer stand out from the rest of the ABC watches.




The light on the Observer is excellent. Its lume is very bright and does not flicker in compass mode like the Core. It is activated by holding the "mode" button down for 2 seconds. The light stays on for a generous 10 seconds after the last button push.

Water resistant is also excellent at 100meters. In typical fashion, Suunto doesn't recommend diving with their ABC watches but swimming,showering,etc.. is fine.



Compass is very good with bearing track feature. It uses a progress graph as you turn the watch when calibrating like the X6M. Why doesn't Suunto have this on the Core? It is a great feature and should be on ALL Suunto ABC watches.

I tested the accuracy of the altimeter and it is typical spot on with my X6M. That means it is THE most accurate altimeter on any ABC watch brand available. Its sensors are all also Thermo Compensated. This means their accuracy will not be effected by temperature change. Its as accurate on the wrist as it is sitting out side on a table. (unlike other brands of sudo tough ABC watches):roll:

The barometer can also be calibrated globally or use its factory default setting. This is another excellent feature and lets the owner sync the barometer to another ABC watch or weather station. This feature should have also been on the Core.:-s

There are 3 separate alarms (4 if you count the altitude alarm).
The alarm volume was louder than I expected from all the reports of the Observers alarm being too quiet. I found it acceptable. Maybe Suunto tweaked the alarm up on recent models. Either way I was pleasantly surprised.

All main displays has the typical sub modes to display the information of your choice.



The strap is also another big plus for this watch. Its very comfortable. The flat black rubber strap is flexible and tapers up in thickness to meet the watch case seamlessly. The buckle is also flat black and completes the over all stealth look.

I really like the Observer for a "do-it-all, "all occasion" ABC watch. It really is very easy to live with and it is easy to see why this was Suunto's professional flagship model. Its also one of the Models Suunto states is "Shock Resistant". Most member will attest it is one of, if not Suunto's toughest models. Its holds up very well to any of the most recent ABC watches and still has a unique personality that sets its self apart from the other Suunto line.

The Observer is the Suunto abc model I am going to recommend to owner that needs, and can only have one Suunto model. It does every thing well and is reliable with bullet proof construction.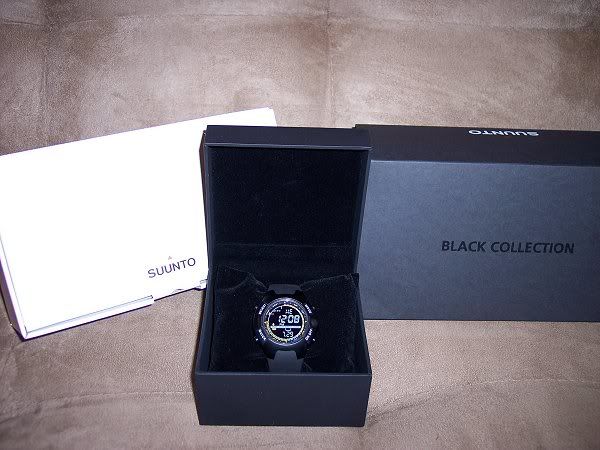 I know the Observer is one of Jeff's favorite
ABC
watches and has been endorsed by about every one that owns one and I can see why.;-)
I may have started a
X6M
revolution as one of the best kept secrets in the
Suunto
catalog. I think the Observer might be another professional
abc
Suunto model that doesn't get much press.
Its "Made in Finland" build quality is excellent. Fit and finish is top shelf. Its just a beautiful
Suunto
for all occasions and activities. If you only could own 1
Suunto
:-s,...This would be it.


Specs:

Vertical speed
Temperature compensation
Resolution1 m Quick access to logbook
Altimeter/barometer lock
Altitude range -500m - 9000m/-1600ft - 29500ft
History memory
Logbook function

Chronograph
Stopwatch
Scrolling of lap times
Max number of split times in memory99
Compass
North-South indicatorNorth-South indicator Heading in degrees
Declination setting
Cardinal directions
Bearing tracking
Watch
12/24h
Calendar clock
Dual time
Daily alarms3
Weather
Absolute barometric pressure
Temperature resolution1°C/1°F Weather memory4 days Trend indicator
Temperature range-20°C - +60°C/-5°F - +140°F Altimeter/barometer lock
Temperature
Sea level pressure
Barometer resolution 0,05 inHg/1 mbar
Barometer range 8,9 -32,4 inHg/300-1100 mbar
Power
Low battery warning
User replaceable battery

Other
Weight75g / 80g / 100g Operating temperature-20°C - +60°C/-5°F - +140°F Water resistance100m/330ft Storage temperature-30°C - +60°C/-22°F - +140°F Selectable metric/imperial units
Mineral crystal glass
Backlight typeElectro-
luminescent Display
This is Suunto official press release on the Observer:
The Suunto Observer
For responsible outdoor sport lovers

Suunto Outdoor Black Collection

The Suunto Black Collection models of Suunto Observer Black and Suunto Observer ST Black with black coated and hardened metal cases combine exclusive looks with rock solid construction.

The ion plated stainless steel case of the Suunto Observer Black and Suunto Observer ST Black protects the surface and gives it a matt black style. The rough Observer is as functional as it is stylish and its versatility makes it suitable both for hardcore outdoor activities as well as for formal wear.

The Black Collection is ideal for those who want their watch to tell more than just the time. Both the distinguished products are delivered in an exclusive black box, ideal for storing and protecting the watch when not in use.
Packed with features that will satisfy even the most demanding user, the extremely shock-resistant Suunto Observer is a perfect tool for even the toughest athletic challenges.
Suunto Observer measures your vertical ascents and descents, as well as the total number of runs skied and shows all that easily with one press of a button. It provides you with reliable information on barometric pressure and temperature and functions as a digital compass. Additionally, it has a calendar, clock, dual time display, and a stopwatch.

Its timeless design makes it wearable in any casual situation; it includes an easy-to-read display with an extra-ordinarily wide viewing angle, electro-luminescent backlight and a user-replaceable battery.

Because of its moderate size and stylish design it is perfectly suitable for both men, as well as women. For extra toughness and reduced weight, Suunto Observer is also available in titanium.


Suunto Observer's altimeter has a range up to 9 000 m/29 500 ft with a 1 m/3 ft resolution. It features an altitude alarm as well as memory function for storing logs of your most exciting mountain adventures. The logbook allows the user to record total and cumulative vertical ascents and descents, as well as the number of runs skied. The logbook data is quickly available during the activity with one button press.

The Suunto Observer and its barometric functions provide you with valuable information for forecasting weather changes. Information on the present sea level pressure helps you read and understand the barometric pressure at high altitudes.

Knowing your altitude, ascent/descent rate, compass bearing, weather trends, and barometric pressure enables you to make safe and responsible decisions, particularly when moving in the mountains.


The Altimeter uses a unique feature that keeps the sea-level pressure reading from changing when the unit is used as an altimeter. When the altimeter function is activated, all pressure changes are interpreted as altitude changes, and the sea-level pressure reading displayed will not change, although the absolute pressure reading does.

In addition to current barometric pressure and temperature, the barometer function of Suunto Observer gives pressure related data for the past four days: the first six hours in one hour intervals and after that in six hour intervals.

The Barometer uses a unique feature that keeps the altitude reading from changing when the unit is used as a barometer. It interprets all pressure changes as weather changes and the measured changes will therefore only affect the pressure reading in the barometer mode. These changes will not affect the altitude reading, thus enabling instant weather forecasts.

The compass shows the cardinal or half-cardinal point abbreviated and indicates the North with an arrow. The compass can be set to track a certain bearing, and graphically show the difference between it and the actual bearing. This is a valuable tool, when trying to get back on track after minor or major detours in the terrain. The declination adjustment function allows the user to correct the difference between true North and magnetic North.

Suunto Observer also has a calendar clock pre-programmed to the year 2089 with three daily alarms, a dual time display, and a stopwatch with lap and split time measurement. The stopwatch stores up to 99 laps and split times for one run. The time can either be shown in 12 or 24-hour format.