While it is a commonly believed that Yuri Gagarin, the first man to fly to outer space, wore the first watch to ever reach outer space along with him, it's actually not true. That watch is the
second
to reach outer space. Most of us here by now are familiar with his watch, a
Sturmanskie
, but not many know about Chernushka the space dog's Pobeda ("Victory") watch. The watch didn't actually belong to a dog, of course, it belonged to the Soviet aerospace medical researcher Dr. Abraham Genin.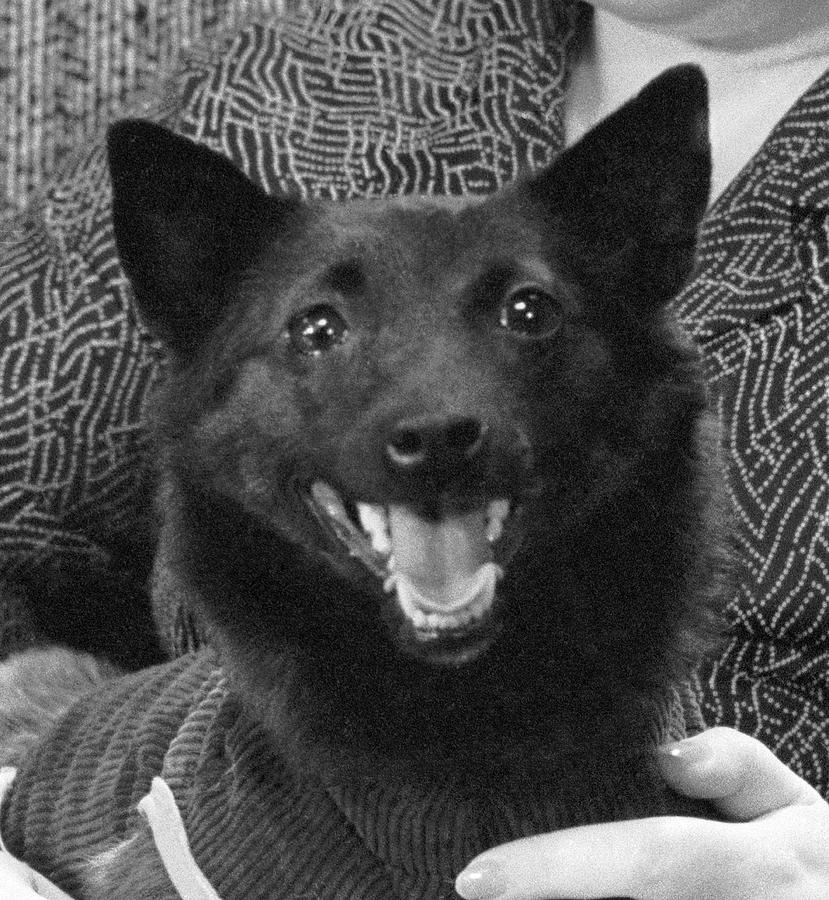 Chernushka, "Blackie", was one of many space dogs, and took part in the mission Korabl-Sputnik 4 on March 9th, 1961 in order to test both life in orbit and the ejection of a human mannequin after reentry, to my knowledge. This mission was just before Gagarin's historic flight a mere one month later. Genin was tending to the mission before its launch. Bored of his Pobeda watch that he was awarded while in the military, and considering the watch's resilience to all his abuse including swimming with it, he strapped it to the dog hoping he'd never see it again. The mission was a success and Chernushka returned home safely. Through his personalized engraving on the back of the watch it was traced back to him where he received trouble for his unauthorized stunt.
Years later in 1989 the Smithsonian Institution was conducting video interviews in Russia with some of the scientists and researchers of the Soviet space medicine program. Included in these interviews was Genin. At the end of one of the sessions, Genin, while holding the watch, told its story.
Soviet Space Medicine Interviews · SOVA
Knowledge of this story isn't really new. The oldest record I can find online mentioning it dates to
2006 from WatchTime magazine
. It was then published
in a book in 2007
. A
few
others
over the years have also reported on this. Why this was not a more widespread story is unbeknownst to me.
Raketa, who purchased the rights to the Pobeda trademark around 2014, knew the story too and began producing
a new model
last year in honor of the event. They provided an additional source for the Chernushka story, however, a book called
"Favorites"
by Mark Gallay published in 1990. Gallay was skeptical of Genin's story, believing the risk of sending the watch into space unauthorized was really to settle scientific debate regarding the functionality of machinery in zero gravity, but this is something that Genin denies.
The mission lasted only one and a half hours, so in the event that the watch was still on-time when it returned one would have the conclusion about its performance. It just seems strange he would not only be bored or sick of but attempt to rid of a gifted watch through a mission planned to succeed and return it to him. With his name directly on the watch and knowing the consequences he would need a good scientific excuse for the stunt. We may never truly know, Abraham Genin has sadly since
passed away in 1999
.
One thing remained, however. People knew of the watch and the Smithsonian interviews,
why did nobody obtain an image of it!?
Raketa themselves write, "Nobody knows exactly, which of watches were in space, but we are sure that it was Pobeda."
Nobody knows exactly
, really!? Well comrades, I know exactly which watch traveled with Chernushka that day, because I purchased a copy of the footage from the Smithsonian myself.
̶N̶o̶w̶ ̶b̶e̶c̶a̶u̶s̶e̶ ̶I̶ ̶k̶n̶o̶w̶ ̶h̶o̶w̶ ̶m̶u̶c̶h̶ ̶e̶v̶e̶r̶y̶o̶n̶e̶ ̶l̶o̶v̶e̶s̶ ̶a̶ ̶g̶u̶e̶s̶s̶i̶n̶g̶ ̶g̶a̶m̶e̶ ̶I̶ ̶w̶i̶l̶l̶ ̶e̶n̶d̶ ̶t̶h̶i̶s̶ ̶p̶o̶s̶t̶ ̶w̶i̶t̶h̶ ̶s̶o̶m̶e̶ ̶t̶e̶a̶s̶e̶r̶ ̶i̶m̶a̶g̶e̶s̶ ̶b̶e̶f̶o̶r̶e̶ ̶I̶ ̶s̶h̶a̶r̶e̶ ̶t̶h̶e̶ ̶a̶c̶t̶u̶a̶l̶ ̶m̶o̶n̶e̶y̶s̶h̶o̶t̶s̶ ̶p̶r̶o̶b̶a̶b̶l̶y̶ ̶s̶o̶m̶e̶t̶i̶m̶e̶ ̶t̶o̶m̶o̶r̶r̶o̶w̶.̶ ̶E̶n̶j̶o̶y̶!̶
Alright, here it is: Genin's Pobeda! The tiny seconds hand can be seen ticking away in the video.
Gold hands and numerals, sliver of '6' beneath the subdial, and no usual factory inscription. This is not quite the ordinary Pobeda, however, it actually features a
"Hermetic"
case, among the first attempts at developing a dust (and water?) resistant watch. It features a screw-down back with rubber gasket, something seen on later Sturmanskie and Sportivnie watches, and a unique large crown enveloping a crown tube. This interestingly brings some truth to Genin's claims of having swum with the watch without ill effects, however this is obviously not a Zlatoust diver's watch of the same era and is not advisable. This model is found in the known
1953 catalog
under the designation "34-K", but is seen in later catalogs as well. A sibling model with black numerals and blue hands also
exists
. Inside the watch is an ordinary 15-jewel 2602 caliber. From the most reliable sources I can find online each movement in this model is stamped dating between 1953 and 1954, but also, most of all, a 1МЧЗ logo giving the late First Moscow Watch Factory, Poljot, one more score for the spaceflight record books along with Gagarin's Sturmanskie, Leonuv's Strela, Gubarev's Strela, and Akiyama's Sturmanskie.
I shall leave you with our friend Dashiell's photo of the same model in
his collection
and special thanks for helping with some of this research.