T., I'm surprised you, of all people, don't have a Railmaster, actually. I would think it would be right up your alley. Love them, and wish I had one as well, but I wouldn't be able to get over how similar it was to my AT. Maybe the perfect combo would be RM and 8500 AT. Anyway, I always love seeing photos of your Gentleman's Watch.
Exactly. It's a little too close to my AT in design. I absolutely love the Railmaster. Forum member 'runitout' has the 36mm model and whenever I see it, my resolve erodes a little more. One day, I may just crack and get one, but I might opt for the 39mm model. Although, the 36mil Raily is just perfect. Then again, I quite like the 1016 Rolex Explorer, too. But they cost more than I'd like to pay.
It's a slippery slope, this watch collecting gig.
Nah, JayDub, I'm thinking more along the lines of these kind of guys;
David Bowie, circa 1978.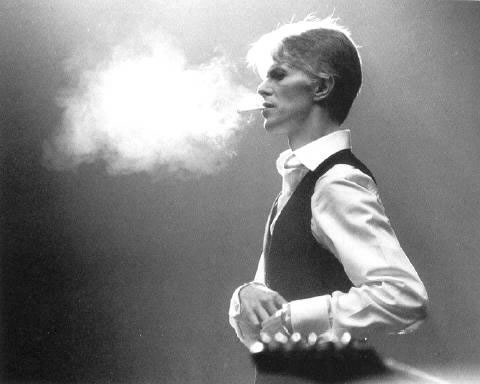 And yeah, he also had his Ziggy Stardust and Aladdin Sane personas, but by the time he Fell to Earth ;-) and put on a tie, he was unbeatable. Around the same time in the late '70s, Rod Stewart was getting around looking like this;
Now, if you had to go into town to see your bank manager, who would you rather dress like?
Luckily, Roddy boy came to his senses and began dressing his age.
Then there were these guys;
Cary Grant, the all-time embodiment of old Hollywood movie star mythology. I was driving my mother's car back in 1986 when I heard on the radio that he had died. I nearly hit a tree.
And the other legend, Bogart;
His Rick Blaine character in "Casablanca" (Dir: Michael Curtiz, 1942) was described as "Two parts Hemingway, one part Scott Fitzgerald'. Every man should aspire to that. If there were more Rick Blaines around, the world would be a better place.
I could go on, but these are the type of 'gentlemen' that the AquaTerra (1st Gen) was made for.