Discussion Starter
·
#1
·
If you hadn't guessed it yet, I've been bitten bad by the Anonimo bug as of late. And what else says Anonimo more than a bronze case? So when I got contacted about this piece, I couldn't help but pounce on it, even though it was slightly above what I know it sold for and it was without box & papers and spare original strap.
I am so glad that I did though. It's got so many lovely facets to it that I'm still in awe of it. The previous owner polished it a little before passing it to me. Bit of a mixed bag there, part of me wishes the original patina had stayed, yet the other part is glad it got polished so I could watch it "age" myself.
Anyhow, enough talk, onto the pictures;
Crystal doesn't have AR again I believe, but as its a flat piece of sapphire, reflections arn't that bad as compared to the Millemetri/Polluce/Professionales.
19 pieces ???
Perfect logo positioning
Uses a bayonet crown, first time I've come across one of these. Took me a short while to get the hang of it. You can see the "L" lip that allows the bayonet to work.
Next to its Professionale Mod.6003 cousin
Love the buckle!
Lumed of course. Love that the power reserve arrow is lumed too. Though the 12 isn't.
1sec exposure, 2mins lapse
Finally a wristie on my 6.75" wrist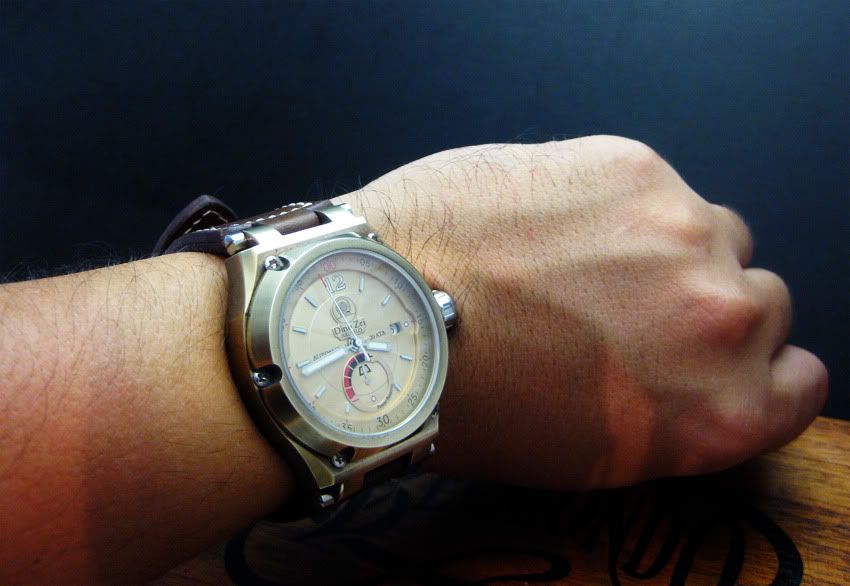 It wears like an AP almost, but better to me.
Definitely one that is going to stay in my collection.