Discussion Starter
·
#1
·
THE EUROPEAN COLLECTION
These are selected favorites from several vendors with manufacturing facilities in Italy, France, Switzerland and Spain. These are all top quality and reasonably priced for the level of quality.
Other Cool Stuff
• Product (straps or deployants) orders $39.00 and above and paid via Paypal directly will include: free shipping in the US, spring bars and the mini full service spring bar tool. The tool may be substituted for: Cape Cod cloth or additional brushed or any of the discounted tools below.
Italian Leather Louisiana Alligator Grain
Model 424: Rustic highlights, 5mm thick, heavy saddle stitching, soft natural leather lining and anti-allergic buckles. Black/Black, Brown/Dark Tan, Grey/Grey and Tan/Gold Brown. Length is 75x115. $39.95
Regular: 18x16, 20x18, 22x20, 24x22
Long: 20x18, 22x20, 24x22
]img]http://i115.photobucket.com/albums/n283/fredawatchstraps/Freda%20Italian%20leathers_zpsadymc4zg.jpg]/img]
NEW!!! India Pure Rubber with diver deployant
Just in, imported from Germany….the highest quality of rubber on the market, India Pure Rubber with non-reflective stainless steel push button locking diver deployant. Length is 190mm which can be trimmed to 130mm in 6mm segments plus 3mm fine tune adjustments on the clasp length. $39.00.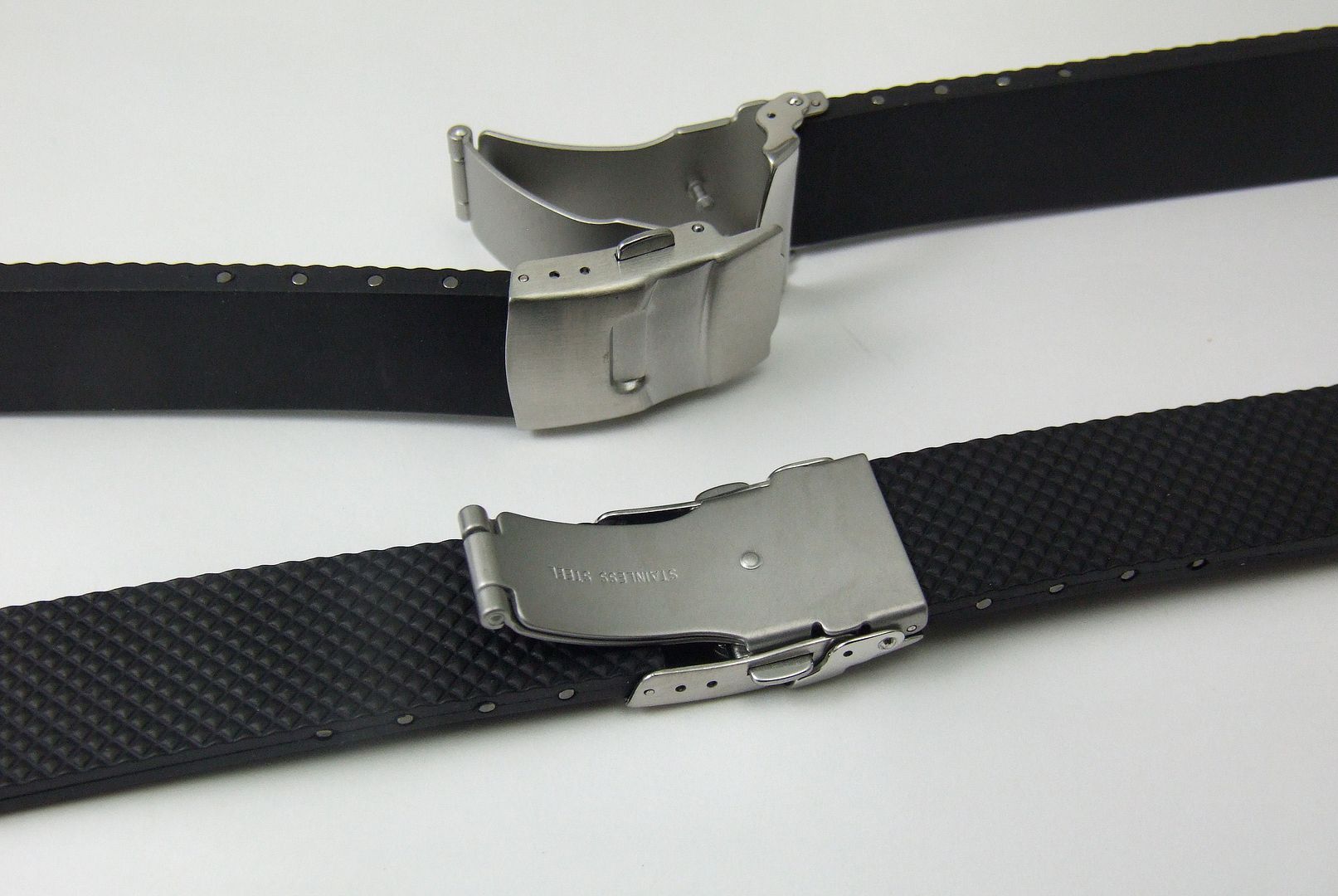 FREDA 599 OYSTER STYLE BRACELET
Polished, but low reflection, stainless steel solid link bracelet. Comes complete with three sizes of curved end links 18mm, 19mm and 20mm. $59.95
Also two-tone and gold-tone for $69.95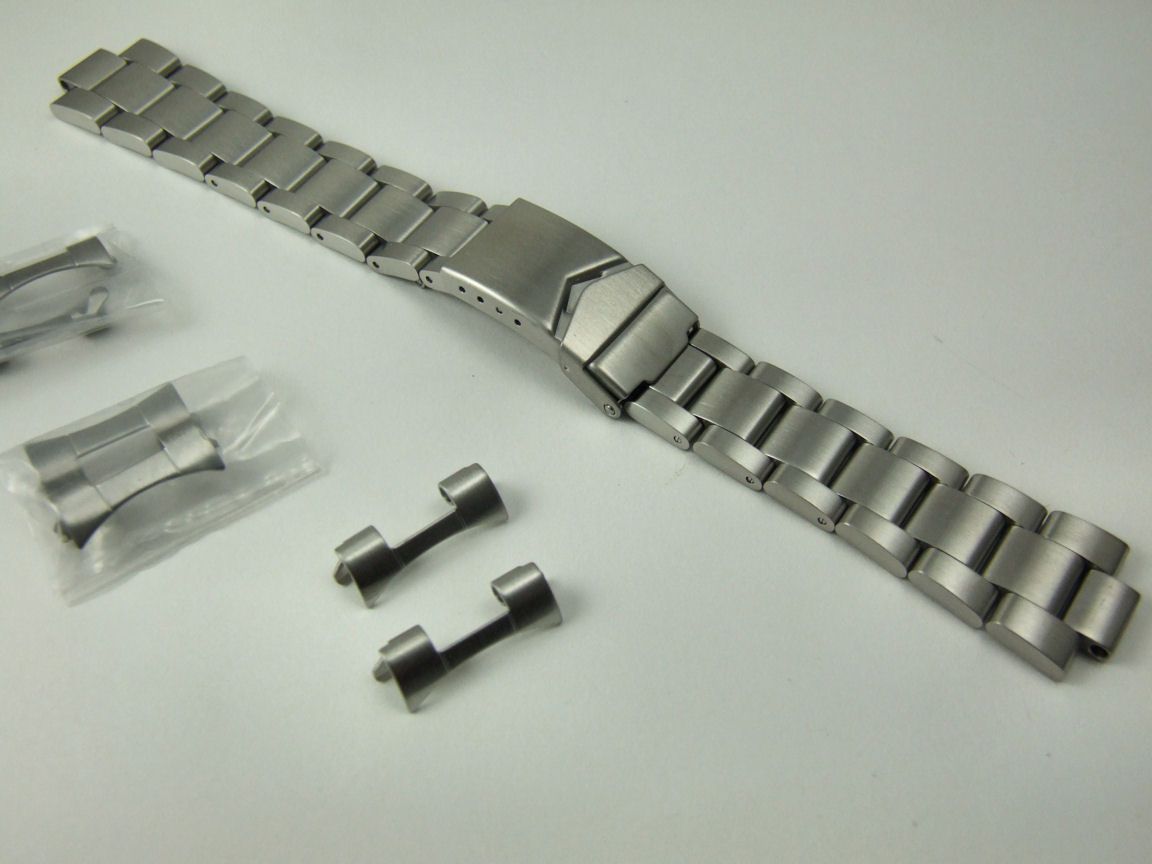 Freda Brand - Genuine Louisiana Alligator
Gorgeous square grain Louisiana Alligator, Remborde, Heavy Pad, 5.25 Thick, length: 76x116. Available in 18, 19, 20, 22 & 24mm in black and dark brown. Msrp $150, forum special <b>$104.95</b>.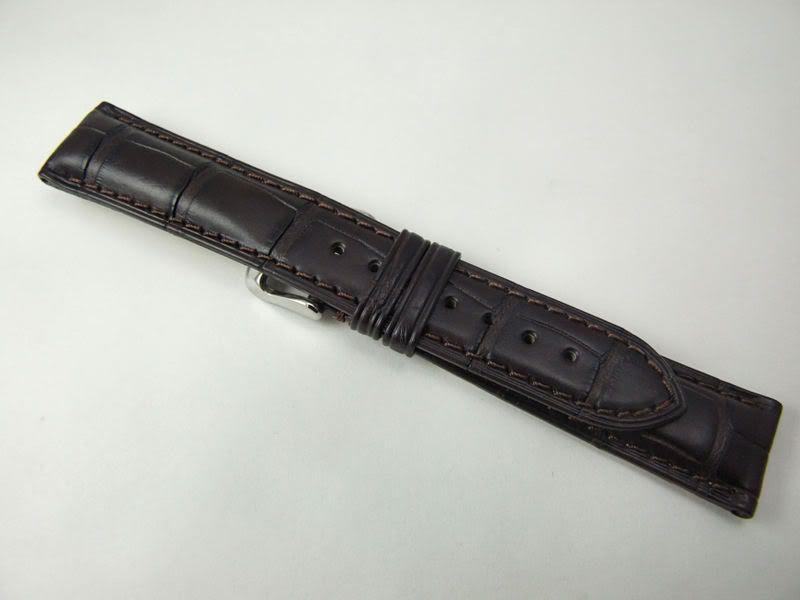 Italian Made Genuine Crocodile 8144
Polished, stitched, medium pad
(approx 4mm thick) genuine crocodile, hand made in Italy. MSRP $84, sale price $68.00
Black, Brown, Navy, Bordeaux, Honey, Cognac (plus 10 other colors) in 10 – 22mm in Regular, Long and Short.
Length 73mm x 113mm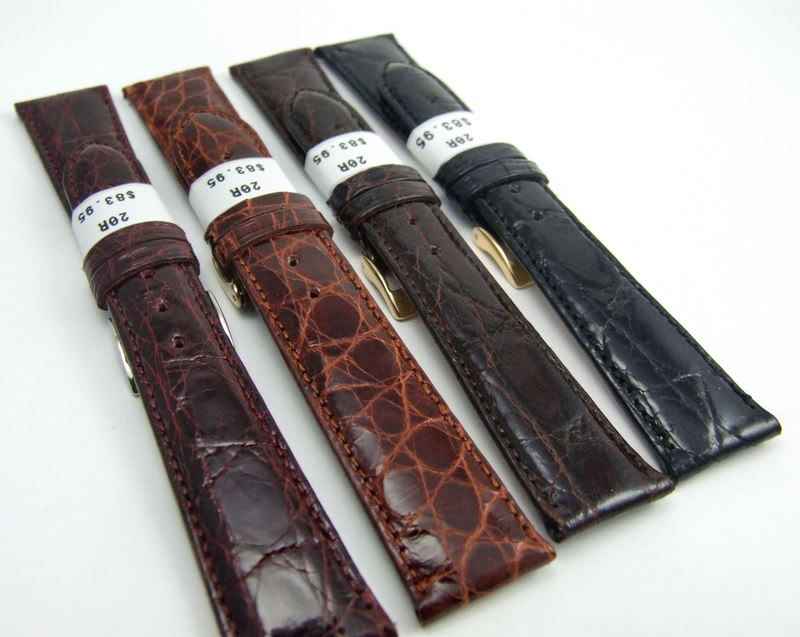 Return Policy – Returns allowed as long as the following conditions are met (non warranty returns):
1. straps can not be worn or tried on (it puts a bend in the strap and can't be sold as new)
2. tags still attached and packaging intact
3. must be exactly as sold.
Please take all measurements before attempting to mount the strap.
Shipping Charges (updated January 27, 2013):
Inside the U.S. -
Orders over $39.95 and paid directly through PayPal are free 1st class with delivery confirmation.
1st Class with delivery confirmation……..……$2.00
Need insurance?.........................................Add $1.00 per $100 coverage.
Need Signature Confirmation ………………+ $2.00
Priority Small Package (smaller mailboxes)…..$6.50
Express Mail Flat Rate………………………..$19.95(includes $100 in insurance)
Outside the U.S.
Airmail, no insurance or tracking……………...$6.50 See Comments Below***
Includes E-delivery confirmation to:
Australia
Austria
Belgium
Canada
Croatia
Denmark
Estonia
Finland
France
Germany
Great Britain & Northern Ireland
Hungary
Iceland
Ireland
Israel
Italy
Latvia
Luxembourg
Malaysia
Malta
Netherlands
New Zealand
Poland
Portugal
Saudi Arabia
Serbia
Singapore
Spain
Sweden
Airmail + Registered with $43.73 insurance…...$21.00 (required for orders $100 and up)
Priority 4-6 days, no insurance or tracking…….$24.00 See Comments Below***
Global Express w $100 ins. & tracking………..$45.00
Important notes/terms of sale
The postal system around the world generally does an outstanding job; my experience has been a worldwide delivery rate over 99%. I provide (reasonable) evidence of shipment.
***If you are concerned about in transit loss, and not in an "E-delivery Confirmation country"….please select a secured or insured method as the terms are FOB shipping point, seller is not responsible.
Items insured must have a visible declared value equal to the amount of insurance coverage.
Please contact or paypal me at
[email protected]
. Thanks for looking.
Thanks, Kenny
Note: this post supersedes any prior posts or offers.