Discussion Starter
·
#1
·
THE EUROPEAN COLLECTION + Blackstone Valley Watch Straps
These are selected favorites from several vendors with manufacturing facilities in Italy, France, Switzerland and Spain. These are all top quality and reasonably priced for the level of quality.
<b>Free shipping (in the US), spring bars and a mini (full service) spring bar tools for product orders <u>$35.00 and above.</u></b>
Below $35: free spring bars, shipping rates at the bottom of this page apply.
NEW***BREITLING STYLE OSTRICH IN 22, 20, 19
Finally, a sporty ostrich in 22x20, also in 20x18 and 19x16. Made in Italy,
Breitling style, color: honey (only), 75x115, 4.75 thick. SS buckle will be included. A supplier put this on clearance so the discount passes to you. MSRP 59.95, forum special $36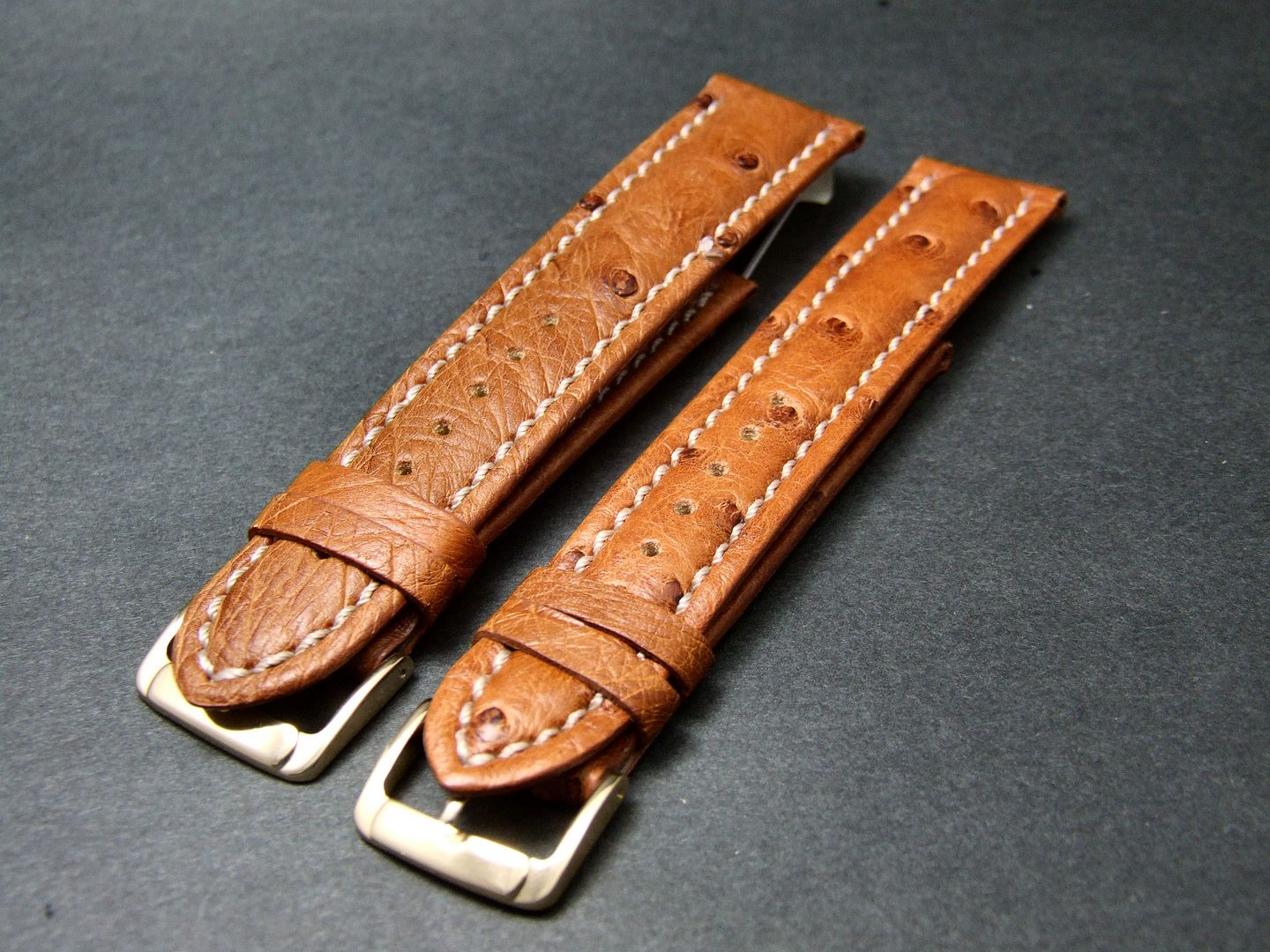 FREDA 599 OYSTER STYLE BRACELET
Polished, but low reflection, stainless steel solid link bracelet. Comes complete with three sizes of curved end links 18mm, 19mm and 20mm. $59.95
Also two-tone and gold-tone for $69.95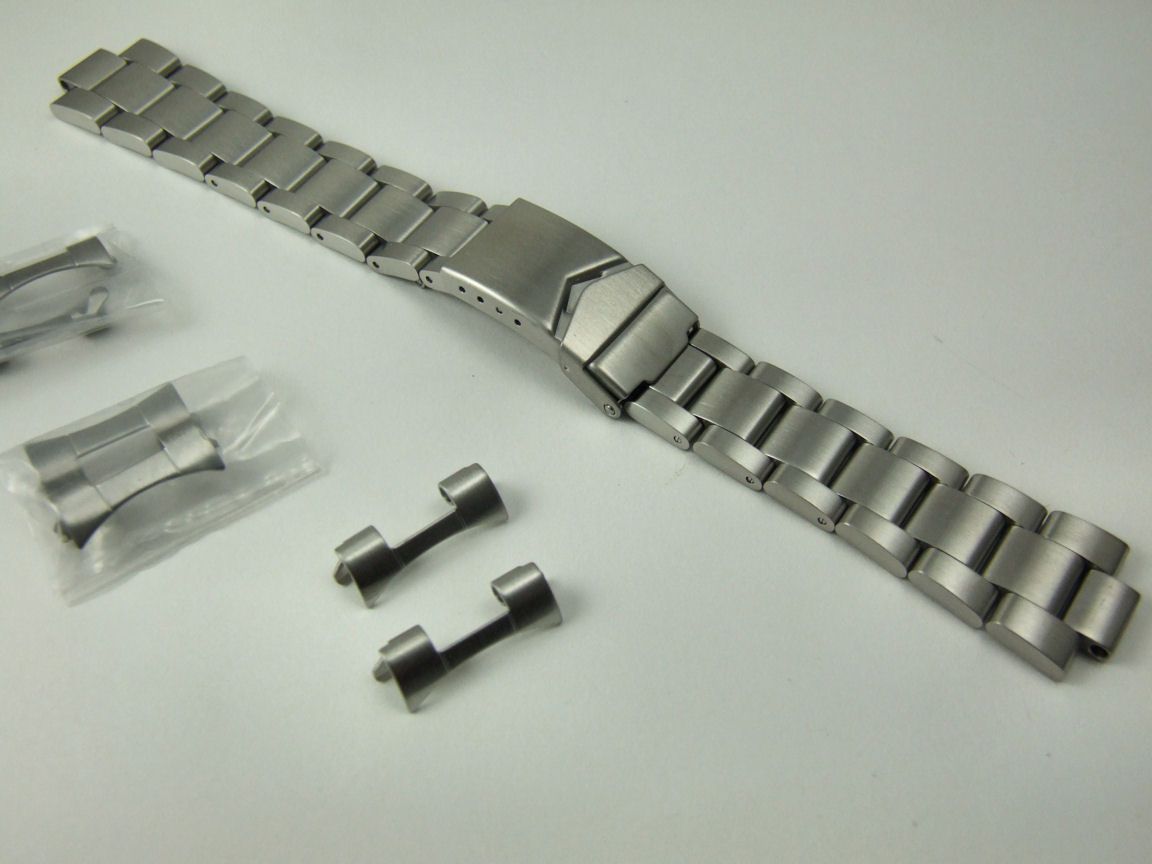 FREDA 596 STYLE BRACELET
Polished, but low reflection, stainless steel solid link bracelet. 5 rows of links, 115 grams.
22 and 24mm straight ends
NEW***Freda Deployants – double fold push button JUST IN 16, 18, 20, 22, 24, 26mm polished, for brush add $3. $32.95
NEW***Genuine Alligator Straps Made in Italy – Center Cut/Square Grain JUST IN, 20x18 in black, brown and tan. Great scale patterns, MSRP $225, regular Price $159, Introductory Price/Economy Special $125. Lengths 77x115, thickness 4.9mm.
Back in stock, 22mm now available
Blackstone Valley WC - Genuine Louisiana Alligator
Gorgeous square grain Louisiana Alligator, Remborde, Heavy Pad, 5.25 Thick, length: 76x116. Available in 18, 19, 20, 22 & 24mm in black and dark brown. Msrp $150, forum special <b>$104.95</b>.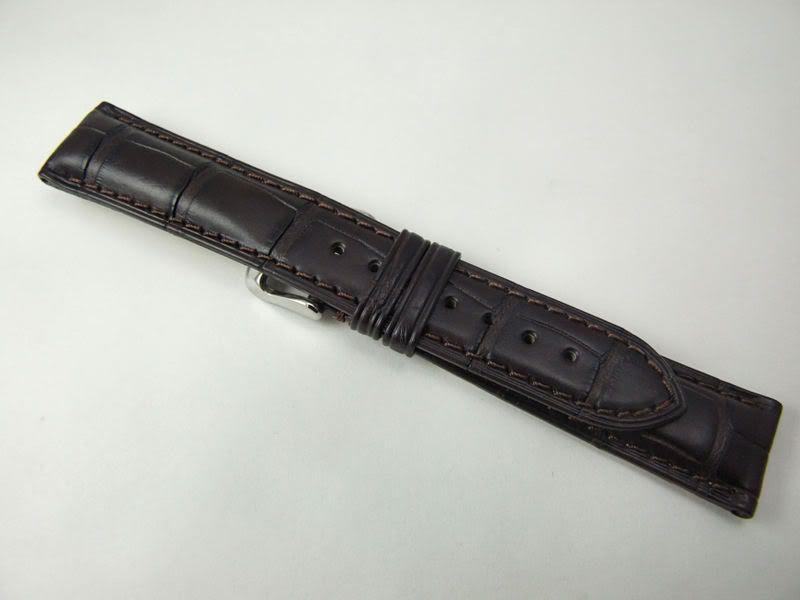 Panny Style Thick Leather, made in Spain
Look close, this is one thick strap, 6mm at the lugs, 3.6 at the point, solid genuine leather with heavy cord stitch in 4 sizes: 18mm, 20mm, 22mm & 24mm and in 6 color variations. $34.95, includes matching spring bars:
Black with Red
Black with Orange
Black with White
Black with Blue
Brown with Ecru
Still some brown and tan left
Lengths: 76x116
Thickness: 5.9….4.2
Taper: 2mm. 20x18, etc.
Hand Made Italian Louisiana Farm Alligator
Italian* Hand Made Genuine Farm Alligator Straps[/B] in matte or gloss, large grain or small, Sizes 14 – 22, just about any color available, but shown here: matte honey small grain, matte honey large grain, brown gloss large grain, black matte. MSRP $114 & up, forum price $84[/b]. The more I look at these, the more I think I must be nuts to sell them at this price, they should clearly sell for over a hundred.
So don't let the price fool you, these are hand made in Italy and an excellent strap for this price.
Also in 24mm Panny style Alligator, padded & stitched, no buckles $89. Polished black, matte brown, polished red, matte black, matte cognac with ecru.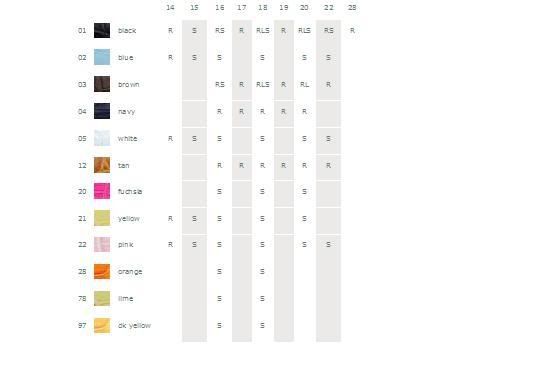 Italian Hand Made Genuine Farm Alligator Straps – SHORT LENGHTS- QUICK PINS Matte genuine Alligator, quick pins for easy strap changes…all in short size 70x110 unless noted. Shown Black, Brown, Cognac, Almond. $89.00
Options: 12mm-Red, 14mm-Almond, 14mm-Red, 16mm-Almond, 16mm-Red, 18mm-Black, 18mm-Brown, 18mm-Almond, 18mm-Red, 18mm-Cognac, 18mm-Fuchsia, 18mm-Pink, 18mm-Yellow, 20mm-Black, 20mm-Brown, 20mm-Almond, 20mm-Red, 20mm-Cognac, 20mm-Blue, 20mm-Fuchsia, 20mm-Pink, 20mm-Yellow, 22mm-Almond, 22mm-Red, 22mm-Yellow.
Italian Made Genuine Crocodile 8144[/b] Polished, stitched, medium pad
(approx 4mm thick) genuine crocodile, hand made in Italy. MSRP $84, sale price $64.00
Black, Brown, Navy, Bordeaux, Honey, Cognac (plus 10 other colors) in 10 – 22mm in Regular, Long and Short.
Length 73mm x 113mm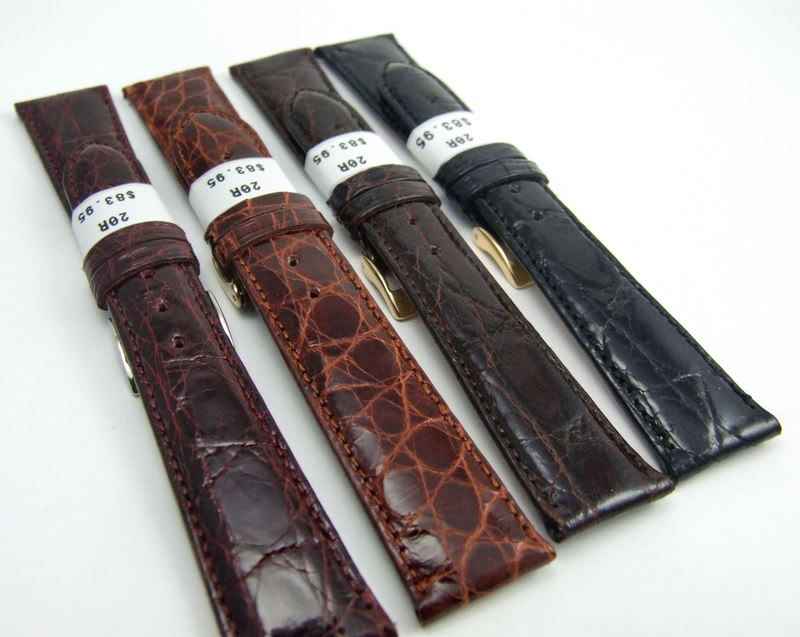 Italian Made Java Lizard[/b]Outstanding scale pattern in this genuine lizard, made in Italy. Sizes range 10mm to 24mm, colors: Bordeaux, Havana, Navy, Black shown plus brown, grey, green, cobalt and 10 others. Available in shorts and longs too. Email for size availability. Dimensions: 75 x 115 x 3.5. Forum price $36.95.
Italian Made Breitling Style Genuine Crocodile Padded and stitched, rolled edge, matte Croc strap in 18, 20, 22mm in black, brown, tan, blue, red.
Msrp 89.95, special forum price $69.95
Lorica by Morellato Water resistant Lorica in orange, black, red, yellow, blue and white in 18, 20, 22, & 24mm. This is a hypo allergenic Microfiber with a medium cord contrasting stitch. $24.50. I picked this up initially for the Orange/Black Monster crowd, but other colors widen the spectrum of applications.
[FONT FACE="Brush Script M7" SIZE="4" COLOR="# B22222"]Silicone Tire Tread Deployant​
[/FONT]​
​
Silicone Tire Tread deployant with double lock satin finish deployant in Black in<b>22mm and 24mm</b>. 185mm total with 30mm trim on each side. $23.95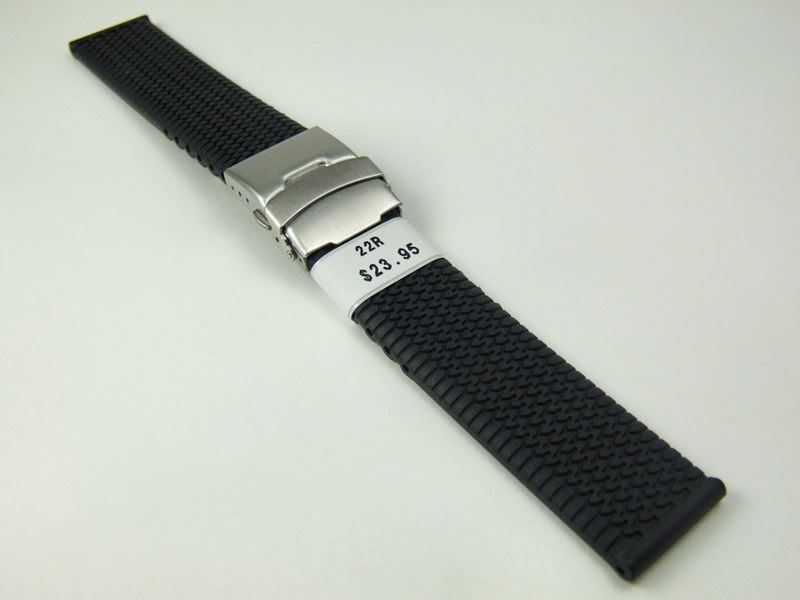 [FONT FACE="Brush Script M7" SIZE="4" COLOR="# B22222"]Diamond Design Silicone with flip Lock Push Button Deployant​
[/FONT]​
​
Thick Silicon Diamond Tread Design with double lock satin finish deployant in Black, Orange, Blue and Red in 22mm and 24mm. 185mm total with 30mm trim on each side. $23.95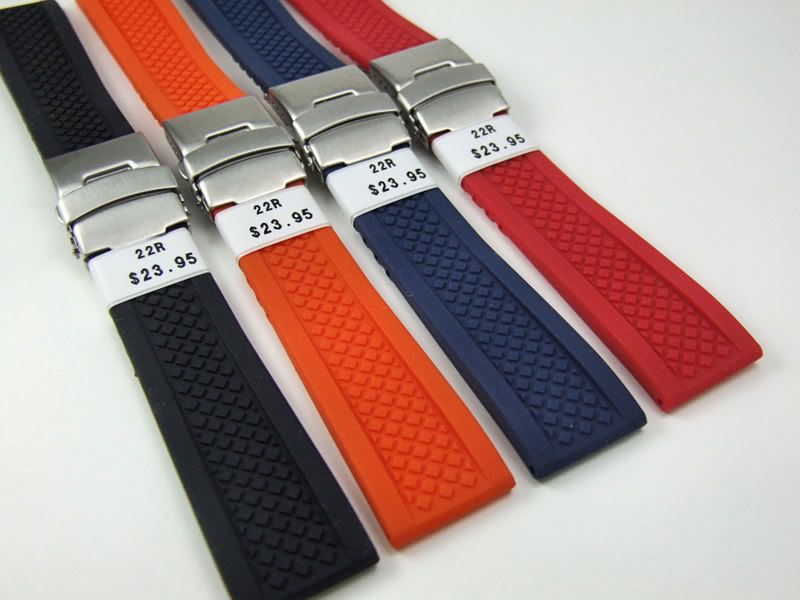 [FONT FACE="Brush Script M7" SIZE="4" COLOR="# B22222"]Panny Style Thick Silicone​
[/FONT]​
​
Thick (5MM) Silicon Panny Style straps in Black, Orange and Blue in 20x18, 22x20 and 24x22 and in 26mm black $17.95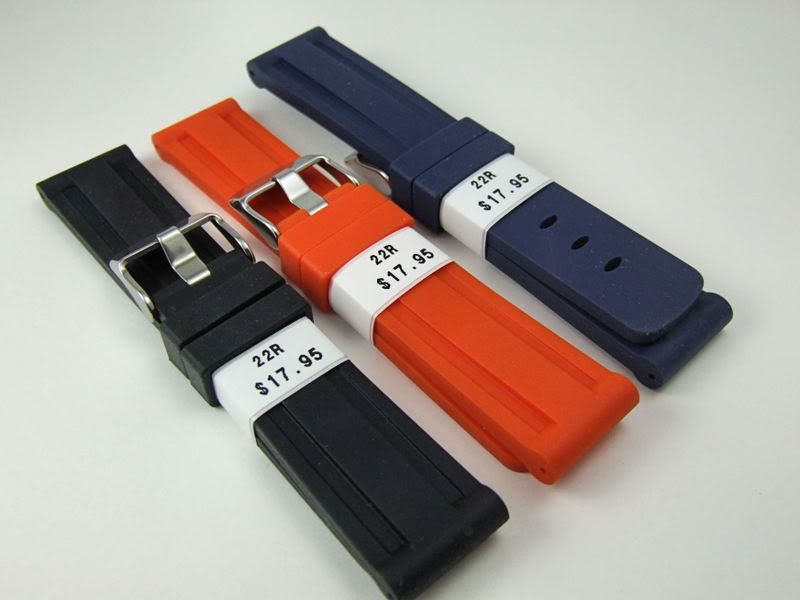 NEW***Lambskin with ecru stitch Made in Switzerland JUST IN, 20x18 in black and brown. Smooth leather, awesome to the touch, sporty stitching. 78x120, 4.8mm thick $35.
http://images.snapfish.com/346353494fp335>nu=323;>477>989>WSNRCG=323353:8<2344nu0mrj
Alligator Grain Leather, padded & stitched – made in France One of the best alligator grains I've seen, nice bamboo pattern. 16 – 22mm, 26mm in black, cognac, tan, tan with ecru, short black. $25 del.
[img]http://i115.photobucket.com/albums/n283/fredawatchstraps/2006_1216straps0005.jpg[/img]
http://images.snapfish.com/346353494fp335>nu=323;>477>989>WSNRCG=323353:8<2344nu0mrj
Shipping Charges:
Inside the U.S. - $1.75, airmail with delivery confirmation
Free for orders $35 and above
Need insurance? $1.30 up to $50, $2.20 over $50.
Priority $5.35
Overnight $18.50 ($100 in insurance)
waive the insurance – no signature req.
Outside the U.S $ 3.00 Airmail, uninsured, no tracking**
$14.75 Priority 4-6 days, no ins, no track.
$29.50 Global Express w $100 ins. & track. $14.62 Registered with $43.73 insurance.
The postal system around the world generally does an outstanding job, my experience has been a worldwide delivery rate over 99%. I provide evidence of shipment. **If you are concerned about in transit loss, please select a secured or insured method.
Contact me or Paypal at fredawatchstraps[email protected] to place an order or check out my site at Freda Watch Straps - Watch Straps by Hirsch, Di-Modell, Hadley Roma. Shipments sent out daily.
Note: offers in this post expire in 7 days or upon my placing an updated version, whichever occurs first.
Post Name: WUS-European Collection
​