A few weeks ago, member "alexkarbo" posted a thread wondering what was up with
Home - ISOfrane dive watch strap
. It piqued my interest because last year, I'd heard a rumor that Isofrane may be making a comeback. Since hearing, I was hoping they would make a return, as I've been looking for a high quality, non-silicone, vintage-inspired strap to mate to my vintage Aquadive Model 50.
Using a bit of "moderator magic" I was able to contact Isofrane to see if I could get some samples to review for you guys, and to test for myself. They were very responsive and sent two straps with the three buckles that they'll be offering. Their first model strap is a PloProf style(for lack of a better term) but if you're familiar with vintage divers, other makers used the same style too. They did tell me that there will be other models/styles available soon, so it sounds like there will be lots to look forward to from Isofrane.
Now just so we're clear, this review is completely uninfluenced by "feebies", discounts etc. While these straps and buckles were sent to me free of charge, I will be returning them as soon as the review is complete.
So let's start with the specs supplied to me by Isofrane.
Length (buckle half): 101.6mm
Length (long half): 131.8mm
Thickness at lug: 5.5mm
Thickness at end: 3.7mm
Width at lug: 24mm (22mm and 20mm coming soon)
Width at end: 22mm
Country of origin for straps: Italy
Country of origin for buckles: Germany
Color: Black (with blue and orange planned for the future)
Now for the pics. The two watches in my collection with 24mm lugs, are a Korsbek Oceaneer, and the vintage Aquadive that I already mentioned. I knew as soon as I took the straps out of the box, that they'd be perfect for the Aquadive. However, I wasn't sure if the retro style would work well with a more modern design like the Korsbek. After putting them on the Korsbek, my concerns were over. Vintage or modern, I think these these straps work very well.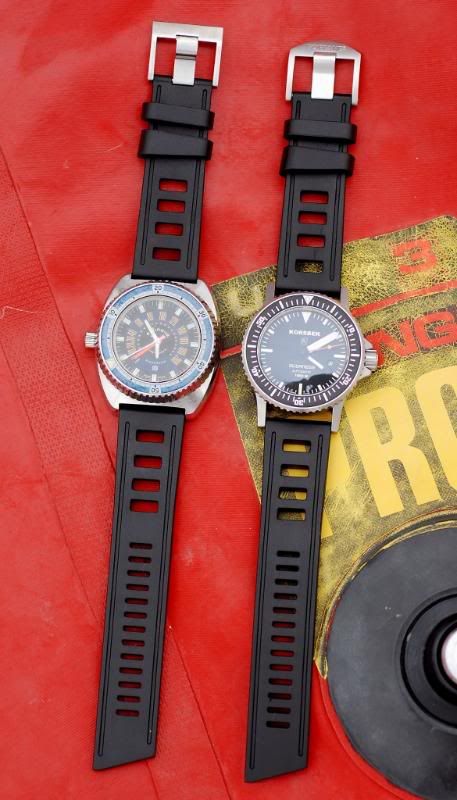 If you'll notice in the pic above, there are two buckle styles, the squared and the rounded. The squared comes in a brushed finish, and a polished finish. The rounded comes in a satin, bead-blasted finish. All buckles are stainless steel, signed "Isofrane" with the squared being signed on the underside, and the rounded being signed on the top. They're thick, solid, very well finished, secured with a screw, and definitely built for the long haul. I'm extremely impressed.
Brushed buckle........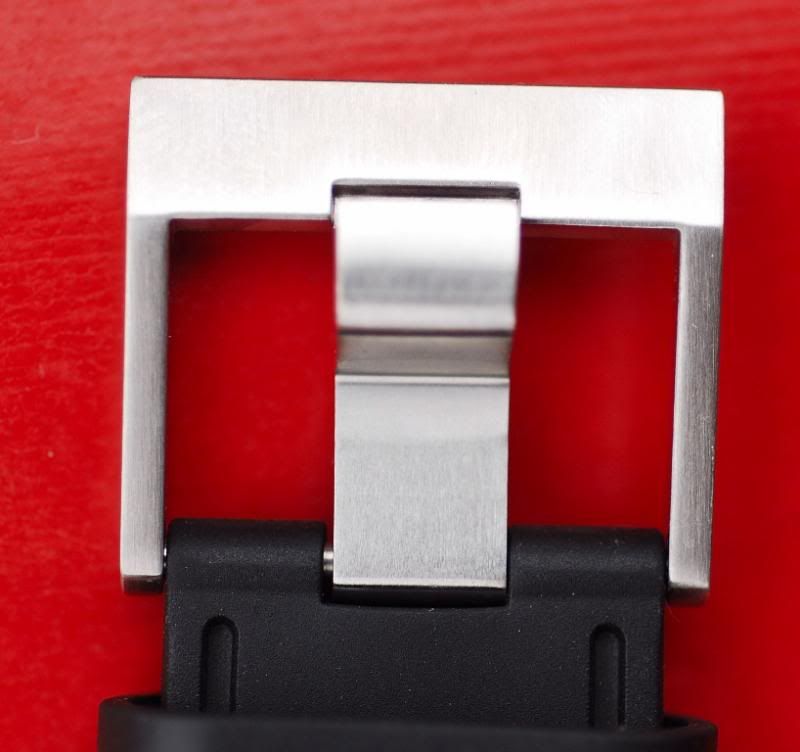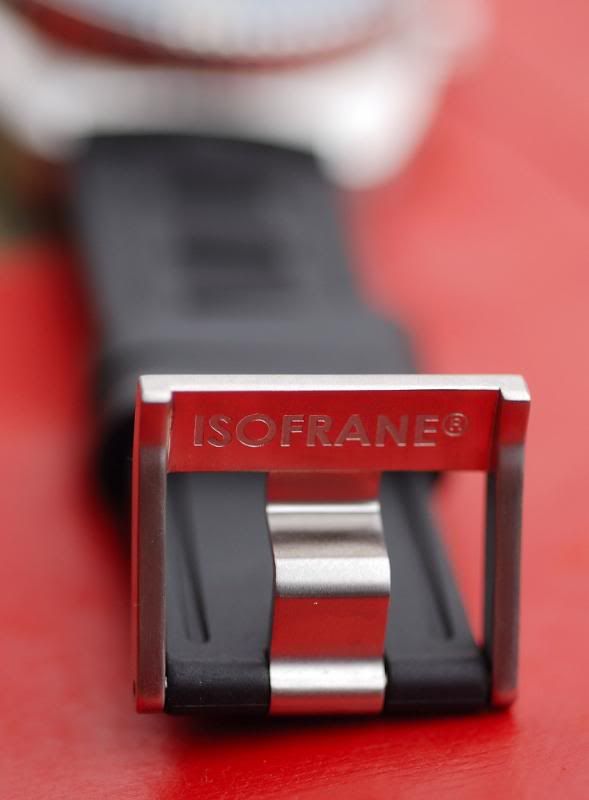 Polished buckle........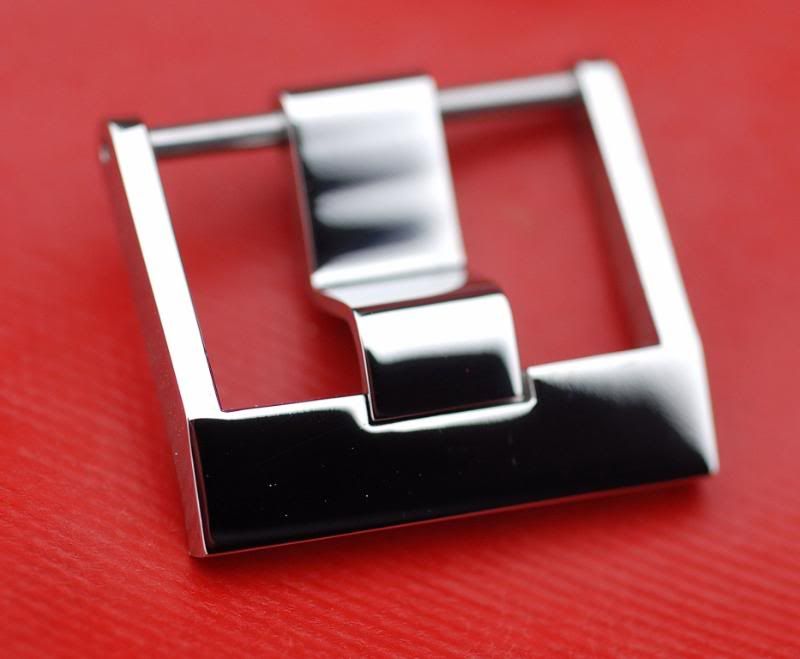 Satin blasted buckle........
Back of straps showing a light, ribbed texture and "Isofrane/Made in Italy"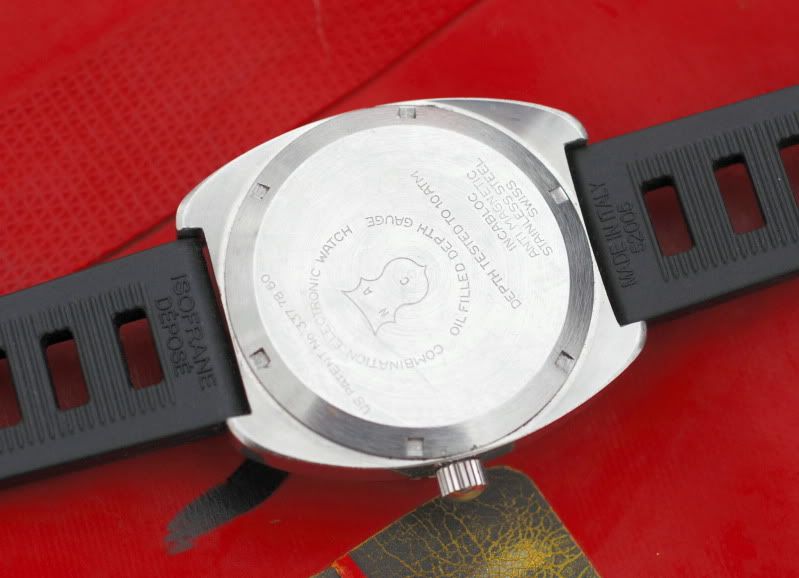 Now for the tests. My first test was on a Viking Pro HD vulcanized rubber dry suit, and using the Oceaneer. My wrists are 7" and I was wearing a PolarTec 300 fleece undergarment. The strap is on the third to last hole, so I'm happy with that.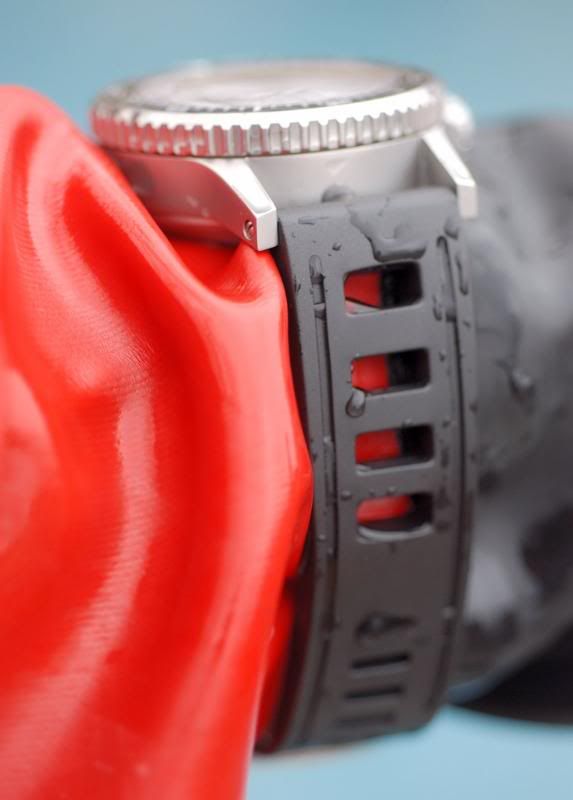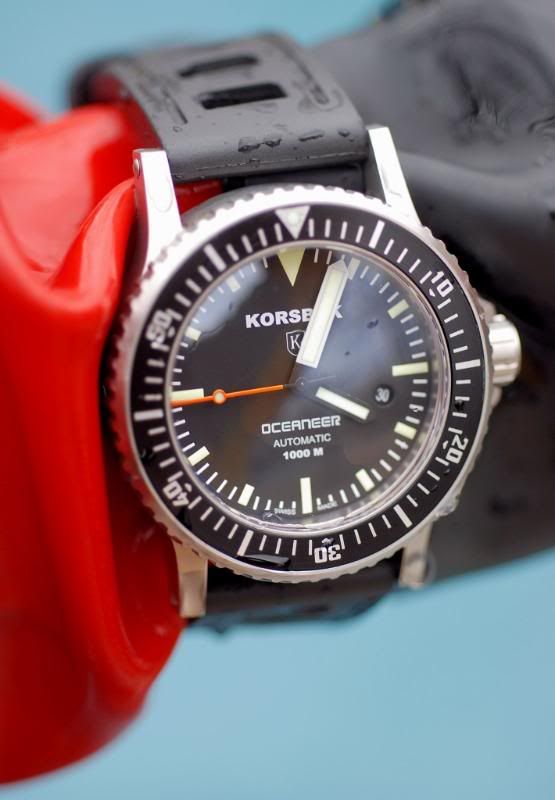 Next, I tested it on a Rubatex G-231N "Blown Nitrogen" 3mm wetsuit with cuff zippers. This suit proved thicker than just a standard 5mm, so I went with it instead. Again a great fit, and I was wearing the strap on the 5th to last hole.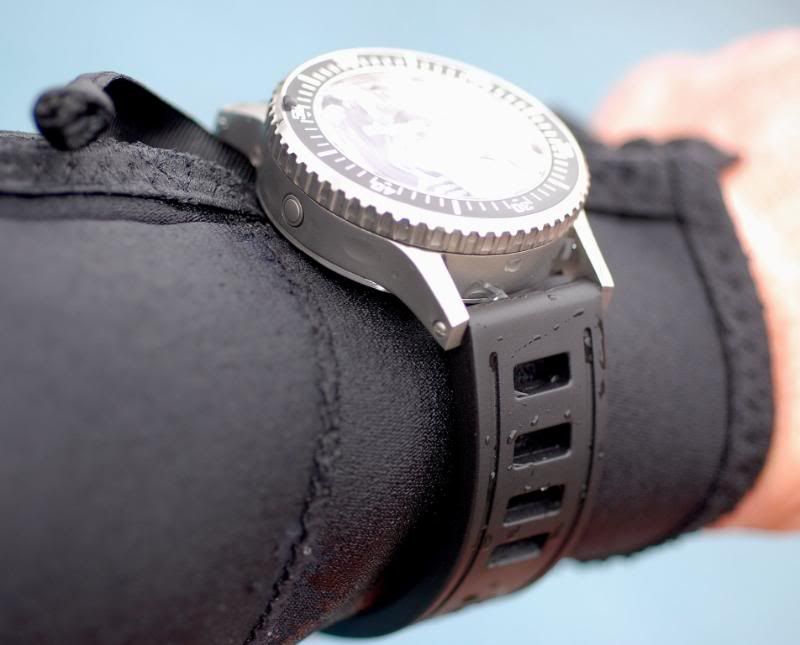 Like I said, my wrists are 7" and more flat than round, so hopefully these photos will give you guys a decent idea of how the straps will wear. Naturally, the lug to lug distance of different watches will slightly change the fit, but I think this is a good baseline for determining whether these straps will work for you.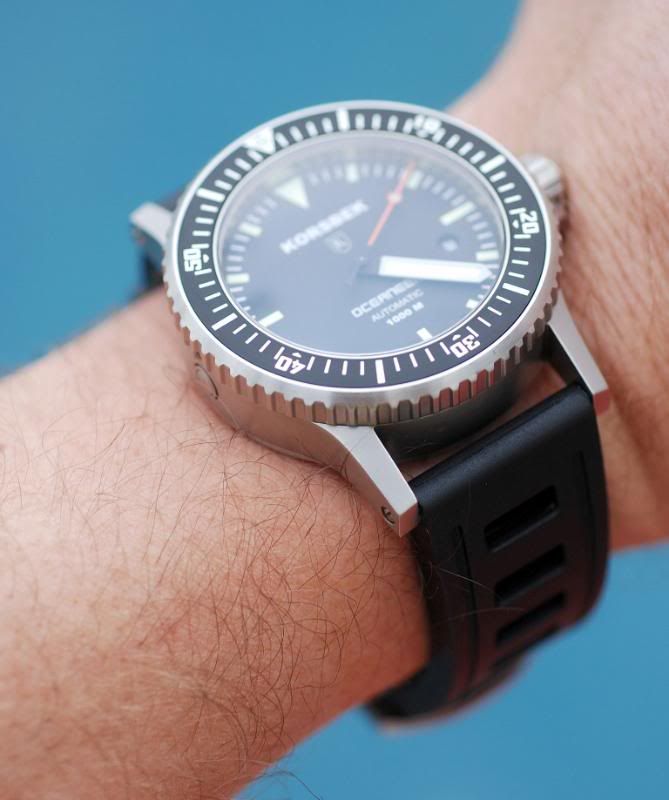 Overall, I'm very impressed with the entire package and can't really find anything wrong. The rubber compound that Isofrane has chosen is quite possibly the best that I've encountered, and I have an IWC, DOXAs, Hirsch Extremes, and a Tropic(silicone as well as a vintage). The material is very comfortable and feels good on the wrist. It's not too stiff, has an ample amount of stretch, but isn't so soft that it feels cheap...it's just right. The molding is crisp and virtually perfect, with the molding lines very difficult to see. Since these are not silicone, they're not lint magnets, so they stay looking clean. Really, I don't know if there is much more that I can convey here on the forum, but once you have them in hand, you'll know what I mean. They exude quality.
Pricing, as I was told, would be around $100 for the strap featuring the rounded buckle, and around $120 for the squared, regardless of finish. Isofrane is ready to go, as they have ample stock of straps and buckles, but they're still waiting on the packaging to be completed. They're so concerned about quality, that they're even having the packaging made in Germany. Now that's what I'm talking about.|>
For now, they told me to just keep checking the website, as the launch could be any day now. Once the site is live, direct purchasing will be available. If there is anything that I've neglected to cover, you guys let me know. If I don't know, I'll do my best to find out.