Not long ago I got the itch to try doing a mod. I'd owned a Seiko SKX007, perhaps the perfect watch for modification, but I'd given it to my son. Still, he was game for some customization, so we swapped in a Rally Bezel, Caribbean Blue Soxa dial, and Dagger hands, all from Jake at Dagaz: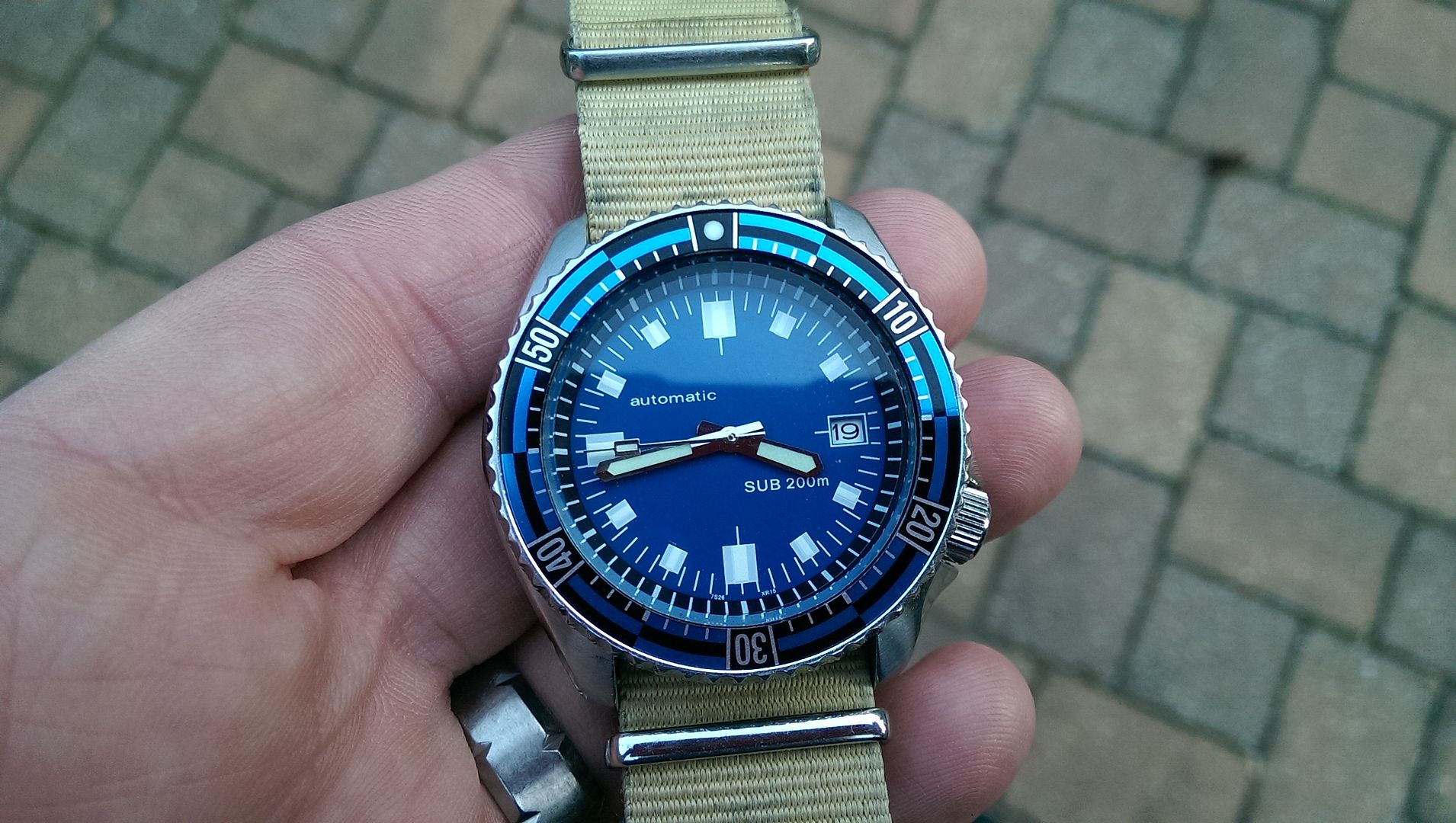 I wasn't brave enough to try doing the changes on my own, so I used a local watchmaker, but I was able to watch him as he did the mods, and it all looked easy enough (famous last words, to be sure).
As such, I thought I'd try doing some mods myself. I'd had the Orange/Blue prototype of the Orthos for a while, but hadn't worn it much. I wasn't crazy about the dial, as it was more "Blurple" than blue, and didn't compliment the orange bezel insert very well.
While I was in Hong Kong, my factory gave me an updated case sample, which had been floating around on my desk, acting shiftless, since I returned. I decided to transplant the movement, dial, hands, crown and bracelet from the Orange/Blurple prototype into the new case, which had a gray bezel. Finding and activating the stem release was the only "hard" part. Once I got the crown and stem out, I just moved all the innards over to the new case as a single piece. I christened the new piece "Basic Blurple":
But that left me with another empty prototype case, and no crown, so now that was floating around on my desk, acting shiftless.
Last year, as a committee member for the F71 project watch, the "Flying Dutchman", I received a pre-production dial sample from Bernhardt, and it's also been floating around my desk ever since (yes, acting shiftless). For those who don't know about the Dutchman, it looks like this (dial design by Chip Yuen of Aevig Watches):
A momentary combination of boredom and curiosity led me to try fitting the Dutchman's dial into the Orthos case. By pure coincidence, it was a perfect fit.
However, the Dutchman used a Miyota 8215 movement, whereas the Orthos uses a Seiko NH35. Different date window placement, different crown height, different hands fitting, etc. If I wanted to marry the Dutchman's dial to the Orthos prototype case, I'd have to source a movement, hands, crown, and spacer.
This was all WAY outside the normal drop-in parts swap, but being both stubborn by nature, and frugal by upbringing, I was determined to not let these parts go to waste. So the search was on.
First up, finding a movement...
There's nothing really 'wrong' with the Miyota 8215. It's automatic, and hand-winds, but I thought it would be nice if it also hacked, not that I really bother with synchronizing my watches to the atomic clock, or any other, down to the second. I just thought it would be nice. Thanks to
Jelliotz's ground-breaking work on the Moflake
, I knew the DG2813 was a Chinese clone of the Miyota, and also adds hacking. Miyotas can possibly be sourced cheaper than $50, but that seemed to be the going rate for those I was able to easily find. Happily, I found a decorated and gold-plated DG for about $30 on ebay:
But when it arrived, I found that the crown was WAY too small for my liking, and I don't think the inside of it was threaded, which meant I wouldn't be able to screw it down onto the case tube of the Orthos.
As it happens, the Cerberus prototypes all had screw-down crowns, unlike the production version, and I'd kept the prototypes to be used for spare parts for repairs. I figured the crown from one of the Cerberus protos could be mated to the DG movement. Again, this isn't the sort of modification work I'm capable of doing on my own, so I had my watchmaker marry the parts, which also required the Cerberus's crown stem to be cut down to fit the DG.
While aftermarket mod parts for Seikos are easy enough to source from Jake or Harold (Yobokies), Miyota/DG parts don't seem to have as many sellers. Again, thanks to Jelliotz for turning me onto Ken at Raffles Time (Google it). Ken stocks parts for DG's and ETAs, including a set of PloProff hands.
I'd seen how good those hands looked when HWA added them to his Flying Dutchman, so I knew they'd be a good fit for my project.
Since I used the proto bracelet on Basic Blurple, I needed a strap for it. As it happens, I had a very nice and never worn brown croco strap which came as an extra with my Cobra de Calibre, also with 22mm lugs, like the Orthos.
Lastly, I needed a movement spacer. One of the perks of owning a watch brand is being able to get stuff made to order in a pinch. I asked my factory if they could CNC machine a spacer to marry the DG movement to the Orthos case (again, remember, it was made for a Seiko, not a Miyota).
I haven't received the spacer yet. I don't know when I will, and it's possible I never will. Jelliotz says he's got a spare he'll send me, so that's still to be sorted out. But in the meantime, all the other components are in place, and the watch is now wearable, if not exactly ideally constructed and perfectly stable.
Given that the Orthos was partially inspired by the Omega Planet Ocean, the mod uses a Flying Dutchman dial, is 2mm larger than the Dutchman, and uses PloProf hands, I've dubbed this one the 'Planet Dutchman Pro XL'. Here it is, for your viewing pleasure:
So...what do you think? Not bad for a bunch of castaway parts which had all been hanging around, acting shiftless, huh? Total spend was only about $100 including installation.
Next up, I hope to do a sort of Sinn 857/Omega PO/Seiko mash-up with the other prototype Orthos case. I'm planning to call it "Chad Orthosinnko"
Planet Dutchman Pro XL Specs -
CASE:
42mm Prototype Orthos Case, by Lew & Huey
MOVEMENT:
DG2813 clone of Miyota 8215, with hacking & hand-winding (~$30)
CROWN:
Screw-down crown with cut-down stem from Cerberus Protoype (Miyota 9015), by Lew & Huey
DIAL:
Pre-production sample of F71 Project Watch, the "Flying Dutchman", dial designed by Chip Yuen of Aevig, produced by Bernhardt
HANDS:
PloProff hands for DG2813 from Raffles Time (~$25)
STRAP:
Croco Grain Strap with Pre-V buckle from Cobra de Calibre