The Seiko H558/H601 Sport Divers watch in Film
It's not every day that a watch such as the (Seiko divers watch) is seen in Films made for TV, but it's Grand history of use in films is well established, with such compelling names as (James Bond, 007) and other Box Office hit's such as (Jaws and Apocalypse Now) as well as going back to a well known film called (The Deep). There are many more film credits of use for the Seiko watch brand with too many to list.
Such films have helped to push the Seiko Divers watch brand to worldwide fame, not only to the everyday Seiko watch customer or collectors of Seiko watches that were already familar with it's high quality watch name, but rather also to the general watch wearing sport minded individual as well that generally wasn't familar with the Seiko name or fine quality of watch that they produced in it's various line ups.
This of course, led to many thousands of additional sales beyond Seiko's normal customer base with the seiko (6105 and 6309 Divers watch) helping to set in-stone the quality & reliability of the Seiko Divers watch reputation, as one of the best Dive watches available for adventure & sports minded people all over the world for any activity land sea & air.
The fame of the worldwide admired Body Builder turned actor (Arnold Schwarzenegger) helped propel the Seiko Hybrid H558 to Wis stardom. He sported the Seiko H558-500X (aka Arnie) Dive watch in no less than (5 Box Office Hits) on the big screen, and suddenly this unique Hybrid sport divers watch was in demand by everyone around the globe.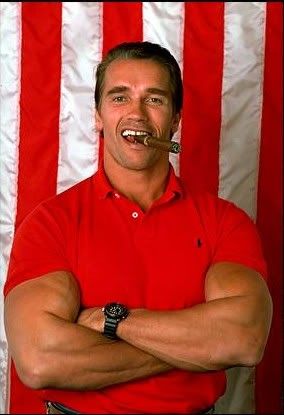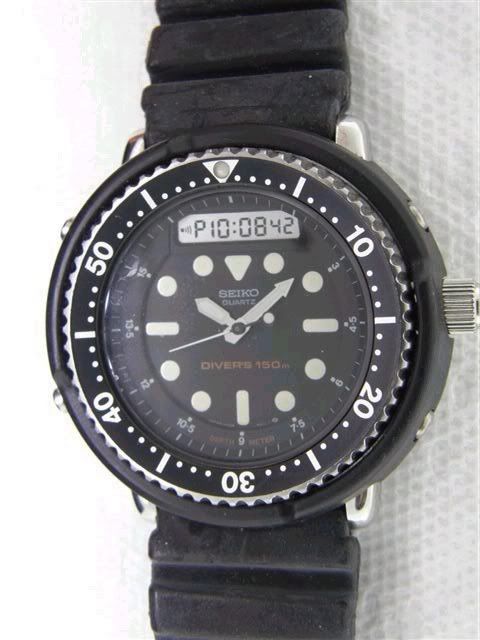 In the Film Commando he wore the real Arnie H558 Hybrid, but in various close-up shots of this watch when he needed to the countdown hours-left till they would harm his little daughter Jenny, they used a made for television movie prop of a double-dial LCD chrono shown below. (Quite subdued & Military looking)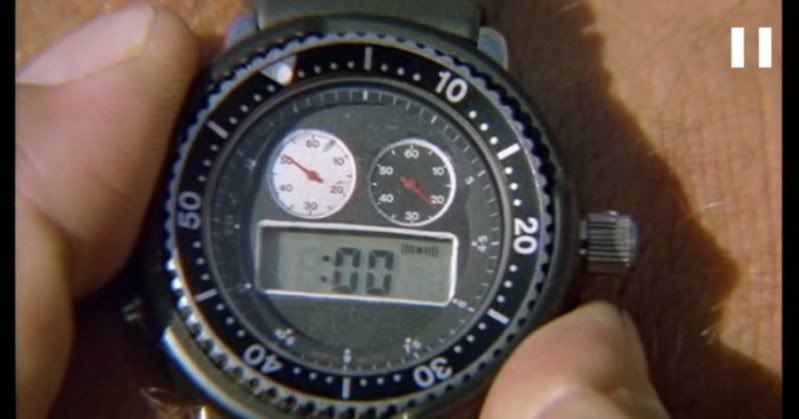 The 5 films posted below show the real seiko H558 hybrid diver on his wrist in atleast the (first 3 films) listed as I mentioned earlier, and the last 2 films namely (Running man & Twins) the watch in question
could have been
the H558's twin brother called the (H601) Arnie and which one isn't exactly clear, but what is clear is that it's an Arnie.
1. Predator- 1987
2. Raw Deal- 1986
3. Commando- 1985
4. Running Man- 1987
5. Twins- 1988
1. Predator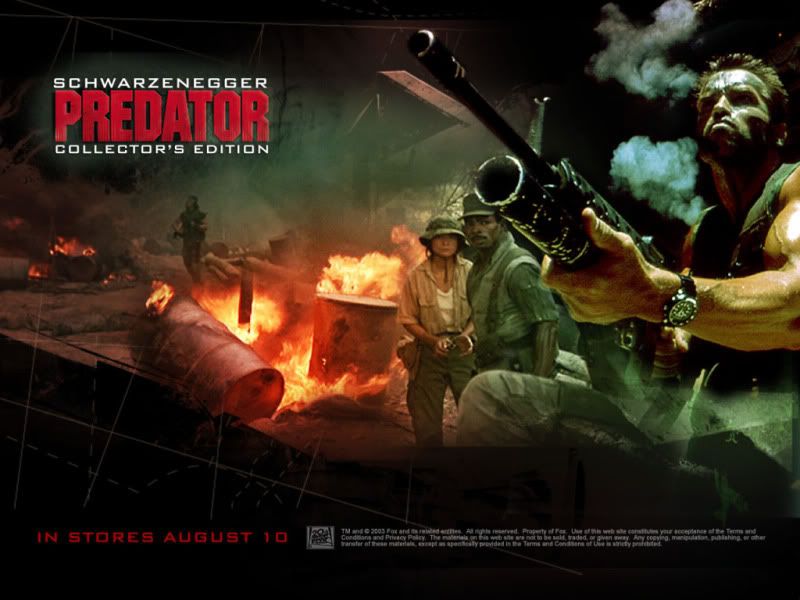 2. Raw Deal
3. Commando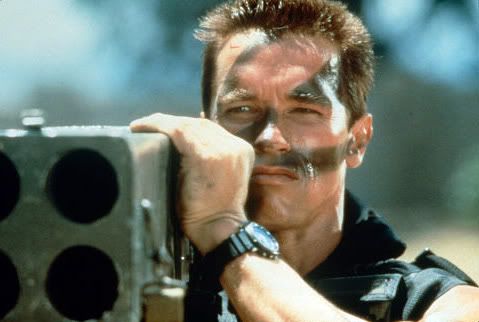 4. Running Man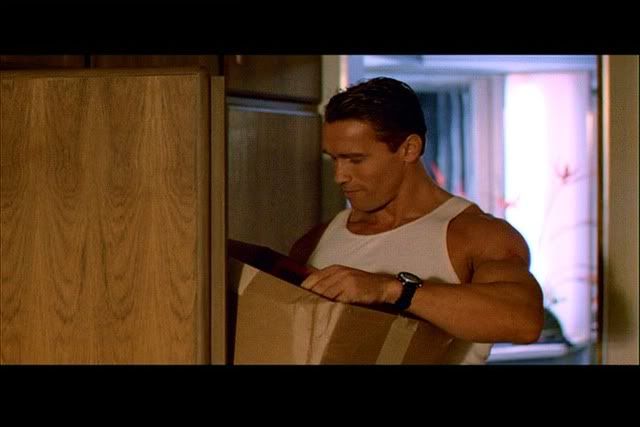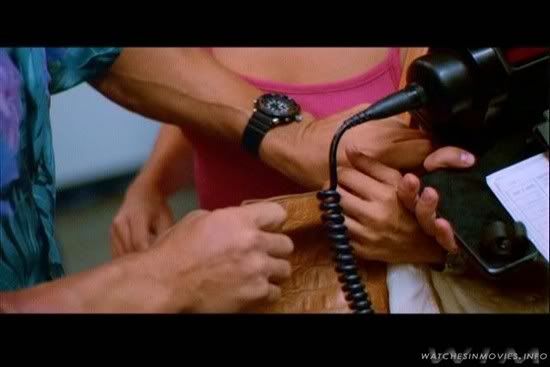 5. Twins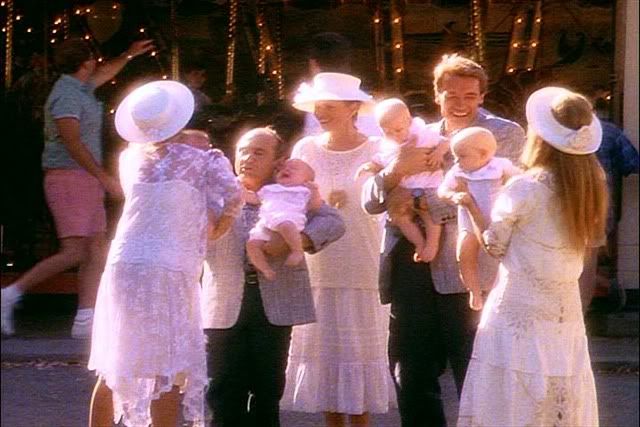 He may have worn the watch in a few other films as well, but I've never noticed it positively in any of his other films that I know of. In the Film (Running man) it was only partially used in a couple screen shots & very well could have been the Arnies brother (The H601) as well as appearing in (Twins) making a rather distant appearance, where only glimpses of the watch were seen or noticed by those of us with keen eyes.
I believe that no other watch brand in history has been more associated or well known than "Seiko" for the sports minded person & adventurer, as well as professional diver in my honest opinion. It's also safe to assume that the film industry vastly helped to make this fact known to the world over the years.
The Rolex & Omega brands of the past & current "James Bond 007" films would be the next runner-up in lines since my preferences are swayed. But it's vastly true that Rolex & Omega have been exibited to Exaustingly high degree's in the Film & Movie business, throughout there glorious history from yesterday to today.
Seiko, Rolex & Omega were and still are by far, the largest portions of any watch brand used from the Sports, Digital & Divers class in the James Bond Film series, or any other Screen film in history for that matter as far as I can tell.
I trust you enjoyed this short narrative on the use of Seiko watches in the Film Industry, which is just but a small covering of the Seiko brand in film.
Thanks & Hasta La Vista- :-!
Jim