Great tips Gerard! I wanted to add a couple more suggestions to this impressive list...
• Use glycerin if you want to give the watch a "wet" look...It stays put, forms nice round droplets, has higher refractive index than plain water so it "pops" more on a photograph. But beware..it gets all over everything..including your camera gear, so pack a special towel for cleaning up.
• Without moving the watch, widely "bracket" your exposures - from as much as +2 to -2...this will create different images, some very dark, some very light. By using the "masking" tool in Photoshop, you can pick though the images and combine them to make one "perfect" image. Doing this allows you to get a much better detail in both the shadows AND the highlights. This is the way almost all professional studios get the killer shots. I do this using early morning daylight (so there aren't shadows on the dial) down at the beach. What you will find is that the darker exposures are good for keeping reflections off the crystal to a minimum, while the overexposed images are good for showing details of the case, crown, etc. I will try to add more to this post later to show an example of how this is done, but if you understand how to use Photoshop, you can probably do this on your own....*
• Shoot using a LOT of depth of field (i.e f22 or so...), this will make sure ALL of the watch is in focus, and then using Photoshops "blur" you can throw the band, etc out of focus exactly as much as you like later on....
• Try to use a polarizing filter to further reduce reflections. In my studio I actually have studio flashes that have polarizing gels over them to create polarized
indoor
light, then when I use a polarizing filter on the lens, reflections are cut to nearly zero. I still prefer to use daylight though....
• Of course, don't forget to set the time to the industry standard of 10:08:38 to allow the logo, watch model to be seen clearly on the dial.
• Although they ARE expensive, for anyone who is watch-crazy enough to be reading this, I would suggest a dedicated macro lens. I use a Tamron 90mm 2.8 on a Nikon D70, and this is a pretty good set up... But as someone who really digs using older equipment, you could easily get a dedicated macro lens on a 35mm camera on eBay for pretty cheap and get just as good results. I have a $250 4x5 Speed Graphic from 1958 that can take pictures WAAY sharper than my Nikon....So it's not a matter of having the latest/greatest gear...much more a matter of....
• ....PRACTICE! This is the #1 best way to get better. The first time you try, you'll see so much dust, spots, fingerprints, reflections, etc. etc. that you'll be embarrassed. After just a couple tries, you'll be shooting like a pro no doubt.
OK, well here's two images that were done this way. The silver Bathys was done by a professional graphic artist. The UV Bathys was done by me (and in fact it's still not really done yet, maybe about 80% done..). Each image already has 3-6 hours of work in it.
You can also see how the artist made the cool fake "shadow" as well...I've got to ask him about that!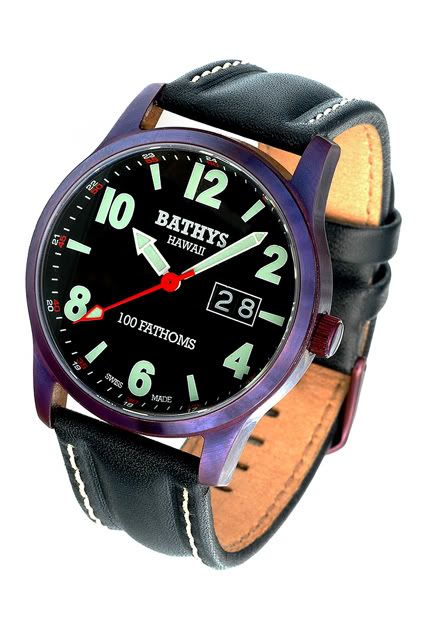 Compare these to a "plain" image using tripod/macro lens/daylight and no retouching....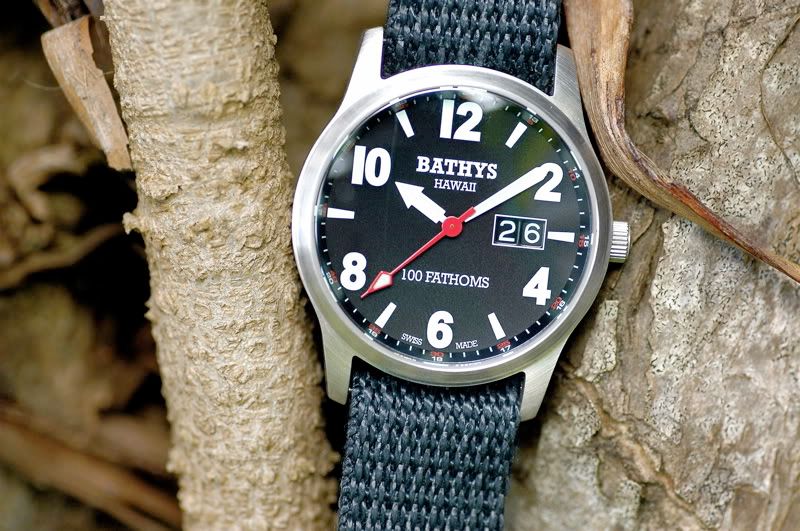 So you can get a nice image without all the retouching, but it lacks that final "jump off the page" look.
Now that I've let the cat out of the bag, go look through WatchTime, etc and look very carefully at things like the dial ring, the numbers, the shadows, and I think you'll start to see the little touches that have been added later on....I'm looking now at this Breguet ad with Winston Churchill - look at the areas at the periphery of the dial and you can see the retouching..it's just too perfect - the crystal would cause small distortions and reflections that have all been removed. And of course, look carefully at that shadow...it's not real..it's the Breguet "B"! Tricky bastards!
Hope some of these suggestions prove helpful. Let's hear more since learning is a lifetime thing....
*
ALL
the women (and men too btw) we see in magazines, fashion, Playboy bunnies, etc. are
extensively
retouched in this way (besides all the hair/makeup/body makeup). They do stuff like "blend" away
every
blemish on the model's skin then go back in and ADD back in moles, fuzz, beauty marks...exactly as many as the client wants to make her look (cough) "natural"....
So if
your
girl don't look like dat...no blame 'er! NOBODY really looks like that!