·
Ball Watch, Bremont and Longines moderator
Topper Fine Jewelers Ball-Athon Segment 2 – Crossword Puzzle
Topper Fine Jewelers Ball-Athon Segment 2 – Crossword Puzzle
Don't stop to catch your breath because here are the segment two items. For this segment we have a cross word puzzle. This segment is made up of questions on: Ball models new and old, Ball history, RR history including trains, items found on Ball USA Web site, items on our forum and Toppers Fine Jewelers web site. There are fifty questions that should be submitted in the order they appear across then down on the sheet. You must provide the exact answer that you have to fill in the puzzle (Preferably in caps). In this segment accuracy is important but don't take too long submitting. Google will be your friend!
If you cannot print the version out from the forum we are providing a link to a PDF version for you to use (Note it is over 14Mb so it will take a little time to load). As in the last segment all submissions should be via PM to samanator so you must be a member to submit. Submissions will be accepted up until 6pm (PST) on Wednesday (December 22nd).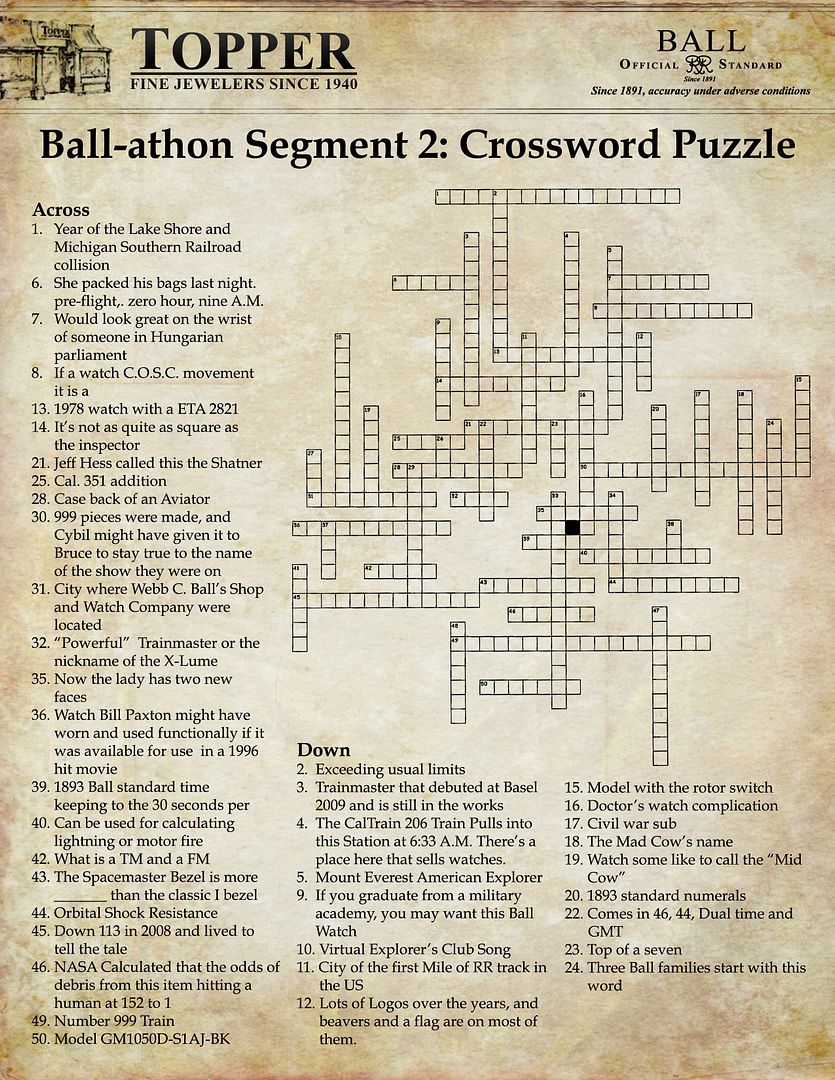 http://dev2.topperjewelers.com/images/Ball-athon_Crossword.pdf
Please see this link for additional rules and scoring system: https://www.watchuseek.com/f239/topper-contest-iii-ball-athalon-476984.html
With our scoring you do not have to win or place in every segment and you can still win. Segment one placement will be posted tomorrow morning. Don't let it distract you.
Hopefully you will enjoy this segment.