About a month ago my son told me there some watches for sale in a laundry at the train station near his school. Seemed unlikely but happy that he was scoping out potential watches for me. ;-) Thought no more of it.
Last night was my turn to attend parent teacher night. Wasn't looking forward to it as it had been a cold grey day and busy at work so I was a little beat, but I rushed home picked him up and we made our way across the now rain soaked city to his school.
After meeting his teachers we hoped in the car and crawled along the dark and wet streets. As we approached the station he said " That laundry place might be open do you want to have a look?". OK, if we can get a park. It was late night shopping and the streets bustled with shoppers and commuters. We pulled up behind a tram that was unloading passengers right outside the station. Peering through the rain I said " not looking good"suddenly a car indicator light sparked to life right in front of us reflecting in the rain droplets on our windscreen. The car pulled out and we pulled right in.
Hugging our coats we walked up the red brick laneway towards the station entrance past an army disposal store, a bookshop and a little Italian coffee house.
We turned a corner and a tiny shop meet us. Its window light spilling out onto the pavement. Above the door a sign reads Tailor , and in smaller writing , same day dry cleaning. Looking in a shelf held a dozen watches sitting somewhat oddly in front of a manikin dressed in a long flowing dress. Behind the dress a small curtain separated this display from the working machinery of tailor and dry cleaner.
Plenty of ladies watches and an interesting Lusina chronograph but its copper dial had burnished beyond the legible. Next to it was a tidy little trench style watch. We entered the door and I could see a Chinese gent cover his teacup with a ceramic cap and look up to greet us.Can we see your watches my son burst out? He nodded yes. I put my finger against the glass opposite the trench and he pulled it off display.
Turns out he is a collector himself. We talked about watches for 20 minutes or so. I turned the trench in my hand liking it a lot and his price was very reasonable, we did barter but not too seriously on my part as I was already happy with the price. So isn't it interesting how we find our watches. Here is a movement shot. I think its an AS 340 variant dated to the late 20's but would welcome any comment on it.
And a wrist shot.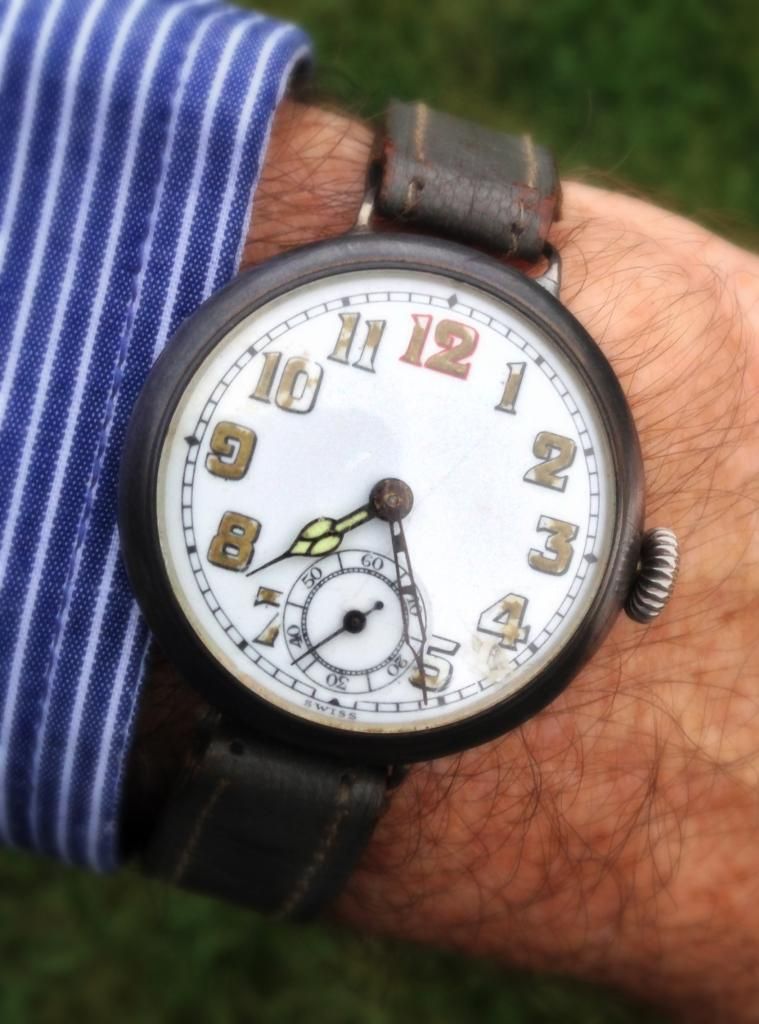 Regards,