There has been a lot of discussion,and some data, comparing the relative merits of Tritium Gas Light Systems (TGLS, "tubes") and conventional lume (Superluminova, etc.). Lots of folks love the "killer lume" on the Seiko Monsters and find TGLS dull and boring. Others forego the dramatic "lume bloom" of a freshly charged Monster in preference to the long-lasting, constant lume provided by TGLS.
There has also been a lot of discussion about the half-life of Tritium gas (12.4 years) and how this will render a TGLS watch effectively useless in "a few years."
The objects of this test are:
1. Compare conventional lume to TGLS
2. Compare "Old" TGLS to new TGLS
3. Compare T25 TGLS to T100 TGLS
4. Compare conventional lume from various makers
5. Compare "Old" lume to modern Superluminova
The TGLS watches chosen for this test are:
1. Marathon GSAR (T25)
2. Luminox SR-71 (T25)
3. Luminox "Navy SEALS" (T25) 11 years old
4. Marathon CSAR
5. Deep Blue DayNightOps (T100)
The conventional lume watches chosen for this test are:
1. Vintage Seiko "Arnie"
2. Seiko Black Monster
3. Seiko Spring Drive SD600
4. Marathon JSAR
5. Omega X-33
6. Deep Blue Sea Diver 1000
7. Orient Mako
Here is the reference "Lights On" shot of all the watches (sorry for the reflectionso|):
At the top are the Seiko Arnie on the left and the Seiko Black Monster on the right.
Top row in the box from left to right are:
Seiko Spring Drive SD600
Marathon GSAR
Marathon JSAR
Omega X-33
Deep Blue Sea Diver 1000
Bottom row in box from left to right are:
Orient Mako
Luminox SR-71
Luminox Navy SEALS
Marathon CSAR
Deep Blue DayNightOps T100
Photos were taken with a Canon EOS20D with a Canon EF 50mm 1:2.5 Macro lens. ASA was set to 1600. Exposure was set to Manual with initial settings of 2 sec @ f/5.6. Exposure was changed during the course of the test to 5 sec @ f/5.6, then 8 sec @ f/5.6 for most of the test with a final shot set to 15 sec @ f/5.6 to try to capture all possible remaining lume.
Test duration was 537 minutes (almost 9 hours).
An intervalometer was used to shoot one frame every 15 minutes, but because of redundant shots (and WUS bandwidth :-d) not all shots are shown here.
The shots that are shown are:
1. Lights On reference shot (see above)
2. 0 min - Immediately after lights are turned off
3. 15 min
4. 30 min
5. 45 min
6. 60 min
7. 120 min
8. 135 min (5 sec exposure)
9. 150 min (Start 8 sec exposure)
10. 180 min
11. 330 min
12. 525 min
13. 537 min (15 sec exposure)
Before the test started all watches were "charged" with a 10,000 LUX (equivalent to sunlight through a window according to Casio charging charts) compact fluorescent light source balanced at 4100K for one hour.
Here is the first shot immediately after the lights were turned out: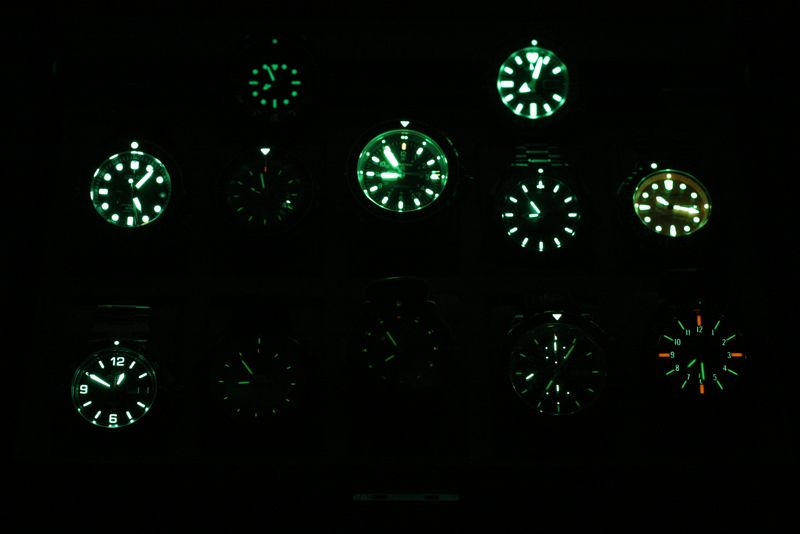 Conventional lume is "blooming" after initial charge and those TGLS watches are looking a little wimpy. Even my old Seiko Arnie is showing some life.
After 15 min: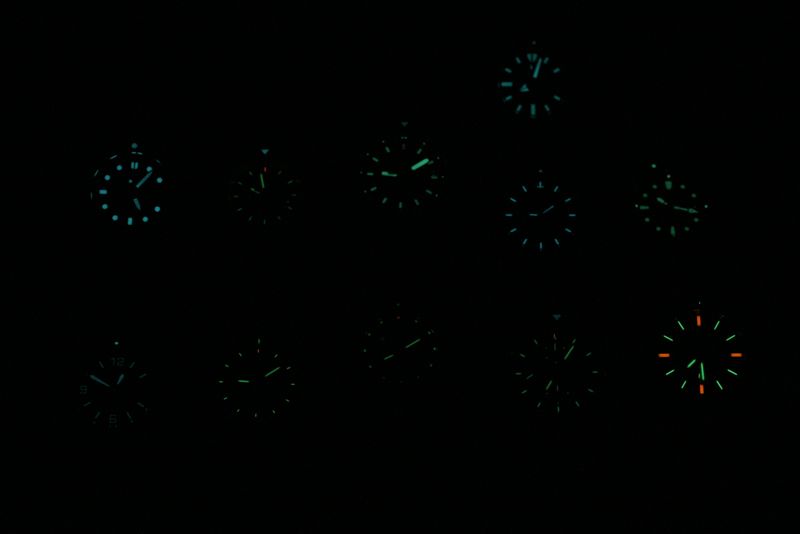 OOPS! Where did the Arnie go? Conventional lume "bloom" is subsiding.
After 30 min:
After 45 min: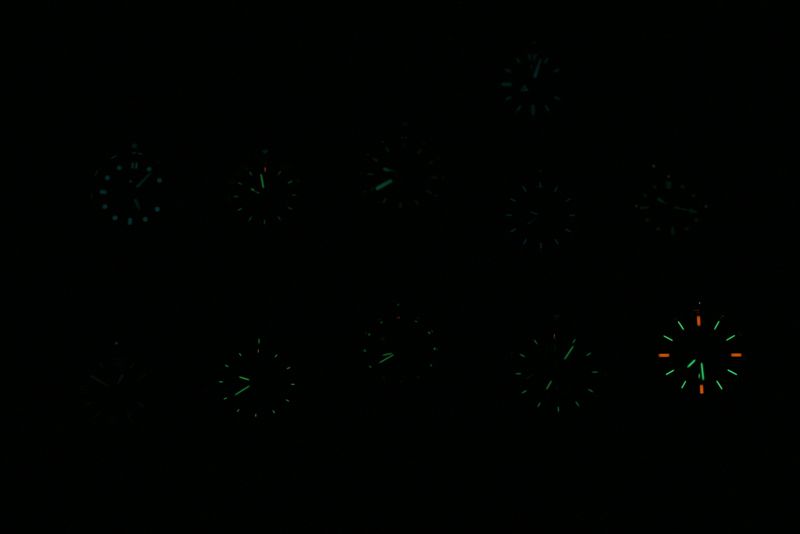 After 60 min: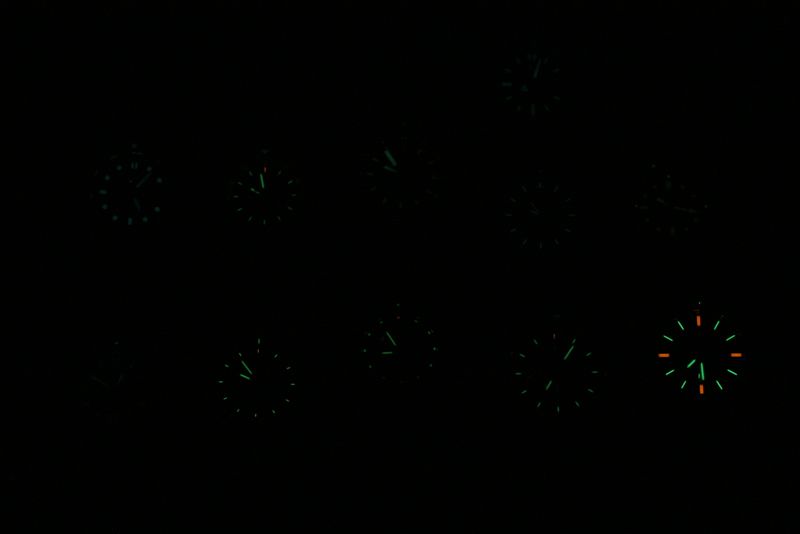 After 120 min:
Most of the conventional lume was still visible to the naked eye, so I attempted to brighten things up by increasing the exposure to 5 sec after 135 min: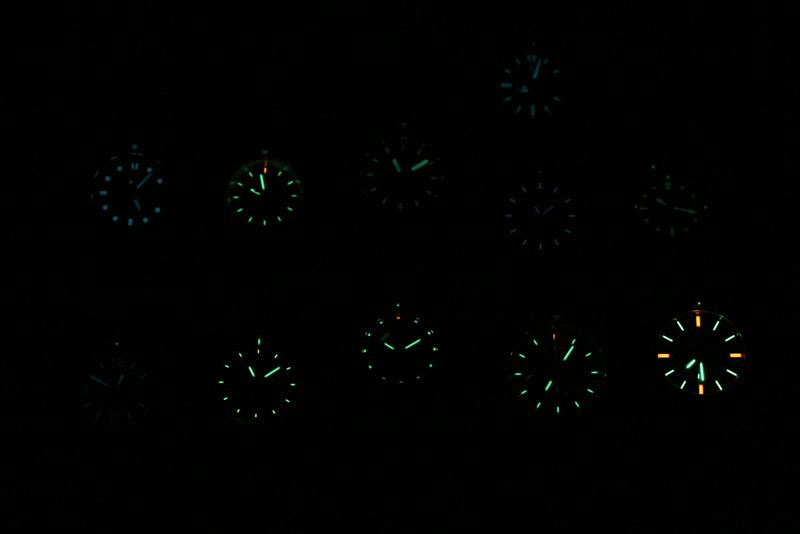 And again, to brighten things up so the conventional lume would be more visible, exposure was increased to 8 sec after 150 min: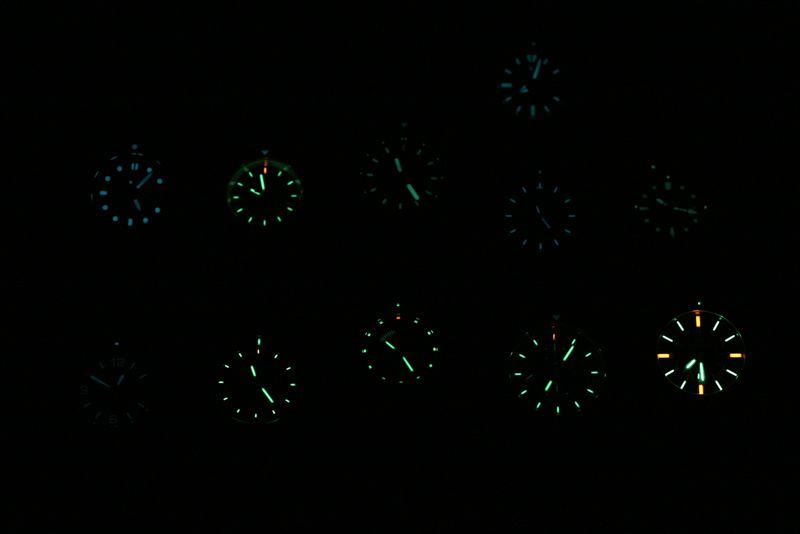 After 180 min: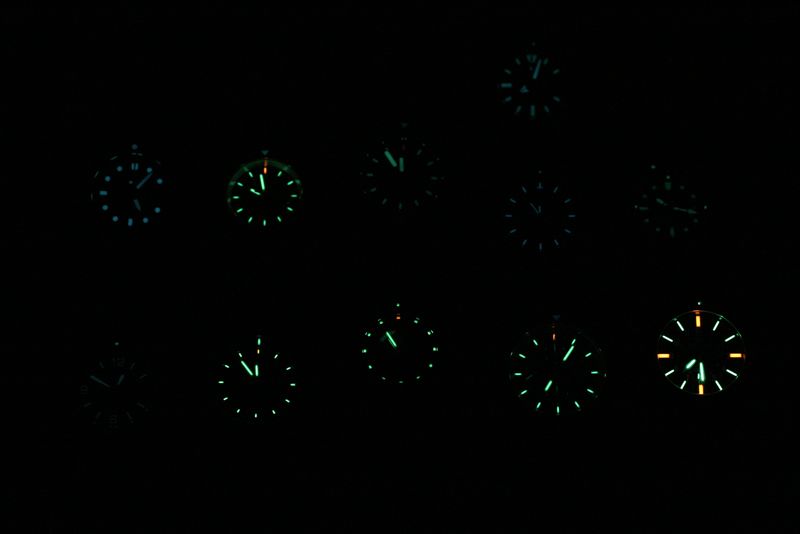 Let's jump ahead to after 330 min:
And another jump to after 525 min:
And a final shot with the exposure increased to 15 seconds in an attempt to capture any remaining conventional lume after 537 min.: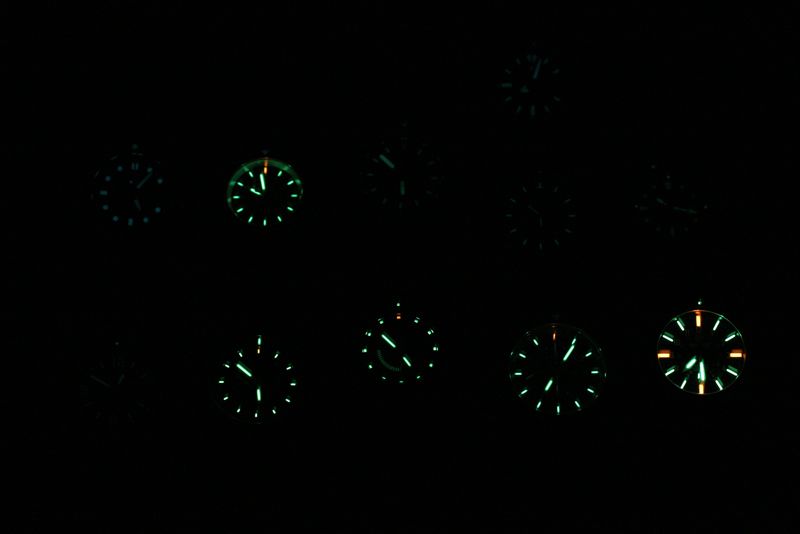 You can draw your own conclusions, but here are mine:
1. When conventional lume is compared to TGLS, the initial "bloom" of conventional lume is indeed brighter than TGLS, but this quickly fades to the point that TGLS is brighter than conventional lume after less than an hour in the dark.
2. When comparing my 11 year old Luminox TGLS to the other T25 TGLS watches it is hard to notice any real difference. And remember, this watch is perilously close to the half-life of Tritium (12.3 years) where illumination is supposed to be only hald as bright as when new. Probably, if measured accurately, the brightness of the old Luminox would probably measure less bright, but it is hard to see this with the naked eye. Still plenty of life left in this older TGLS watch.
3. T100 TGLS tubes are definitely much brighter than T25. No surprise here, but I am still blown away with how bright they are.
4. In my judgment, the best conventional lume of those tested was the Seiko Spring Drive SD600. You be the judge as to which was worst.
5. My old Arnie, before the days of Superluminova, is relegated to the ranks of non-functional lume. Hey, it happens to the best of us.
Final thoughts:
Good conventional lume is perfectly serviceable for use "all night" as long as it has seen some decent light beforehand. However, if I want reliable lume that cab be easily read at any time, TGLS wins hands down - with T100 a clear winner.
Please let me know what you think and if you have any questions.
HTH