A while back I posted about the TZ L1 course and promised to report back when I'd finished the L2 course. I finished awhile back and I've been working on various movements since to build up experience. Here's my thoughts/observations and some pics. Hopefully they will encourage (or discourage) others to try it!
L2 builds on L1 with the focus on the ETA 2836-2 movement. This introduces the complexity of an Automatic Winding movement and Day / Date capability.
L2 assumes you are putting the techniques and best practices learnt in L1 to good use in L2 IE, correct handling of parts, correct cleaning during reassembly etc.
The course covers the movement in detail and assumes you now know the names/labels of the basic parts.
L2 delves a lot deeper into watch servicing and regulation than L1.
Details of correct cleaning are given and this should not be overlooked as the price of ultrasonic cleaners has now fallen to such a level that one should be bought along with the L2 toolkit.
I would also recommend one of the mains powered demagnitisers.
Lubrication is perhaps the biggest subject in L2 and is quite an art / skill in its self. Attention must be paid during these lessons as over lubrication or the use of the wrong lubrication will cause headaches later! The complete lubrication of the 2836 is performed including the barrel where no less than 3 separate oils are used for this one part! The types of oil and their application / intended use are discussed plus the amount to administer, which are tiny! Trying to oil the balance and pallet jewels is a real test for ones skill and determination, just have a look at the following pics! The course notes are clear though and easy to follow. I've used the practices taught here on other movement types like the Russian 2416 etc. with success.
The Date and Day mechanism is discussed in detail as are the workings of the Automatic Winding system, again there are plenty of clear pictures and clear descriptions to help you.
The final part shows you how to case up the 2836-2 and turn all that hard work into a usable working watch! There is a detailed lesson on regulation and all that entails plus some discussion on timing machine readouts and interpreting them. The course stops short of fully detail explanation about regulation using timing machines but there is a good follow on article on the TZ web site that goes into much greater depth with real life examples.
The L1 class was daunting enough for a complete novice and L2 keeps this up with perhaps an even greater step up in the challenge / dexterity stakes. However,
I really enjoyed working my way through L1 and more so L2, as I said, since finishing I've completed work on other movements to gain more experience. I've re-visited my L1 2801-2 movement and oiled it properly plus I've worked on a number of 2824-2 movements and some Russian ones like the 2415/2416b. Ebay is a good source for cheap watches and movements to practice on. This will also improve your fault finding skills which, in fairness, the TZ courses do not cover.
Now I desperately need a timing machine as manual regulation over a number of days is very tedious....I have my eye on a Microset timer which seems very reasonable price wise having messed about with sound card based systems and not got very far!
In closing I feel the TZ courses are worth every Cent/Penny and will give anybody interested a good grounding in the basics of watch servicing. Recommended :-!
Here's some pictures and thanks for reading.
Various parts:
Pallet fork and gears: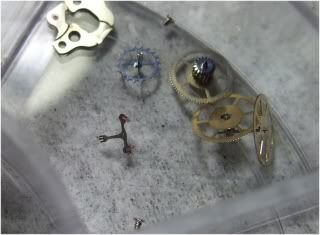 Close up: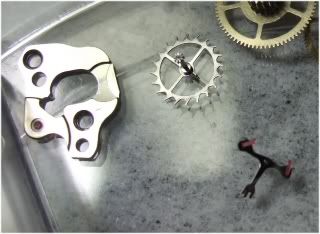 Barrel prior to oiling. This part of the build was interesting, the spring has a mind of it's own and wants to go anywhere but into the barrel housing. Eventually I got there! No breakages!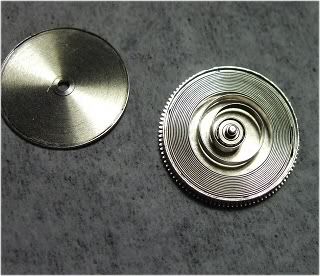 Mainplate after cleaning: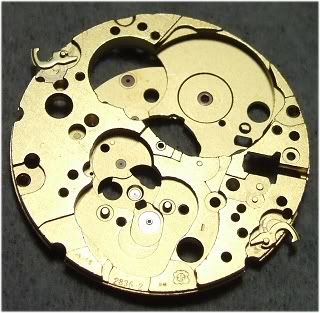 Re-build starts:
Here's the pallet fork, and yes we have to get a tiny drop of oil on the ends of those jewels!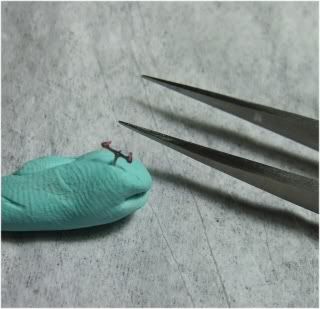 Here the fork and bridge are installed: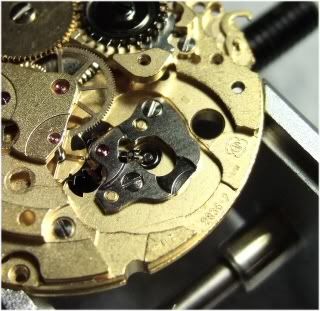 Here is the very delicate balance wheel and spring. This one seems to be in good order with nicely concentric and spaced rings. This part is the last to be removed and the last to be re-fitted: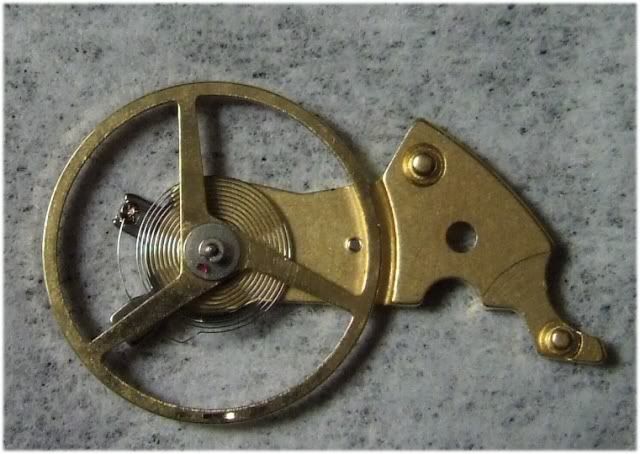 Dial side with Keyless works fitted (and working!) but can you spot my deliberate mistake?
Dial side complete; still have not noticed my mistake yet:
Date Wheel installed and mistake corrected….I neglected to install the hour wheel so when testing the quick date change mechanism I noticed it was not moving…Oh well easily done!
Now's the time to oil the balance jewels. I use a piece of Rodico to keep the little blighters in place and stop them performing their magic disappearing trick!
A generous (!) drop of oil needs to be place in the center of the jewel (flat side):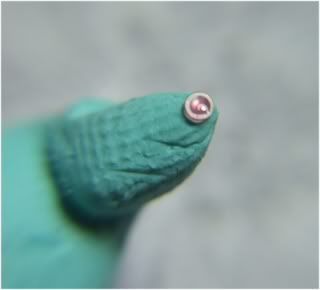 Ready to be replaced: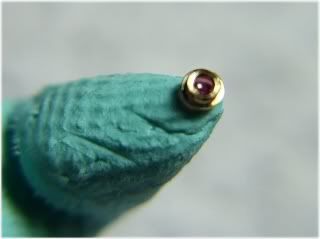 Finally ticking again, I was not 100% happy with my oiling efforts on the balance wheel so I re-did them little while later: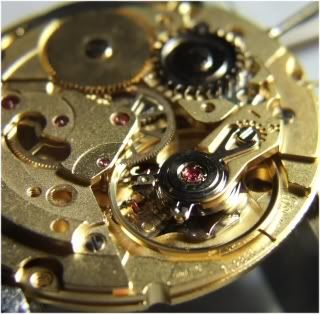 Only the Auto winding mech to re-fit plus the regulation and it's done!