Discussion Starter
·
#1
·
Hello fellow idiot savants.
Ultimately I have found myself longing for an ultra thin watch.
My dream would be a JLC jubilee, Piaget Altiplano or AP Royal Oak. Unfortunately, wife and banker alike have decided it is not the moment for such an investment. (all pics from internet)
So I have looked at some intermediary options. The hunt is hard because of course the prowess of an ultra-thin movement is pretty expensive.
The EPOS 3408 is a strong contender, but she has a terrible defect: She sports the Peseux 7001 caliber, and so does my Nomos Tangente (albeit modified). To this day it is still a dealbreaker, but I might succumb because she is very cheap.
I am also positively smitten with the Longines La Grande Classique design, it has everything I love, and these unusual lugs just drive me crazy. Why does it have to be a quartz?? once again the temptation is strong, but I cannot bring myself to pay so much for a piece of electronic timekeeping.
Where more should I look at? Frederique Constant is a brand I like a lot, even if they are not independant anymore. But I was a bit disapointed by the worldtimer and slimline moonphase (she sits at 11.3mm, which is barely less than my SKX007 (okay automatic and moonphase come at a price, still didn't like the thickness)). How are their ultra thin models? None of the deisgns have taken my heart so far.
So in the end I am left with only one option that truly moves me: The Cartier Santos Dumont Collection privée.
Of course the platinium option is way beyond my price range, but some gold models pop up around 4k here and there on the second hand market. Most of them seem legit, but if you have more information you are welcome.
It is such an iconic design, from a great house with amazing history, and it is ultra thin.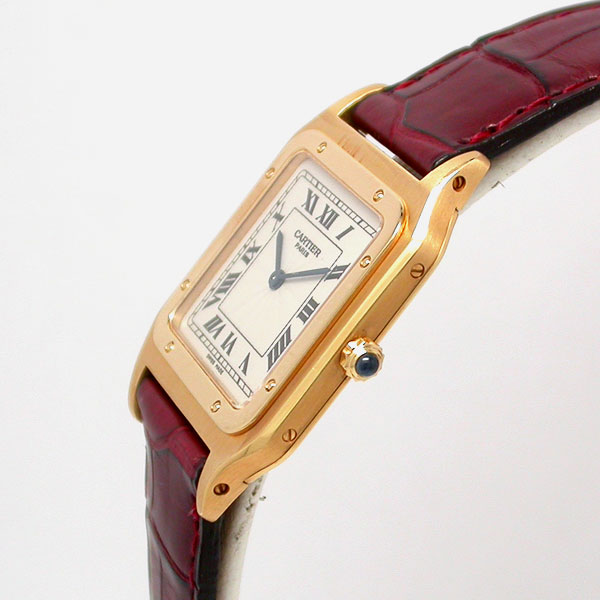 Do you have any other recommendations?