Discussion Starter
·
#1
·
So I noticed there is not much love in this forum for the Tissot V8. I think I can understand why, Tissot is an European brand, by making a V8 model they are relating themselves to car sports not always appreciated by the Europeans and not being an "as well known brand" outside of Europe they would find difficulties in selling such.
However there was something in the V8, that pulled me towards it, I cannot quite explain it. I just love the kind of retro look on mine simply due to a different dial color. The mechanism is the same as those of the beloved PRC200 and the reason it is only resistant to water up to 100m is probably due to not having a screw-down crown (when I do surf I use a rather cheap casio, so its lower point water resistance doe not affect me).
It shares the robustness of its other siblings of the T-sport series, and of course the essential sapphire crystal glass.
I think it looks marvelous when worn as an everyday beater, as it looks great with a polo/button down shirt/t-shirt. It can also work with a suit if the situation is not too formal (I would not take it to a black-tie and suit event).
I still cannot understand why its price-tag is usually lower than that of the common PRC200( which I also love the design) probably due to a lower demand, as i think that the target audience financial availability is around the same.
How about you?love it?like it?...Do you own it? would you recommend it for a friend or would you buy it for yourself? How would you wear it? 24h a day? as an everyday beater? or for some other specific situations?
Here's a photo of mine, (shars yours):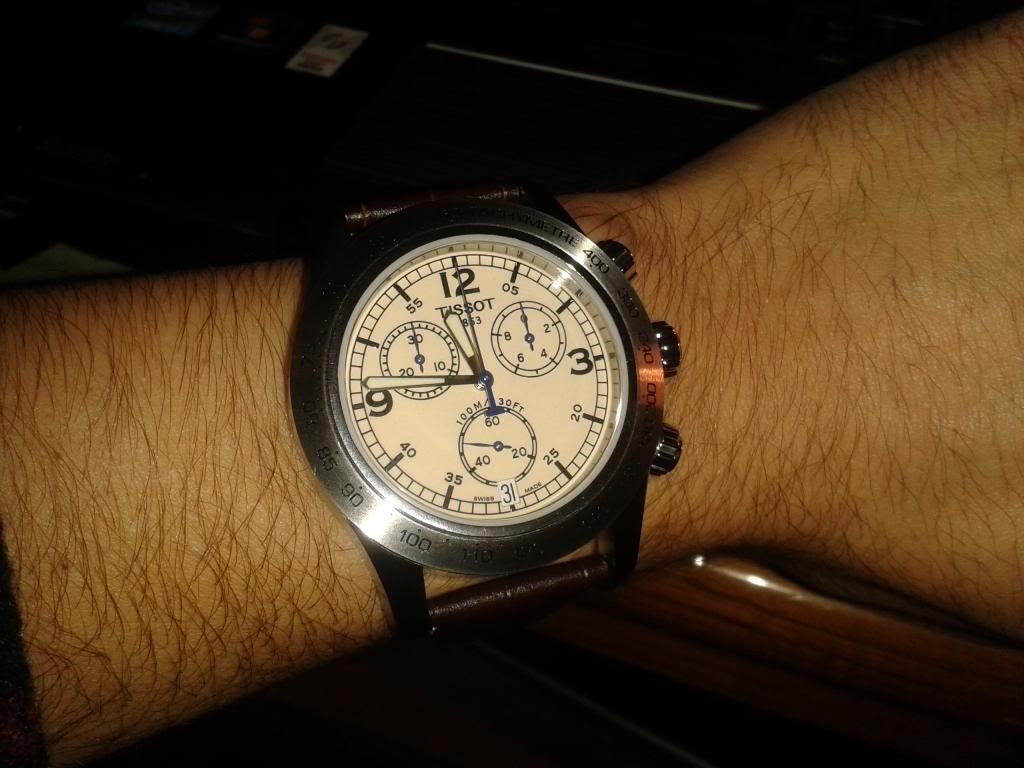 ps: I am thinking of changing the original strap for one of this as it connects it even more deeply to motor sports :
Hirsch RALLY Leather Watch Strap in BROWN | HirschStraps
, have an opinion on that that you would like to share? what straps do you have in yours?