This thread is dedicated to Victorinox Swiss Army (VSA) Fieldforce watches, most particularly their most common reference, the 241848, which starts the line. Those could be roughly defined as :
Field watches.
Swiss made.
Entry level of Victorinox's line-up.
We will start by an in depth review of one model, and will subsequently present the variations available.
I - REVIEW
a - History
Victorinox is a renowned Swiss brand, founded in 1884 by Karl Elsener. Despite being known for their Swiss knives (which they first provided to the Swiss army in 1891), it's only in 1989 that they started applying their expertise to watches, with an independent subdivision of the motherhouse, Swiss Army Brands. Inc. The Swiss Army brand was later reintegrated to Victorinox, but even nowadays, they aim to remain faithful to the style that popularized them : functionality, quality, and rugged yet classy design.
The Fielforce lines embodies that will while being adjusted to nowadays trends. But how successful is the resulting trade-off ?
b - The Fieldforce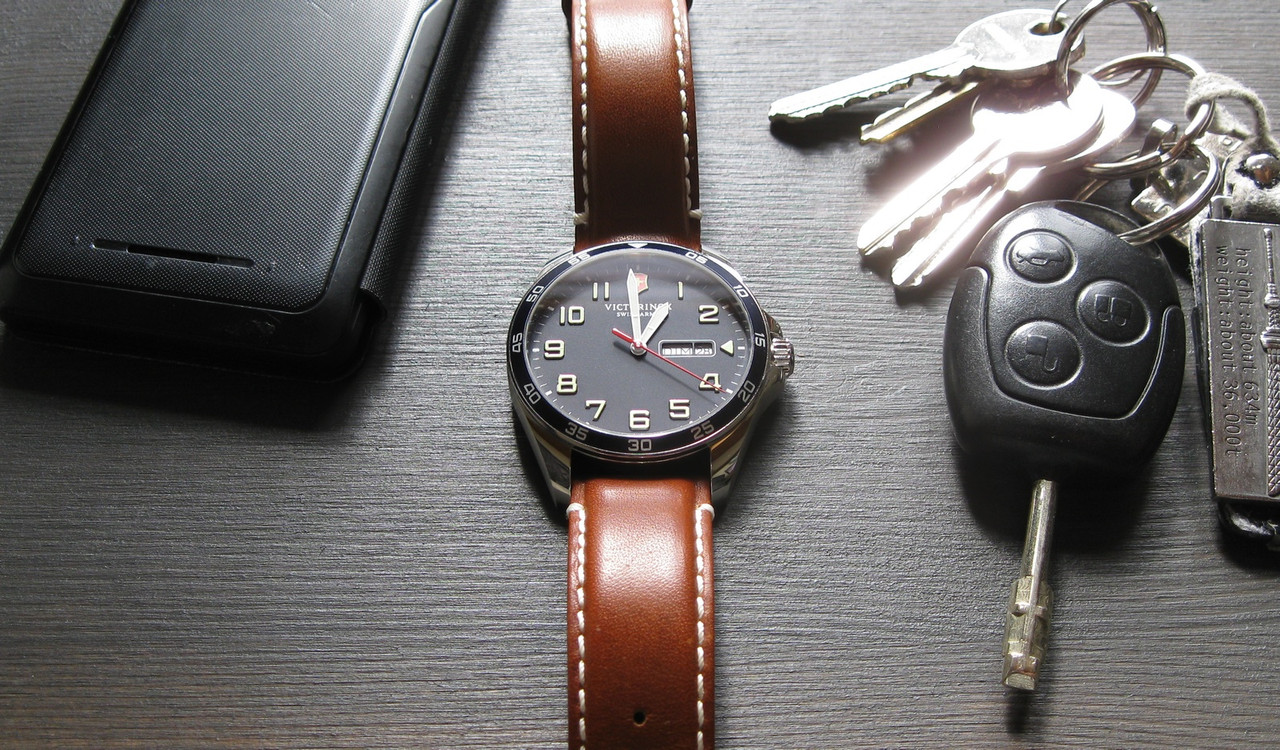 First introduced in 2019, the Fieldforce is the successor of the Chrono Classic units, replacing the pure chronographs in a more diversified line. Its size is also a compromise, with an homogeneous 42 mm instead of the 41 to 45 mm diameter of the latter.
The overall design is that of a field watch, aiming for functionality, but with an even more pronounced emphasis on legibility. Let's see how that applies to one specific model, their blue dial unit.
Reference : Fieldforce 241848.
Base specs :
Case size : 42 mm.
Case thickness : 10,5 mm.
Case back: solid, stainless steel. Screw down.
Lug width : 21 mm.
Lug to lug : 50 mm.
Total weight : 70g (case + bracelet).
Water resistance : 330 ft - 100m.
Pricing : $350/325€ recommended retail price.
c - Dial & bezel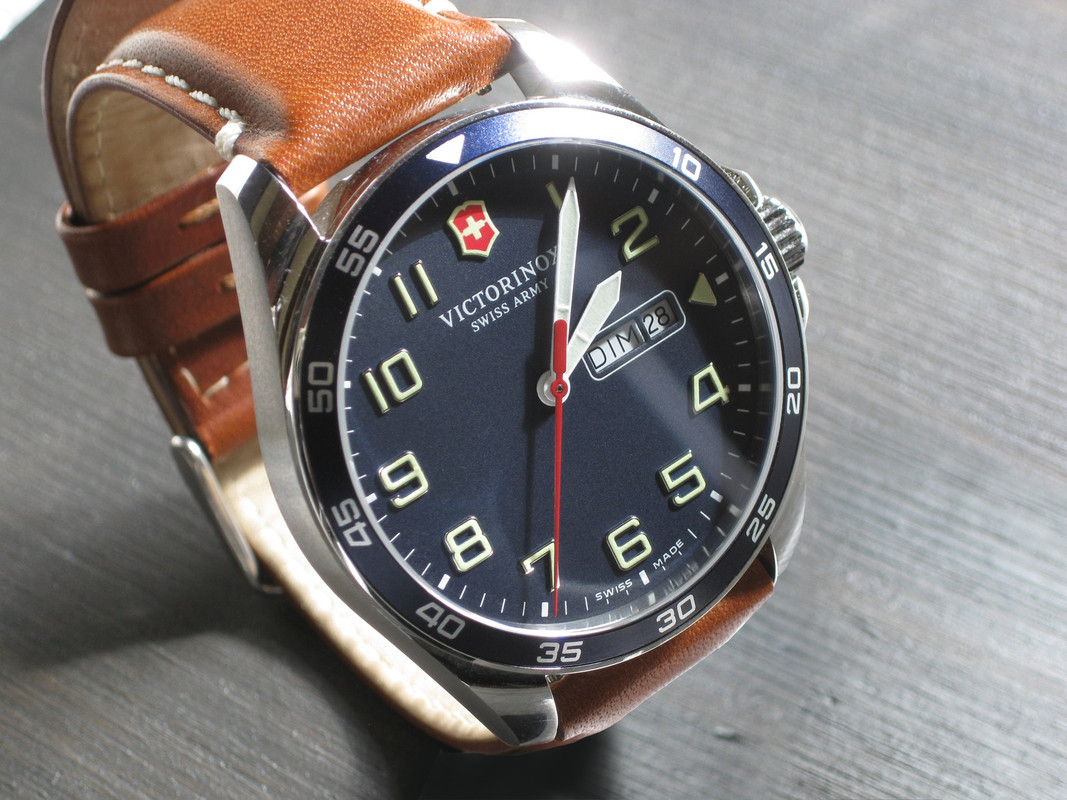 ​
The dial is simultaneously the one of the greatest assets of this watch, and one of its letdowns. Indeed, while the case is of a relatively common 42 mm diameter, the dial covers 37 mm of those ; compared to ≈ 33 in more typical designs. This translates into a better legibility, while making the overall proportions unusual, as the watch appears like big headed (or flattened) when compared to the average.
This large, clear dial, is associated to sword edged minutes and hours hands, both generously sized and lumed. The seconds hand has a more singular design, with a counterweigh and color constituting a nod to Victorinox's Swiss knives, while the shape elegantly and precisely thins and extends near the outer chapter limits. Despite being the only one not lumed, all of them do contrast perfectly with the slighly textured space blue background.
Remarkably enough, the crystal is both sapphire and triple anti-reflective coated in a quite effective fashion. It protrudes from the case of the watch, exposing it to shocks, but as both flat and scratch resistant, this isn't a big deal.
The markings demonstrate a mix of painted markers and applied indexes, conferring a tridimensional aspect to the hours numbers ; further enforced by the smart appliance of a reflective material on their outside. The intelligence of this design resides in the combination with a yellowish inner lume : during the day, the outer part shines an the eye fuses the whole parts in some gold colored numbers, evoking a naval captain's uniform with the dark blue of the dial. And at night, the numbers turn to a shiny, visible green, ensuring that the legibility remains maximal. Really smart design here.
The smartness continues with the 3 o' clock markers replacement by an arrow like triangle, simultaneously highlighting the date window's position and luming the hour ; while avoiding a truncated marker. Same for the iconic Victorinox shield at 12 o' clock, gaining space for the below logo.
​
Now, this is an entry level watch. And while the dial seems molded to ensure the correct positioning of the then applied indexes, the centering of the movement itself isn't perfect, as the slightly downwards date and day wheels suggest. While minor (the view angle makes it look worse than it actually is), this could increase the frequency of misaligned hands issues
Second, while the bezel cleverly displays the minutes, it doesn't rotates. Not that important in fact, as it retains a diver inspired look (VSA's watch activities started with the diver looking Lancers) and in the end extends the dial. But it will surprise those used to a functionnal one. It's also just painted aluminium, which suggest it could age badly if scratched, but the outer layer of steel and the slightly protruding crystal (which is paradoxically more resistant than the bezel !) might prevent that.
d - Crown, case & water resistance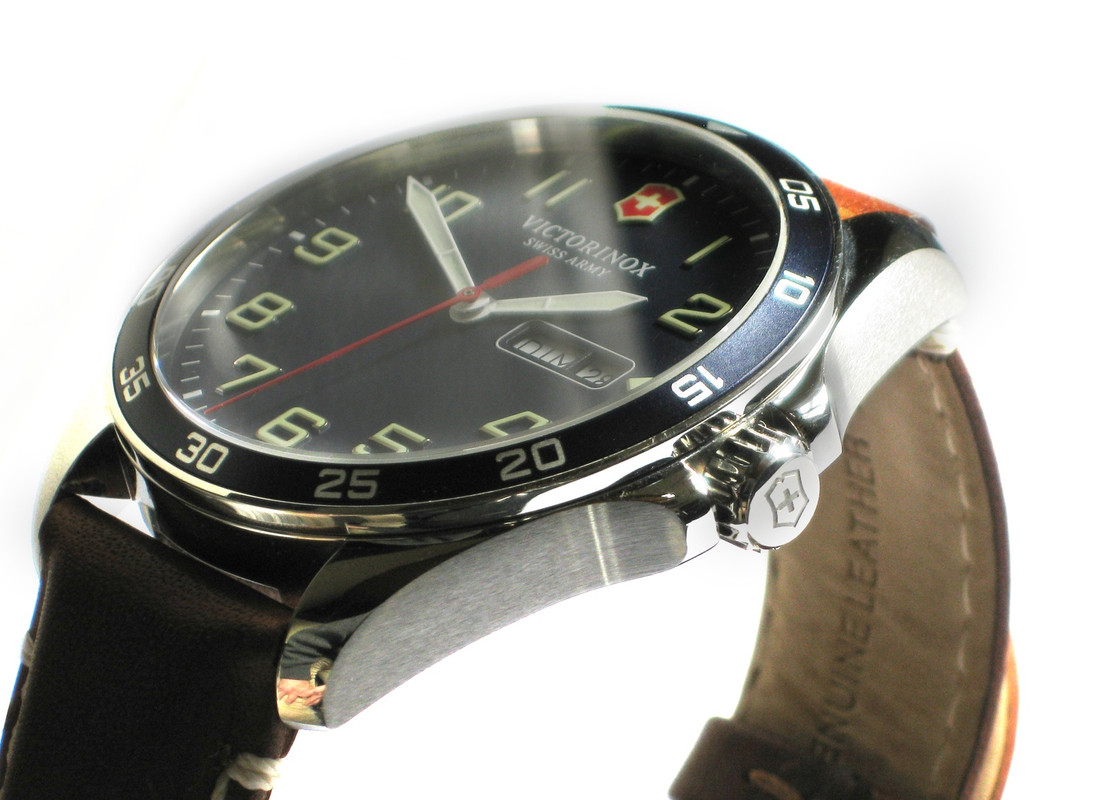 ​
Despite being protected from lateral shocks by the case, the crown is very easy to pull and operate. Too easy for my tastes at first, as I feared it could accidentally get pulled, it appears to have just enough friction for this not to happen. Combine that to its push-pull conception, and to VSA's shield engraving, and we've got a quite pleasant crown to use.
This non screw-down nature might be what limits the water-resistance to 100m, but this is a non event : 100m is already excellent for a field watch, and more than enough to swim. I've gotten it immersed a few times, and it seemed to fit the bill.
The case itself impeccably alternates between brushed (for the flanks) and highly polished finishes (for the upper parts), creating a visually pleasant variety, and demonstrating VSA's mastery of stainless steel. It's also quite flat, and will thus sit comfortably on equally plane wrists.
e - Caseback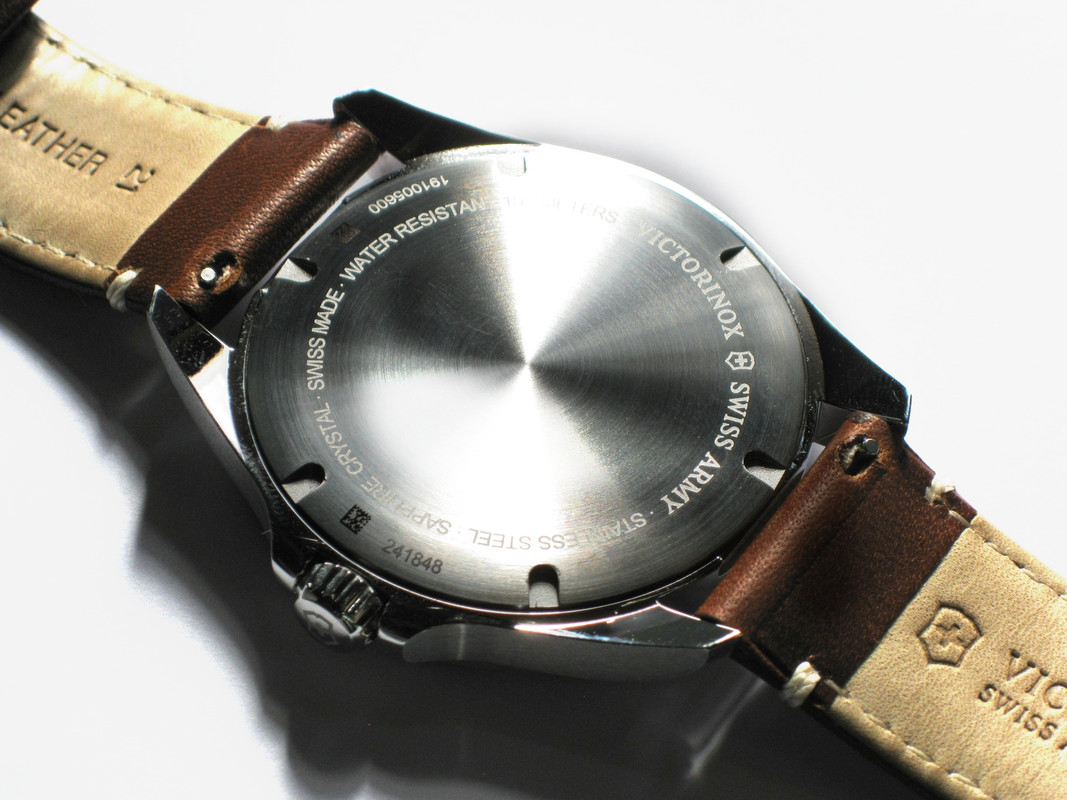 ​
Plain, and screw-down. In other words, no unnecessary fancy here (this is quartz watch after all), but a practical and reliable way to ensure water resistance, and easy service. You will notice along side the reference that there is also a serial number, which, among other tools, helps fighting against replicas.
f - Movement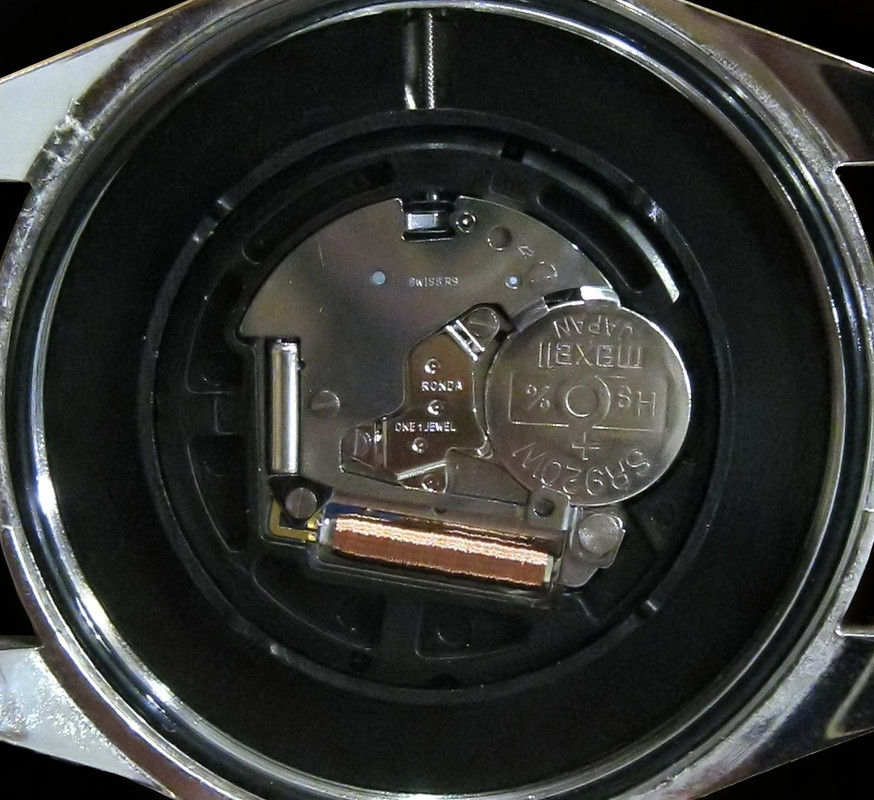 Delving inside that case, we discover a Ronda 517 movement. Contrary to what I thought for a long time, this is my first experience with a Ronda. And I've got mixed feelings about this. It features :
3 hands, central seconds.
3 o' clock day-date window complication.
11,5" caliber - 25.6 outer diameter (26.0 mm max), 3,00 mm height.
Powerful rotary stepping motor with deadbeats seconds (1 step/s).
Fully metal components, for better repairability.
3 positions crown, including a hacking function and quick date but also day correction.
-10/+20s per month.
45 months ≈ 3½ years battery life (SR920 = 399/395 battery).
It proudly boast its one jewel (but which man ever needed jewels ? XD). Jokes aside, as usual there are two versions of this movement, but VSA's seems
Swiss made
rather than
Swiss parts
.
Theoretically, the battery life is a bit longer than average, it has a nice day-date complication, and so would feature everything one would need. The problem is the execution : as part of the Powertech line, which is the entry level of Ronda, it has quite a lot of backlash.
If you're not familiar with the term, let's just say that there is space between the teeth of the gears, to ensure they operate without too much friction, and better resist to shocks.
The issue, is that this space is variable, and that if it varies too much the hands will be taken in a farther or shorter distance than intended. And that, for hands with significant kinetic energy (such as the seconds hands), this will translate into visible misalignment, as the hand will travel more (or less) than the distance between two markers.
And so the seconds hands of the Fieldforce are somewhat misaligned. I've done a bit of research regarding this, and not only all the non-chrono Fieldforces (with visible motion hands in videos) were affected, but also the watches of other brands featuring a Ronda 517. Contacted on this topic, Victorinox kindly and honestly confirmed me this is mainly due to the movement. So, while it's not catastrophic (mine is acceptably aligned with 50-60% of the markers), there is not much that can be done to improve it. Still, coming from a simple ISA 1198 which was able of maintaining it's alignment, this is a disappointment. Yet, though frequent enough, its amplitude is moderate enough not to hinder the read.
The minute hands also suffers from some backlash, as its alignment varies depending if it's on the ascending or descending half of the dial. However and contrary to the seconds hands, it's not that noticeable (it's at most ¼
th
of a minute too low on the descending part, and perfect in the ascending on mine). But, as it moves by very pleasant increments of 1/60 of a minute (the dial is sol legible you actually see those every second), it's really a pity, because it had the potential to become an extremely precise display.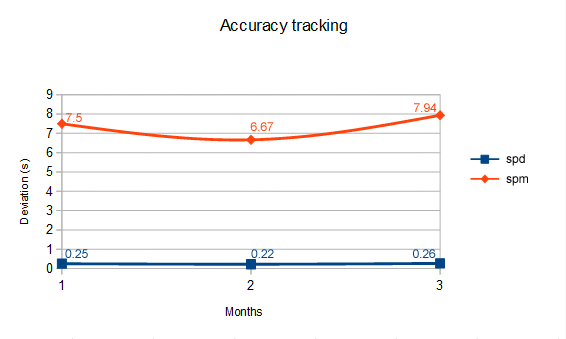 Regarding accuracy however, things get better, with between +6 and +7 seconds per month deviation for a watch worn 70% of the time, translating into a decent +0.25 spd average. This means that after one month, not only your watch won't be late, but that you can be reasonably confident in it being off by less than 10s. Which I consider reliable.
Also, the design seems to be good, as the hands aren't that affected by the quick setting of the day or the date, or even one by another. In some entry level Asian movements, moving the minute hands or changing the date could create unwanted movement on the seconds hands, this won't happen too often here.
So overall, there's good and bad to this movement. Hence my mixed feelings about it.
g - Strap
The 241848 features more colors, but also a leather strap. Not only this one is very agreeable to the eye and to the touch, enforcing the classy watch design, but it is also well thought, with features such as quick-release bars. If you've ever fought long and uncertain battles with vintage bracelets, you will know how extremely pleasant a quick release is : no tools required, easy to take off and most importantly easy to put back. Really nice touch here.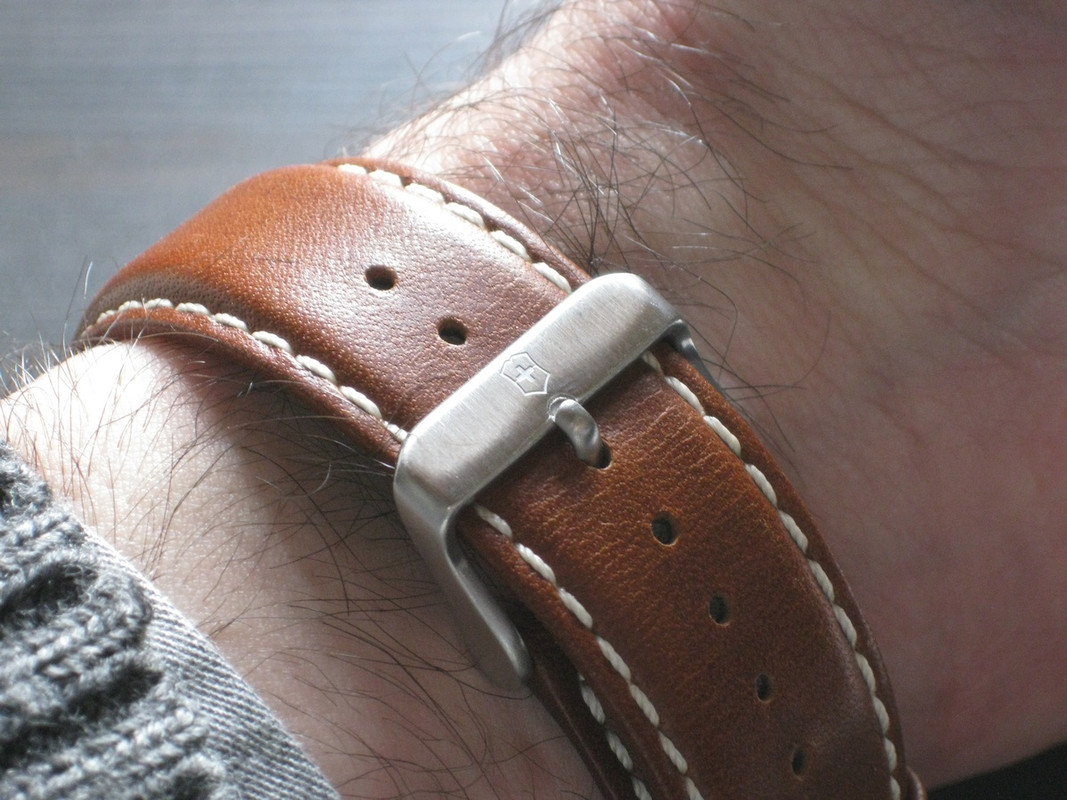 ​
Classy, comfortable and well designed, this strap would near perfection. The uncoated stainless steel buckle tends to scratch however, but some would argue this is unavoidable.

​
h - Lume
Some have said that Victorinox's lume was often on the weak side. I do not know if they only have eyes for Seiko divers, or if it's an impression of the past, but I kinda disagree :
i - Overall
It's a good watch, but not as good as it could have been. The movement induced misaligned seconds hands in particular are a pity considering how extremely precise could have been the read otherwise. Also, I subjectively think that while the atypical proportions are one of the secrets behind its masterful legibility, going for a 41 or 40 mm case instead of 42 while keeping the bezel width unchanged would've allowed a close performance, while delivering a more consensual field watch design.
Yet, this watch has qualities, with a legibility among the very best ones I've witnessed (to the point the read can sometimes require only a fraction second). And, in the end, delivers function with a classy look.
| Pros | Cons |
| --- | --- |
| | Moderately misaligned hands |
| | |
| | No custom colored date wheels |
| | Uncoated steel = scratches |
| Comfortable & practical strap | |
| Relatively shock resistant | |
| | |
| | |
| | |