Hey all!
it's been months since i started to look for my perferct watch.
firstly i ordered a cjiaba watch:
CJIABA CHRONOGRAPH AUTOMATIC DATE LEATHER STRAP WATCH - eBay (item 350410497266 end time Nov-07-10 05:54:12 PST)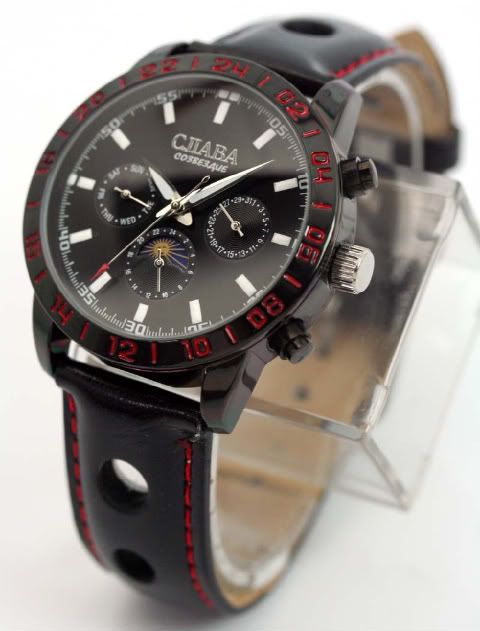 i really like the design, but it was defective so i replaced it and it was defective even at the second time.
the 2 things i didn't like about the watch was that it didnt have a transparent back, and it didnt have a month clock (only days in a month but not what month it is)
now i want to try my luck and buy another selfwinding watch.
in my definition, the perfect watch has a moon-phase, a date&month&week clocks, a transparent back with 3ATM water resistance, no diamond and such, and a leather band (not a must)
Also, i would like to have a good and precise mechanical mechanism inside the watch
i've been able to Find some, but not even one of them answer my definition of perfect watch:
JARAGAR Watch,the only bad side is that it doesn't have a moon-phase with 24 hours display
Swiss Men's Mechanical Transparent Leather Watch 1006B - eBay (item 380286559528 end time Nov-14-10 02:10:12 PST)
JARAGAR Watch,the only beside the the stupid diamonds (is there a version without diamonds?)
MENS DIAMOND WATCH AUTO MECHANICAL WEEK/MONTH MOONPHASE - eBay (item 380285624695 end time Nov-07-10 13:12:15 PST)
Well, now when you see what my style is, is there any chance you can help me find my perfect watch?
I'M looking for a mechanical watch with the following features:
New moonphase date week month multifunction watch black - eBay (item 380199372366 end time Nov-16-10 11:04:21 PST)
(but not as ugly)
Thank you,
Or Cohen.