(Eric, I stand corrected:
Way to go, Omega Vintage!
)
When I was checking out the authenticity of my new Connie, I went to Omega's vintage site and entered the model number off of the inside of the caseback along with the movement number and other details required for an advance search. To my delight, there was an immediate response from the database with all the information.
I was thinking about this last night and realized that I had never sought any info about the 18K RG bumper that I bought last year: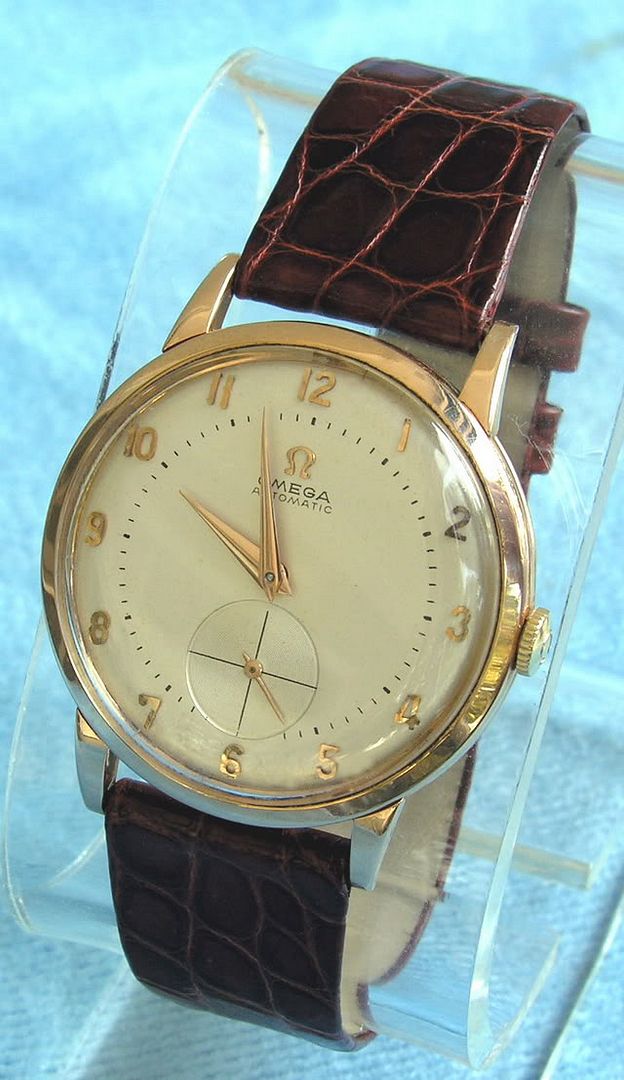 Encouraged by my Connie experience, I popped the back off, wrote all the numbers down and did an advance search. Bummer! Nothing returned. :-(
So I decided to submit a request directly to Vintage and received the immediate response:
Your demand is now registered as # 8536... Despite these improvements to our Vintage Information Service, we are still faced with an overwhelming number of additional requests, which we unfortunately cannot reply to within a reasonable deadline.
So I sat back to patiently await any info that might be forthcoming. (I still have received no response from a request two years ago but it doesn't matter since the watch has long since been sold.)
Imagine my delight to open my "emailbox" this morning with email from Vintage sent at 03:28 local time containing a link to the following info:
Reference number: OT 2617

MOVEMENT
Caliber number: 332
Formerly called "30,10 T1"
Created in 1949
17 jewels

CRYSTAL
Hesalite

BRACELET
Leather

WATER RESISTANCE
No

CASE
18K solid gold
Press-in
Full metal

FUNCTIONS
Subsecond

MORE PRODUCT INFORMATIONS
Case : round (35 mm diameter), 18K solid gold
For leather straps of 18 mm lug-size
International Collection : 1949-1958
Swiss retail price : not available
Admittedly it was not much more than I already knew but it was impressive to receive such a quick response.
Fr. John+