A few months ago, I wrote a speculative article concerning the watch that Ian Fleming imagined onto the wrist of his creation, James Bond.
Here it is:
https://www.watchuseek.com/showthread.php?t=203720&highlight=redux
Now, by one of those funny coincidences, it has been pointed out to me that Mr Deaton is shortly to publish a magazine article on this very subject.
http://jamesbondwatches.blogspot.com/2008/12/watchtime-magazine-to-positively-id-ian.html
Congratulations Mr Deaton.
As it happens, my original article came about as the result of a thread concerning 'Bond watches' which was locked due an unfortunate argument between Mr Deaton and myself. This began with Mr Deaton quite correctly pointing out that a painting I was using to support my hypothesis was still copyright and ended with a threadlock. The thread was eventually reopened but neither of us posted in it.
Here it is:
https://www.watchuseek.com/showthread.php?t=198533&highlight=james+bond
However, by way of advertising what promises to be a fascinating article, Mr Deaton has asked a number of interesting questions. I think I might have a crack at answering them.
Why was no model ever specified?
Well, there are two possible answers to this question:
1) Fleming in fact had at least
two
Rolex Explorers. An early 34mm and a later 36mm. His
first
' Rolex Oyster Perpetual Chronometer' was in fact
just that
. While it would be renamed the Explorer it was a proto Explorer and, as such, had nothing else on the dial.
The Proto Explorer, that is, the
early
Rolex 6350, sometimes simply didn't have anything else on the dial. For a brief period prior to the conquering of Everest, the watch that would become the Explorer was merely called a Rolex Oyster Perpetual, among other names. This is the watch that features in the 'Villiers' picture and is known by some as the Big Bubbleback. I will say more about the 36mm Explorer in a little while…
2) Fleming only had one Rolex Explorer, a 36mm model. This had 'Explorer' on the dial but he simply left it off for artistic reasons: the list was simply getting too long.
Personally I think all the evidence supports position one but position two is at least viable.
Why was a brand only named these two times in a canon that includes fourteen published books spanning over a dozen years?
The simple answer to this question is that while it is named directly only twice it is referred to quite explicitly several more times. For example, in Thunderball, Felix Leiter notes that:
'You're still wearing that old wristwatch of yours with the big phosphorous numerals'
Fleming then has Leiter describe another Rolex watch, the GMT Master. The identity is clear as he refers to a contamination of the Tritium in the lume of the GMT Master with Strontium. This only happened to this one watch at this time.
Thus, I think the answer is simply that, like any other decent author, Fleming did not need to obsessively name every product Bond used every time he used that product. The Bond books were popular; he didn't need too much repetition. The fans already knew.
Did both of those watches look the same?
This is an interesting question. Once again there are two good answers that come from two different directions: from a textual basis and from a biographical basis.
The textual argument would suggest that the watch is unchanging: In Thunderball (1961) Leither says:
'You're still wearing that old wristwatch of yours with the big phosphorous numerals'
(my italics) I'd say this is evidence of continuity. In OHMSS (1963) Bond muses that:
'at least you could see the time in the dark with those big phosphorous numerals'.
In Live and Let Die (1954) nothing is mentioned apart from that he is wearing a Rolex.
'He looked at the Rolex watch on his wrist. It was three minutes past eleven o'clock'
However, quite a lot can be inferred. The first thing is that it isn't a Submariner. The reason is simple. The Submariner was launched in 1954,
after
Live and Let Die had been
written
. However, given that Bond was reading the watch underwater in the dark, the lume and water resistance would have had to have been pretty good: just as it is in the Explorer with the precision oyster case and screw down crown.
The biographical argument is simply that Fleming had at least two Rolex Explorers, or rather one 34mm Proto Explorer and one later 36mm Explorer. We know this because the watch in the 'Villiers painting is clearly a 34mm Rolex (proto) Explorer while he also owned a 36mm Explorer as I shall explain... This would suggest that he would have imagined Bond in a progressively larger Explorer I.
Personally I think that the textual argument is the more convincing.
Was there a relationship between the first EON Productions movie-Bond Rolex Submariner and any literary-Bond watch model?
I say
no
. The literary Bond watch was an Explorer while the film version was a Sub. If there were further documentary evidence then one or other of the many Bond Mavens would have trumpeted it well before now. They haven't
Is it relevant what Ian Fleming, himself, wore on his own wrist - at any time in his life?
Yes
, as I argued very clearly in my article on this issue
two months ago,
Fleming initially equipped Bond with the gun he owned, gave him the same rank as he had and in describing the watch Bond was wearing he gave an exact description of the watch he owned and was wearing for the publicity picture of OHMSS. How much evidence do you need?
As it happens, Mr Deaton has commented on my hypothesis that Ian Fleming wore a Rolex Explorer I:
What else do you think I've missed? Oh, yeah: Your statement regarding the positive ID on the watch. You're wrong on that. I have copies of the Rolex paperwork w/ the actual information.
Now there is a delicious irony to this. I too have been doing my research and, only the other day, I stood three feet in front of Ian Fleming's own personal watch and I can confirm that it is a
Rolex Explorer I
exactly as I asserted at the time.
Now as Mr Deaton said recently:
I really doubt folks who Post on Forums who claim that they have, or that they've actually seen this watch or that in person). But, come on! do a little original work.
He's absolutely right: I have made an exceptional claim and exceptional claims require exceptional evidence:
So, here's the photograph of Ian Fleming's own Rolex Explorer I on an expanding Rolex strap: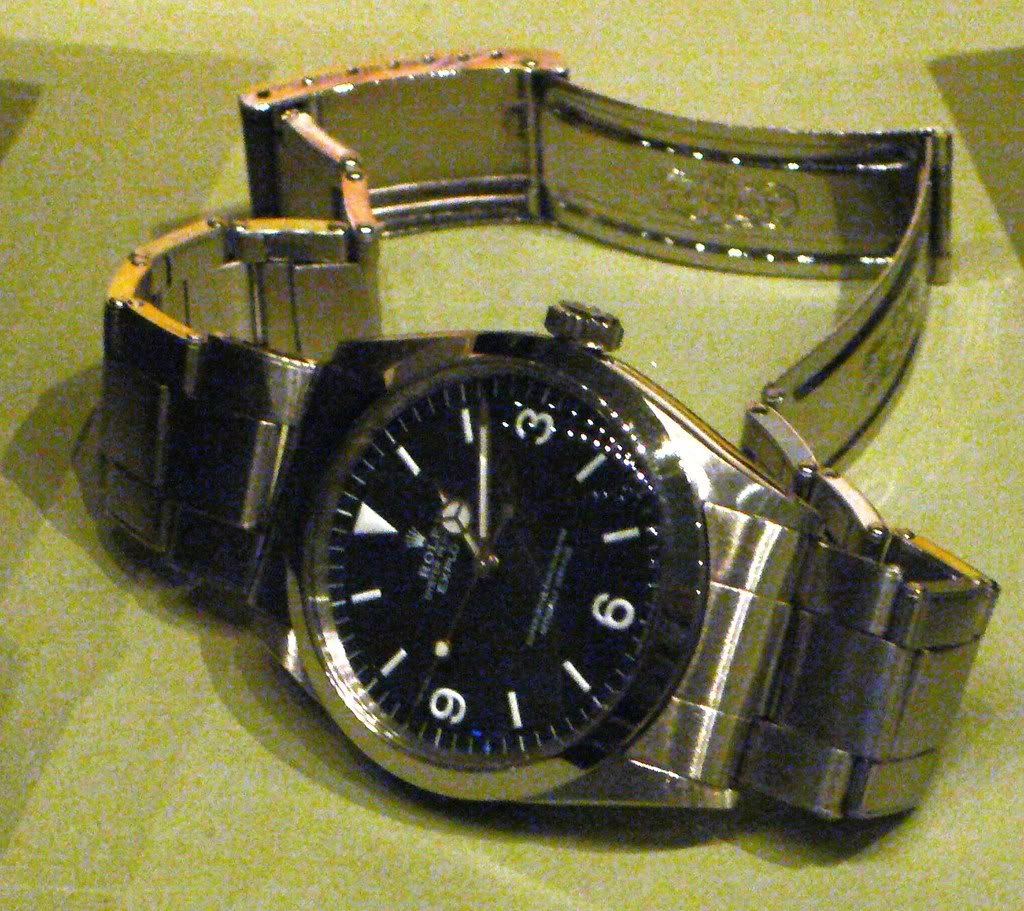 And another photograph including Ian Fleming's signature: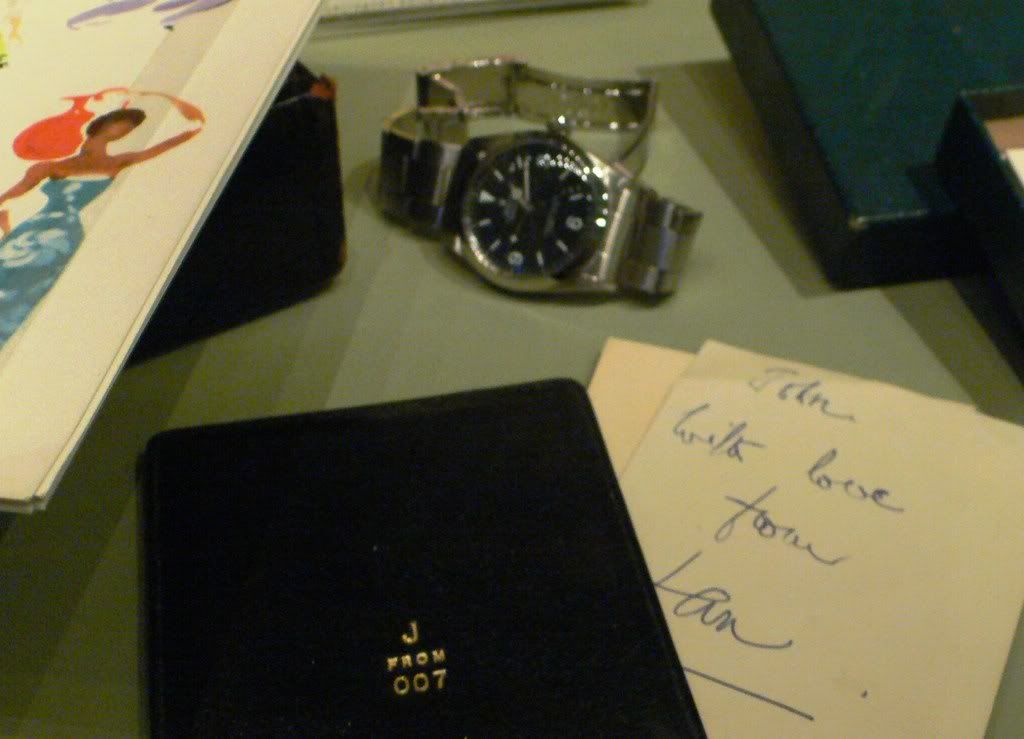 Is this enough original work?
Now,
may
we
see your documentary evidence that he didn't own one? As you yourself say:
I really doubt folks who Post on Forums who claim that they have, or that they've actually seen this watch or that in person
Funnily I feel the same way about documentation: your turn.
Finally, as Mr Deaton says:
The guesswork on this question is about to definitively end. The original James Bond watch, brand, model, and more, will be named in the next WatchTime!
I look forward to comparing our theories…